Case Studies: Problems & Fixes
Case Study 1 | Case Study 2 | Case Study 3 | Case Study 4 | Case Study 5 | Case Study 6
---
WHO: Homeowners Clare and Robert Conklin, shown here, who purchased their Bloomfield Hills home in 2016
---
THE PROBLEM
"It was tough working around the kids," Clare says.
THE FIX
"We'd work a lot of nights and weekends. Friends and family were great help!"
---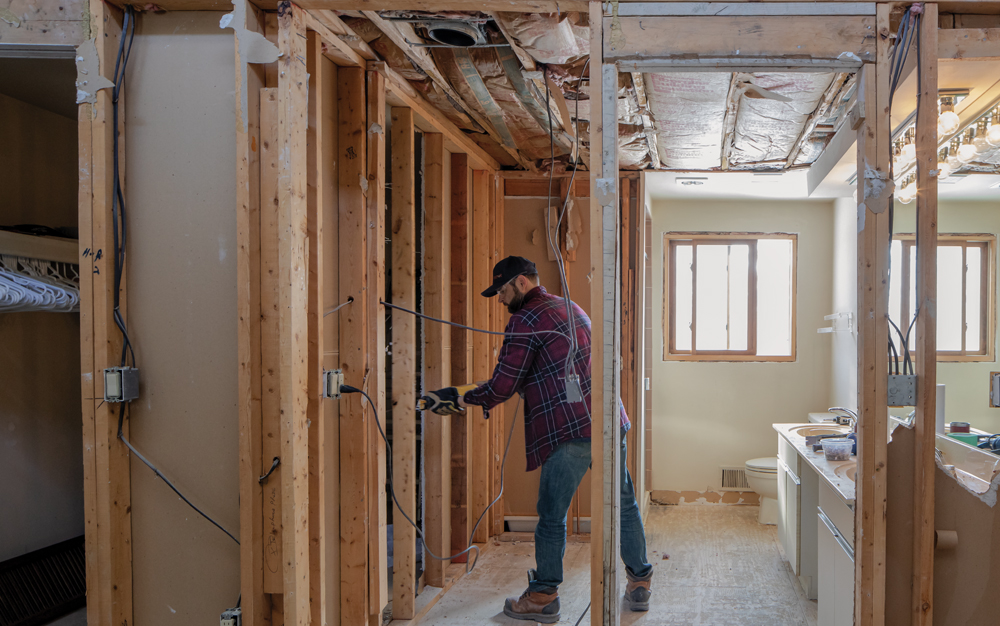 THE PROBLEM
Lack of light due to only one small window in the bathroom.
THE FIX
The shower now has two sides of clear glass, allowing more light in.
---
THE PROBLEM
Tired carpeting.
THE FIX
Replacing the carpeting with bamboo flooring that runs through the entire home.
---
THE PROBLEM
Everything in this 1979 home, which has stayed pretty much the same since it was built, was outdated.
THE FIX
The Conklins (Clare, who has a degree in interior design from Michigan State University, worked in the commercial design industry for several years, and Robert, who works for an automotive supplier, is a DIY superstar) overhauled just about every space on the first floor and their two young sons' bedrooms. They recently completed this master suite, where they changed the flow by creating access to a 6- by 14-foot walk-in closet through the bathroom and closing off a wall that was between the bedroom and closet. They also made the opening to the bathroom larger, installing double doors. A soffit was removed, and all new drywall was installed. A shower that once was 3- by 3-feet is now 3- by 5-feet. A fresh new color palette — warm and cool grays and caramels in the bedroom; and dark, light, and green-grays, fresh whites, and matte blacks in the bathroom — round out the earth-toned suite. By adding a few flecks of gold in fixtures and plumbing, this couple is ensured sweet dreams forevermore.
---
IN THE DETAILS/RESOURCE GUIDE 
Bathroom: Double doors, salvaged from a historic home in Detroit, Architectural Salvage Warehouse, Detroit. Tile, 2- by 6-inch in three tones on walls (the lightest one matches the wall paint throughout the entire home), sponsored by Fireclay Tile (Clare is a design influencer at @conklinhouse), fireclaytile.com. Porcelain marble-like 2- by 4-foot floor tile and wall tile, Carrera Select, Arabescato, Genesee Ceramic Tile, metro Detroit locations, gctile.com. Wall and trim paint, White Label, Sherwin-Williams, sherwin-williams.com. Sconces, Lucia, Cedar & Moss, cedarandmoss.com. Floating double vanity, Godmorgon, Ikea, Canton. Sinks, Kohler, Vertical Impressions, kohler.com. Faucets and shower head, Phylrich in antique brass, Russel Hardware, Bloomfield Hills. Countertop, quartz, Silestone by Consentino, Home Depot, metro Detroit locations, homedepot.com. Bedroom: Wall and trim paint, Dorian Gray, Sherwin-Williams, sherwin-williams.com. Flooring, Morning Star SC Distressed Honey Strand Bamboo, Lumber Liquidators, lumberliquidators.com. Rug, Hieroglyph, West Elm, Birmingham. Pendant, brass Rondure, Triple Seven, triplesevenhome.com. Drapery, Silvana Silk in gray, Crate & Barrel, crateandbarrel.com. Duvet cover, Painterly Stripe, Schoolhouse Electric, schoolhouse.com. Sheets, Stonewashed Belgian linen set in Graphite, Restoration Hardware, Troy. Desk, Paulo, Target, metro Detroit locations, target.com.
---
Related Links: About the Remodeling Guide, Remodeling Guide 2019 Listings