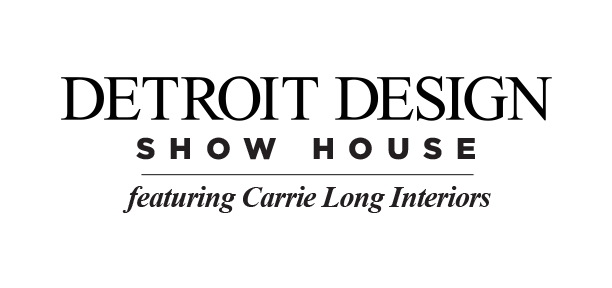 ---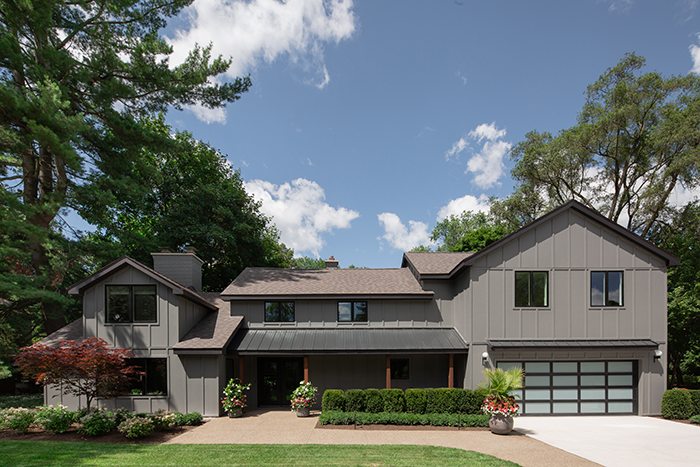 Click Here to View Photos from the Event
Interior designer Carrie Long, of Royal Oak-based Carrie Long Interiors, recently completed another stunning project — this time in her own home! The master of renovation, design, and vision overhauled her circa-1930s West Bloomfield Township residence using her keen eye for worldly art, children's priorities, adult sanctuaries, and lovely landscaping.
The fascinating renovation puts the accent on imagination. "This house was borderline condemned, but I had a vision," Long says. The end result, a warm family home with a hint of West Coast style and livable, simple elegance, is sure to inspire. Long invites the public to see the redo during a Nov. 12 and 13 Detroit Design Show House home tour that benefits Habitat for Humanity of Oakland County.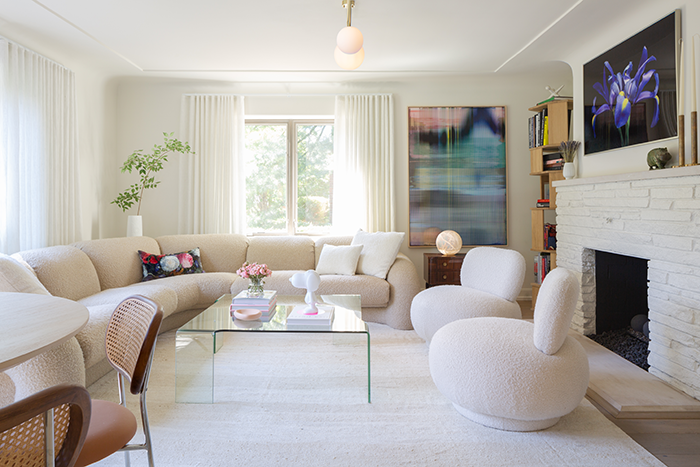 ---
Altering the home's footprint in clever ways opened the space for today's living. Long's young sons, three energetic dogs, and husband, Greg Sobol, who also works at the design firm, undoubtedly cherish their new environs, which includes a practical second-floor laundry room and a master-suite addition, complete with an enviable walk-in closet.
The intriguing property, which is part of the historic Westacres Subdivision, has a fascinating story. The development was part of the Federal Emergency Relief Acts of 1933, which proposed the construction of affordable, cement-block-style housing. The New Deal's revitalization programs led to the development of the Westacres housing project, and today the region is often recognized as the forerunner of modern suburbanization and residential development.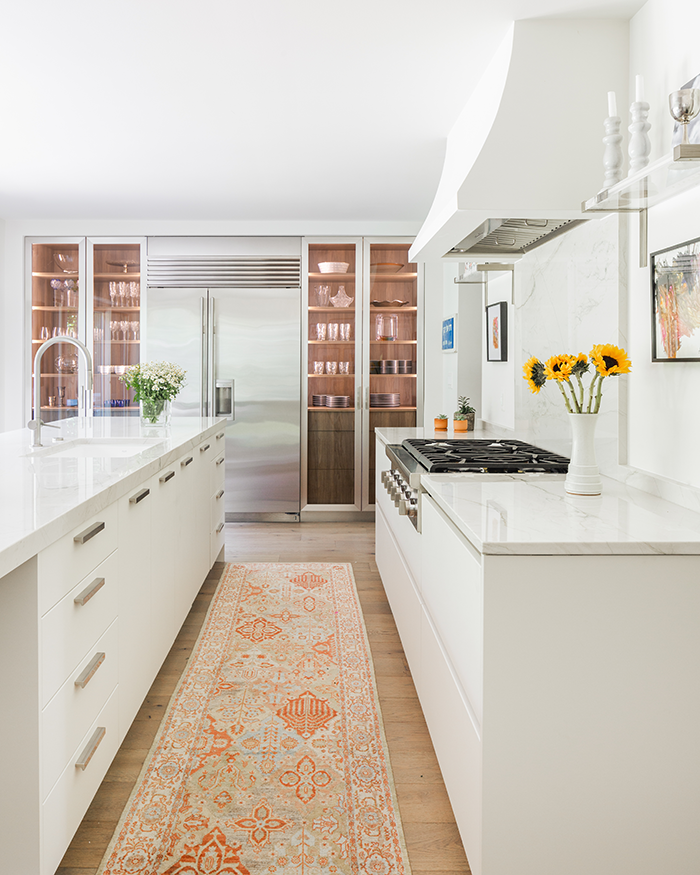 ---
Family-friendly offerings abound in the neighborhood. "At the end of our street is Middle Straits Lake. There's a clubhouse, private beach, and security, so the kids can play and we all feel safe," Long explains.
She and her husband purchased the 1936 home, situated on 1.5 acres, about 18 months ago. The renovation took a little more than a year.
Long worked with several top-notch companies, including DAS Contracting of Royal Oak, Perspectives Custom Cabinetry of Troy, Granite Source of Michigan in Southfield, and Advance Plumbing and Heating Supply Co. of Walled Lake and Detroit.
---
John Morgan, owner of Perspectives Custom Cabinetry, worked in the kitchen, laundry room, master bath, and other spaces. "I can't say enough good things about Carrie — she's a true professional," says Morgan, who's been in business since the 1970s.
Builder Domenic Serra, owner of DAS Contracting, says Long's vision is exceptional. "She has a great eye, and this has been the most rewarding project we've ever worked on," he says.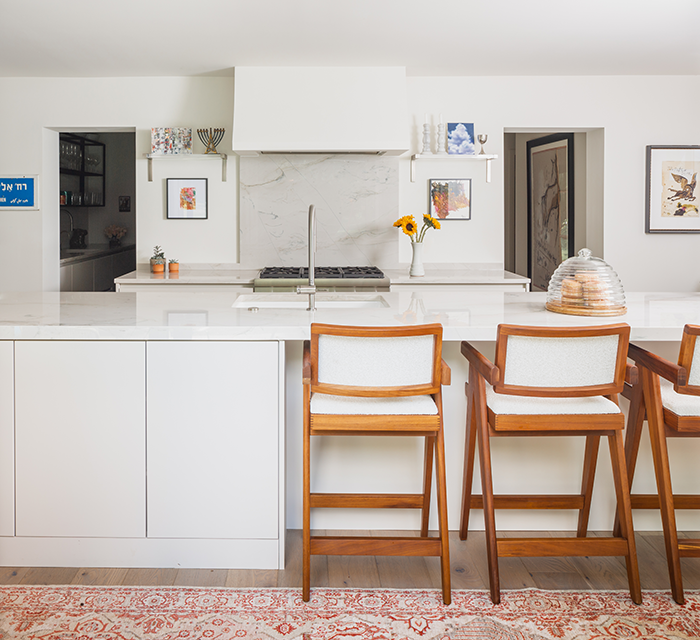 ---
Aly Webb, of Advance Plumbing and Heating Supply Co., says she's also impressed with Long's vision. "I've had the pleasure of witnessing the unique way Carrie's mind works. Her home showcases her eye for colors and materials, which brings the best of design to life."
Long appreciates all the members of her expert team. For example, she says, "I always feel better when Granite Source of Michigan is on the job. (They offer) wonderful products and have a professional and friendly team."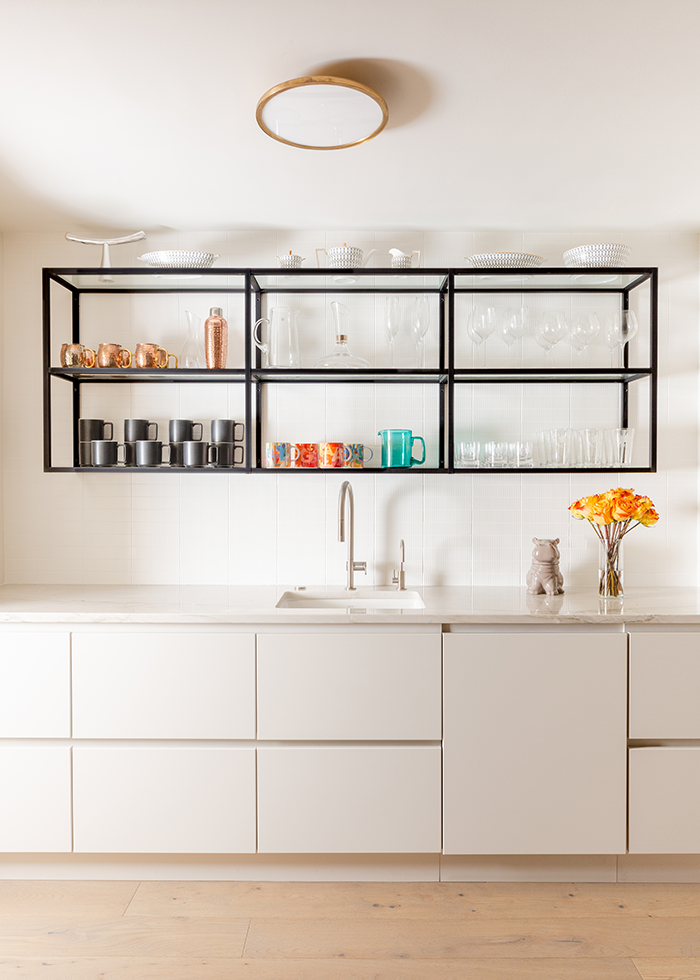 ---
The interior designer chose many pieces from Modern Love Furniture, based in Chicago. "When you're working with Modern Love it's always no-nonsense, and (they provide) a simply gorgeous product. I love working with them," Long says.
The designer says the front room, off the foyer, is a great spot for entertaining. "When we have family over, we're here in the living room," she says. A practical table is perfect for the younger set. "The kids gather here and play Legos or do puzzles."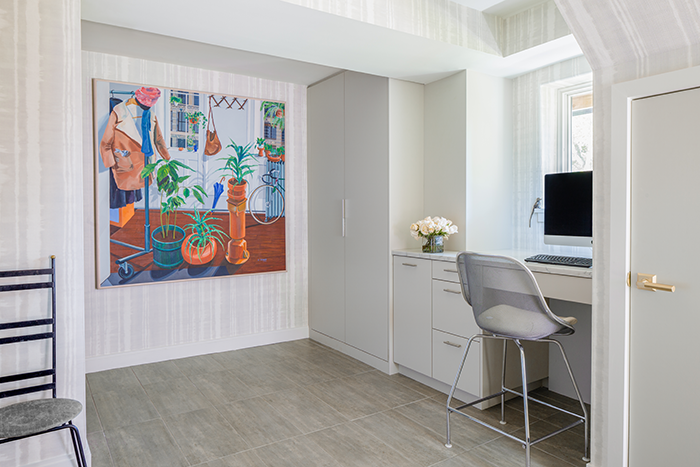 ---
The most amazing transformation and reconfiguration took place on the first floor, where what is now the sunroom and kitchen were once odd-shaped spaces. The sunroom was actually blocked off from the outside; Long says it was a screened-in porch, but window-less. Now, huge windows fill a wall. "I can look out there and watch the kids, or we sit here in the rocking chairs and read books. It's one of my favorite rooms in the house."
A room Long says "no one knew what to do with" became the kitchen, and a beautiful scullery replaces the former kitchen. "The scullery is where prep work happens," Long explains. "Lower drawers allow the kids to get their own items, creating independence."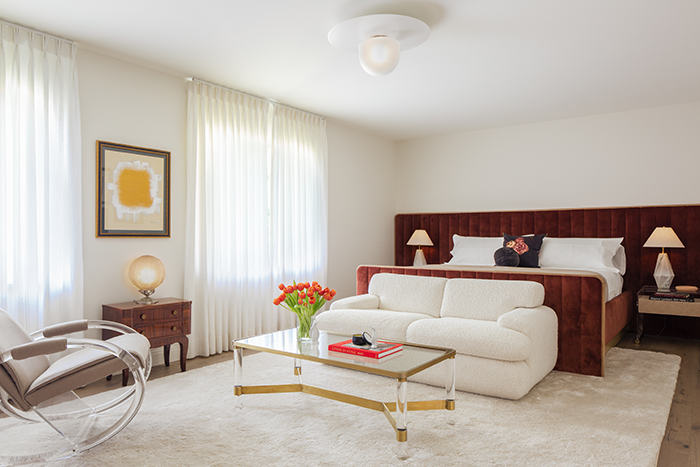 ---
Nearby, a pretty powder room is conveniently located, and an open mudroom leads to the garage. Long's "pocket office" is located in the mudroom, as well.
The only area where square footage was added was above the garage, where a large master suite offers serene appeal. A laundry room and walk-in closet also are part of the above-garage addition.
Also upstairs are two bedrooms for the boys, as well as a charming bathroom with animal-themed accents. "The vinyl wallpaper is really great," Long explains. "You can't hurt it and it's easy to clean."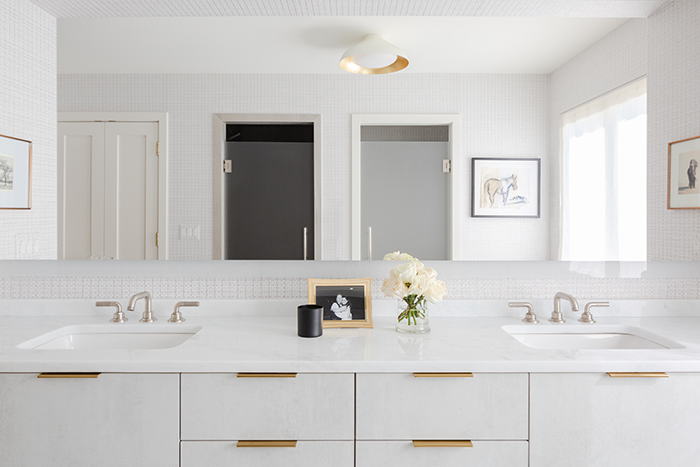 ---
Most of the flooring in the second level (except above the garage) is the original white-oak, wide-plank wood that's been refinished. A small den with a television is also tucked into the upstairs layout. Long shares that it's another favorite spot in the home. "We all pile in here," she says. "It's cozy."
---
The piece de resistance has to be the children's playroom, which is just off the upstairs hallway. "This space was here, but I didn't know it. It was full of garbage; we couldn't even get into it," Long recalls. She made the decision to add a large dormer to the attic on the front of the house. Now this space pops with all things child-related, from a music and art area to built-in reading nooks, a play store, kitchen, and more. "Because of the pandemic, I wanted it to feel like a preschool room for when the kids were home a lot, with an art department and music area," Long says. The vinyl flooring is ultra-practical, she adds. "They can ride their tricycles in here and can't hurt the floor."
---
With regard to art, Long says, "I feel like (art is) the soul (of a home)." In her home, guests find everything from estate-sale treasures and thrift store finds to pieces by artists who attended Cranbrook to a rendering by the renowned Frank Stella ("the one we have is the only painting Stella ever wrote on," Long shares), and works by Francine Turk. The artwork on display spans many decades, from an antique wall menorah discovered in Jerusalem to a current piece by Michigan artist Ed Meese and even works crafted by the couple's children, one of which consists of corrugated cardboard and splashes of colorful paint, and hangs in a prominent location.
Long shares that becoming a parent has made her more efficient. "When I'm at work, I give 110 percent. Then I get home and I'm everything to the family. It's about them — making dinner, playing outside, chasing the ice cream truck, baths. I feel like our home is relatable; people can see that you can have a family and still have your home look amazing and be comfortable."
---
MORE INFORMATION:
Don't miss the opportunity to see this fascinating home Nov. 12 and 13 on the "Detroit Design Show House featuring Carrie Long Interiors" tour.
Proceeds benefit Habitat for Humanity of Oakland County, a nonprofit organization that helps families build and improve places to call home, emphasizing that affordable housing plays a critical role in strong and stable communities (habitat.org).
---
Tour tickets are $15. Visit detroitdesignmag.com.
Carrie Long Interiors, carrielonginteriors.com
Perspectives Custom Cabinetry, perspectivescabinetry.com
DAS Contracting, dascontracting.com
Granite Source of Michigan, granitesourceofmichigan.com
Advance Plumbing and Heating Supply Co., advanceplumbing.com
---
---
*Photography by Diana Paulson