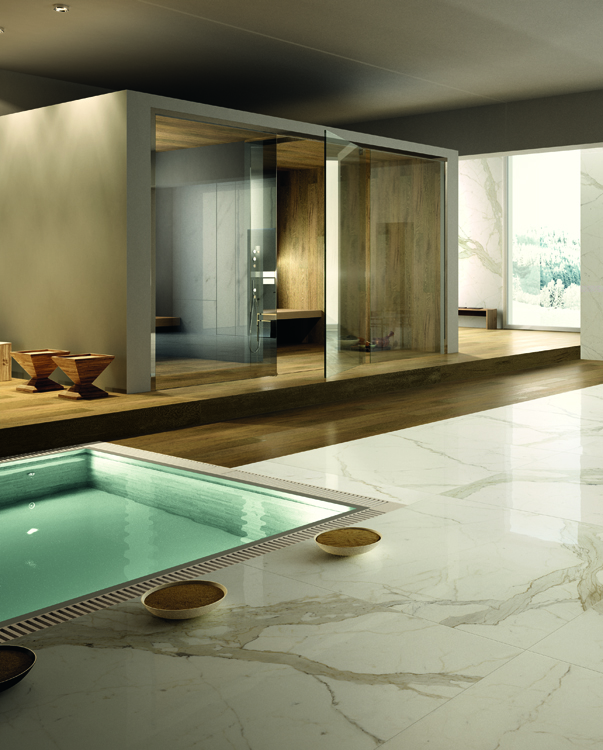 Tile. It can totally transform the look and feel of a space. Whether muted and matte or shiny and colorful, tile adds punch, texture, style, and more. Considered a manufactured piece of hardwearing material such as ceramic, stone, metal, or glass, tile generally is used for covering floors, walls, showers, tabletops — you name it. It can show up in tiny mosaic form or in large, stately shapes.
There are several metro Detroit tile makers, experts, designers, distributors, installers, and retail outlets that can share worthwhile advice on what works best in which type of space. Here, a handful of professionals provide us with an update on tile trends, along with insights on some of their favorite installations.


Making a splash: This pool room features MaxFine porcelain stoneware made in Italy. It's the only tile available in such a large size with reduced thickness (6 mm) and a fully polished surface. Available at Ciot, Troy.
---
Pewabic
Detroit
Old and new: "The process used to create our tile still starts the same way it did in 1903, and we create all of our own glazes," says Christina Devlin, Pewabic's senior director of product development and operations. "We fire our tile in gas and electric kilns; in the last two years, we've upgraded two kilns." Fabrication methods are always evolving. "We're exploring 3-D modeling and printing, (and working) to understand its challenges and opportunities."
What's now: Complex geometric shapes like hexagon and harlequin are trending strong. "We're also adding a more contemporary line of tile focused on patterning, dimensionality, and shapes," Devlin says. Even with a modern spin, there's an inherent organic element to the tile.
Good news: "We're partners with the Belle Isle Conservancy, (and remaking) the tile for the Scott Fountain. We're also anticipating the start of a new mural with the Children's Hospital of Michigan Foundation," she reports. In other news, a mural created by Pewabic depicting Detroit's street map was purchased for the University of Michigan's Sociology Department. And if that isn't enough, the company has released a new Belle Isle tile as part of their architectural gift tile collection.
Motown magic: Pewabic is excited to have worked with such celebrities/Detroit natives  as musician and Third Man Records (Nashville and Detroit) owner Jack White (black 3 by 3's for his home in Nashville). "It's always fun to work with someone of his stature."
Unusual project: "A Texas client had an affinity for dragons. We used our fish scale tiles with a custom purple glaze, as well as harlequin tiles with an iridescent glaze. We created a design with a medieval effect," Devlin says.
Information: 313-626-2000, pewabic.org.
Motor City's Mark: Artists create tiles in the Pewabic studio. Its designs are embedded in Detroit's most iconic institutions, from the Detroit Zoo to the Detroit Institute of Arts to Comerica Park. "Our work is part of the fabric of Detroit," says Pewabic's Christina Devlin.
---
Ann Sacks
Michigan Design Center, Troy
Trending: "Super-large formats are starting to change," says DeeDee Gundberg, Ann Sacks' director of product development. "We're seeing smaller formats for flooring again, with a range of shapes to add visual interest — including chevron and hex motifs." She further notes that encaustic tiles are extremely popular right now, in both traditional designs as well as more modern options. Porcelain tiles continue to be the favorite.
Color cues: There's a steady trend toward all shades of grey, in addition to white with pops of metallic for color.
Floored by tile: "With the popularity of porcelain tiles on the rise, we're seeing whole houses clad with porcelain tiles in lieu of wood floors," Gundberg says. "The cost is comparable and the maintenance is minimal. That's the perfect combination for active families with kids and animals."
On (and off) the wall: "We had a very unusual installation once, where a client ordered 50 Wilshire soap dishes and installed them as a piece of artwork on the wall. I thought it was genius!"
Information: 248-643-3393, annsacks.com.
Patterns Plus: What's your fancy? Blues, blacks, circle themes, and more  all adorn Ann Sacks tiles. For a glimpse of the company's Morrocan-style works, check out this issue's Furnishings department.
---
Potawatomi Tile Works
Auburn Hills
On the edge: "We're creating handmade tiles with cleaner edges; they don't have to be rounded. This provides a completely different aesthetic feel," says Potawatomi Tile Works owner and lead artisan Kelly Schwanitz, whose studio is based in Auburn Hills. Further, "brighter whites give handmade tile an up-to-date look and offer endless possibilities in color blends," she says.
History lesson: The company is seeing an interest in tiles with historical design elements and repeating relief tile. Representatives also are noticing that handmade and commercial tiles are being used in combination, in ways they haven't seen before.
Color story: Handmade tile seems to be trending away from muted matte colors to lighter and brighter colors — like whiter whites.
Beyond the bath: Tile is finding its way to specialty rooms, like potting sheds.
Catalog coup: The Sundance Catalog Company, owned by Robert Redford and known for its appreciation of handmade products, is in the process of opening two retail stores in Minnesota. Potawatomi's sales representative, Midtown Interior Finishes, connected them with JGA (the design firm working on the project) to develop a custom glaze palette and supply tile for part of the floor in the store. "This is very exciting," Schwanitz says. "Tiles similar to those being installed at Sundance will be available for purchase through our distributors."
Memorable installation: A custom order for a historical home, which required the company to hand-mold the field and relief tile around the newel post of a stairway. The stair tread featured a custom-fitted radius tile that wrapped around the newel post. "The homeowner told us how thrilled she is every morning when she steps on that tile," Schwanitz says.
Information: Flooring Design Distributors, Michigan Design Center, Troy, 248-885-7725, and Midtown Interior Finishes, Detroit, 313- 656-4300. potawatomitileworks.com.
White Hot: Auburn Hills-based Potawatomi Tile Works is turning out more and more lighter and brighter colors (above), like "whiter whites," says studio owner Kelly Schwanitz.  Below, porcelain slabs  from Grosse Pointe Stone Works complement an elegant bathroom.
---
Grosse Pointe Stone Works
Grosse Pointe Woods
Fit for life: Thin body porcelain slabs are fashionable 4′ x 8′ sheets of porcelain used on walls and countertops. This product resembles genuine marble and is easily installed without grout lines. "The beauty of this material," says showroom manager Karen MacLachlan, "is that the size gives you a slab look without the maintenance of real stone."
Sizing it up: 12" x 24" porcelain tiles, used on walls or as flooring, can make spaces look bigger. "The larger the tile, the less the grout lines, the bigger the space looks," she says. "You can also lay these tiles vertical, horizontal, or staggered like a wood plank look."
Crossover color: A popular color is "greige," she reports, "a cross between beige and grey; it's a very neutral palette to go along with all the vibrant accent colors."
Back to the future: "Everything that was old style is coming back," MacLachlan observes. "What was an old pattern is reinvented just by making the pattern larger or mixing the materials. A classic basket weave that was once black-and-white marble may now be made with glass or crystal tiles, to update the look."
Information: 313-469-1125, grossepointestoneworks.com.
---
Ciot
Troy
Trending: "Really large format porcelain tiles and slabs are all the rage right now," says Sylvia Shaba, of Ciot U.S. "They're large (118" x 59") and may be applied to floors or walls, simulating concrete, stone, and wood; we even have some slabs that come book-matched." In addition, "we're seeing a lot of softer textures, like the linen look." Shaba also notices "unique shapes and sizes — chevron, herringbone, and a lot of planks up to 6 x 24 or 8 x 36."
Crystal-ball insights:  Two-centimeter exterior porcelain pavers. "They can be raised installation, adhesive installation, or dry-set installation," Shaba explains. "Both of these will be pretty big in the future, once they catch on."
Now colors:  "Color is such a personal thing," Shaba says, "but we definitely are seeing a lot of grey and white with our clients."
Information: 248-288-8888, ciot.com.
Check Mate: Ivanka Flaster tiles were created by the imaginative team at Ciot.
---
Motawi Tileworks
Ann Arbor
Still the same: "We've been hand-making tile since 1992, and while technology has certainly helped us in recent years with our execution, the actual making of the tile is fairly unchanged, and that's the cool thing about Motawi," says Motawi founder and owner Nawal Motawi.
Mid-Century mix: Motawi is noticing a surge in popularity with mid-century modern tiles. "We're excited that many of our tiles fit into that trend," Motawi says. They're also seeing a boost in tiles made to resemble marble, "because real marble is fussy and it requires a lot of care, but porcelain made to look like marble is simple to own," she says.
Crystal-ball insights: "Huge formats. We saw a lot of unimaginably giant single tiles nearing 4' to 8' at the Coverings 2015 international tile show."
Great greys: The Motawi team  has observed that grey tile and all its variations is coming on strong right now. "We have several glazes that fit into these color ranges, especially Rothwell Grey, Lichen, and Granite. These particular glazes are versatile enough to represent our roots as perfect glazes for arts and crafts-style designs and also mid-century modern designs," Motawi says.
Global influences: Look for Motawi's new all-over patterns, with Latin influences, coming soon.
Making an entry: "One of our most memorable installations was in a house in Decatur. The spectacular use of color on the entryway floor (forms) a carpet of tile that leads the eye, eventually, to a stunning fireplace."
Nation station: "Our most unusual installation is a mural of all of the flags from the United Nations," at the University of Michigan Dearborn campus. "It's updated to reflect current politics," Motawi says.
Information: 734-213-0017, motawi.com.
Handcrafted Beauty: "We've been hand-making tile since 1992," says Motawi Tileworks owner Nawal Motawi, "and while technology has certainly helped us in recent years with our execution, the actual making of the tile, shown at right, is fairly unchanged, and that's the cool thing about Motawi."