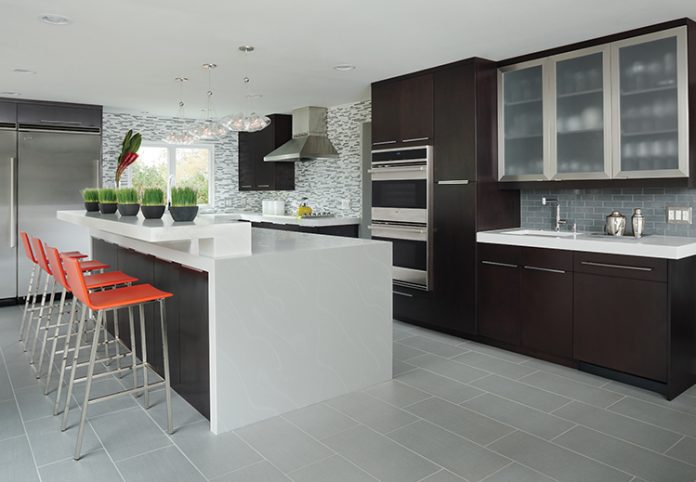 Everyone can have a luxury kitchen they love to come home to — a room that reflects their tastes, fits their lifestyle and budget, and meets their everyday needs.
EW Kitchens and Extraordinary Works, our luxury kitchen division, is a complete kitchen and bath resource, offering innovative design, gorgeous cabinetry, top-of-the-line appliances, countertops, lighting, hardware, and installation services.
Builders, designers, and homeowners have trusted EW Kitchens with their new kitchen and remodeling projects for more than 60 years.
Our showrooms in Wixom and Troy feature a large selection cabinetry, design ideas, and materials to spark your inspiration.
DESIGN DETAILS MAKE THE DIFFERENCE:
Bridging cabinetry and countertop can be done with both style and attention to detail. Designing unique countertop supports showcases your individual style and helps to define the personality of your space, setting it apart from the kitchen next door.
CONTEMPORARY CANTILEVER:
This apparently seamless series of supports is made of acrylic by Corian and appears to rise up out of the island top below. The 3-inch-thick snack bar extends the length of the 10-foot island and serves four diners comfortably. Integrated standoffs house electric receptacles that are easy to access, yet cleverly and artfully concealed. The design team collaborated with the countertop fabrication team to work through the unique challenges presented by this creative design concept.
One-of-a-kind design by Robert Zebrowski, CKD, of Extraordinary Works, and Lily Diego, design principle of A Perfect Setting.
TRADITIONAL TWIST:
Custom metal supports with a built-in footrest offer an alternative to the brackets more commonly found in other materials, such as wood. The unique shape was hand-forged by local artisans from a plan developed by the design team. The brackets fit beneath a 42-inch-high counter that is designed to serve as both a snack bar and a bar while entertaining. The footrest appears to float above the floor as the bracket captures the rail within it.
Custom supports designed by Robert Zebrowski, CKD, of Extraordinary Works, and Valerie Young of Valerie Young Interiors.
Robert is a certified kitchen designer and the director of design for Extraordinary Works, located inside Michigan Design Center in Troy. Contact him to schedule a design consultation or showroom tour today.
"Extraordinary on every level — design, service, options, and value." – Robert Zebrowski
EW KITCHENS SHOWROOM & MAIN OFFICE
(One mile W of Twelve Oaks Mall)
29750 Anthony Drive, Wixom, MI 48393
248-669-1300
EXTRAORDINARY WORKS AT THE MICHIGAN DESIGN CENTER
(Open to public; enter through North entrance)
1700 Stutz Drive, Suite 93, Troy, MI 48084
248-649-0500
EW KITCHENS AT THE SHELBY DESIGN CENTER
(N of 22 Mile Road)
50178 Van Dyke
Shelby Twp., MI 48317
586-739-9100