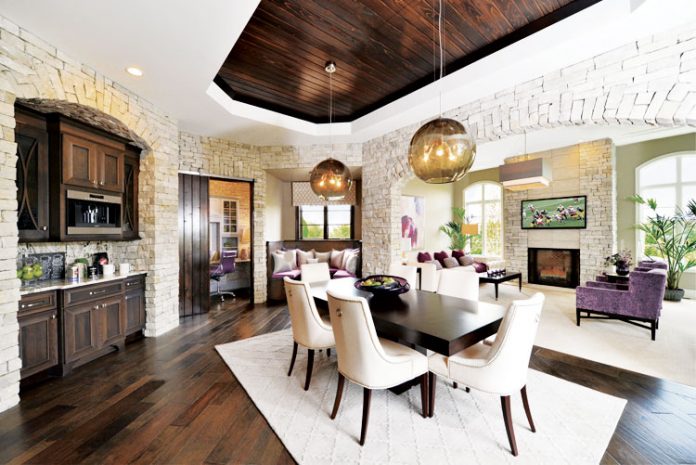 The National Association of Home Builders reports that the pace of residential construction spending improved on both a monthly and year-over-year basis for this past April (the most recent month with available findings). For that month, the seasonally adjusted annual rate of single-family construction spending was up 1.6 percent from March. On a year-over-year basis, the pace of single-family construction spending was up more than 9 percent from April 2014. Meanwhile, at this past spring's Great Lakes Builders Show in Detroit, industry experts revealed that homebuilders across the U.S. and in Michigan are feeling more optimistic as the economy continues to improve, more people find jobs, and home prices are returning to normal levels.
In light of these promising indications, we asked area builders to trade their hard hats for thinking caps and share with us the latest in metro Detroit home-building trends.
Here are some insights from a sampling of those who are nailing — and delivering — it when it comes to recognizing what their clients want today.
Family Time: This Moceri Custom Homes residence features multiple activity areas in intimate-yet-open spaces. The use of a variety of materials is also a signature feature.
---
Cranbrook Custom Homes
Shelby Township
Company history: The company was established in 1961 by Cosimo and Antoinette Lombardo. "It's been family owned and operated for over 50 years," says Stephen McKay (right), vice president/partner. "We design and build luxury homes throughout southeast Michigan with a 100 percent turnkey approach, fusing architects, design experts, engineers, contractors, and artisans for seamless production, resulting in exceptional quality — and extremely satisfied homeowners."
Aging well: Trends today include  materials such as "reclaimed wood, patinaed zinc, and natural stone."
Up for the challenge: "We enjoy the challenge of delivering within each client's budget."
Velvet ropes be gone:  McKay's team is turning out "spaces that feel luxurious, very open, and comfortable. Clients want their house to feel like 'home' —  no more marble museums of yesteryear, where you feel like you can't touch anything!"
Information: 586-781-7900, cranbrookcustomhomes.com
Serving Style: Well-appointed and comfortable are the main elements of a Cranbrook home.
---
Arteva Homes
Rochester Hills
Company history: Arteva Homes was formed in 2003, and has more than 50 combined years in the building business. Its mission is to create high-end custom homes as well as entire housing communities that accommodate various styles and price ranges. Arteva also implements high-challenge structural adaptations on existing buildings. "We put together the best designers, materials, and craftsmen for the most successful outcome, whether the project starts at $400,000 or $1 million," says Vito Terracciano (right), Arteva CEO.
Green scene: "As an Energy Star-Plus builder, we're using more materials for building 'green' to maximize cost savings for our customers," Terracciano says.
Sizing it up: "Customers are moving from wanting homes that are 5,000, 6,000, or 7,000 square feet to homes half that size — but with the luxurious feel of a larger home."
Design trends: "The feeling of spaciousness with less footage — using fine, luxury finishes for living spaces and efficient design for storage."
Congratulations: Winner of a Five-Star Diamond Award from the American Academy of Hospitality Sciences, "given after a very complex — and successful — Bay Harbor renovation."
Information: 248-642-7826, arteva.com
Grand Ideas: The Arteva look? A feeling of spaciousness and luxurious finishes, notes Arteva CEO Vito Terracciano.
---
Brandywine Construction
Birmingham
Company history: After a career as an engineer and project manager for large-scale government projects, Arya Afrakhteh (right) began Brandywine Construction in 2005, when he moved to Michigan. "Starting with the purchase of property, every detail of location, design, and material is considered," Afrakhteh says. "And we always ask, 'Does the house fit the neighborhood?' "
Maintenance magic: "Synthetic materials are popular right now," Afrakhteh says. "They're not porous, don't have to be sealed and re-sealed, and are easier to maintain."
Attention to detail: "Even in basements, the quality of the details, such as eliminating basement support columns — and what's behind walls — is very important," Afrakhteh says.
Intimacy rules: "Customers want smaller and more intimate — but open — floor plans.  Instead of a formal dining or living room, clients prefer a work room or library and a fun, finished basement with a gym, bar, and children's area."
Hands-on philosophy: "As an engineer, I see to every detail on- and off-site."
Information: 248-635-9925, brandywineconstruction.com
Neighborhood Beauties: Homeowners want open floor plans, Brandywine's Arya Afrakhteh says.
---
Hemphill Builders
Franklin
Company history: Jerry Hemphill founded Hemphill Builders, which specializes in high-end custom homes, residential renovations and additions, and historical restoration throughout southeast Michigan and the Nashville and Atlanta areas. "We care about each home as if it were our own," owner Dan Hemphill (right, Jerry Hemphill's son) says.
Timeless appeal: "We're seeing a combination of unique stone and brickwork both inside and outside of the home to create a classic, timeless look," Dan Hemphill says.
Color cue: "Clients definitely want  more 'light and bright' for cabinets, trim, and paint," Dan Hemphill says, "contrasted with dark hardwood flooring and interior masonry, to create a comfortable space."
Go with the flow: "The open floor plan is still preferred," Dan Hemphill says, "and (clients want to have) a home that flows together, from the overall footprint to the smallest details."
Passion for the project: "Building custom homes is what I truly love to do, from the day we break ground until the customer moves in."
Information: 248-953-4436, hemphillbuild.com
The Classics: Unique stone and brickwork, inside and out, is timeless, Dan Hemphill says.
---
Luxe Homes Design + Build
Birmingham
Company history: The company, whose co-founders are two married couples, was formed from VanBrouck and Associates (a luxury residential design firm) and Olde Worlde Homes (a luxury home building company). "We fill the gaps between architectural design, building, and interior design because the 'marriage' of our former companies provides the award-winning services that save clients time and money," says co-founder Bryan Leith.
Building materials trends: "A home's style inspires the reinvention of materials, such as elongated brick for a 'prairie/modern' exterior," Leith says. He and members of the company have traveled through Europe extensively, and have "brought back inspiration for dream homes here."
Get real: "Clients want details that support the architecture, such as gas lanterns for Old World style and authentic materials, like imported limestone flooring."
Lighten up: "Homeowners want very open, airy —  and yet intimate — interiors," Leith says. "And, no matter what style, everyone wants natural light. We've even designed and built homes so that each room allows the perfect light as the sun goes from morning to evening."
Information: 248-686-1889, luxehomesdesignbuild.com
THE COMPANY'S SIGNATURE LOOK — INTIMACY MEETS SPACIOUSNESS.   A UNIQUE AND FINELY DETAILED SPACE
---
Moceri Custom Homes
Auburn Hills
Company history: Moceri Custom Homes is a fourth-generation builder of luxury communities and custom homes. "Some of the trades and their families have been with us for 40 to 50 years, so there's great commitment and consistency of excellence," says Frank Moceri (right), partner. "Because Moceri has integrated both the architect and the master builder — and they've been a team for 20 years — there is a seamless flow for the customer in the creation of their dream home."
Eco-boost: "Materials have become more environmentally friendly," Moceri notes, "especially when it comes to heating and cooling, insulation, and windows."
Value plus: "People are able to get great value and a home with more quality now, with the details of each house customized to each customer's needs, wants, and budget," Moceri says.
Open and airy: "The trend is for high ceilings, and more space in living and eating areas," Moceri says.
Casual continues: "People are getting rid of formal living and dining rooms and are looking for a 'command center.' "
Information: 248-340-9400, mocerihomes.com
Sizzling with style: On-trend in home design includes more space for the living and eating areas, as shown in this Moceri Custom Homes residence, notes Frank Moceri, partner.