You might not think of a concrete countertop or a sink as a work of art, but when you see what Andrew Ward can do with it, you'll likely change your mind. The founder of St. Clair Shores-based Line Studio Detroit, Ward studied to be a fine arts painter and sculptor at the University of Illinois. He stumbled into the world of cast concrete in 2004 when he lived in Asheville, N.C., and worked for Mandala Design, a local contractor.
Ward started his own studio when he and his wife, Jessica Smigels, moved to Michigan in 2013 to raise their two sons closer to family. He took classes at Wayne State and later joined the small business incubator Ponyride, in Corktown. What he learned has turned into a thriving business that offers residential and commercial concrete designs.
"We started with renovations and build-outs for restaurants," says Ward, of St. Clair Shores. "We do mostly countertops — it's about 70 percent of our work. We also do a lot of bathroom vanities, fireplace surrounds, and bar tops."
Ward says he fell in love with concrete because of its features. "It's flexible and moldable," he says. "By casting the material you can make all shapes, thicknesses, and details. Concrete isn't a commodity. It's not cookie-cutter, or like the granite or solid surfaces you see everywhere. We're offering something handmade, not something made as a big slab and cut by machine."
The possibilities that concrete offers fuel Ward's imagination. For example, he designed a 12-foot-long desk with a faceted front for a Detroit architect. The piece has a pinwheel pattern on the top made of zinc, which is inspired by the downtown area's infrastructure.
Ward also designed a kitchen countertop with an inlaid wooden cutting board. The trash receptacle and recycling bin were installed beneath the board, which can be pulled out to allow the homeowner to clean up. Another project was a 14-foot fireplace hearth, surround, and mantel that weigh 800 pounds and had to be put in place using cranes.
"The designer wanted to achieve a certain look so we cast it upright to include casting lines, drip marks, and pock marks," he says.
Concrete pieces can be virtually any length; Ward says his cranes can lift up to a ton. He can also match any Pantone or Benjamin Moore color, although most of the work he does in Michigan is white or gray. A gifted woodworker, Ward also creates furniture made from concrete and wood, including tables, cabinets, and bookcases.
"We try to differentiate ourselves from others who do what we do by making big pieces, different shapes, and unique designs," he says. "Once I started making countertops and furniture, I discovered I like making things people use. It hits the part of my brain that needs to make stuff and problem-solve. It's satisfying to me that people get to touch a sink or walk across a floor we made."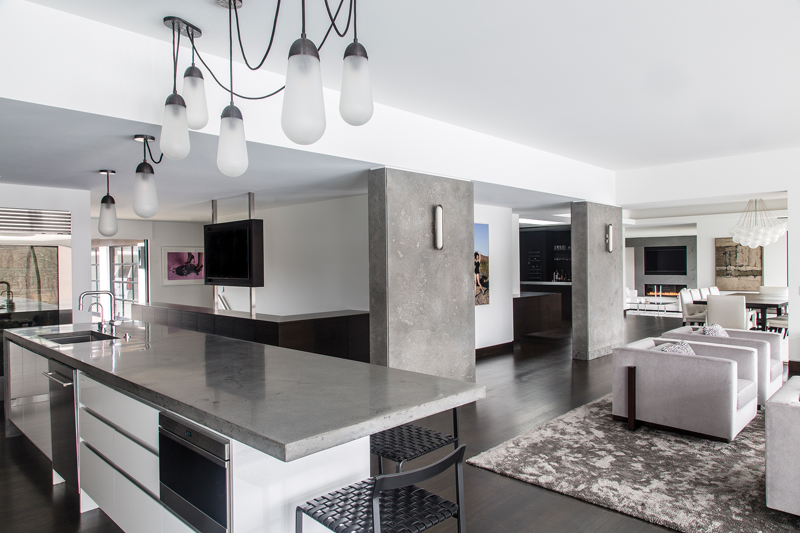 While there's a range in pricing, Ward says most concrete products average about $100 per square foot. "You're not choosing us because you're trying to save money," he says. "You choose us because you want us to design something for you."
A self-proclaimed "art school dropout," Ward is especially proud of the fact that some of the pieces he has cast live in homes that display artwork by Andy Warhol and Jim Dine.
"Jim Dine is one of my favorite artists, and one of my pieces is alongside his," he says. "I love it." 
More information: linestudiodetroit.com