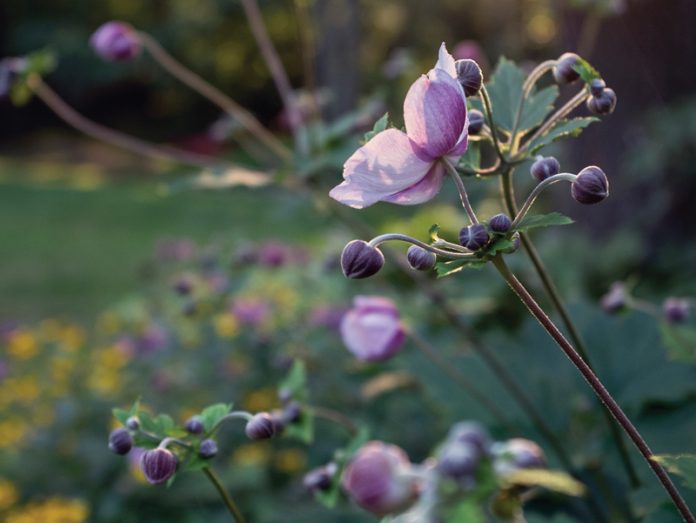 ---
Love Flower
A glimpse of the Edsel & Eleanor Ford House's 'Evening of Roses'
BACKSTORY: Last year, the Edsel & Eleanor Ford House in Grosse Pointe Shores rolled out the welcome mat in Eleanor's rose gardens, shown here, for the house's inaugural Evening of Roses. The occasion drew rose lovers from near and far who enjoyed rosarian insights, hands-on activities, rose-infused treats, and more.
It's said that renowned landscape architect Jens Jensen, who was responsible for the entire estate's grounds and design, wasn't big on creating the formal rose gardens. "He was progressive for his time, and his style was to work with native plants and natural environments," says Gretchen Abrams, the estate's program coordinator for this event. "He was anti-carving-out-a-formal-garden … but Eleanor was employing him and loved roses."
Jensen drew up the plans in 1928, and since then the Ford House staff has made few changes to the design, although the roses themselves have all been replaced because the original varieties are no longer available. Here's a glimpse at the Evening of Roses and what attendees might learn this year.
CHANGING IT UP: "Ten years ago we re-placed the original varieties with more modern roses, shrub roses, and other roses. They look similar, but they're easier to take care of than the original tea roses," says Kelley Maricle, Ford House horticulturist and rosarian, shown above.
COLOR SCHEME: One rose color you won't see in the gardens is red. "It's been said that Eleanor didn't like red flowers. There are no red roses in her gardens," Maricle says.
LOCATION, LOCATION, LOCATION: The rose garden can't be seen from the house. It's as alluring and meditative as a secret garden, especially with the stone terraces, wrought-iron gates, stone walls, and antiquated urns.
GROWING TIPS: "All roses need sun. At least six hours a day is good, more is even better," Maricle says. "Roses should be cut back in the spring, before buds swell, and pruned and dead-headed throughout the season. Major bloom times are June and September, but roses will bloom throughout the season."
EVENT DETAILS: This year, Evening of Roses will be held from 5:30-8:30 p.m. on June 27. Guests will meet representatives from ILERA Apothecary, who will guide them in making a rose-related take-home item. There will also be a representative from Ecuadorian rose company Handpicked Exports. In addition, they'll discover rose-growing tips from the resident horticulturist, and enjoy beverages and rose essence treats from Eastern Market's Warda Pâtisserie. The event is part of the house's Summer of Roses, which features gardening and flower-arranging workshops.
For ticket information, call 313-884-4222 or visit fordhouse.org.
— By Megan Swoyer
---
Artistic Touch
A fine-arts painter draws on her love for color to turn her property into a soothing haven
THE BACKSTORY: A little over two decades ago, Melissa Jones, shown here, and her husband, Steve Smith, moved to Franklin from Royal Oak because they needed more space. The couple's new home, built in 1947, required some alterations both indoors and out after the family moved in; Jones, an artist, made sure to incorporate an art studio in the layout. These days, the couple's home, studio, and a pool/cabana are surrounded by hundreds of gorgeous plants and flowers. When she's not sculpting or painting, Jones is undoubtedly in her gardens, where she likes to do something different every year. "I do the planting and maintenance, and Steve enjoys the gardens," she says. "I can't go to a garden center without dropping $100. I'm out here every day gardening — I spend way too much time gardening," she adds with a laugh.
LET IT FLOW: Jones prefers a casual layout. "I'm loose and free with it. The whole thing is a bit unplanned and overgrown," she says.
SECOND HOMES: Jones likes to spend time at FleurDetroit in Bloomfield Hills, Detroit Garden Works in Sylvan Lake, AguaFina Gardens International in Sylvan Lake, Goldner Walsh in Pontiac, Telly's Greenhouse and Garden Center in Troy, and any of the English Gardens locations, as well as "mom and pop centers."
NO REST WITH PESTS: "Deer, groundhogs, and rabbits love my gardens," Jones says. "They eat things down to sticks. I try to stop it, but it's difficult. For example, I put jars over my butterfly weed blooms and hope they'll live." Deer also like to munch on her large orange canna. The gardener uses a pellet fertilizer — Milorganite from English Gardens — made from waste, which also repels deer. "It's smelly, but not as bad as some other products," she says. Skunks also enjoy the Jones-Smith property; recently, Jones saw a family of them near their fire pit.
SOUND THE TRUMPET: Want to attract hummingbirds? Jones suggests planting trumpet vine, which they love.
LOVELY LOOSETRIFE, REALLY! "Although loosestrife is an invasive plant, they're not invasive in my yard," Jones says. "They don't get very big and they don't move, probably because it's dry back here."
STRAIGHT UP: One of the more unique plants in Jones' garden is the purple-leaf columnar barberry, which is ideal for hedges — and it's deer-resistant!
WISH LIST: "I'm hoping to get a seedling from a magnolia tree from my friend's dad. It's gorgeous, pure white."
— By Megan Swoyer
---
Home on the Range
Landscaping elements at a Rochester home evoke a Western motif
BACKSTORY: When these homeowners moved from Colorado to Michigan and bought this property near downtown Rochester about five years ago, they demolished the home that was on it and built anew (AZD Associates Inc. and Watson Custom Builders). "They moved here to be near their grandchildren, but still wanted the landscaping to feel like where they had come from in Colorado, where they had a 1,300-acre working cattle ranch," explains landscape designer Ryan Youngblood, of Rochester-based R. Youngblood & Co.
FENCE ME IN: A rustic fence discovered on the property was used as art. "It reminded the homeowners of their ranch, so we showcase it in the backyard," Youngblood explains.
TREE-MENDOUS: Adding to the few trees that were already there, Youngblood's team brought in a dozen or so new trees.
GO WEST, YOUNG MAN: Youngblood used a variety of large stones, boulders, and plants that would evoke the West, including yucca ("very Western and very drought-tolerant"), as well as a lot of natural, free-flowing species, including hameln grass and Russian sage.
in the limelight: Youngblood and principal designer Kurt Schaus chose a limelight hydrangea variety because of its durability and long bloom time, as well as its winter aesthetics.
COLOR CUES: Red canna and purple-pink coneflower add zest to the layout throughout the season, while large redbud trees announce spring with vibrant purple-pink blooms.
DIVINE DISGUISE: Boston ivy grows on a wall next to the property that's the backside of a manufacturing plant no longer in operation.
GIDDY-UP!: "The homeowners had sculptures of two bucking colts, and that was our jumping-off point — where to place them for maximum viewing." You can see the sculptures straight through the front door all the way to the backyard, where they stand with the found vintage fence as a backdrop."
PLANTER'S PUNCH: Custom-made planters of corten steel feature agave, and "we like to use asparagus fern and licorice plant," says Youngblood, who relies on team member Andrew VanHarken to oversee planter displays.
— By Megan Swoyer
---
Welcome!
This Ann Arbor backyard's inviting deck and outdoor kitchen are just the ticket for summer entertaining
BACKSTORY: Estelle Meerholz, shown at left above, with a friend, bought her Ann Arbor home in 2009 with the long-term plan of building a second residence at the back of the property to rent or sell. "When I was finally ready, the cost was going to be outrageous, with not a lot of return on my investment," she says. So Meerholz invested in a social life instead, and decided to turn the backyard into a place to entertain. The property, however, posed a challenge. Located on a narrow city lot, the house was separated from the yard by a garage and more than 34 feet. "That's a long way to go without events that connect it," says architect Theresa Angelini, of Angelini & Associates Architects in Ann Arbor.
ONDECK: The first "event" became a screened porch on a former deck that had connected the house to the garage. It now draws guests from the interior to the backyard, Angelini says.
CONNECTOR KITCHEN: The architects added an outdoor kitchen alongside the garage, further connecting the porch to the yard. The large barbecue, countertop, sink, and built-in cooler are inviting, and serve as a party hub.
FIRED UP: A steep hill made the backyard difficult to navigate. To solve that problem, the Angelinis designed a retaining wall along the fence line. It's become a functional feature, providing seating for those enjoying the built-in, wood-burning fire pit. "The round fire pit is like an intersection that leads you to the table area under the pergola," Theresa Angelini says.
GARAGE CAMOUFLAGE: Stone walkways and veneer wrap around the space, providing a feeling of continuity. "Everything is clad in stone, masking it quite nicely," Brad Angelini says. "When you're in the garden space and on the patio, you'd never imagine there's a garage behind it."
GEOMETRY LESSON: Privacy screens made from woven sheets of stainless steel provide a graphic backdrop for the gray-and-white striped dining chairs, and are a sleek contrast to the abundance of stone.
COLOR POPS: The monochromatic palette gets a wakeup call with pops of color added throughout the space. Red cushions dot the retaining wall, while yellow and purple potted flowers hang off of the fence.
URBAN RETREAT: Meerholz says her favorite part of the renovation is that she and her guests can now enjoy the outdoors. "I love having friends over," she says, "just to be able to sit outside and enjoy the trees and grass. Evenings are my favorite time, especially if I'm enjoying a glass of wine with friends."
— By Stephanie Vozza
---
Garden Magic
Charm and comfort rule in this backyard layout, where the accent is on casual
BACKSTORY: When Traci Fritz and her partner, Julia Elliott, moved into their 1964 Colonial-style Royal Oak home five years ago, the backyard was generally nondescript. "It was kind of old-school, with stamped concrete and not a lot of plants," Fritz recalls. With a desire to make the yard more intimate, intriguing, and charming, Fritz, an avid entertainer, called Goldner Walsh nursery in Pontiac for assistance. Before she knew it, landscape designer Cathy Rosenhaus, then with Goldner Walsh and now working for herself as Cathy Rosenhaus Garden Designs, had drawn up a plan that incorporatesd verdant ground cover, blue fieldstone walkways (from Spurlocks Natural Stone and Brick in Pontiac), climbing plants and evergreens, and enchanting sitting areas. "Cathy had a vision," Fritz says. Rosenhaus' execution allowed Fritz to use her own imagination to bring in additional plants, trellises, and art to create an alluring haven.
SMART STRATEGY: Says Rosenhaus: "We laid the Pennsylvania bluestone path with tight joints, (going) from the back door and out to the garden, and meandering through some original trees and plants."
GOT IT COVERED: Rosenhaus selected a groundcover called mazus, which is a tiny perennial plant that spreads quickly and only grows to about 2 inches tall. "It's notable for its miniature, iris-like flower," Rosenhaus says.
SPRUCED UP: Two weeping Norway spruces are tied together at the top to form an archway entrance to the garden, creating an interesting focal point. "It's so beautiful during the winter," Fritz says. "It catches the snow."
PERFECT MIX: Everything from climbing hydrangea and ligularia to ferns, Mandevilla, mini coralbells, and astilbe adorn the property. Steppables include thyme, moss, and sedum.
PEACE PLANTS: You'd never guess that this property is just four blocks from busy Woodward Avenue. "We don't hear much because of all this," Fritz says, pointing to the lush yard.
— By Megan Swoyer
---
Worldly Wonder
This garden's soulful features enchant
BACKSTORY: Garden wizard Daryl Toby, principal of Sylvan Lake-based AguaFina Gardens International, first became interested in landscaping at the age of 12, when he maintained neighbors' lawns. Later, after graduating from Michigan State University with a degree in environmental management, the Sylvan Lake native decided to travel all over the world. "While I was in Indonesia riding around on a motor bike, I started buying architectural pieces such as stones and parts of people's houses. My parents thought I was crazy, but people here started buying those items and relics when I returned," Toby says. Nowadays, he creates and installs incredible gardens all over the world, including the Bloomfield Hills gem shown here.
RELISHING THE RELICS: This garden includes a curved walkway made out of old pavers that were reclaimed from the renowned Nelsonville Brick Co. in Ohio, a pergola constructed from timeworn beams, and an antique granite bench.
HOLY SMOKE: "It's mesmerizing to sit by a fire at night, so fire plays a big role in my designs. Here, fire erupts from a natural stone that was planted with succulents. After all, fire doesn't just have to come from a fire pit," he notes.
FIELD OF VISION: "We let a garden evolve as we create it, versus dogmatically following a plan. It's an organic process; the design evolves in the field, rather than on paper. The real creativity is in the field," the designer says.
SOUNDS LIKE: To provide new and different experiences to a person strolling through the garden, Toby focuses on sounds, such as the crunch of the gravel as you walk across the paths and the (musical notes) from water.
OWNER'S TESTIMONIAL: "I love how the feeling changes from sunrise to sunset, and from coffee in the morning to a glass of wine in the evening. We practically live out there."
— By Judith Harris Solomon