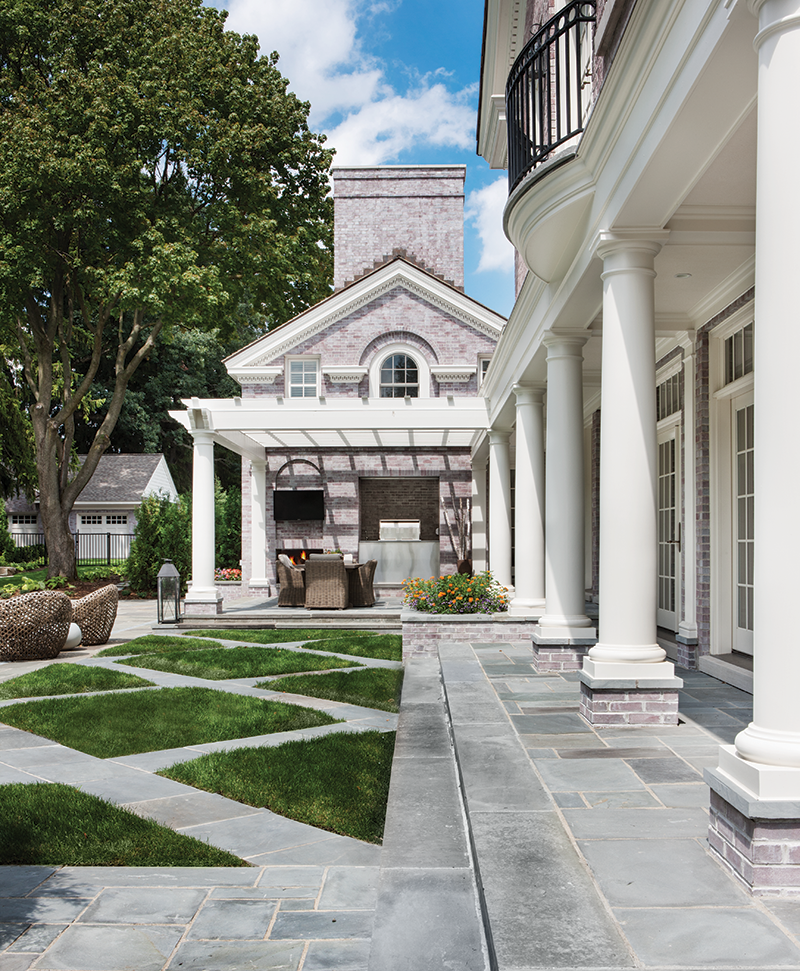 When Wendi and Jay Farner purchased their Bloomfield Hills home in 2015, one of the first things the couple wanted to do was reconfigure its design, renovate select spaces, and create a better flow. Opening the indoors to the outside and providing easy access to what would become gorgeous landscaping was key. That included bluestone patios peppered with flowers and greenery, a beckoning pool, and an inviting grill/fireplace/living room. Another must-have was adding vegetable beds. Enter a team of design experts, landscaping pros, and Rob Clarke, president and lead architect of the 31-year-old Bloomfield Hills-based architectural design firm CBI Design Professionals.
"WE'RE A FAMILY OF FIVE (THREE KIDS, WHO LOVE TO SWIM, PLUS THREE DOGS), AND NEEDED … PLACES TO GATHER."
— WENDI FARNER
A kitchen, family room, master suite, indoor gym, outdoor kitchen, mudroom/utility room, nook, new pool, and detached garage were added and/or renovated after being stripped down to the studs. The family moved into the refurbished home in the spring of 2017. Today, about half of the home, whose first owner, in 1930, was Detroit Tigers owner Walter Briggs, is new, Wendi shares. "We're a family of five (three kids, 12, 14, and 16, who love to swim, plus three dogs), and needed a better flow and places to gather. We also wanted to provide better access to the outdoors."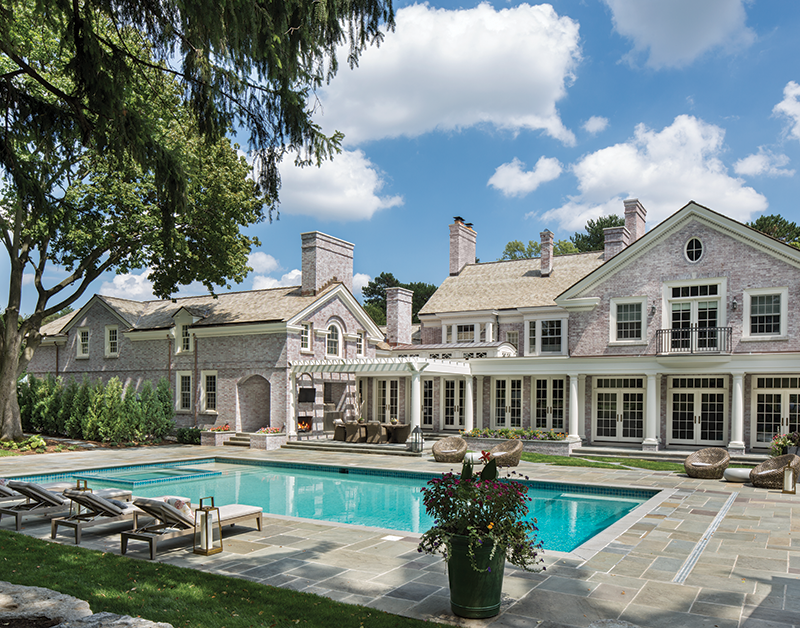 Adds Clarke: "You couldn't get to the backyard from the main living areas. Everything seemed disconnected from the yard." To address that situation, Clarke and the team added French doors and large-scale windows to open the view. "We also removed several obstructions related to a sunken living room floor that kept the homeowner from being able to walk directly to the backyard," he says. New clerestory glass was added, to bring natural light deep into the home, and a colonnade was extended on the rear of the home to include the new areas and provide an organized flow to the backyard.
After working with landscapers from Bloomfield Hills-based James C. Scott & Associates and Bloomfield Township-based FleurDetroit, the homeowners were thrilled with the outcome. The original pool was located where Wendi's vegetable garden is currently; it was the perfect spot for the garden, as it had no visual connection to the main house or its activity area. Of note: FleurDetroit was hired by the homeowners to oversee day-to-day operations ranging from exterior design and build to managing contractors on the estate. Photos here do not reflect their work, which included the firm's design services and production capabilities. FleurDetroit has completely edited and redesigned the front and back property. Beds were removed, lawn was added, and eight containers and a lead fountain were brought in. (Editor's note: Stay tuned: The editorial team plans to run those photos in a future issue.)
About that veggie garden: When Wendi was a young girl, her father had a huge garden in Auburn Hills. "We had tractors, and I planted all the tomatoes. When I became a stay-at-home mom, I wanted to grow vegetables, so now I grow tomatoes, herbs, cucumbers — whatever my kids will eat!"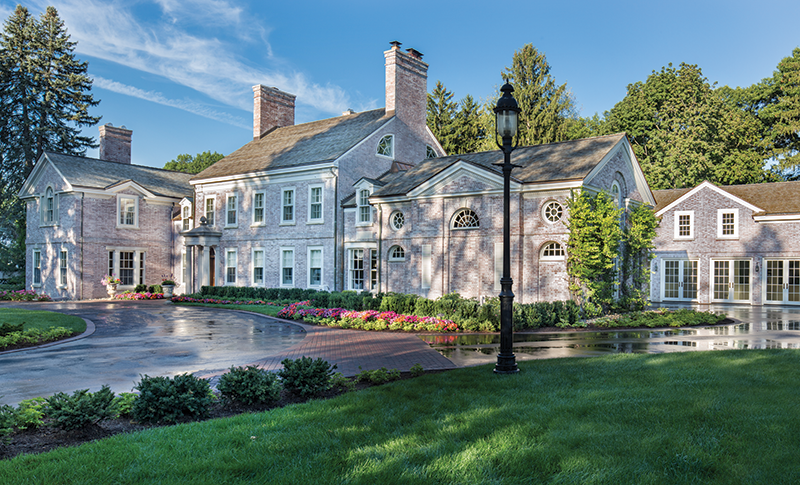 Challenges, says Clarke, included "getting daylight into the main house, the soil quality (the addition was built on a water-bearing sand base, so they scratched plans for a basement in that area), creating a stormwater detention system, and complying with code in placing the air conditioner and generator. "The last thing you want to look at or hear is an air conditioner, but you have to be considerate of neighbors, the city's code, and more," Clarke explains. The new units are nicely hidden behind an arborvitae hedge. With two fireplaces, a television, and comfortable furnishings, Wendi says she and her husband are outside every night in the summer.
Looking out to distant trees, a well-used treehouse, an inviting pool house, and tennis courts, Wendi says one of her biggest joys is seeing different types of birds, who love the grounds as much as the family does. "We have a lot of birds here," she says with a smile. "There are beautiful cardinal couples."
More information: cbidesign.net, fleurdetroit.com, jcsa-la.com