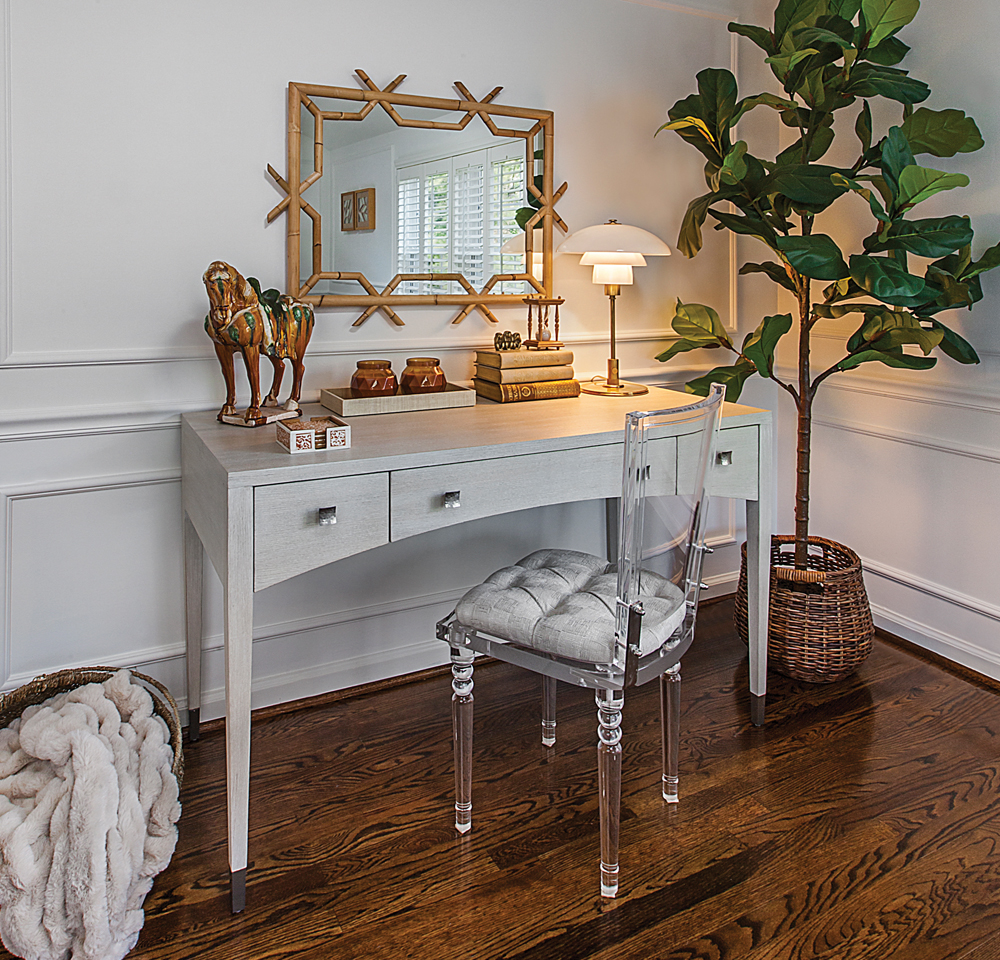 Like many homeowners today, Jennifer Barnes and her husband bought their Grosse Pointe Farms home with the idea that updates would be needed to meet their taste and growing family. "The home was a bit of a fixer-upper with great bones, and we wanted to make it our own," Barnes says.
They had previously hired Annie Kordas, of Annie Kordas Interiors in Grosse Pointe Farms, to design their second child's nursery and were happy with the results, so it seemed natural to have Kordas transform their "catch-all" guest room before their niece moved in to attend Wayne State University and help with child care.
"We knew the guest room was going to be used, so we wanted it to be comfortable — but also beautiful, fancy, lovely, and upscale. We also wanted it to be young but timeless, and (we didn't want to use) gray," Barnes says.
Sprucing Up

This guest room needed love, and designer Annie Kordas was just the person to embrace it.
"It wasn't the most architecturally dynamic space, so we had a carpenter apply wainscoting to make the walls more dimensional and interesting," Kordas explains. "We went with a super neutral palette in white, cream, tan, and brown, and added subtle patterns and textures."
The homeowners had had the hardwood floors in the house refinished after moving in, and were reluctant to cover them. They ended up compromising in the guest room with a cozy, neutral layered rug featuring a thicker, textural rug on top of a larger wool rug.
Barnes wanted to keep the first bedroom set she had purchased at Marshall Fields as an independent young woman, and was pleased at how Kordas made the sentimental matching headboard and nightstands look fresh. She also requested that the room have a ceiling fan.
In her designs, Kordas often likes to mix old with new for a more interesting look. "I especially enjoyed how the desk area came together with a well-curated, charming mix of vintage and modern. The high-quality acrylic chair is modern, but it's in a traditional shape, and it ties in with the acrylic-and-brass ceiling fan."
Barnes sums up her satisfaction with the finished room: "The biggest challenge was that it's a small room, but Annie was able to bring it to life. I love the crisp, clean, timeless feel of the room. The design is in line with the rest of our house — warm, charming, stylish, and comfortable. The vision came to life perfectly. Annie knew the room needed some love, and she nailed it."
More information: anniekordasinteriors.com