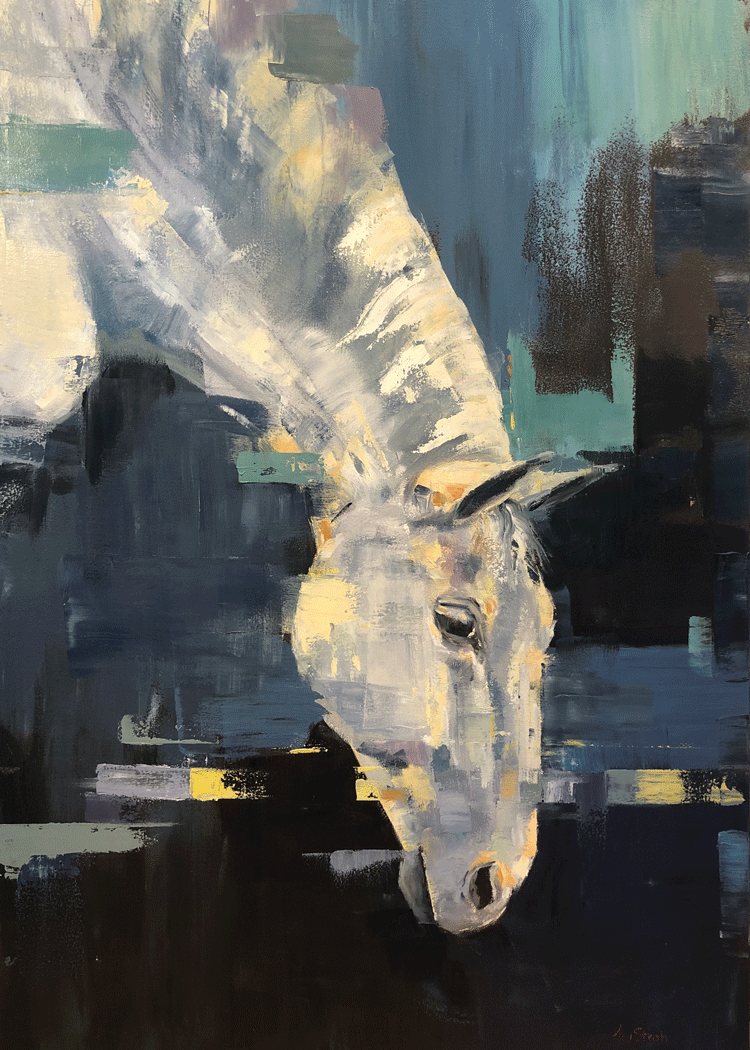 Artist Weatherly Stroh fondly recalls the very first oil painting she ever created. "I was in sixth grade and had been at Disney World with my grandparents and best friend. I took some photos of a duck and was inspired to paint it," she says, laughing. "My mom (Susie Stroh, also an artist) still has the painting."
Today, the celebrated artist, who spends time in both her native Michigan and Florida, captures everything from energetic horses and lovable dogs to pastoral landscapes and the occasional flower.
After graduating from Cranbrook-Kingswood (she attended from sixth through 12th grade) and the University of Colorado, and spending years in Colorado and at her Birmingham home and studio, Stroh opted to change up her scenery and inspiration a bit after finding a suitable studio in West Palm Beach and new digs in Wellington, Fla.
At the University of Colorado, Stroh majored in art with a photography emphasis. "My first real art classes were at Cranbrook, where I took some amazing drawing, painting, photography, weaving, and jewelry-making classes," she says. "My classes at CU paled in comparison!" After receiving her first college degree, she returned to CU to obtain a master's in teaching. For a time, she taught third and fourth grade in Colorado — but fast-forward to 2020 and Stroh's happy to report that, for the past nine years, she's been painting full time.
"I told myself I'd give it a year full time and see what happens," Stroh remembers. "A friend had lost her yellow lab and asked if I'd consider painting a portrait of her dog. I'd never done anything like that, but it all went from there." So down the animal route, with some landscapes and flowers mixed in, she went.
"I'M LOVING MORE TEALS AND GREENS AND AQUAMARINES — VIBRANT COLORS — RATHER THAN THE MORE TRADITIONAL PALETTE I'M USED TO. I'M SURE FLORIDA'S FLORA AND FAUNA HAS INFLUENCED ME."
— WEATHERLY STROH
"My style's evolving," the artist said soon after her "Animal Dreams" 2020 exhibit at the Birmingham Bloomfield Art Center in Birmingham. "I have a fairly realistic portrait style, but I'm slowly starting to play around with gesture and motion; it's almost impressionistic. I really like the looser style." Some of Stroh's color selections are also changing. "I'm loving more teals and greens and aquamarines — vibrant colors — rather than the more traditional palette I'm used to. I'm sure Florida's flora and fauna has influenced me."
The Michigan Humane Society in Detroit features a collage created from 300 6-inch by 6-inch animal paintings that she created for a past ArtPrize event in Grand Rapids. "The ArtPrize collage was purchased by a group of clients for display at the Humane Society," she says. Stroh had been a volunteer at the Michigan Humane Society; now, she gives her time to the Palm Beach Animal Care and Control shelter. Her biggest contribution so far has been adopting 8-year-old Gus, a Rottweiler, hound, and Mastiff mix. "He was really sick and on the to-be-euthanized list. I was volunteering at the shelter and saw his picture, and something spoke to me." As this issue was going to press, she and Gus were packing their bags for a road trip to Michigan to see family and friends, exhibit art at her mother's barn in Metamora, and teach an animal-painting workshop at the Birmingham Bloomfield Art Center.
When Stroh and her best friend return to Florida, she'll dive into more equestrian work at her studio, located above a framing store and antiques auction house. "Wellington (where she lives) is the winter horse capital of the world and it draws horse enthusiasts from all over," says Stroh, a former rider who sold her last horse about two years ago.
Many of her animal pieces evoke a quiet, peaceful feeling with strokes of unexpected energy mixed in. It's that bit of vim that helps Stroh tell the animal's life story, whether it's a racing horse or a pet bird. Stroh says that with paint, she depicts what her subjects cannot — their own personal narrative.
More information: weatherlystroh.com