Nestled on more than 4 acres, with abundant wildlife and the Rouge River in the back, the home of Paula and Laurence Stawick — a charming 1941 Cape Cod-style colonial that features plaster walls and the original molding — is an unexpected find in Beverly Hills.
Recently, interior designer Jane Spencer, of Bloomfield Hills-based Jane Spencer Designs, renovated the homeowners' secondary guest bath. Tucked away off the kitchen and attached to a small bedroom, Paula Stawick believes it was once intended for a live-in housekeeper or chef, due to its location.
"We wanted to bring it up to the same level as the rest of the house, because when we entertain, it's often our second powder room," Stawick says. When it came time to renovate, Stawick knew Spencer could transform the space. "She understands our lifestyle and what we like," she says.
The challenge was to update the room so that it was in tune with the home's traditional style, but with a contemporary edge. Another challenge was its size. "It's 5 feet wide, maybe," Spencer says. "It's the width of the tub, with just enough space to slip the vanity into place."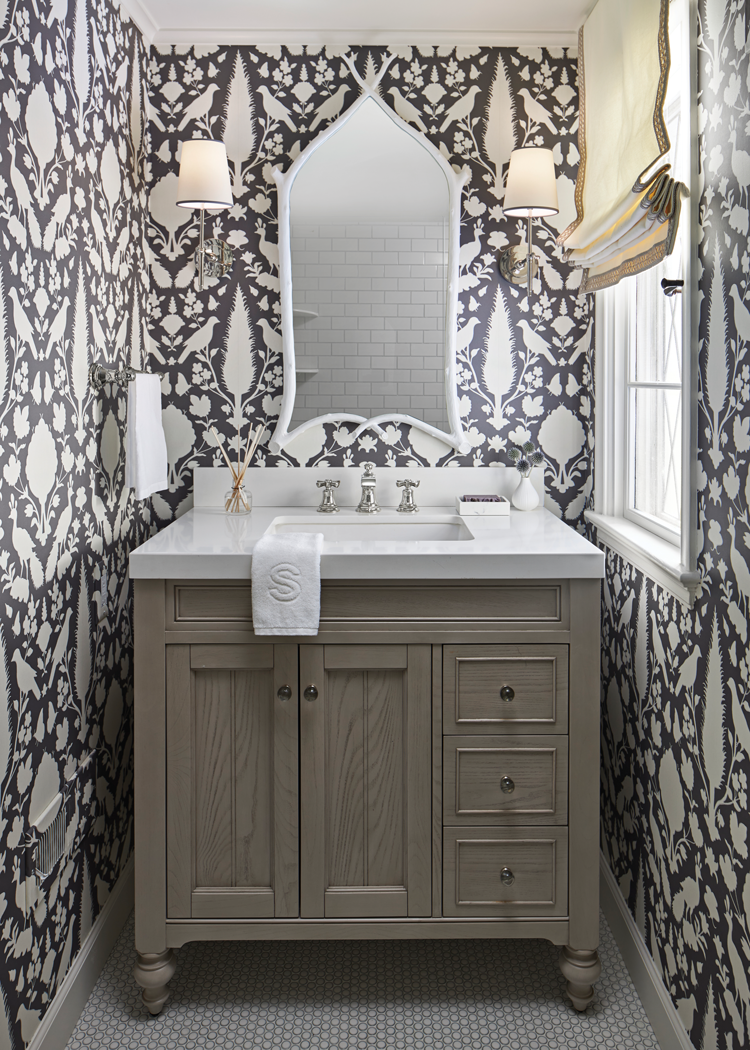 To create the desired look, each detail was key. Spencer suggested Schumacher's graphic Chenonceau wallcovering, a whimsical, nature-themed print that nods to the home's picturesque surroundings. Not only did Stawick love the print, but so did her 92-year-old mother. "We thought maybe one day she might move in with us, so I gave her input into the room," Stawick says.
Penny tile from Ann Sacks adorns the floors. It offers a beautiful vintage feel and it's not slippery, thanks to the amount of grout it required, Spencer explains. A retro vibe can also be felt in the glass Restoration Hardware vanity knobs and the Brizo Rook faucet with cross handles, which help tie in the original leaded-glass window and bathtub. The window was framed with a stunning Roman shade custom-made by Vantay Draperies (in Madison Heights).
"Paula still wanted a little bit of glam, since it's a guest bath," Spencer says. "That's why we went with polished nickel for the plumbing fixtures and sconces (from Visual Comfort) rather than polished chrome."
To offset the sleekness of the finishes, a rustic dresser-style vanity from Fairmont Designs was chosen, as was a Carver's Guild mirror, custom-painted in Benjamin Moore's White Dove to match the ceiling and crown molding.
"We had a lot of fun with it," Stawick says. "It makes me feel happy. It's just a very pretty room."
More information: janespencerdesigns.com