When Michelle Davis co-founded the award-winning Farmington Hills-based interior design firm Davis & Davis in 1990, the typical office environment was a very different place. Three decades and a pandemic later, the firm's blend of commercial interior design and architectural services is helping clients creatively transform their interior spaces to reflect the changing workplace.
Davis, principal and chief design officer, explains: "As a society, we haven't experienced anything like this before and we're collectively moving forward into the unknown. We know there's been a shift toward work-life integration and that there's a continuing need for physical workspaces — people are social by nature, young people need mentoring, and the development of a company culture can't be done virtually."
Last year, Davis & Davis announced that Jamie Jordan, a longtime employee, had become a third partner, making the firm a majority women-owned business with an 80 percent female staff. Jordan serves as partner and managing director, focusing on all facets of project workflow.
"Despite the pandemic, we're doing some of our best, most creative work, and our business has grown," Jordan explains. "Ultimately, it all comes back to our mission of creating exceptional spaces to elevate the human experience and to our incredible team."
Prior to the pandemic, the firm had begun working on innovative projects with Butzel, a Troy-based law firm, and Mission Veterinary Partners (MVP) in Southfield. That work was completed earlier this year, and serendipitously translated well to post-pandemic work-life culture.
The MVP headquarters project involved the transformation of a former American Cancer Society building into a dynamic hospitality hub and showroom, training center, and office space with an accent on the veterinary field. The finished product includes areas for collaboration, socialization, and learning.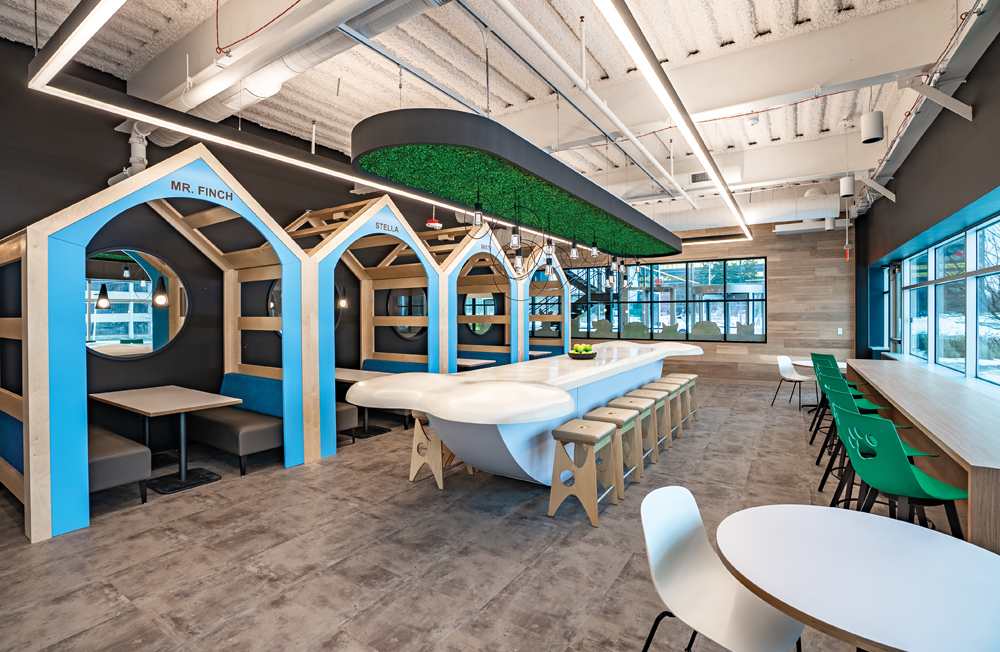 "This project was ahead of its time and worked out beautifully," Davis says. "MVP's leadership team is young, fun, and forward-thinking. They needed a functional workspace with an unconventional, uplifting atmosphere where people can engage, connect, and create."
The design features natural wood materials that contrast black-and-white features with bold accents in MVP's corporate colors of blue and green. The "Instagram-worthy space" highlights whimsical touches such as a dog bone-shaped island and playful animal murals. Behind the main reception desk is a decorative structure that flows down from the ceiling and glows at night.
Simultaneously, the Davis & Davis team was working on an innovative project for Butzel, a law firm founded in Detroit nearly 170 years ago. Jordan worked on this job in close coordination with designer Phil Melcher of Woodbury Design Group and Joanne Klimko, chief administrative officer at Butzel.
"The intent was to create a place to practice law for future decades with a progressive, adaptable workplace that conveys trust, confidence, success, and their history," Jordan explains. "The Troy office became the model for Butzel's downtown Detroit office renovation."
The new office emphasizes collaborative and inclusive spaces including a meditation room, a new mothers' room, and an area known as "the commons," which is an informal work and gathering space. The refined palette features dark wood tones that contrast with light walls, and the prominent use of glass softened by taupe textured carpet. Demountable glass walls enable offices to become open spaces if needed. Artwork from Butzel's impressive collection provides color and interest to the space.
Davis explains that when it comes to office trends, the current emphasis is on collaborative spaces and flexible work zones with easily manipulated furniture. She notes that despite the fact that many people now spend more time working from home, office square footage hasn't changed significantly, since more space is needed per individual.
"The pandemic has created a new mindset regarding lifestyle, work-life balance, and wellness. Spaces in which people live, work, and play have a profound effect on their health, productivity, and mood, and should be memorable, functionally supportive, and have a positive impact on the human experience," Davis says. "We're creating workplaces for the now."
MORE INFORMATION: davisinteriordesign.com