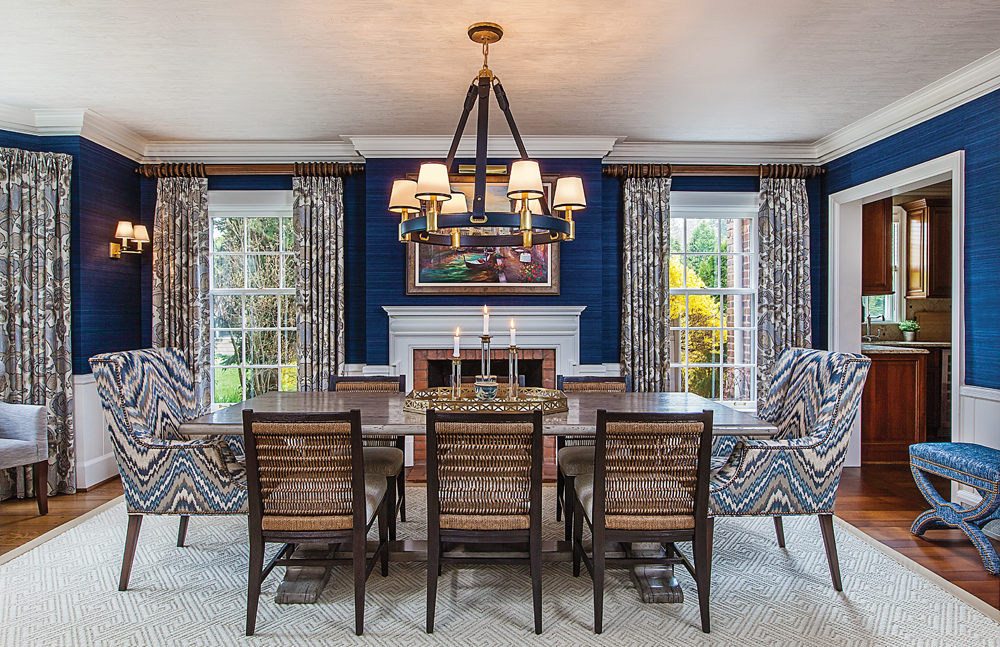 It was all about mixing his-and-her vibes in a Grosse Pointe Shores home where this year's Detroit Design Awards Rising Star played a major role. Annie Kordas, who owns Annie Kordas Interiors, based in Grosse Pointe Farms, injected the home with rich blues, intriguing patterns, fresh accents, and a tiny nod to nautical.
Kordas says balancing masculine and feminine appeal was the name of the game for this particular project. "He wanted rich colors and a handsome look, and she wanted light, airy, and fresh," the designer says of the couple's goals. They had recently married, and the man had lived in the home before they tied the knot.
Kordas initially considered a palette with a lot of creams and whites, splashed with bits of color. "My selected paint colors were whites, and I suggested cream-colored furnishings; he said, 'I need color.' So we brought in richer tones in pillows, wall treatments, and accessories. He wouldn't have been happy with all neutrals," the designer says. Overall, Kordas' aim was to try to stay true to the wife's desire for a "French country meets coastal look — you know, a driftwood feel, with some natural elements that remind them of the lake and water," Kordas says, adding that the home previously had a traditional feel, with brocades and velvets. "There wasn't much in the way of coastal or nautical energy," Kordas says, and the woman of the home was ready for a new look.
Working strictly on interior design (no footprint changes were needed) in the1938 Cape Cod-style home, Kordas embraced many of the pieces brought in by the husband's former designer, D.J. Kennedy, a well-known and highly respected designer who passed away in 2016.
"D.J. was a very popular and well-established designer," Kordas says. "He had worked with my client in 2002, and everything he brought in was high quality. We kept a lot and blended it with new items to create a fresh, updated look. The woman of the house wanted it lighter and brighter, and more transitional than traditional."
In the dining room, the team agreed upon a Ralph Lauren textural fabric wallpaper. "It's not grasscloth; it's more a fabric," Kordas explains. In a deep-blue hue, it picks up on the color of the lake, just beyond the windows. "Using that wall treatment is a dynamic way to balance the masculine and feminine," she says. Meanwhile, the space's chandelier also features a masculine feel, with leather and brass materials. "The side chairs, with their woven texture, are an earthy nod to lake life, while the host and hostess chairs are large and more masculine." Floral drapes complement the space.  Kordas says she'd be remiss if she didn't try to create a special seating area near the room's bay window. "That was wasted space; they needed a little seating area because it's so pretty looking out to Lake St. Clair from there. It's more feminine, too." She added gray wingback chairs and a metallic and marble pedestal table.
"We could have gone more formal in this home," she continues, "but they wanted it to feel relaxed — so instead of, say, a glass China cabinet in the dining room, I went with a woven jute cabinet and kept it on the shorter side." A collection of chinoiserie and abstract pottery are displayed on the piece.
Kordas says the ceiling features a subtle wallpaper. "This was a way to provide the woman of the home with another touch of what she wanted," she notes. The wallpaper has a feminine feel, with a subtle woodgrain pattern and a refined metallic treatment.
In the living room, new millwork was added to create dimension. "D.J.'s layout in the living room was great, so we simply recovered many of the pieces there, and popped in a couple of navy-blue X benches." The couple also purchased two paintings for the living room from Kordas' collection.
Two large chests in the living room felt slightly dated, so Kordas brought in huge statement mirrors to place above and behind them. Consisting of hand-cut oxidized iron discs, the mirrors have a remarkable iridescent blue hue and captivate with jagged, irregular borders and a refined satin finish. "They bring in color, pop, and boldness," the designer says. Nearby, one of the couple's favorite pieces is a coffee table with a  stone base and a tree-trunk-shaped top. "The surface is inlaid, fossilized clamshells —  a natural material, and then there's a finish over the top," the designer explains. As for what's underfoot, Kordas likes a rug-on-rug effect. "I love the huge flat-weave rug that spans much of the room. It's got a nice ostrich-leather border that the husband likes. Then we put a more feminine rug that's hand-knotted with light blues and a softer, lake pattern on top." Balboa Mist paint from Sherwin-Williams is the perfect color for this soothing space's walls.
For the sunroom update, Kordas says new paint colors and reupholstered furnishings were a great way to start. She had the chairs wrapped in a Schumacher Crusoe ikat fabric and reupholstered the sofa in a Schumacher navy performance linen. The ceiling and trim were painted in White Dove by Benjamin Moore, while the walls were painted in Benjamin Moore's Horizon.
The existing rug and floor were fine, Kordas says. In fact, the rug is neutral in tone and it's an indoor-outdoor piece, so it works well for a lakeside environment. "We purchased new accessories, including Riviera table lamps from Palecek, a Lucite drink table from the John-Richard Collection (keeping the look light), and a more size-appropriate coffee table from Braxton Culler that complemented the room's round dining table and chairs."
An antique, hand-crafted live-edge chair, placed beside an aqua ceramic garden seat, adds to the mix. The round rattan table and chairs were already in the space.
"We chose to recover the four dining chairs in the same Kravet taupe ostrich leather that borders the custom flatweave rug in the adjacent room," Kordas says. "Rattan works well in these types of settings."
Adding simple touches like a suncatcher to enhance the reflection of the morning sun off the lake, a driftwood bowl of lake rocks on the round table, and large calcite rocks on side tables gives subtle recognition to the nautical surroundings, Kordas explains. A brass antique sailboat sculpture and an antique fish tray in a bright orange shade (from Judy Frankel Antiques in Troy) add to the mix without being heavy-handed.
Some light linen and cotton pillows and a wool throw for the winter months (all from Williams-Sonoma Home) are more casual elements. A bronze and oxidized blue chess set adds another tone of blue, in addition to the two original, signed ceramic vessels (filled with fresh moss) in differing shades of turquoise, which sit on a heavy "ruffled" driftwood tray.
"Overall, I think we brought that beautiful water in," Kordas says. "And we brought in a hint of nautical. I like to keep that look subtle and tasteful, and less is certainly more." As for window treatments, they're nonexistent. "We wanted to keep it all open, to make the most of the view," she says.
Today, the home is a nice marriage of textures and patterns, drawing from his masculinity and her femininity. "Once we were able to convince the husband that the former colors weren't aging well, the couple compromised — she went darker and he went lighter, for a balanced color scheme of navy, grays, and warm neutral tones."
---
BUYER'S GUIDE
INTERIOR DESIGNER
Annie Kordas, Annie Kordas Interiors, Grosse Pointe Farms,
anniekordasinteriors.com
Featured Businesses
Serena & Lily, Planter – Living Room, serenaandlily.com.
Tennant & Associates, Ceiling Treatment – Dining Room, showroom located in Michigan Design Center, Troy, michigandesign.com.
DINING ROOM
Benches – Kravet, Kravet | Lee Jofa | Brunschwig & Fils, Michigan Design Center, Troy
Bookcase – Century Furniture, CAI Designs, Michigan Design Center, Troy
Ceiling Treatment – Romo Wallcoverings, Tennant & Associates, Michigan Design Center, Troy
Chairs, Accent – Brunschwig & Fils, Kravet | Lee Jofa | Brunschwig & Fils, Michigan Design Center, Troy
Chairs, Host and Hostess – Lee Jofa, Kravet | Lee Jofa | Brunschwig & Fils, Michigan Design Center, Troy
Chairs, Side – Palececk, CAI Designs, Michigan Design Center, Troy
Chandelier – Ralph Lauren for Visual Comfort, City Lights Detroit, Michigan Design Center, Troy
Drapery – Fabric, Schumacher; Workroom, Decoroom, Lake Orion
Pillows, Lumbar – Schumacher, Michigan Design Center, Troy
Rug – Wool and Sisal with Leather Binding, Nourison Rugs and Carpet, The Ghiordes Knot, Michigan Design Center, Troy
Sconces (Double) – Ralph Lauren for Visual Comfort, City Lights Detroit, Michigan Design Center, Troy
Table, Dining – Theodore Alexander, Michigan Design Center, Troy
Table, Pedestal – Kravet, Kravet | Lee Jofa | Brunschwig & Fils, Michigan Design Center, Troy
Tray, Blue Shagreen – Aerin, Perigold
Wall Treatment – Ralph Lauren, Rozmallin, Michigan Design Center, Troy
LIVING ROOM
Benches, Navy – Vintage; Fabric, Schumacher; Decorative Tape, Texture Fabrics
Blanket, Throw – Navy Cashmere, Williams-Sonoma
Bookends – Agate, Williams-Sonoma
Chess Board – Antique, Italian
Drapery – Fabric, Schumacher; Workroom, Decoroom, Lake Orion
Faux Floral – John-Richard Collection
Fig Tree – John-Richard Collection
Firewood Holder – Antique German Bronze, 1st Dibs
Horns, Crystal – John-Richard Collection
Lamp, with Jute Shade – Vintage with Original MCM Lucite Finial; Jute Shade, Pointe Lamp & Lighting, St. Clair Shores
Lamp, Cobalt Blue – Vintage with Custom Coolie Shade, Pointe Lamp & Lighting, St. Clair Shores
Lighting, Drum Fixture – Shades of Light
Mirrors – Arteriors
Pillows, Lumbar – Métaphores, Kravet | Lee Jofa | Brunschwig & Fils, Michigan Design Center, Troy
Pillows, Throw – Fabric, Schumacher; Workroom, Decoroom, Lake Orion
Planter – Serena & Lily
Rug – Tufenkian, The Ghiordes Knot, Michigan Design Center, Troy
Rug (Large) – Nourison with Kravet Ostrich Leather Binding, The Ghiordes Knot; and Kravet, Michigan Design Center, Troy
Sconces – Thomas O' Brien for Visual Comfort, City Lights Detroit, Michigan Design Center, Troy
Sculpture – Selenite, John-Richard Collection
Sofa – Lee Jofa, Kravet | Lee Jofa | Brunschwig & Fils, Michigan Design Center, Troy
Table, Accent – Wood and Iron, Bernhardt, CAI Designs, Michigan Design Center, Troy
Table, Coffee – Palececk, CAI Designs, Michigan Design Center, Troy
Wall Paint – Benjamin Moore, Balboa Mist
SUNROOM
Blanket, Throw – Wool, Williams-Sonoma
Chair, Accent – Antique, Le Shoppe Too, Keego Harbor
Chair, Fabric – Taupe Ostrich Leather, Kravet, Kravet | Lee Jofa | Brunschwig & Fils, Michigan Design Center, Troy
Chess Set – Antique
Dish, Brass Shell – Hickory Chair
Fabric (Sofa and Chairs) – Schumacher, Michigan Design Center, Troy
Hanging Prism – Etsy
Lamps – Palecek, CAI Designs, Michigan Design Center, Troy
Pillows, Throw – Williams-Sonoma
Seat, Garden – Perigold
Table, Coffee (Woven) – Braxton Culler Furniture, Perigold
Table, Lucite & Gild – John-Richard Collection
Tray, Fish – Judy Frankel Antiques, Troy
Wall Paint – Benjamin Moore, Horizon