By Megan Swoyer | Photos by Jeff Garland
"If I could, I'd have a fireplace and bar in every room," interior designer Tiffany Edison says. She's laughing, of course, but if you look at some of the many spaces she's fashioned, you'll soon realize that Edison's motto — Why not? — makes perfect sense. 
An eclectic sense of style has this designer busy throughout the seasons, sharing favorite touches that are sure to warm up any home. "If the budget allows, I love fireplaces in master bedrooms, kitchens, and outdoor porches, in addition to the standard living room one," she says. "I also have a penchant for bars that come in all shapes and sizes, from a coffee bar in the master bathroom to a simple bar cart in the dining room.  What's more posh than a space designated for libations and glassware?" Edison also admits to being a banquette girl. "There's nothing better than a banquette for seating in dining rooms or in a library," she says.
Edison was able to find time on a recent morning to share her perspectives and discuss other elements regarding design that have impacted her own home in the stately, historic Ives Woods neighborhood of Ann Arbor. 
When she first set eyes on her 1913 corner-lot house, she says she was smitten — not only because of its vintage appeal, but also because of its expansive property. 
"The home sits on an acre, and that was one of the reasons I bought it," she says. The designer remembers she visualized immediately what it could be. "When I walk into a space, I see it done," she says. 
After purchasing the home in 2014, it took Edison a year and half to remodel the space to suit her lifestyle. Bringing on architect Craig Spiegel, of CLS Design in Adrian, Edison's goal was to respect the original vision of the historic home.  Although she says she's a purist when it comes to design symmetry, she opted not to reconstruct the offset window on the front of the home. "Creating offset windows was a trademark of the original architect," she explains. Changes she says she was open to making included the addition of an attached garage and a breezeway.   
Edison hired Rick Gritzmaker, of Gritzmaker Builders in Adrian, as the general contractor.  They embarked on a complete demolition of both the interior and exterior, removing walls, siding, and windows. Included in the renovation was removing a second front entrance (once the servants' door) that's now a window.
The home also had two stairwells, one at the front and one at the back. "And there was no first-floor bathroom, so we took out the servants' entrance/front stairway and turned that space into a powder room," Edison explains. The area at the top of that stairway is now part of a walk-in master closet — a great spot for her shoes, she says, and a "very luxurious indulgence." 
Edison also opted to remove a sitting room on the second floor to create space for a large master shower and tub. The second bathroom was gutted, and now gleams with gorgeous tumbled marble.
To assist with the kitchen design, Edison teamed up with Burdick's of Adrian. "I've worked with Sherrie Walters there for many years; she's a well-respected interior designer," Edison says. She and Walters created a plan that features balanced design, with some tweaks. "It's our typical way of collaborating on projects," explains Edison, who added new wood floors in a herringbone pattern and chose all the appliances and fittings.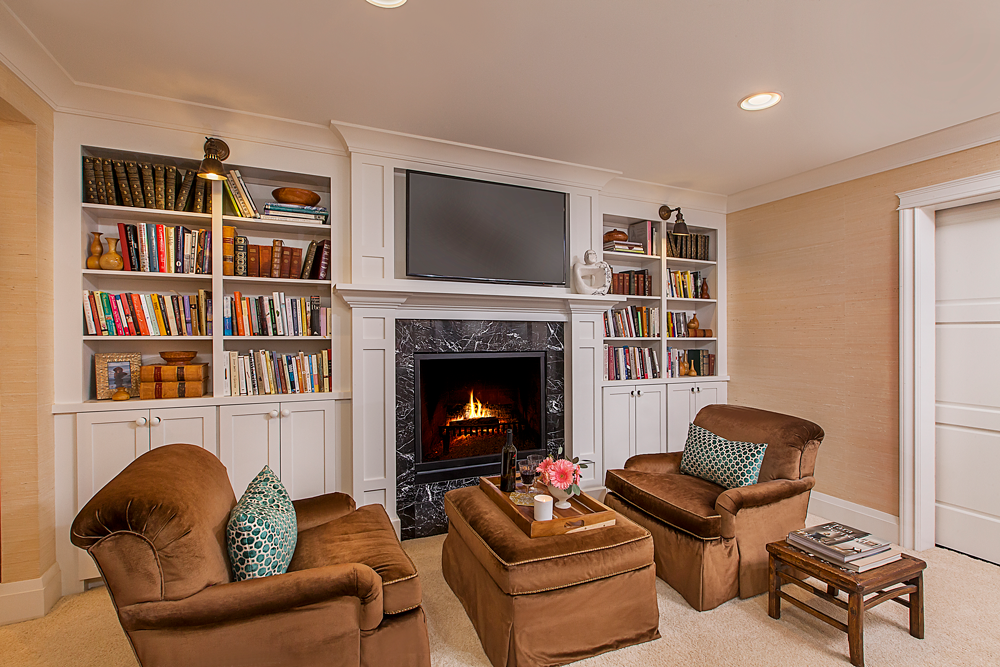 "Even though I pay homage to the period in which the home was built (for example, she decided not to put shutters on the home), I modernized it, too," she says. "For instance, I had a two-sided fireplace installed. I also re-sided the home with a Hardie board, which has a historic grain look but is made of cement.   
"I wanted it to have universal appeal no matter the age of who's coming in or who lives here," says Edison, who is the home's third owner. "My older neighbors are comfortable here. My kids' friends  are happy here, too. In fact, the friends asked, 'Will you design my bedroom?' " she laughs.   
The owner of Birch Design Associates, Edison received a degree in psychology from Michigan State University. "I started as a design student but then took psychology, so all of my design classes became electives," says the designer, who was a therapist for 10 years in Adrian before becoming a designer. She named her company after her grandmother, whose last name was Burch — plus, she loves birch trees. She says she also named the store/design studio she once owned in Adrian after her grandmother. "I called it Persnickety because my grandmother often would use that word, which means attention to detail. I thought it was clever for denoting the care that goes into choosing the design elements in your home."
After marrying Sean Edison, a Tecumseh-based chiropractor, she added the garage with a bonus space on the top to accommodate her studio and space for her merged family of five kids to hang out. "There are six bedrooms now and the bonus space is multipurpose," she explains. Her recognition of the importance of flexibility comes in handy for many of  her Ann Arbor clients, she says, because "It costs a lot to live in Ann Arbor and you don't always get a lot of space; many rooms have to be dual-purpose."   
Edison suggests that if you're going to take a risk, do it in a smaller space. "I strive for balance, a little bit of  whimsy, but I'm grounded, too. Fun and not too serious."  In her powder room, for example, she selected a splashy, vibrant wallpaper. "It can have a big impact in a small room," she says. "The room is tiny but has big character; it's a jewel box." 
Recalling her mother's style, the designer says she probably inherited her propensity for taking risks from her mom. "She was a hair stylist, and used grasscloth and chinoiserie and things like that, and one day installed a mirror on the entire living room wall. She marched to the beat of her own drum." 
Edison's favorite part of her home is the back porch, which is an open-air, covered porch. "It used to be screened in, but I wanted a covered porch," she says. The cozy space now features a beadboard ceiling that gives off a light-blue hue. "It's supposed to keep the spirits away," she laughs, adding that blue ceilings, often called Haint Blue, are a Southern tradition. "That color selection was really very tongue-in-cheek, and fun.  We can watch television here, there's a fireplace, and it feels like you're in the country." There's also a fireplace in her bedroom. "I'd say the sitting area in the master is my other favorite area in the home," Edison says. 
IN THE DETAILS: RESOURCE GUIDE
Interior design: Tiffany Edison – Birch Design Associates, Ann Arbor. birchdesignassociates.com.
Architect: Craig Spiegel, CLS Design, Adrian.
Builder: Rick Gritzmaker, Gritzmaker Builders, Adrian.
Cabinetry: Schmidt Cabinet Inc.
All paint noted here is by Sherwin-Williams, sherwin-williams.com.
Paint colors: exterior, Snowbound; front door, Confident Yellow; porch ceiling paint, Waterscape; living room, Casablanca; hearth room in kitchen, Revere Pewter; all trim, Snowbound; bedroom, Wisteria; foyer, hallways, master bedroom, and master closet, grasscloth wall coverings through Sherwin-Williams.
Living room: custom pillows, Schumacher, Chiang Mai Dragon, Alabaster, and Nanjing, Jade. Master headboard, Century Furniture, with a Century cut-velvet damask pattern.
Master bathroom: wallpaper, Kravet, Kate Spade, Owlish, Blush.
Powder room: wallpaper, Schumacher, Chiang Mai Dragon, Alabaster.
Master bedroom: drapery fabric, Schumacher, Kiosk, Pink; custom Euro pillows, Schumacher, Pearl River, Opal.
All Schumacher and Kravet fabric from Michigan Design Center, Troy, michigandesign.com.
Master bedroom's antique Killim pillows, chairish.com.