Known for decades of quality craftsmanship, Moceri Custom Homes in Auburn Hills once again has delivered an extraordinary dwelling with an authentic Old World traditional exterior and transitional interior. The gated Bloomfield Hills neighborhood provides privacy for the roughly 8,600-square-foot home, which features major curb appeal.
Requirements for the grade of the site made creating this home a more complex project, but that didn't deter the fourth-generation builder who has longstanding relationships with top-notch trades, many of which are also multigenerational. "The best part about building a home is watching it take shape," says Dominic F. Moceri, who credits the strength of the team for the project's successful outcome.
The one-of-a-kind house exudes warmth inside and out. "It feels like home, rather than someone else's home," says Moceri, citing decorative details like white oak beams that bring the tall ceilings down, and creative spaces such as a kid-friendly home office, that are perfectly comfortable for anyone.
Each room feels rich but real thanks to Jennifer Asmar, of Asmar Interiors in Troy, who had worked on the homeowner's mother's condo years earlier. "Good design is beautiful and functional, not one or the other," says the designer, who calls the layered look "updated traditional."
Asmar says her client was "easy to work with, and she knows what she likes. She wanted the home to feel very finished, but inviting." This formula takes shape in the foyer, where an aged brass chandelier with crystals showcases a turret with a stunning stone wall and a curved staircase spanning three levels.
Travertine floors extend to the elegant powder room, where varied textures include the polished onyx counter with a hammered-brass vessel sink and a painted wood cabinet with antiqued mirror details. Subtle wallpaper backs Murano glass sconces repurposed from the homeowner's mother. Pieces like these are examples of timeless design elements that will surely have staying power.
Several items in the great room — like the display and media cabinets that flank the Indiana Buff limestone fireplace — came from the client's previous home. Wood beams warm the space from above, where an iron chandelier could pass for a relic and a mounted elk honors the family's hunting heritage.
New finds include a cocktail table with a quartz top and a plush rug that sparked the pale palette for the room. Engineered wood floors and linen-colored walls further soften the space.
Wood beams also crown the heart of the home, where upholstered stools have that sit-and-stay-awhile feel. Custom cabinetry in a latte color offers a welcome departure from the norm. "She didn't want a white kitchen," Asmar says of her client. An expansive fridge, meanwhile, provides plenty of storage.
Other amenities include a walk-in pantry, a bar area, and a prep kitchen. A custom hood over the 48-inch Wolf range joins a ceramic tile backsplash that hovers above perimeter counters topped with quartzite. The exquisite quartzite on the island looks like a giant tortoise shell, Asmar says.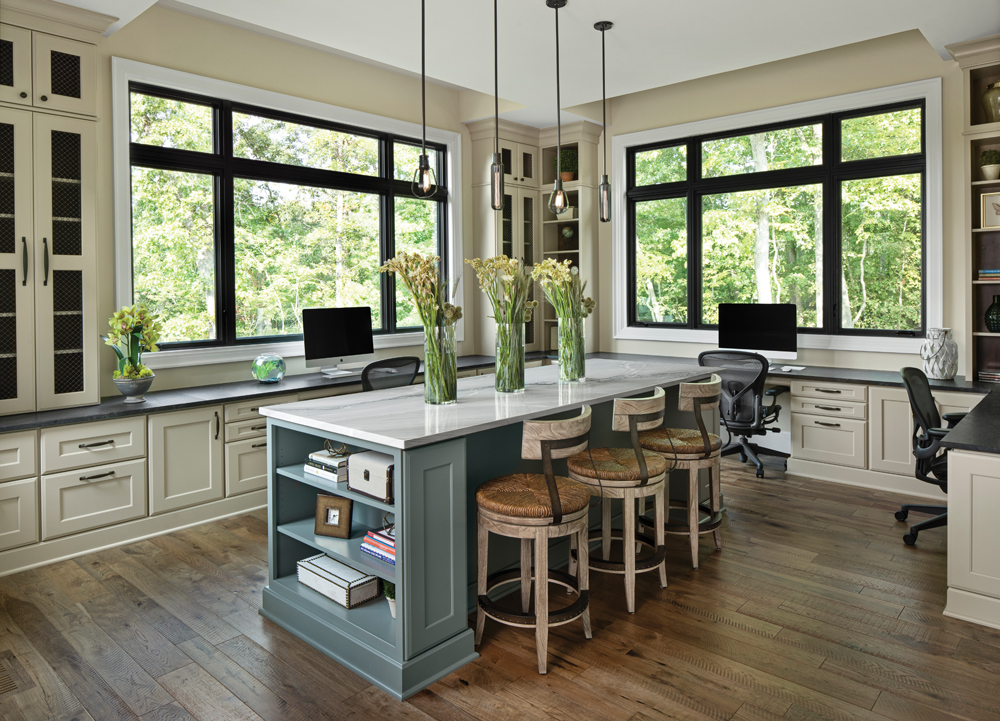 An oh-so-clever home office setup was the client's idea. Workstations topped with leathered quartzite that line the walls can accommodate the homeowner and her staff, while the quartzite-covered island is a perfect spot for the client's children to do homework and crafts. Slim-profile pendants in varied shapes strike a playful note above. Wire mesh doors cover the custom cabinetry, while generous windows overlook a wooded lot that provides dreamy scenery for the unique space.
A limestone fireplace warms the master bedroom, where textured metallic grasscloth wallpaper and custom draperies set the tone. An iron-and-crystal ceiling fixture joins wood beams, and furniture from the client's former home merges with new bedding. The master bath features a custom mirror with sconces and a beveled leaded glass window straight from a fairytale, and the freestanding tub creates a striking silhouette against wallpaper with a foliage theme that gives a nod to nature.
In the son's room, faux woodgrain wallpaper highlights a skillful mix of classic repurposed furnishings with new pieces. Heirloom hunting bows fill a satchel on the wall, where they make a personal statement and tell a story that continues to unfold. "She wanted a home she was going to love and could grow into for years to come. It's timeless and functional," Asmar says.
---
A Comfort Zone for Everyone
Fire pits — like the freestanding style shown here that turns a main floor terrace into an al fresco destination — lure people outdoors and help stretch the seasons. Made from metal with a faux finish that looks like wood, it has a hidden area that houses a propane tank. On top, a combination of gray and chestnut-colored glass chips complement the hues found in the house. Although the fire pit feels like a built-in, this portable piece can be moved elsewhere on the property, if the mood strikes. "It looks like part of the natural landscape," says interior designer Jennifer Asmar.
As for tips on placement, Asmar says that with a heat source, you need to carve out enough space around it to be comfortable. Resin wicker club chairs with indoor/outdoor cushions are an excellent seating choice, as they swivel, rock, and glide. "People like creating a cozy environment where they can have a glass of wine or a cup of hot cocoa," she says. "You can spend the whole night out there with friends and get lost in conversation."
— JM
---
BUYER'S GUIDE
INTERIOR DESIGNER
Jennifer Asmar, Asmar Interiors, Troy, asmarinteriors.com
BATHROOM, MASTER
Bathtub – Victoria + Albert, Herald Wholesale, Troy
Cabinet – KSI Kitchen & Bath
Countertop – Medellin, PMP Marble & Granite, Troy
Flooring – Porcelain, Virginia Tile Company, Troy
Lighting, Sconces – Visual Comfort, Herald Wholesale, Troy
Mirror – Custom
Wall Treatment – Designer's Guild, PDG 1036-06, Rozmallin, Michigan Design Center, Troy
Window – Marvin Windows
BATHROOM, POWDER ROOM
Artwork – Asmar Interiors; Robat's School of Fish, Manufactured by John-Richards
Cabinet – Asmar Interiors; Manufactured by John-Richards
Countertop – Onyx, Onice Cappuccino, PMP Marble & Granite, Troy
Flooring – Travertine, Beaver Tile & Stone, Michigan Design Center, Troy
Mirror – Uttermost, Herald Wholesale, Troy
Sink – Thompson Traders, Hammered, Herald Wholesale, Troy
Wall Treatment – Kravet, Raindrops and Champagne, Kravet/Lee Jofa/Brunschwig & Fils, Michigan Design Center, Troy
BEDROOM, MASTER
Chandelier – Visual Comfort, Herald Wholesale, Troy
Fireplace – Indiana Limestone, Buff, Capital Stoneworks, Keego Harbor
Flooring – Villa Bocelli, Bella Cera Floors, Superb Flooring & Design, Troy
Wall Paint – Sherwin-Williams, Natural Linen
Wall Treatment – Gulf Shore/Aqua Thibaut, Rozmallin, Michigan Design Center, Troy
Window Treatment – Custom, Kravet, Multi Mania/Grey Stone, Kravet/Lee Jofa/Brunschwig & Fils, Michigan Design Center, Troy
BEDROOM, SON
Chests, Bedside – Lexington Furniture, RJ Thomas Ltd., Michigan Design Center, Troy
Comforter – Restoration Hardware
Flooring – Villa Bocelli, Bella Cera Floors, Superb Flooring & Design, Troy
Headboard and Bedframe – Vanguard Furniture, RJ Thomas Ltd., Michigan Design Center, Troy
Lighting, Ceiling – Hudson Valley Lighting, Herald Wholesale, Troy
Pillows, Accent – Restoration Hardware
Rug – Radici USA Rugs, Professional Rug Works, Troy
Wall Paint – Sherwin-Williams, Neutral Ground
Wall Treatment – Haywood/Navy, Thibaut, Rozmallin, Michigan Design Center, Troy
FOYER
Chandelier – Currey & Co., Herald Wholesale, Troy
Flooring – Travertine, Beaver Tile & Stone, Michigan Design Center, Troy
Sconces – Visual Comfort, Herald Wholesale, Troy
Staircase/Railing – White Oak Rail and Iron Spindles, Macomb Stairs, Shelby Township
Wall Paint – Sherwin-Williams, Natural Linen
Wall Treatment – Brookfield Gray, Capital Stoneworks, Keego Harbor; Installation by J C Brick Inc., Shelby Township
Wall Treatment (hallway wallpaper) – It's Riveting, 5473 Burnished on Granite, Tennant & Associates, Michigan Design Center, Troy
HALLWAY
Artwork – Nest Photos, Barloga Studios
Brick Wall – Brookfield Grey, Capital Stoneworks, Keego Harbor; Installation by J C Brick Inc., Shelby Township
Flooring – Villa Bocelli, Bella Cera Floors, Superb Flooring & Design, Troy
Lighting, Ceiling – Mitzi, Herald Wholesale, Troy
Lighting, Sconces – Mitzi, Herald Wholesale, Troy
Wall Paint – Sherwin-Williams, Neutral Ground
KITCHEN
Appliances – Wolf and Sub-Zero, Specialties Showroom, Berkley
Backsplash – Ceramic, Virginia Tile Co., Troy
Bar Stools – Century, RJ Thomas Ltd., Michigan Design Center, Troy; Pindler Fabric, Paquin/Aloe
Cabinets – KSI Kitchen & Bath
Ceiling Treatment – White Oak Stained, Installation by Probuilt Woodworking, Clinton Township
Chandelier – Visual Comfort, Herald Wholesale, Troy
Countertop, Island – Natural Quartzite, Wasabi, PMP Marble & Granite, Troy
Countertop, White – Perla Venata, PMP Marble & Granite, Troy
Flooring – Villa Bocelli, Bella Cera Floors, Superb Flooring & Design, Troy
Hood – Custom, Modern-Aire Ventilating, Inc., Specialties Showroom, Berkley
Wall Paint – Sherwin-Williams, Natural Linen
LIVING ROOM
Ceiling Treatment – White Oak Stained, Installation by Probuilt Woodworking, Clinton Township
Chandelier – Visual Comfort, Herald Wholesale, Troy
Fireplace – Indiana Limestone, Buff, Capital Stoneworks, Keego Harbor
Flooring – Villa Bocelli, Bella Cera Floors, Superb Flooring & Design, Troy
Pillows, Accent – Custom, Kravet Fabric, Kravet/Lee Jofa/Brunschwig & Fils, Michigan Design Center, Troy
Rug – Hagopian World of Rugs, Birmingham
Sofa and Armchairs – Reupholstered, Kravet Fabric, Kravet/Lee Jofa/Brunschwig & Fils, Michigan Design Center, Troy
Table, Coffee – Century, RJ Thomas Ltd., Michigan Design Center, Troy
Wall Paint – Sherwin-Williams, Natural Linen
OFFICE
Cabinets – KSI Kitchen & Bath
Chairs, Office – Aeron Chairs, Herman Miller
Countertop, Dark – Goean Black Leathered, PMP Marble & Granite, Troy
Countertop, White – Nuage, PMP Marble & Granite, Troy
Flooring – Villa Bocelli, Bella Cera Floors, Superb Flooring & Design, Troy
Lighting, Edison Lightbulb Fixture – Mitri, Herald Wholesale, Troy
Stools, Wicker – Lexington Home Brands, RJ Thomas Ltd., Michigan Design Center, Troy
Wall Paint – Sherwin-Williams, Natural Linen
PATIO
Chairs, Outdoor – Ebel Inc., Asmar Interiors, Troy
Fire Pit – Ebel Inc., Asmar Interiors, Troy
Lantern – Northeast Lantern, Herald Wholesale, Troy
Masonry – Chilton Ledge and Chilton Cobble Mix
ADDITIONAL CONTRIBUTORS
Architect – TR Group Design Group, Bloomfield Hills
Builder – Moceri Custom Homes, Oakland Township
Building Materials – Stone, Brick; Chilton Ledge and Chilton Cobble Mix
Landscaping – Family Tree Landscaping, Dryden
Manufacturer – Moceri Custom Homes, Oakland Township
Paint Color – Sherwin-Williams, Adaptive Shade
Windows – Marvin Windows