It has a traditional Newport, Rhode Island-style look, but was designed for modern living. Located on 3 acres in Grosse Pointe Farms, smack dab on gorgeous Lake St. Clair, this glorious 12,000-square-foot, three-level white brick and stone Colonial-style home looks as though it has been luxuriating there for a long time — but it was actually constructed just four years ago.
"It's rare to find a vacant property this size in Grosse Pointe Farms," the homeowner says. "We originally planned to build on half of it and my brother-in-law was going to build on the other half, but that didn't come to pass — so we ended up purchasing the whole thing. We started out working with the internationally renowned architect Robert A.M. Stern, but ended up buying his plan; local architect Alex Bogart subsequently did some minor tweaking. Because both my husband and I love architecture and old houses, we wanted it to look like it was built in the 1920s."
The interior designer, Mark Manardo, principal of Franklin-based Perlmutter-Freiwald, notes: "While the home is traditional, it's not your grandmother's kind of traditional. It's a little cleaner and features a very soft palette of creams, grays, and beiges. That's my style. I prefer lighter colors with punches of black, because every once in a while you need that little oomph that you get from black."
The "wow" factor begins the moment you enter the home's stunning semicircular vestibule, which features a black-and-white marble floor laid in an English Regency fan design. Just beyond, a long hall paved with alternating black and white marble squares ends at a window that overlooks the glamorous pool area as well as the lake.
Marble is incorporated in several different ways throughout the residence. For example, in addition to the marble floors found in some of the hallways and bathrooms, most of the home's eight fireplaces have marble surrounds that were handcarved by a British company called Chesneys, which purchases antiques from the 18th and 19th centuries at auction and then reproduces them exactly.
On the south end of the residence, an awesome 25- by 30-foot space is divided, through the use of two columns, into a solarium and a living room. "I like how the two rooms flow as one but also have two different levels of formality," Manardo says. "While the living room has a formal, handwoven, geometric-patterned custom-made wool Bessarabian area rug, the solarium has a more casual hand-braided jute area rug and the two work very well together."
The handsome library features knotty-pine paneled walls and overscale upholstered pieces. "At first I wasn't excited about having a paneled room, but it turns out we always cozy up in there and watch TV," the homeowner, the mother of two young children, says. "It's become one of my favorite rooms, and the couch is amazing."
Adds Manardo: "Probably the most fun I had was doing the many different moldings that are all based on classic designs. For example, each crown molding was molded in one piece to resemble the kind of plaster cornices that used to be done 75 years ago but are rarely done now. I also love the six elliptical wooden arches that grace the home's long front gallery because they add weight, dimension, and interest to that space."
And here's another bonus: "Because the home is built into a hill, from the back it looks like it's sitting on a stone base and you can see all three floors at once. That's what makes the property so unique — and I actually think the back is even more impressive than the front," the designer says.
"When we purchased this land, there was nothing here but a swampy pond that was neglected," the homeowner says. "We filled it in, sodded, and added a swimming pool and a large stone terrace that includes several seating areas as well as a bar." The bar is comfortably nestled inside a white wooden pergola that's covered with wisteria in the summer.
The landscape design was a collaboration between Boston-based Morgan Wheelock and Backer Landscaping in Roseville, while the pool was constructed by Rochester-based Anderson Custom Pools.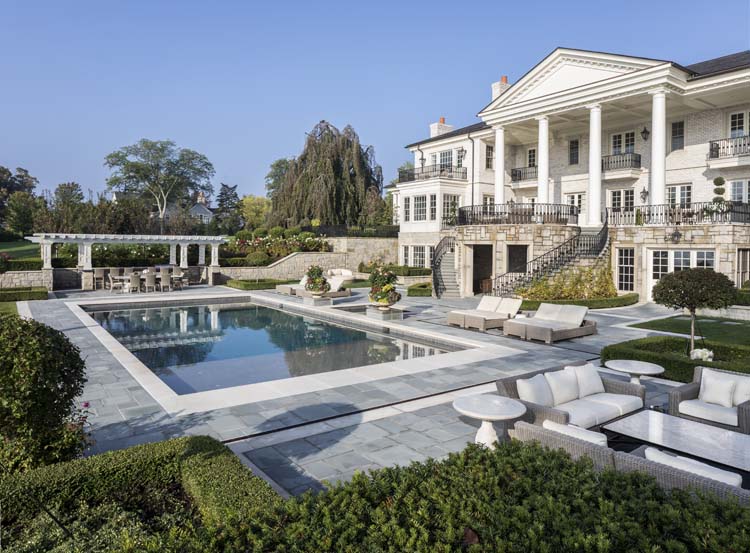 "I love to entertain out here," the homeowner says. "We've had some cool events."
Another area often utilized for entertaining is the lower level "stone room," which leads to the pool area. Featuring a pecky cypress ceiling, stone walls, and a slate floor, it includes a bar that's based on a 17th-century piece of Italian furniture and includes a hammered copper dry sink.
"Equipped with both a pingpong table and a foosball table, the room opens up to the outside so when you're inside, it feels like you're outside," the homeowner says. "It's a great area for entertaining, and it also doubles as a pool house."