Frank Lloyd Wright designed more than 1,000 structures, including New York City's Guggenheim Museum and Pennsylvania's Fallingwater, which teeters atop an active waterfall and was counted as one of Smithsonian Magazine's top 28 places to visit before you die. Yet there is one house in Bloomfield Hills, just 1,800 square feet, that, when he visited in 1951, Wright declared was his "Little Gem."
Melvyn Maxwell Smith, nicknamed Smithy by his wife-to-be, Sara Stein, grew up on Alger Street in Detroit during the Depression. Creative and poetic, Smithy had been accepted to the University of Michigan's school of architecture. There was one catch: His parents, Lithuanian Jewish immigrants, could not afford to send two children to Ann Arbor and Smithy's brother, who was studying a more practical course of study — dentistry — went off to U-M.
Smithy enrolled at the City College of Detroit (now Wayne State University), where he was eventually inspired by an English professor to become a teacher himself.
During his first year of teaching literature at a Detroit public school, while earning his doctorate at Wayne State, Smithy took a humanities course. During a slide presentation within the last 15 minutes of the entire semester, an image of Frank Lloyd Wright's Fallingwater, in Bear Run Nature Reserve of Pennsylvania, appeared on the screen. When Smithy exclaimed that he — a public schoolteacher earning $7 a day — would one day own a Frank Lloyd Wright house, his classmates erupted into laughter.
Smithy ignored the disbelief of his friends and threw himself into research. He discovered that in 1937, Wright had designed a house for a journalist in Madison, Wis., for $5,000. The Herbert and Katherine Jacobs House would be the first of Wright's Usonian homes, designed based on his post-Depression principles of organic architecture, which strove to unify home and nature so that the home seemed to emerge from the Earth — free of foundation, front porches, and punctuations of small windows in favor of natural materials and light pouring through glass walls and clerestory windows. It was a new standard of form following function, and Smithy was in love.
Sara Stein, who Smithy married in 1940, matched her husband's passion and determination with her own pure and joyful optimism. The one-time aspiring actress-turned-schoolteacher also matched Smithy's paycheck, and the couple set out in life on a strict budget. On a road trip through the Wisconsin Dells, they came upon a sign marking a detour for Spring Green/Taliesin, Wright's summer home and the base of the Taliesin Fellowship, now the Frank Lloyd Wright School of Architecture.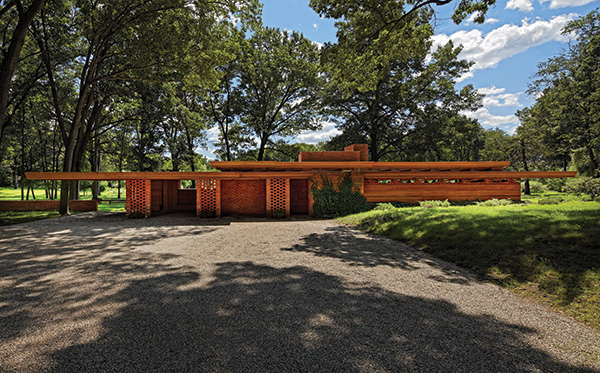 "Walking around, you would have thought we were on holy ground the way Smithy was looking around in such awe of everything we saw," Sara said in Building a Dream: The Sara Smith Story, by Kathryn Watterson. "He said, 'See, Sara, one day we are going to have a home designed by Frank Lloyd Wright.'"
A young man from the fellowship asked if they would like to meet Mr. Wright. Overcome, they entered the architect's studio. The three spent the next several hours discussing their interests — the fact that they loved the arts and entertaining, and their dream of hosting small concerts and art shows in their home.
By the time the Smiths left Taliesin, Wright had agreed to design their home for $9,000, and sent them off to find a piece of property "that nobody else wants," because Wright said it would have more character.
War erupted and Smithy was drafted. Following the war and the birth of their son, Bobby, the family lived with various relatives to help save money. They would pack picnic lunches and spend weekends looking for property. Eventually they found a plot, rugged with overgrown greenery and sloping down to a marsh and small pond, on Pon Valley Road in Bloomfield Hills' Lone Pine Estates area. "The land was a wilderness, but I had such a feeling of peace and serenity," Sara said. "It was perfect."
Although the asking price was $4,600, the family had only $3,600 to offer. The three-acre property was owned by a pair of sisters who had inherited hundreds of acres in the area from their parents. Each year, they sold off just enough to pay their property taxes; the previous week, the tax bill for the year 1946 arrived in the amount of $3,500. The sisters agreed to Smithy and Sara's offer, and the couple notified Wright that they had found their property. In March 1947, a registered airmail package arrived, containing plans for the Melvyn Maxwell Smith House.
A classic example of Wright's Usonian house, the elongated single-floor plan laid out on a two-foot by four-foot grid, like an upside-down T, was striking in its clean-lined Japanese aesthetic. It was also tailored to the lush beauty of the land, integrating the indoors and outdoors with floor-to-ceiling windows facing the yard, later landscaped by Thomas Dolliver Church. Following Wright's suggestion, Smithy became his own contractor, and he gathered a team of subcontractors and journeymen willing to work for reduced rates for the privilege of being part of a Frank Lloyd Wright project. Two young builders, Peter Turczyn and Steve Kovacs, were the workers Smithy turned to when he was running out of money. He asked if he could pay them $100 per month until their bill was paid, and never missed a payment until the house was paid off 10 years later.

With nearly the entire house complete, Smithy was down to his last $500 and had not purchased or installed a single window. One day, he answered a knock on the door. A young man introduced himself as Al Taubman. The real-estate developer and Frank Lloyd Wright fan had been working on a project in Pontiac when he heard about Smithy's home, and wanted to get a firsthand look. Smithy gave him a detailed tour, and Taubman inquired about the missing windows. The next morning men from the Pittsburgh Plate Glass Co. arrived, measured all the windows, and, in a few days, had installed all the glass. Taubman sent Smithy an invoice for $500, which Smithy promptly paid.
In May of 1950, the family moved into what they called "My Haven." A glorious vision of red tidewater cypress and glass, the Smith house is "a remarkable confluence of people who wanted to help them and things falling into place," says Smithy's niece, Dorie Shwedel. "This house was Uncle Smithy's passion. He loved constructing it, reveled in furnishing it, and delighted in sharing it with others — which they did with family gatherings, concerts, and art showings, just as they always wanted."