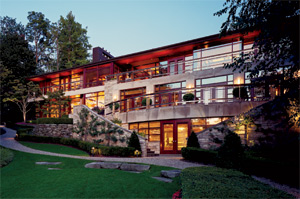 Just beyond their driveway, cars speed along one of Birmingham's busiest streets. But pull inside the front gate of Eric Jirgens' and Allan Gilmour's home, and the bustle seems miles away.
Deer, fox, and the occasional falcon are regular visitors to the four-acre property. Koi swim in a shallow pond not far from a gurgling waterfall. Nestled as it is into a hillside, the four-level residence seems as much a part of the land as the wildlife that frequents it.
The surprisingly secluded lot is one of the aspects that attracted Gilmour and Jirgens. "I wasn't halfway down the driveway the first time I came with the Realtor before I knew this was it," says Jirgens, an interior designer with Eric Charles Designs in Birmingham. "It's amazingly tranquil."
They bought the lot, which included a '60s-era  house that they planned to renovate. But after enlisting Carl Luckenbach of Luckenbach/Ziegelman Architects (ironically, the same architect who designed the original home on the site) Gilmour and Jirgens decided to start from scratch.
"We pushed and pulled at the original house until there was nothing left," Jirgens says. Goals for its replacement included a functional and livable home composed of organic materials and comfortable, human-scaled spaces bathed in natural light. Before beginning, the homeowners each made a list of adjectives describing what they wanted to achieve. The words "homey" and "sophisticated materials" topped Jirgens' list.
The home manages to satisfy both. Handcrafted stone, glass, and wood now unite the exterior and interior. "We wanted the inside to flow into the outside," Jirgens says. Geothermal heating and cooling, zero-emission materials and other eco-minded features were ahead of their time. "There's a clean conscience that comes with green building," he says.
Clearly contemporary, but with Prairie-school sensibilities, the house was completed in 2001. The dramatic design defies easy categorization. Jirgens describes it as "Frank Lloyd Wright-inspired with a Saarinen sense of simplicity."
It may be simple, but it's not small. It covers approximately 14,000 square feet on four levels. Still, as Jirgens hoped, the rooms are surprisingly cozy; all are well-loved and well-used.  "We live in every room," Jirgens says. Even the formal dining room, which is increasingly rare in newly built homes, is the site of frequent dinner parties, often composed of Jirgens' large Latvian family.
At the center of the house is the living room, which does double duty as a formal gathering space, and a more casual family room. "This is where we watch TV and the dogs hang out on the sofas," Jirgens says, referring to Molly and Rocky, their mixed-breed rescue dogs. "The windows also face west, so it gets amazing sunsets."
"We thought we were going to swim laps in the pool, but we usually use it more as a place to relax," Jirgens says of the glass-mosaic pool and nearby spa.
That easy-living attitude extends to the entire house. "There are no hands-off rooms here," says Jirgens, whose five young nephews are welcome visitors. Because Gilmour is a retired Ford CFO and vice chairman and also serves on a number of non-profit boards, he and Jirgens frequently open their doors to area charities. "We wanted the house to work equally well for 200 people at a fundraiser as it does for two people who want to come home from work at the end of the day and relax," Jirgens says.
People often ask Jirgens if this is his dream house. Surprisingly, he says no. "I didn't dream of this house for years before we built it," he explains. "I believe in time and space. This house fits my life with Allan right now."
He's equally thoughtful about the interiors. "I've done a lot of travel and picked up bits and pieces along the way and incorporated them into the house," he says. "I like blending eras. I believe in taking the best through the years to create a truly personal style. If you're too strict with design, it becomes more like a movie set than a home."
The house took five years to build — a worthy investment, Jirgens says, explaining: "I looked at it like a piece of sculpture. You start with a piece of stone and chip away at it. You let it unfold, but with intention. A house like this doesn't happen by accident."