When Janet Vallee was contemplating purchasing a two-bedroom condominium at The Marina Village in idyllic Harbor Springs, near other family members, she called Sharon Kory of Sharon Kory Interiors in Birmingham. Kory was the designer for Vallee's primary residence in Birmingham, and if Vallee decided to purchase the northern getaway, Kory would again be her interior designer of choice. Three years later, Vallee drops anchor regularly at the pretty northwest Michigan  home with its eclectic style that merges organic and textured with contemporary and minimal.
"Clearly, the spectacular view and setting are the focal points," Kory says of the condominium, which is situated right on Walstrom Marine, where a variety of colorful boats bob dockside amid cerulean blue waters. "Our goal was to create an escape that's relaxing — nothing pretentious and nothing formal; in fact, a lot like Janet."
When Kory and Vallee set to work on the project, they decided they would keep the kitchen and all the flooring as they were. Then they painted all of the walls with Sherwin-Williams' Pure White — a perfect backdrop, Kory says, for showcasing Vallee's intriguing art collection. "Janet loves quality and sophistication," Kory says. "She's a minimalist at heart, and 'less is more' is how she thinks."
The homeowner's discerning eye was captivated by Iranian photographer Pezhman (now living in Atlanta), so she purchased several of his black-and-white photographs from the Art Leaders Gallery in West Bloomfield. In various sizes and shapes, and all framed in white wood, they hang along the living room wall and dining-area wall. "Each plays into Janet's desire to have a natural, organic theme running through the home," Kory says of the works.
"We knew the one long wall in the living room and dining and kitchen areas was going to be crucial to everything else," Vallee recalls. "After deciding on Pezhman and laying out the pieces, we (selected) the sofa and white leather chairs." A word about those white leather chairs: The designer very precisely describes a room's often-indescribable appealing refinements as  "drops of eclecticism,"  and that would be those chairs, among other expressive elements.
"You don't expect to see modern, white swivel chairs or, say, a cowhide rug in the living room, among the other pieces, but together they all just work," Kory says. "These touches of modern aren't in keeping with the rest of the space, but it's what makes an interior eclectic and inviting." Adds Vallee: "After we first saw the white swivel chair, we thought, why not get two? You can swivel to view the harbor, kitchen, or fireplace."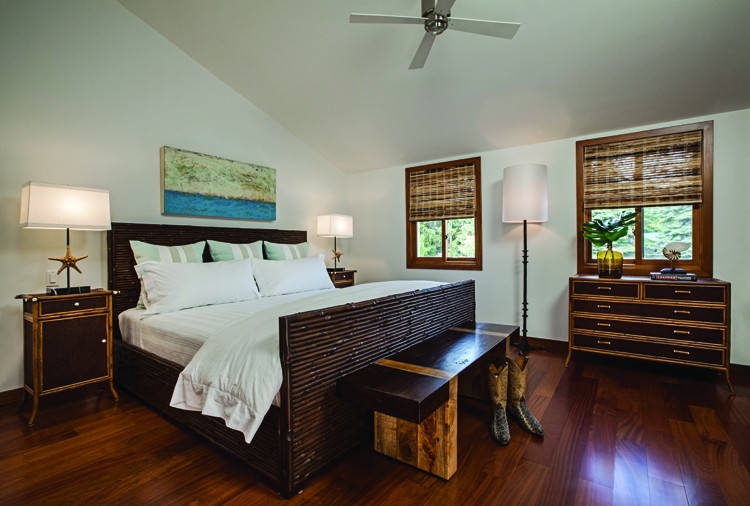 More well-placed pieces include an oil-on-paper painting by DeeAnne Wagner. Called "Hand Stand," the artwork hangs at the foot of the stairs. The subject, a boy in red swim trunks amid turquoise-y blues, looks right at home. "It was instant love," Vallee recalls of the first time she saw the painting, discovered at the Tvedten Fine Art Gallery in Harbor Springs. "It adds a splash of color and a whimsical feel, but doesn't fight with any of the other pieces." Nearby is an old wooden oar spotted at Judy Frankel Antiques in Troy. "We needed something vertical in that space," Kory explains. The rustic oar evokes on-the-spot lakeside appeal.
There are other hints throughout the home that this getaway is, indeed, situated on water and is just steps from one of Michigan's prettiest beach towns. Colorful glass vases, for example, from Judy Frankel Antiques, appear like pops of sculptural sea glass on the dining room table.
A strong sense of texture mixed with raw, natural materials also plays a main role.  Sisal rugs, special antiques, grass blinds, and metal finishes create waves of stylish distinction. Upon entering the home, visitors are met with a metal desk featuring an industrial look, which is "in keeping with the natural finishes and raw style," Kory explains. "Wood is great, but we didn't want it to be all wood — nor did we want a formal look. That desk is a wonderful spot for keeping boat keys and things like that." The two also did "a lot of antiquing," Kory recalls — some items  are from Vallee's home in Birmingham. "That changes things up; items get new life when you move them from different spaces." (Not to mention different homes!)
The bedroom décor is as peaceful and relaxing as the sounds of water lapping against the docked boats outside. Above the guestroom bed, a mixed-media painting by Ginnie Cappaert that highlights sky, water, and sailboats —  discovered at the aforementioned Tvedten Fine Art Gallery — draws one in to its liquid depths and pretty sails. Rattan and bamboo furnishings and grass shades that possess a unique fiber and texture create a distinctly natural look. The bench at the foot of the bed is made of reclaimed wood, and a simple starfish adorns each bedside lamp — small reminders of coastal bliss. The master bedroom also features a blend of organic textures that blend seamlessly with the harbor outside its window.
Kory loves that Vallee was such a big part of the process. "We chose items with great care and enthusiasm," Kory says. "It's a pleasure working with her, because she gets involved."
Outdoors, a lovely patio beckons the homeowner and her friends and family, who gather there to take in the dockside vistas. Sitting amid terry cloth-like cushions (they're as orange as the west Michigan sun at sunset), Vallee and her pals soak up just about every drop of Michigan's summer.
"Every time we go Up North," Vallee says, "we know we're heading to a special place."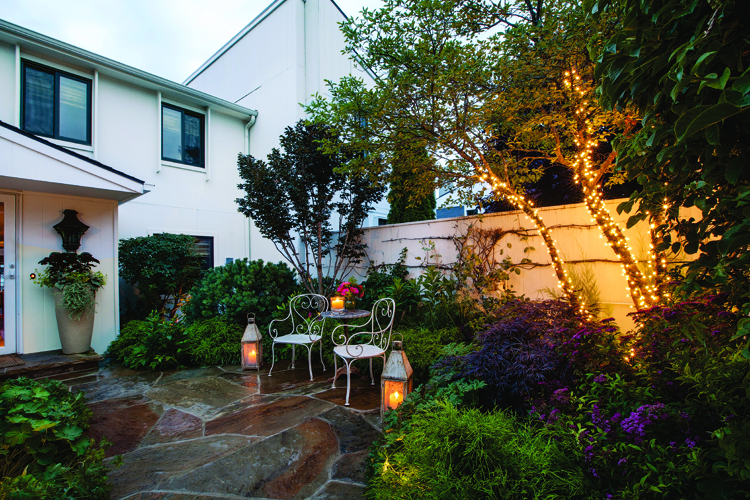 ---
Elements of Style
Various materials, from wood to metal to banana tree strips, come together to create an inviting — and textural— waterside retreat