FEATURE  |  cover story
When it comes to sisters working together, having a sense of complete trust is a No. 1 priority. Denise Anton David had no trouble putting her faith in her sister, Ann-Marie Anton, when it came to designing her new 6,800-square-foot house, built from the ground up two years ago.
"No matter what I've ever thrown her way, she interprets everything I want so well," says Denise, executive vice president of the Taubman Co. in Bloomfield Hills. She moved into the house with her husband, Rick David, on July 1. This is her third project with Ann-Marie, owner of It's Personal Design in Grosse Pointe Farms. Other collaborations include a condo in Naples, Fla., and various spaces in the couple's previous home in Bloomfield Hills.
"Annie can anticipate my reactions, if not finish my sentences, because she obviously knows me so well. She was amazing in sourcing the right furniture, fabrics, and design solutions. She made it both fun and easy."
Ann-Marie agrees: "I'm sure the fact we're sisters plays a part in our liking many of the same things. A few times Denise would send me back to the drawing board, mostly for fabric or furniture selections, but with most of the material selections, we were totally in sync. Denise is very clear and decisive, and working with her is a dream."
The project also gave the sisters lots of quality time together — something they both cherish.
Of course, they don't take all the credit for this striking home, which features patios on both levels. "We collaborated on design ideas with the architects (Don and Todd Young, and Chris Harrington, from Young & Young of Bloomfield Hills)," Ann-Marie says.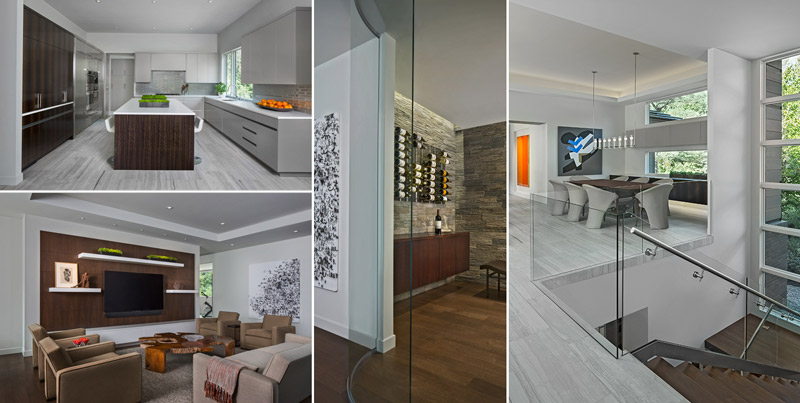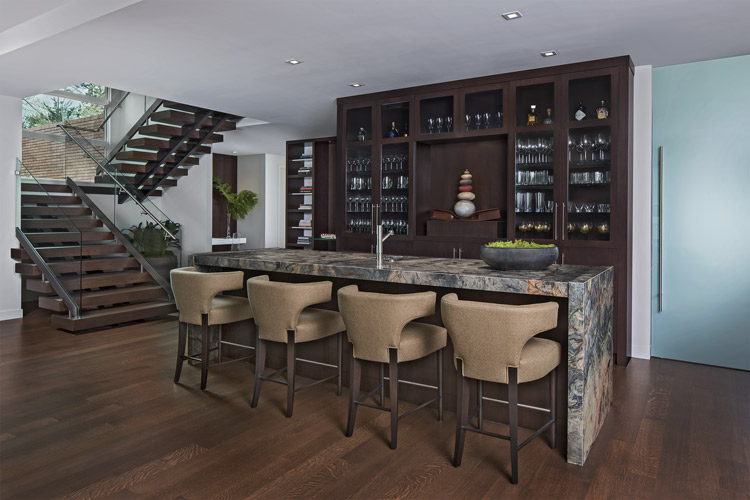 The house, a Frank Lloyd Wright-inspired brick contemporary built by TSA of Bloomfield Hills, is nestled into a secluded, verdant landscape with a large pond and lush foliage. Inside, the vibe and furnishings are minimalist and serene, placing focus on the large-scale artwork, the floor-to-ceiling windows that offer stunning views of the outdoors, and full interior walls of plate glass that make it seem as though you're in an elegant treehouse.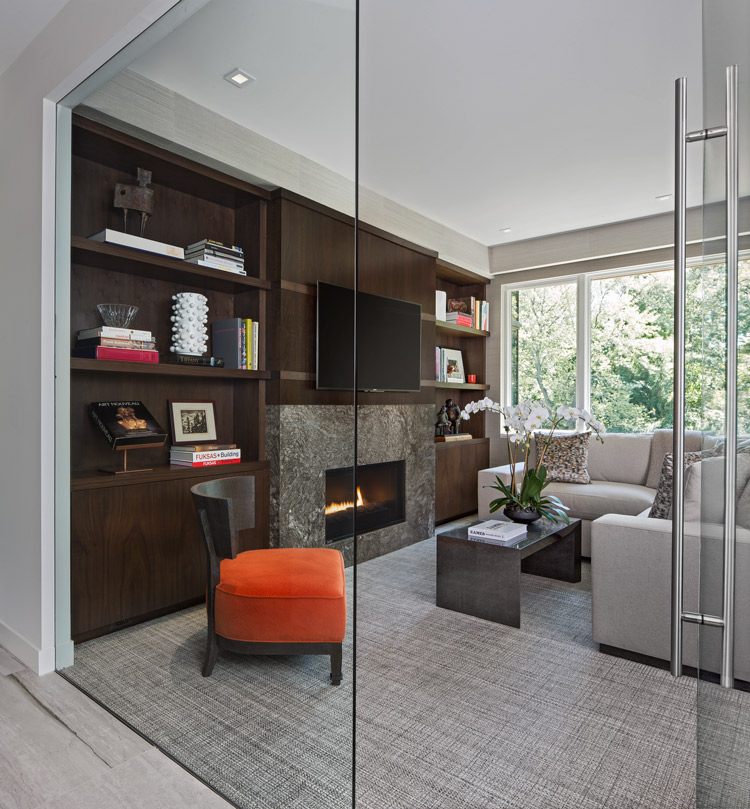 "It's very linear," Denise says, explaining that her sister added rounded touches like one would add jewelry, such as the stunning twin mirrors in the master bath created by artist Greg Bartelt of Royal Oak's Vogue Furniture, which glow like huge moons. Bartelt was also responsible for many other custom pieces throughout the house, including a wall unit with a piece of floating glass that holds Denise's most prized book, a collector's edition of the nearly 2- x 3-foot Annie Leibovitz. Another artist, Tom Myers of Gallery Steel in Waterford, made the stainless-steel base of the massive rosewood dining table (Bartelt made the table's top). Supple rounded-back leather chairs ease the straight lines.
The organic color scheme of white, taupe, brown, black, and pops of orange provides a backdrop for the textural and modern artwork that graces the walls. Denise hand-picked the pieces from galleries near and far: Susanne Hilberry in Ferndale, Kavi Gupta and Rhona Hoffman in Chicago, and Jessica Silverman in San Francisco.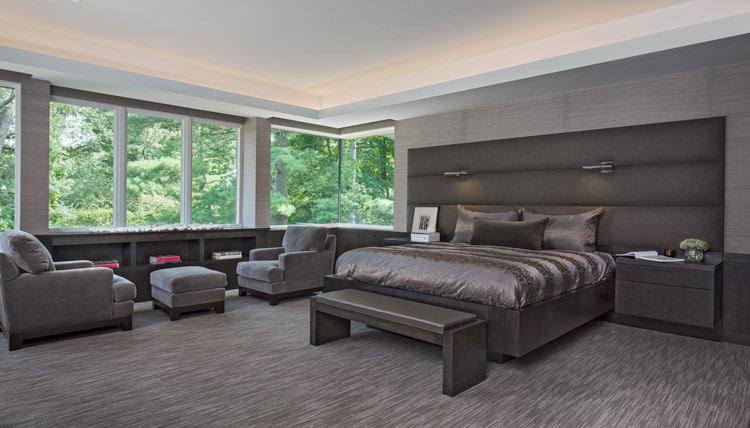 Other wow factors in the home, which includes four bedrooms, as well as four full and three half-baths, are the elevator and dumb waiter — things that come in handy when entertaining as much as Denise and Rick do.
The walkout lower level features another full kitchen, making patio parties a breeze. There's a full gym on the lower level and a large wine cellar. Also in the lower level, a bar area showcases a vivid slab of granite that looks like the cave paintings of Lascaux, France. Wide-plank oak flooring, and the wine cellar with its stacked stone walls, add instant visual appeal. A Savant Smart Home System delivers music indoors and out, with amazing clarity. It also controls lighting, air-conditioning, window treatments, TV, and security.
Outside, a long limestone gas fire pit with lava rock is a perfect, serene spot for meditation. Landscape architect John Lindsay Mayer created an outdoor living room that's as comfy as the great indoors.
"I'm so sad it's over," Ann-Marie says wistfully, now that the project — and the special sister time — has come to an end. "For her to trust me was such a gift.
Adds Denise: "Having my sister partner with me on the overall home design and all of the interior selections for the kitchens, bathrooms, built-ins, flooring, furniture, fabrics, and more was a dream come true." (Incidentally, the cabinetry in the kitchen, all baths, and lower level bar is by Bill Higgins, with Bella Cucina Designs in Sylvan Lake.)
"There's a serenity to the house that brings immense daily joy to my husband and me, and there's an ease to the house for entertaining family and friends."
And as she puts her hand to her heart, she looks at her sister and says, "Working with Ann-Marie was wonderful, beyond words."