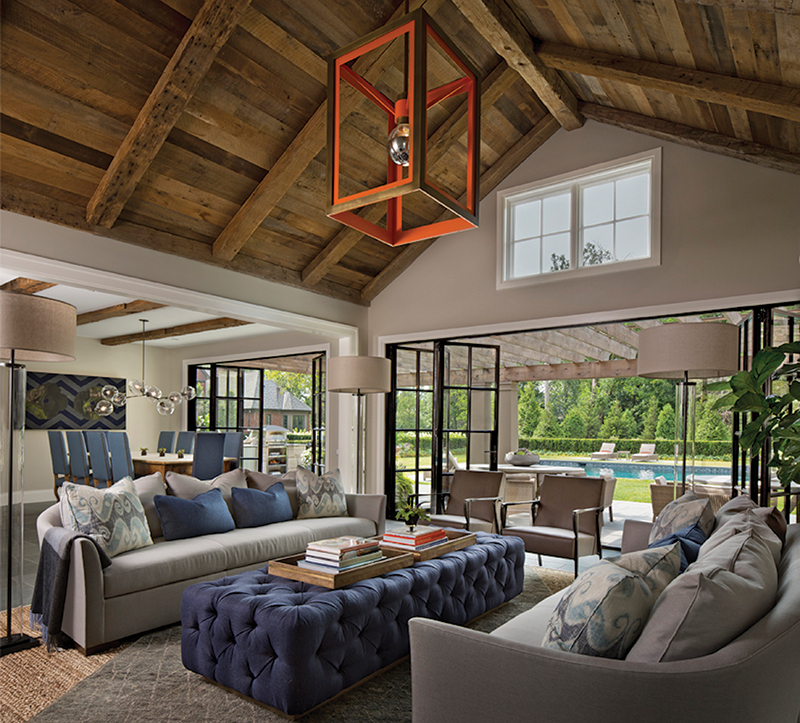 Bloomfield Hills residents Kristen and David DeMuth love the outdoors. So when a three-acre property located just behind their home came on the market in 2012, they decided to purchase it. Together with a team that included interior designer Lynn Witmer, principal of Witmer Design in Bloomfield Hills; Victor Saroki, principal of Birmingham's Saroki Architecture; and landscape architect Matt Mosher, of Mosher & Associates and general contractor Mosher Dolan, both in Royal Oak, they created an inviting, park-like space. The outdoor paradise includes a 2,000-square-foot, one-bedroom pool house, a pool, patio, clay tennis court, and gardens. The result is truly awesome.
"FOR THE SAKE OF CONTINUITY, WE TOOK CUES FROM OUR MAIN HOUSE … "
— DAVID DEMUTH
"Our concept was to create a pool house that was cool and comfortable," David DeMuth says. The couple says they were particularly influenced by NFL player Tom Brady's California residence, which they had seen in a magazine. "That was our foundation and our guide, and we took a lot of cues from it — including the accordion glass doors that open up the whole room, the reclaimed wooden beams (a central design accent), the vaulted ceiling, and the honed bluestone floor." (Adds Witmer, regarding the flooring: "When you hone bluestone, it gives it a more pristine and more sophisticated look.")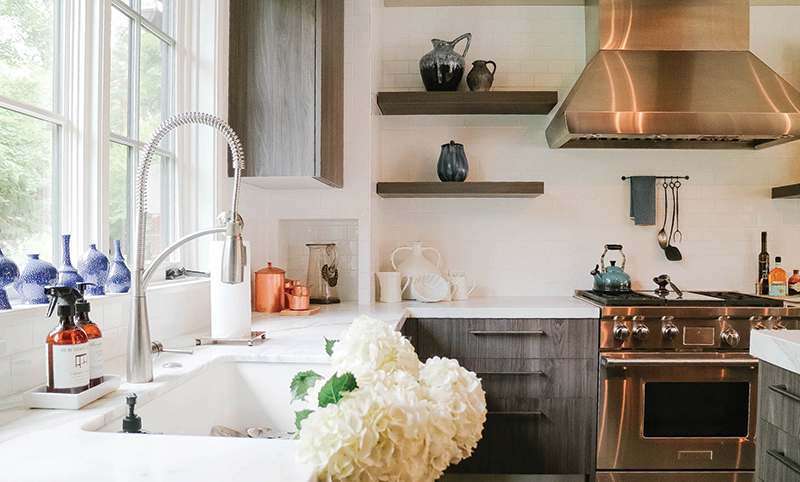 "For the sake of continuity, we took cues from our main house, utilizing color tones, furnishings, art, and light fixtures that would make the house and the pool house relate to each other," David says. For example, the Urban Electric chandelier in the pool house features a classic and iconic Hermes orange hue, and Witmer says: "The same color runs through both the main house and the pool house.
"Because the couple frequently opens up their home to the tennis community, to family, and to several charitable organizations, the materials we used needed to be durable and functional, and hold up really well," Witmer notes.
The pool house's living area features a wonderful melange of antique and contemporary furniture.
"I gave Judy Frankel (owner of Judy Frankel Antiques in Troy) a shopping list that included a classic, old farmhouse dining table, and she found a great one that's 10 feet long. Because the table was too low, Judy Frankel cleverly added bands of wood to the legs in order to make it higher," Witmer says.
The 8-foot-long ottoman, upholstered in a Ralph Lauren fabric, was custom-designed and then manufactured by Baker. Most of the furniture in the living room, including the two armchairs with their forged bronze arms, is from Holly Hunt.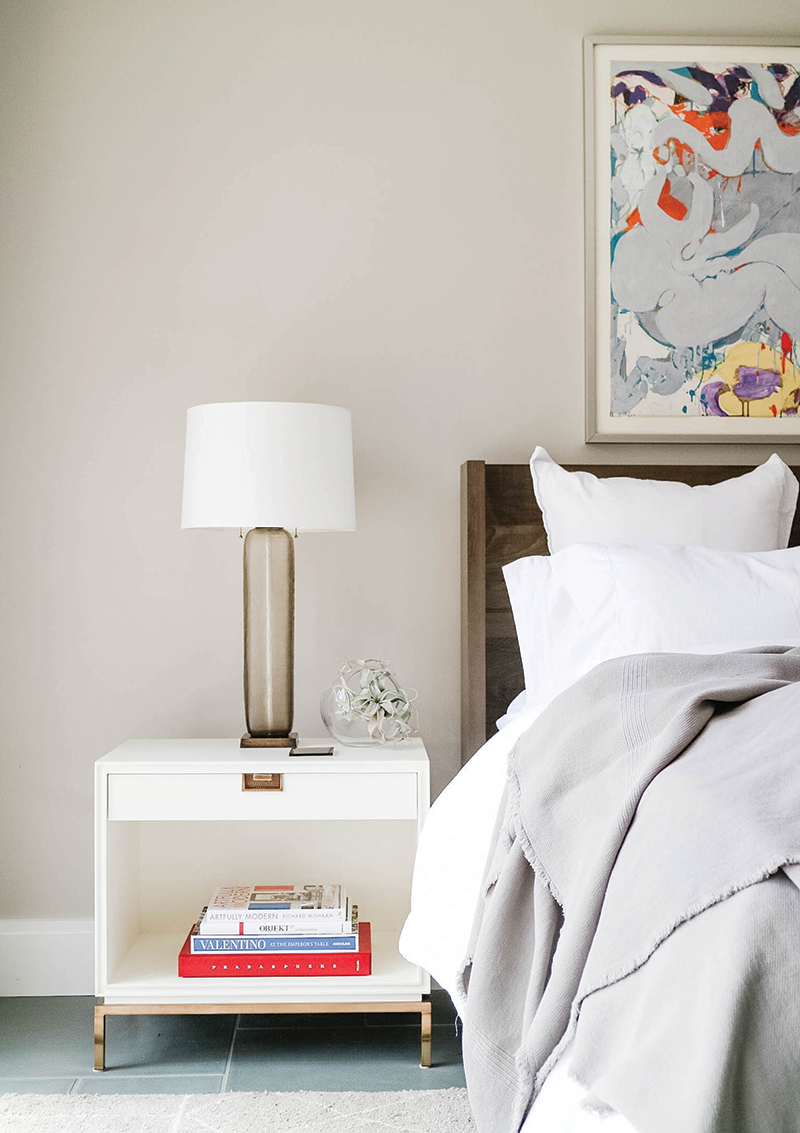 In the open kitchen, a collection of Roger Guerin pottery pieces rests on 2-inch-thick, free-floating shelves that are made out of the same wood as the room's DeGiulo Kitchen Studio cabinetry. Kristen DeMuth likes to draw attention to an interesting collection of wooden cutting boards she's amassed over the years. "I like to serve food on top of them because it looks cool, and the boards protect the honed white Calcutta marble tabletops," she says. "Besides, they're practical and functional, and I really love their wood." David is particularly fond of the kitchen's Sub-Zero glass-doored refrigerator. "I love to load it up with multiple colorful cans and bottles of soft and hard beverages," he says.
In the garden, Limelight and Annabelle hydrangeas have been landscaped into "rooms" that have limestone borders. A raised-bed vegetable garden is where the family grows tomatoes, snap peas, corn, tons of herbs, and "whatever our kids will eat," Kristen DeMuth says.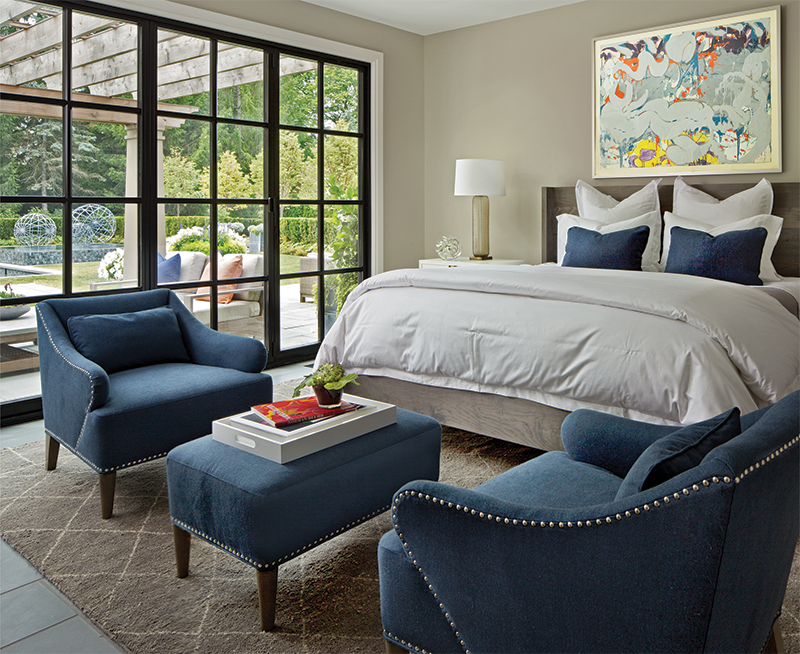 Buyer's Guide
INTERIOR DESIGN POOL HOUSE
Lynn Witmer, Witmer Design, Bloomfield Hills, Witmerdesign.com
BEDROOM
Artwork – Untitled, By Norman Bluhm
Bed – Sunday Bed In Oxidized Maple, BDDW, New York
Chair And Ottoman – Avenue By Baker, Schumacher In Corsica Weave, Michigan Design Center, Troy
Chests – Custom Mondrian Chests, Thomas Pheasant For Baker, Michigan Design Center, Troy
Credenza – Lakeside Credenza, BDDW, New York
Flooring – Honed Bluestone Flooring
Lighting, Ceiling – Ribbon Pendant, Urban Electric, South Carolina
Lightning, Lamps – Antique Cut Glass Lamps, Judy Frankel Antiques, Troy
Wall Paint – Benjamin Moore, Revere Pewter HC-172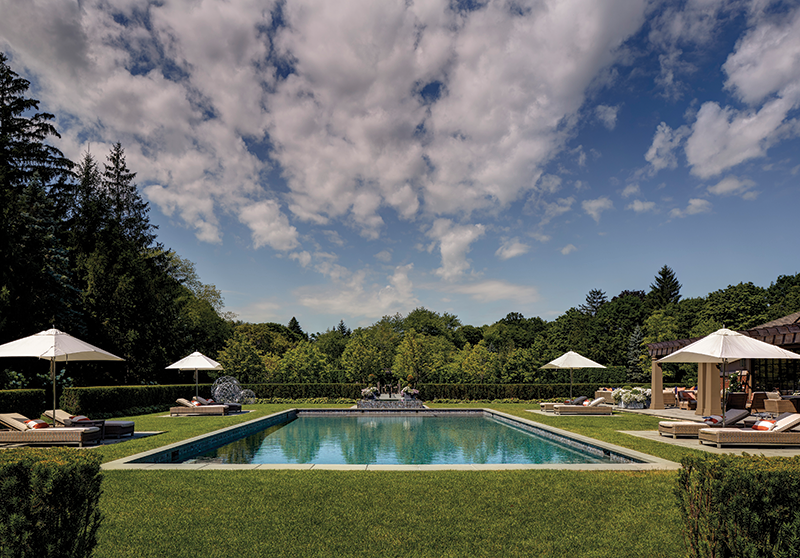 DINING AREA
Artwork – Herringbone Gray And Navy With Black Buttons, Donald Sultan, New York
Chairs – Os De Mouton Chairs, Judy Frankel Antiques, Upholstered in Ralph Lauren, Kravet, Michigan Deisgn Center, Troy
Chandelier – Lindsey Adelman, Branching Bubbles, New York
Flooring – Honed Bluestone Flooring
Table – European Antique Farm Table, Judy Frankel Antiques, Troy
Wall Paint – Benjamin Moore, Revere Pewter HC-172
GREAT ROOM
Doors – Optimum
Flooring – Honed Bluestone Flooring
Lighting – Flatiron, Restoration Hardware
Lighting, Ceiling – Cosy Pendant, Urban Electric, South Carolina
Lounge Chairs – Dublin, Holly Hunt
Ottoman – Custom Tufted, Cast Bronze, Baker, Michigan Design Center, Troy
Rugs – Stark Carpet, Troy
Sofas – Villa By Holly Hunt, Upholstered In Great Outdoors In New Linen, Holly Hunt
Wall Paint – Benjamin Moore, Revere Pewter HC-172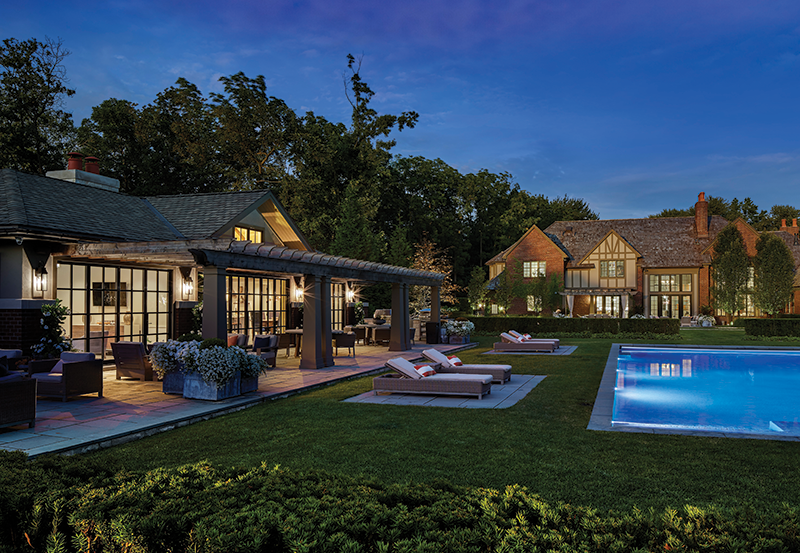 KITCHEN
Bar Stools – Pepper Bar Stools In Walnut, Holly Hunt
Ceramic Vases – Roger Guerin Pottery, Judy Frankel Antiques, Troy
Countertops – Calcutta In Honed White
Flooring – Honed Bluestone Flooring
Lighting – Factory Pendants, Urban Electric, South Carolina
Runner – Stark Carpet, Troy
Sculpture – Wood, Zieben-Mare, Franklin
Wall Paint – Benjamin Moore, Revere Pewter HC-172
ADDITIONAL CONTRIBUTORS
Architect – Saroki Architecture, Birmingham
Builder – Mosher Dolan, Royal Oak
Landscaping – Mosher & Associates, Royal Oak
Facebook Comments