Left: Interior designer/homeowner Rima Belau fell in love with this American farmhouse, shown here before its renovation. Right: The century-old home has come a long way, and now welcomes with a cheerful front door (paint — Behr's Lemon Drop) and new wraparound porch, which provides the family with additional entertaining space.
Every time interior designer Rima Belau looks at a large vintage trunk that graces her mudroom, she fondly recalls her grandparents, who moved to Detroit from Lithuania to flee World War II and Soviet occupation.
"That old wooden brown trunk, which my grandfather built, was their suitcase in which they packed their treasured belongings," Belau says. "My grandmother, who was a seamstress, and my grandfather, a tailor, also brought a manual Singer (sewing machine) and a pair of scissors." Belau inherited the wooden trunk, and, shortly after, decided to paint it a bright yellow — an optimistic shade that gave it new life and purpose, not unlike what her grandparents had when they arrived in the United States. Meanwhile, the sewing machine now has a special spot in the designer's living room.
It seems Belau enjoys giving new life to old things. This past year, the busy mother of three and owner of Plymouth-based Rima Designs, wrapped up an extensive renovation of her own 100-year-old farmhouse.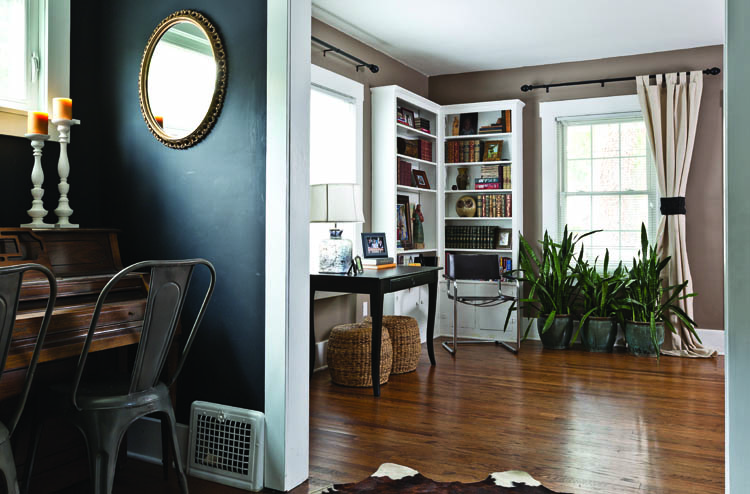 She and her husband, Kendrick, who wanted to be closer to family, were planning to move back to metro Detroit from Kalamazoo, where Kendrick worked for Bell's Brewery (certified in Germany as a diplom-braumeister, he now works for Pall Corp., a filtration company). "I fell in love with (this home) the minute we walked in with the realtor," Belau recalls. "I said, 'This is it!' My husband thought I was crazy, that it was too much work." The couple went back and forth on the offer, and did not, in fact, get the home until a year later.
As charming as it was, the home — at the time, it was a rental, after having been owned by a woman who had lived there for many decades — wasn't practical for the family of five (the Belaus have three children, ages 7, 9, and 11). Enter a savvy design and renovation plan, created by Belau, whereby the three-season front sunroom was removed; in its place, there's now a wraparound porch (Belau's lifelong dream). They also created a front door (previously, one entered the home from a side door); added three feet to the entryways to rooms, making them six feet wide; removed the wall between the kitchen and dining room to open the space up; bumped out six feet on the first floor; added eight feet for a mudroom; and changed the accessibility of the powder room (it opened to the dining room, so the Belaus closed it off and it now opens to the mudroom, for more privacy). They also changed the location of the basement stairs, to make room for their refrigerator.
Left: The Belau kids enjoy the front porch. Right: Black-and-white photographs of Belau's family grace a dining space wall. Black chairs "feel farmhouse," Belau says. The Edison-style light fixture in the dining room and above the kitchen island are from Allen + Roth.
On the second level, they added to the back of the house, creating a master bath and closet off what had been a smaller bedroom. That space is now an inviting master suite.
Belau believes that as much as preservation is about understanding the history of different styles of architecture (she has a degree from Wayne State University in interior architecture), it's also about calling on your intuition, especially when renovating an old home.
"I remember seeing a European woman on a House Hunters International episode (HGTV) who said that if you listen to a home closely, the house will tell you what it wants. In our case, we needed to create a new and practical version of what it was 100 years ago. (We changed) a lot, but there was so much more we didn't."
Left: The family room, awash in Benjamin Moore's Wedgewood Gray, features a painting (above the owl) by an Italian street artist. Right: To the right are lithographs from Lithuania. The wicker stools provide extra seating.
LEFT: The dark ceiling paint is Martha Stewart's precious metals, quayside. "The range area had been part of a narrow hall closet, so I shortened it and gave the space to the kitchen," Belau says. Right: The stairs were not refinished or covered, as the homeowners wanted to be able to easily see the home's history. Inspiring words add charm.
They kept all the original floors (except where the addition is; there, they added wood that matched the other floors) and added penny tile flooring for the mudroom.  Belau opted to keep the original wallpaper along the stairway going upstairs and purposefully chose to not refinish or carpet the worn-out stairs. "I loved that you could see marks and age, where the little old woman who used to live here walked up and down. I wanted to keep the house 'her.' "
As for the Belau kids, they survived the renovation and actually got an unexpected surprise education. "Through the whole process, they became interested in architecture and interior design," Belau says. "In fact, they drew pictures of what their bedrooms should look like. Even the youngest now understands the concept of a bird's-eye-view floor plan."
Outdoors, Belau opted for simple landscaping with a new, wide pathway that leads up to the front porch. The family planted hardy perennials like black-eyed Susans. Along the home's south-facing side, a large garden box brims with tomatoes, strawberries, and other fruits and vegetables. The exterior, formerly white, is now gray with a cheerful yellow door. ("Yellow is one of my favorite accent colors because it draws you in and feels welcoming," Belau says.)
The front porch has become a family gathering spot, especially on autumn afternoons after school. Every year, the porch is festooned with corn stalks, mums, and pumpkins aplenty, purchased at nearby farmers' markets. The front door welcomes fall with a wreath of bittersweet, while chairs with pillows make the porch an ideal perch for watching colorful leaves fall. One of Belau's favorite chair pillows features a bird motif.
"The birds (she has bird adornments inside, too) remind me of my grandmother," Belau explains. "She always pointed out cardinals on the windowsill, and she had lots of statues of birds all over her house. They're a pleasant reminder." As is the old sewing machine, which looks so right in this  house of yesterday … today.
Left: Where there once was a door, there now is a perfect spot for the family's piano. Deer head art adds a touch of quirkiness. The cowhide rug comes from Uruguay, where Belau's mother-in-law once lived. Right:The cherished sewing machine, from Belau's grandmother, makes a unique table. The artwork is by Canadian artist Robert Kemp. Antique seltzer bottles adorn another table. As for the walls, "I was testing this idea here for a client's kid's room — painting 'moulding' on like a theater set," Belau says. "I liked it, so kept it."
Penny for Your Flooring Thoughts?
A look at classic, simple penny tile
Flooring details are extremely important to interior designer/homeowner Rima Belau. "I chose penny tile for the mudroom because it looks like it's always been in the home," Belau says. Penny tile, or penny rounds, have been around since the early 1900s and were popular for kitchens and bathrooms. The pieces come in different shapes — from square to hexagon to round. Traditionally, penny rounds were made from ceramic tile or glass and are usually mounted on a 12- by 12-inch mesh for easy installation. "I get asked all the time if they're original to the house. The small tiles offer traction for slip-resistance, and I purposely chose a dark grey grout to hide any dirt from the high traffic." Belau added heating mats beneath the tile that are "great in the winter," she says. —MS
Buried Treasures: Stepping Through the Past
During the front porch overhaul, interior designer/homeowner Rima Belau and her family were excited to discover all kinds of artifacts. Buried beneath the sunroom were a woman's boot, license plates dating to the early 1900s, antique bottles, tobacco tins, and an embossing stamp. The Belaus plan to donate the items to the Plymouth Historical Museum. "We'll take the kids so they can learn about the items as well as the importance of preserving our history," Belau says. "They've all had their turns taking the items to school; now it's time to give them a home in the museum." — MS