---
"A beautiful retreat" is what Ashley Cox had in mind, designer Jane Spencer says, when she contacted her in the spring of 2020 after purchasing a new-build in Birmingham. Inspired by relaxing stays in high-end hotels, the busy mom of three elementary-school-age children came to Spencer for help in creating a home that felt both functional and fashionable. "I wanted the vibe to be similar to a luxury hotel — a space that's open and airy yet modern, with a bit of edge and personality," Cox shares. "I love a Four Seasons. They're all very different in terms of how they're decorated, yet all reflect the same feeling of luxury (and are) timeless and contemporary."
---
Cox had collaborated successfully with Spencer on other residences and knew that the two could transform the 4,800-square-foot contemporary Farmhouse into the warm and inviting space she envisioned. "We had worked together on her previous home, so she had a good understanding of the design process," Spencer explains. "We have an easy flow together."
The admiration is mutual, Cox says. "Jane understands my style. She gets what I like."
---
Built by Thomas Sebold & Associates as a spec home, the residence featured an open floor plan with plenty of space, including five bedrooms and four full baths.
---
"TSA did a beautiful job on the home itself," the designer says. "We wanted it to be functional for the family, yet stylish," the designer adds, explaining the project's goals. "We wanted warmth and texture, and wanted to define the rooms." Priorities included "tricking out the main floor to feel cohesive and layered, sleek yet inviting," she says.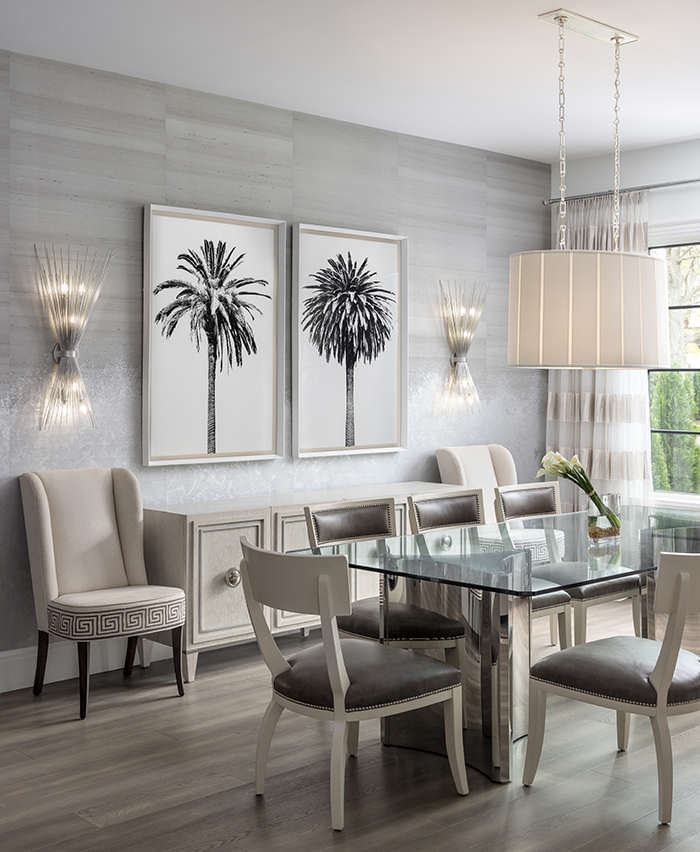 ---
Spencer suggested defining spaces with wallcoverings — something Cox agreed to immediately. "I'm not one for clutter but because the spaces, especially on the first floor, all tie into each other, we had to use wallcoverings and texture to separate the rooms but also ensure that they would flow and feel connected," she says.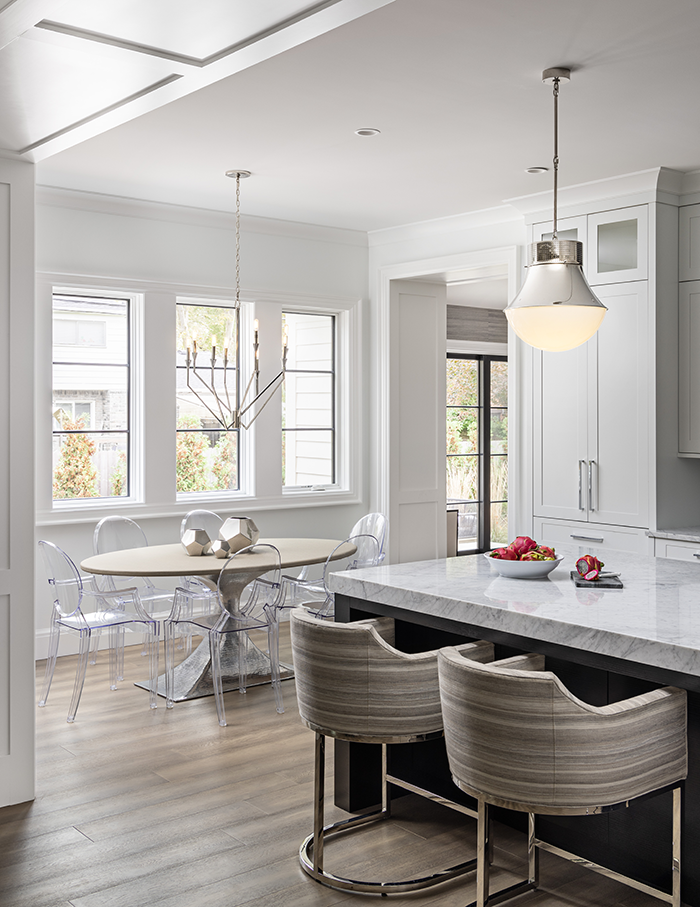 ---
They started with the first floor, including the two family rooms, kitchen, dining area, and Cox's home office, and followed a monochromatic color scheme with a slightly different use of texture on the furniture or wall coverings in each space, to add definition.
"Large, all-white homes can feel very sterile, so we added grasscloth, woven silks, and a very cool faux cowhide wallcovering in the mudroom/back hallway," Spencer explains, adding that homeowners shouldn't be afraid to use wallcoverings in every room. "If it's harmonious, it will work," she says.
"Large rugs in each room ground the seating areas and make them feel larger, while adding layers to really make the furniture pop," she adds. The designer opted for wool in most spaces, she says, because of its softness, durability, and luxuriousness. "It just lasts longer," she notes.
"The colors are muted and soft because we wanted to keep the focus on the beauty of the home and the large windows that produce amazing natural light all day," Cox explains of their choices, adding, "if you select window treatments and wallcoverings that are timeless, you can easily incorporate more trendy or in-the-moment items in the décor. And when you're ready for a change, you can swap a throw pillow or other small accessories and make the space feel very different without having to completely redo it."
---
To achieve the look of a high-end hotel, Spencer added new light fixtures throughout with luxurious elements such as acrylic, crystal, silk, or linen. Where practical, she also included velvet (in the family room chairs and sunroom pillows), silk (in the dining room's mural-like wallcovering), and crystal (in the family room lamp and powder room pendant). She advises homeowners to go for the bold when decorating large spaces and working with open floor plans. "Don't be afraid to pump up the scale of everything; there's nothing worse than a huge family room with a small rug."
Spencer loves how the project turned out and says the first-floor powder room is one of her favorite spaces. It "evokes glam, with the funky palm print wallpaper and crystal pendant," she says. "The lips photograph adds some edginess, and it's so cool to see it reflecting in the vanity mirror."
"I love the space and how it came out," Cox agrees. She says she's excited to start phase two of the project, which includes the second-floor bedrooms. "(For the master bedroom) we're planning to follow a similar path of muted colors, lots of texture, a hint of glamour, and contemporary pieces. Because this is my personal space, I want it to feel extremely cozy and spa-like so that when I'm in there, it feels like a retreat from the rest of the house."
---
BUYER'S GUIDE
---
---
INTERIOR DESIGNER
Jane Spencer, Jane Spencer Designs, Bloomfield Hills, janespencerdesigns.com
Perspectives Cabinetry, Cabinetry – Dining Room, Troy, perspectivescabinetry.com.
Tennant & Associates, Phillip Jeffries Silk Wallcovering – Formal Dining Room, Phillip Jeffries Wallpaper – Office, showroom in Michigan Design Center, Troy,
michigandesign.com.
DINING ROOM
Bar Stools – Vanguard, CAI Designs, Michigan Design Center,
Cabinetry – Perspectives Cabinetry, Troy
Centerpiece – Global Views, Decoroom, Michigan Design Center, Troy
Chandelier, Formal Dining Room – Visual Comfort
Chandelier, Kitchen Nook – Hudson Valley Lighting, Lighting Resource Studio, Michigan Design Center, Troy
Countertop – PMP Marble & Granite, Troy
Flooring – Thomas Sebold & Associates, Bloomfield Hills
Lighting, Bar – Visual Comfort
Table, Kitchen – Custom, Jane Spencer Designs, Birmingham
Wall Paint, Kitchen – Sherwin-Williams, Extra White
Wallpaper, Formal Dining Room – Silk Wallcovering, Phillip Jeffries, Tennant & Associates, Michigan Design Center, Troy
ENTRYWAY
Bench – Arteriors, Marianne Jones, Birmingham
Blanket, Throw – Hermes
Chandelier – Visual Comfort
Door – Thomas Sebold & Associates, Bloomfield Hills
Flooring – Thomas Sebold & Associates, Bloomfield Hills
Lamp, Floor – Visual Comfort
Mirror – Theodore Alexander, Michigan Design Center, Troy
Pillows, Accent – Square Feathers
Rug – Design Materials Inc., Carpet Design Group, Troy
Wall Color – Thomas Sebold & Associates, Bloomfield Hills
FAMILY ROOM
Armchairs – Hickory Chair, CAI Designs, Michigan Design Center, Troy
Artwork, Black and White – RH
Chests – Bernhardt, CAI Designs, Michigan Design Center, Troy
Drapery – Stark & Scalamandre, The House of Scalamandré, Troy
Fireplace – Thomas Sebold & Associates, Bloomfield Hills
Flooring – Thomas Sebold & Associates, Bloomfield Hills
Pillows, Accent – Schumacher, Michigan Design Center, Troy
Rug – Bellbridge
Sofas – Hickory Chair, CAI Designs, Michigan Design Center, Troy
Table, Coffee – Century Furniture, CAI Designs, Michigan Design Center, Troy
Table, End (Circle) – Bernhardt, CAI Designs, Michigan Design Center, Troy
Table, Occasional (Square) – Vanguard Furniture, CAI Designs, Michigan Design Center, Troy
Wall Paint – Sherwin-Williams, Extra White
OFFICE
Armchairs – Hickory Chair, CAI Designs, Michigan Design Center, Troy
Artwork, Circles – Palecek, CAI Designs, Michigan Design Center, Troy
Artwork, (Behind Desk) – Wendover Art, CAI Designs, Michigan Design Center, Troy
Chair, Desk – Bernhardt, CAI Designs, Michigan Design Center, Troy
Chandelier – Thomas Sebold & Associates, Bloomfield Hills
Desk – Vanguard Furniture, CAI Designs, Michigan Design Center, Troy
Flooring – Thomas Sebold & Associates, Bloomfield Hills
Rug – AL-01 Allure, Castelluxe
Shelving – Thomas Sebold & Associates, Bloomfield Hills
Table, Occasional – Bernhardt, CAI Designs, Michigan Design Center, Troy
Wallpaper – Phillip Jeffries, Tennant & Associates, Michigan Design Center, Troy
POWDER ROOM
Artwork, Lips – Trowbridge Gallery
Cabinet – Thomas Sebold & Associates, Bloomfield Hills
Countertop – Quartz
Flooring – Thomas Sebold & Associates, Bloomfield Hills
Lighting, Vanity – Visual Comfort
Mirror – Custom
Wallpaper – Cole & Son, Kravet | Lee Jofa | Brunschwig & Fils, Michigan Design Center, Troy
STAIRS
Runner – Helios
Treads and Railing – Thomas Sebold & Associates, Bloomfield Hills
Wall Paint – Sherwin-Williams, Extra White
---
---
Text by Khristi Zimmeth & Photography by Martin Vecchio