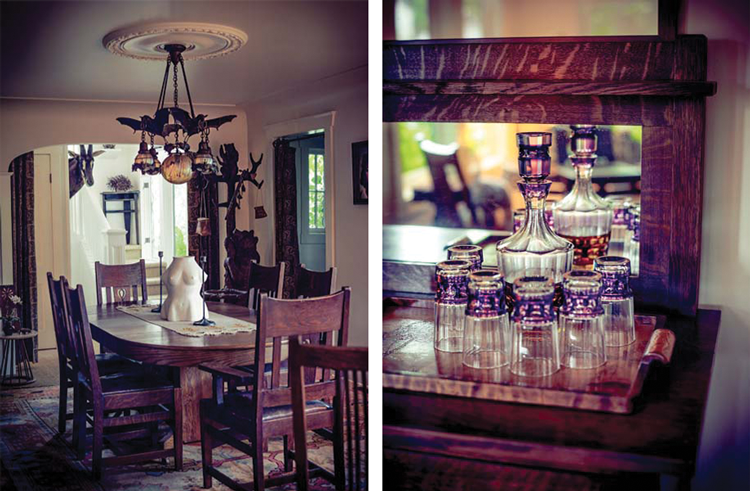 When Phillip Morici and Joe Nieradka design landscapes for clients, they strive to create what they call a "single voice."
At their own 1926 home, the naturalized setting speaks with a full choir of sounds. Acorns plop. Raindrops slap a pond where koi circle languidly. Wind chimes sing in a small clearing. Wood ducks signal their seasonal arrival with a raspy whistle. And toads call huskily from their lush hideouts.
Indoors, as Morici and Nieradka relax amid their books and art pieces, they feel as though they're the "exhibited creatures," on display to the wildlife their plantings have invited.
Rooms in their intimate Sylvan Lake home feel as natural as the botanical surroundings, a mood due in part to the tactile pleasure of handmade pottery, the muted palette of their paintings, the warmth of quartersawn oak pieces — even the mouse-gray coats of their sleek Weimaraners.
Theirs is a collected look that speaks with a "single voice" unified by the thoughtful merging of two décor sensibilities.
Nieradka says he's a clutter bug by nature; Morici's a purger. Both are visual, which explains why they constantly edit and shift arrangements and belongings.
"I love auctions, following items from collection to collection," Morici says.
"I hunt through books." Four shelves crammed with auction catalogues from Christie's, Sotheby's, and Leslie Hindman are evidence of that. Nieradka, on the other hand, "likes to hunt out in the environment," Morici says. It's a penchant that has scored some significant finds — a Pewabic Pottery fountain, most recently. The circa early-1900s piece will find a home in their business, Fleur Detroit/Urbanscapes Detroit, a floral, object, and landscape-design business in Bloomfield Hills.
With their differing styles, where do they find the single voice they seek? At the center of the house.
"I love the dining room," Morici says. "It feels authentic. I love small rooms, not those bad '80s additions."
Nieradka echoes that sentiment, saying: "The size is just right."
The men also combined their voices into a pleasing harmony by basic compromise. Nieradka likes brighter settings rather than too much wood, so they made generous use of white paint. Morici's taste in art had Nieradka learning more about Tiffany pottery and Charles Rohlfs.
Morici says he learned about visual arts by listening to and observing his sophisticated clients and their collections and choices. Valuing those with experience is a sensibility sometimes overshadowed in a climate of contemporary catalogues and all things youth oriented.
What he has learned is this: "We're stewards, taking care of things. They're our children."
That stewardship includes their yard and the creatures that have taken up residence. Initially, the couple got some negative neighborhood feedback as they converted their landscape from turf to trees and other flora. Those detractors have been won over, however.
"I planted legacy-type trees and 'nurse' trees." Morici says. "When the legacy trees grew, we cut down the nurse trees. I wanted to leave the property with a legacy."Morici elaborates about trees in his blog at fleurdetroit.com: "My very own cathedral will take 50-plus years, but I don't mind the seasonal journey with my 'ladies.' Each year, they grow a little more, as do I — around the waist and in the mind."
Because of that long-term thinking, Nieradka says, "We're making the house for us, not resale.  It's right for how we live every day."