Several years ago, when Nancy and John DeAngelis moved to Bloomfield Hills, Nancy envisioned purchasing an old house. But John said he didn't want "to buy an old house and tear it apart," she says. Instead, "he wanted to build a new house with character and Old World workmanship." The result? A glorious home that looks as though it dates to the 1920s, with an exterior that consists of pieces of stone that were hand-chiseled the Old World way — and the exquisite interior woodwork (including cabinetry, staircase and handrails, and more) was all built on-site. Here's another interesting thing: The couple thought it would be nice for their home to sit high up on a hill, but the property they purchased actually sat below the road. To create a hill, "we talked the workmen who were tearing down the Birmingham Bowling Alley into dumping the dirt from that project onto our lot," DeAngelis says. Come winter — and especially during the holidays — the home takes on a special glow, inside and out.
Sitting Pretty: Birmingham-based interior designer Jane Synnestvedt and Bloomfield homeowner Nancy DeAngelis decorated the master suite mantel in a perfect palette for Nancy's handcrafted fairies (many by Mark Roberts).
Let's Dish: The holiday dining room table is covered with a puckered taffeta tablecloth and set with Buccellati flatware, antique raspberry and white-colored dinner plates that were purchased in Paris, and service plates Nancy and John purchased in Italy. "A lot of things have come from our trips," DeAngelis says. Shown here is a favorite tabletop scenario, created by Nancy and interior designer Jane Synnestvedt of Birmingham.
Talk To The Animals: Several charming handmade bears sit on top of the Great Room's fireplace mantel, along with a 16-inch-tall, blue-striped clay giraffe, handmade by the Valentis — and one of Nancy DeAngelis' favorites.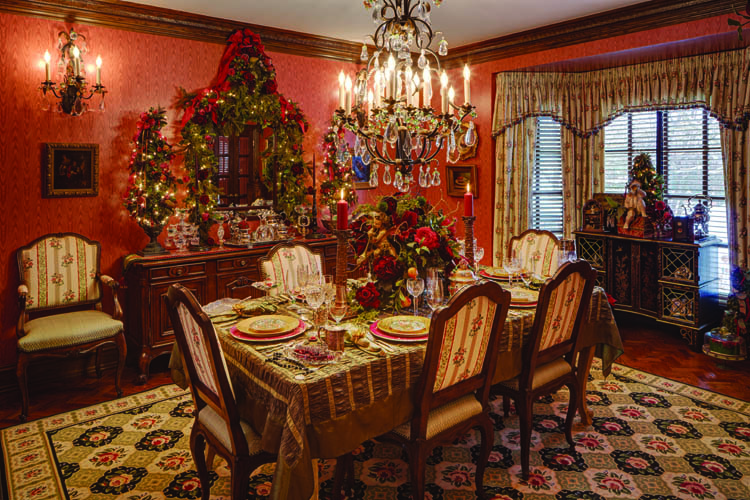 Taking Their Time: It takes two full days each year for Sue and Greg Valenti, co-owners of Coach House in Metamora, to install the holiday décor at the DeAngelis home. "I started with the Valentis 15 years ago," DeAngelis says, "but because I now have so much, I haven't added many new things in the past few years. I usually get a new ornament or two every year, but that's about it."
Accent On Pretty: The DeAngelises hired interior designer Jane Synnestvedt in 2011 to help with additional interior selections. She had previously done work for John DeAngelis' business interiors. Synnestvedt added the long plank Italian table in the entryway — a perfect perch for a holiday angel and a stack of antique books. "We also added green-check fabric to the chairs in the front room (a great color come Christmastime), and we did a lot of accessorizing and organizing the art collection and pieces (John and Nancy) purchased on their various trips," the designer notes.
And The Angels Sing: The 25-inch-high angel that tops the living room's eight-and-a-half-foot-high Fraser fir was purchased just last year, but it has already become Nancy's favorite decoration. "She's just gorgeous," DeAngelis says. Crafted by the Valentis, the angel has a silk taffeta gown that is trimmed with antique ribbon, gold sequin wings, and a gold-and-crystal crown. While the Valentis put up most of the home's holiday decorations, Nancy takes pride in trimming the tree herself.
Santas, Santas Everywhere: The DeAngelis Christmas decorations include approximately 20 different Santas, and just about every one of them has been made from scratch, then trimmed with fabrics, by the Valentis. The almost 3-foot-high Santa that sits on the fireplace mantel in the breakfast area has a hand-painted face, a beard made out of real Tibetan lamb's wool, and a hat — sewn by both hand and machine — created from a Brunschwig and Fils silk brocade fabric. "We use real fur, silk, velvet, ribbons, and metallic trims. Some are 75 to 80 years old and have gotten cost-prohibitive. We also go to antique shows a lot to buy antique and vintage fabrics and trims," Sue Valenti says.
Family Affair: Nancy and John DeAngelis, and daughter Kelly celebrate their holiday home. Kelly's dog, Owen, is in the spirit, too.
Upstairs/Downstairs: The curved double staircase was crafted by woodworker Glen Cooper. Cooper's father helped build Henry Ford's Fairlane home, and he remembers helping his dad there when he was a boy. For this staircase, Cooper kept "wetting and twisting the wood until he got it right," DeAngelis says. At Christmas-time, the stair rails provide the perfect backdrop for several lush garlands.
---
All Through the House
Resourceful Interior Designer Jane Synnestvedt Decorates With …
Tiny Trees: Birmingham-based designer Jane Synnestvedt, shown at left, says not to forget about including a touch of holiday in grown children's rooms and guest quarters. Shown in the bedroom photo below, Synnestvedt added tabletop trees that are all handmade with crystal ornamentation. (Synnestvedt also oversaw the interior design for this space, working closely with the homeowners' daughter, Kelly, who now lives in New York.)
"The inspiration for the room was the yellow cherub made of tiles. It hangs over the upholstered bench," Synnestvedt says. "Nancy and Kelly purchased the tiles in Portugal, and carried them back knowing we would find a place for them." The 100-percent wool pile carpeting is from Stark and has "that perfect little French blue dot." They chose F. Schumacher & Co. wallpaper with a wide tonal stripe. Fabric includes F. Schumacher & Co. Barnet blue-and-white check for the drapery trim, bed coverlet, and pillows, as well as Old World Weavers, Kravet, and Robert Allen. The light fixtures were faux-finished to bring in the perfect shade of blue. Ceramic garden benches add elegance, while a functional computer area is secluded behind doors. Note: Wallpaper backs the shelving unit to add a splash of color when the doors are open. "It's beauty and function," Synnestvedt says.
Classic Greens: Even though green is especially favored come the holiday season, the interior designer likes to work with it year-round. An example: Antique chairs in the living room were reworked and covered in Robert Allen green-and-white fabrics. Gimp trim pulls the fabrics together.