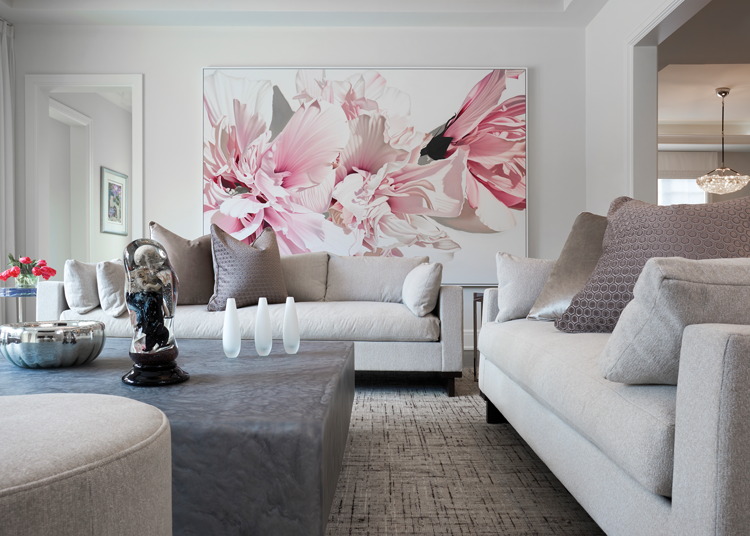 Carrie Long has been designing homes pretty much all of her life. When she was in kindergarten, her late builder father, Robert Long, let her choose a palette of colors for her room, which he painted and admired, and her career path was set. As she grew, she enjoyed working side by side with her dad, who would take her out to job sites where she would dream up ideas that he often implemented, and always appreciated.
At age 29, after working for big Birmingham names like the late Brian Killian, and Stephen Knollenberg, plus design firms in Sydney, Australia, and Tel Aviv, Israel, she started her own company, Carrie Long Interiors in Royal Oak. For the past two decades, she has been in high demand.
As this romantic three-level, 4,500-plus-square-foot Tudor she designed exemplifies, Long is big on details. The house, a quick walk to downtown Birmingham, oozes with character, charm, tray ceilings, and custom moldings. Working from Birmingham architect Brian Neeper's drawings, she detailed out the interior, all the millwork, and specified finishes for the exterior. Royal Oak's HM homes served as the builder.
"I put my heart and soul into it," the designer says. "I wanted it to be modern classic Birmingham, true to the city's architecture. I also wanted it to be timeless."
The residence was built to be a family home where the owners' grown son, daughter-in-law, and grandchildren could gather comfortably around the holidays. It features two master suites — one for the homeowners and another in the guest wing over the garage, which has its own special entry and stairway. Two more bedrooms and a total of seven baths guarantee privacy and deluxe accommodations for every overnight visitor.
The kitchen is bright and creamy white, with a glass mosaic backsplash, quartzite countertop, stainless-strapped steel vent hood, custom cabinets, high-end appliances, and three seats at the island. LED lighting from the tray ceiling adds ambience and texture.
The dining area flows from the kitchen, with dark wood cabinetry and a table for eight. Another LED tray ceiling is further enhanced with a modern rock crystal chandelier. The flooring throughout the house is dark, custom oak hardwood.
The living room is clean and bright with hand-hewn ceiling beams, a limestone fireplace, light walls, and comfy neutral furnishings. A dreamy pop of pink fills one wall, which showcases a large floral painting by Italian contemporary artists Sandra Casagrande and her husband, Roberto Recalcati. Another floral by the Milan-based artists graces the office, where hot-pink chairs dazzle. Other paintings around the house include works by Peter Max and Cathy Daley; all of the art is from Birmingham's Robert Kidd Gallery.
Upstairs, a large circular anteroom leads to the master bedroom, bath, and master closet. Lavish materials, custom furniture, plush Scandia bedding, a crystal chandelier, and built-ins abound. In the bath there's a clawfoot tub, marble floor, and a long, two-sink console with loads of storage, topped with a French vanilla marble slab and illuminated by crystal sconces.
In the lower level, which spans the entire footprint of the house, there's a bar, a wine room, a game room, and a huge library — one of the husband's favorite places to spend cozy winter days.
The homeowners love everything about their house, and Long adores her clients. "They were the most amazing people I ever worked with," says the designer, adding that she incorporated their ideas but was given free rein. "Pink is the wife's favorite color, so we went from there."
Long calls her design eclectic and transitional. "That blend gives the house a little soul," she explains. Her clients tell her the longer they live there, the more they appreciate all the details.
During this particular home's design, one detail loomed large: Long was nine months pregnant, and she hoped she wouldn't deliver on the job site. That was three years ago. Everything turned out fine, and her 3-year-old son, Ari Sobol, recently picked out the colors for his own Smurf-themed bedroom — just like his mother did when she was a tiny girl.
---
Winter Haven
The homeowners love to curl up by the fire in the living room, where they can sink into one of their sumptuous sofas or armchairs and read a book, watch movies on the big-screen TV above the limestone fireplace, or simply commune after an evening on the town. The center ottoman is a resin piece by Canadian sculpture artist Martha Sturdy. The circular stools are from Lee Industries, the acrylic occasional tables are by Holly Hunt, and the handsome carpet below this comfy nesting area is by Stark. — PLS
---
Buyer's Guide
INTERIOR DESIGNER
Carrie Long, Carrie Long Interiors, Royal Oak, carrielonginteriors.com
BATHROOM, GUEST
Bench – Brentano, Lee Industries
Countertop – Caesarstone
Faucet – The House of Rohl
Flooring – Tile, Ciot, Troy
Sconce – Visual Comfort
Wall Treatment – Tile, Ciot, Troy
BATHROOM, MASTER
Bathtub – Victoria + Albert
Bench – Global Views
Cabinetry – Perspectives Cabinetry, Troy
Countertop – French Vanilla Slab, Ciot, Troy
Flooring – French Vanilla Marble, Ciot, Troy
Sconces – Visual Comfort
Wall Paint – Benjamin Moore, China White
Window Shades – Roller Shades, Hunter Douglas
BATHROOM, POWDER ROOM
Cabinet – Custom, Carrie Long Interiors, Royal Oak
Faucet – The House of Rohl
Flooring – Oak Hardwood
Sconces – Boyd Lighting Co.
Sink – Stone Forest
Towel, Decorative – Scandia Home, Birmingham
Wall Treatment – Phillip Jeffries, Tennant & Associates, Michigan Design Center, Troy
BEDROOM, GUEST
Artwork – Peter Max
Bedframe – Custom, Carrie Long Interiors, Royal Oak
Bedding – Scandia Home, Birmingham
Bench – Custom, Carrie Long Interiors, Royal Oak
Flooring – Oak Hardwood
Rug – Stark Carpet, Troy
Sconces – Ralph Lauren, Visual Comfort
Table, Bedside – Global Views
BEDROOM, MASTER
Artwork – Cathy Daley, Robert Kidd Gallery, Birmingham
Bedding – Scandia Home, Birmingham
Bench – Custom, Carrie Long Interiors, Royal Oak
Chandelier – Visual Comfort
Chest, Bedside – Barbara Barry Collection, Henredon
Drapery – Cream Linen
Flooring – Oak Hardwood
Headboard – Stewart, Perennials
Rug – Custom Silk, ABC Carpet & Home
Wall Paint – Benjamin Moore, China White
KITCHEN
Artwork – Cathy Daley, Robert Kidd Gallery, Birmingham
Backsplash – Glass Mosaic, Ciot, Troy
Bar Stools – Brentano, Lee Industries
Cabinetry – Perspectives Cabinetry, Troy
Countertop – Quartzite
Flooring – Oak Hardwood
Hood – Venta Hood
Lighting – Led Tray Detail
Wall Paint – Benjamin Moore, China White
Window Shades – Roman Shades, Designs Designs
LIVING ROOM
Armchairs – Stewart, Jim Thompson
Artwork – Casagrande & Recalcati, Robert Kidd Gallery, Birmingham
Light, Ceiling – The Urban Electric Co.
Fireplace – Limestone
Flooring – Oak Hardwood
Ottoman – Resin, Martha Sturdy
Rug – Stark Carpet, Troy
Sofas – R. Jones, Perennials
Stools, Circular – Lee Industries
Table, Occasional – Acrylic, Holly Hunt
Wall Paint – Benjamin Moore, China White
Window Shades – Linen Roller Shades
OFFICE
Artwork – Casagrande & Recalcati, Robert Kidd Gallery, Birmingham
Cabinetry – HM Homes, Royal Oak
Chairs, Desk – Bright Chair
Desk – Custom, Carrie Long Interiors, Royal Oak, HM Homes, Royal Oak
Flooring – Oak Hardwood
Lamp, Floor – Visual Comfort
Pillows, Accent – Pierre Frey
Rug, Animal Skin – Custom, Sheared Sheep, Stark Carpet, Troy
Sconces – Boyd Lighting Co.
Sofa – Stewart, Sahco
Table, Cube – Martha Sturdy
Wall Paint – Benjamin Moore, China White
VANITY
Chair – Global Views
Flooring – Oak Hardwood
Mirror – Custom, Carrie Long Interiors, Royal Oak
Sconces – Visual Comfort
Table – Perspectives Cabinetry, Troy
Wall Paint – Benjamin Moore, China White
ADDITIONAL PROJECT CONTRIBUTORS
Architect – Brian Neeper, Brian Neeper Architecture, Birmingham
Builder – HM Homes, Royal Oak