Interior designer Annie Kordas says the "stars aligned" when she and her husband, George, found their dream home in 2013. "We were living in a small Ranch-style home in Grosse Pointe Farms and had a baby at the time," Kordas says. "We saw a traditional Colonial for sale, a dream house on a dream street. It had what my husband and I love — the whitewashed brick, and dark hunter-green shutters and front door. We looked through it, but weren't in a position to sell ours." As it turned out, some family friends learned of the Kordas' home possibly being for sale. They wanted to purchase it, and the rest is history.
"Most everything was to our liking, and I couldn't love it more," Kordas says of her home, which is located on a cul-de-sac in Grosse Pointe Farms and was built in 1962. "We took down a wall and opened up the space between the kitchen and living room," she says. One of their favorite elements is the size of the windows. "They're so special, floor to ceiling! We're lucky to have them. I've got window washers here twice a year to keep them clean and pristine," she says with a laugh.
Two years ago, the couple updated their kitchen. "The layout was great," she says, "so we just did some aesthetic work, like adding a new backsplash." The Wood-Mode cabinetry was in good shape, but the doors had been hand-painted white and were "pretty much trashed," she says. "The inside was perfection, so we replaced just the doors with factory-finish, more modern doors and new hardware."
Upon entering the home, one immediately takes in a special table in the foyer. An Art Deco-style piece, it was discovered by Kordas at Judy Frankel Antiques in Troy. "I love her antiques and the condition they're in," Kordas says. A couple of Danish chairs Kordas purchased through another designer friend round out the foyer's eclectic look.
The couple often uses the library for entertaining. "We (like to) hang out there," she says. "There's a little bar off that room, so we can fix a cocktail." Made cozy with a commissioned piece of wall art, a television, and a rich charcoal wall shade (Benjamin Moore's Onyx), the library is "actually my favorite spot in the whole house. I sit in there all the time just because it's cozy. I light the fire, drink my coffee, watch the birds flying around outside. I tell clients that darker colors (like the one on the walls) provide a different energy."
No doubt, an eye-catching piece in the four-bedroom home is the living room's circular sofa. "We put that round item in our living room because there are four doorways to the space, so you have to have open traffic flow — and that piece provides that."
Like the library, the living room comes in handy for entertaining. Its large rug is crafted of hand-knotted wool with soft tan and light blue tones — an heirloom gifted from family. Two commissioned paintings of Marie Antoinette and Louis the XVI remind the couple of one of their favorite places in Europe, the Palace of Versailles.
When hosting a party, the couple often will hire a jazz pianist to set up in the space. The overall style evokes a Jay Gatsby feel, and " 'The Great Gatsby' is a favorite book!" Kordas shares. It's not surprising that her spaces have that "come have a gin cocktail and let's listen to music for awhile" feel.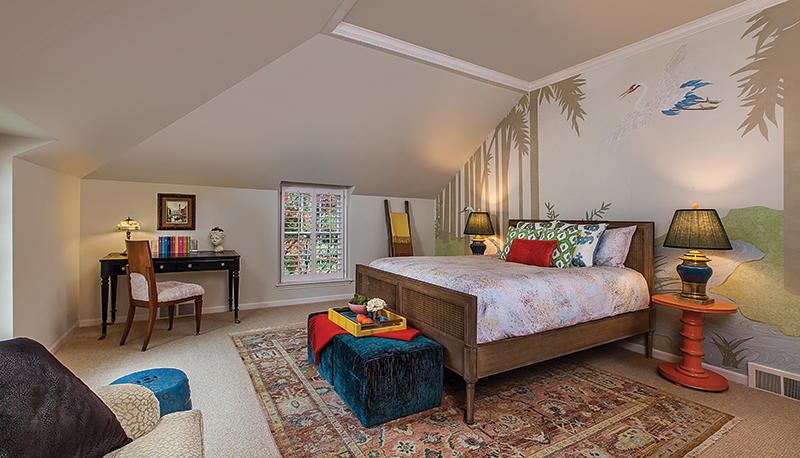 Indeed, this is a home in which one is constantly amazed by the clever mix of art, furnishings, and materials. One of the designer's favorite elements in a home is marble, so the powder room, already brimming with beautiful marble, didn't need to change much. "Marble is the only material I ever want to put in a bathroom," Kordas says. "All of the existing bathrooms in the home (3.5) had marble." She admits that she did change the colors, though. "The powder room cabinets were Kelly green, so I painted them white and then added wallpaper on the walls and ceiling, and sconces, and made minor aesthetic changes." Kordas says one of the easiest fixes in a powder room is changing out the hardware. "That's a favorite thing to do," she says, adding that she used antiqued bronze pieces for her powder room. An ebonized, burled-wood mirror from Judy Frankel Antiques rounds out the sweet space.
More unique mixes come in the way of the home office, which was formerly a bedroom. "I needed to have a home office," says Kordas, whose children are 7 and 9. A pair of contemporary Jonathan Adler lamps illuminates four original paintings of faceless men, and the white Herman Miller soft-pad chairs are a nod to Mid-century Modern style. The walls and drapes are neutral, while antelope-print carpet and a dark green ceiling are head-turners. It's a lovely nest in which to dream up fetching designs for her clients.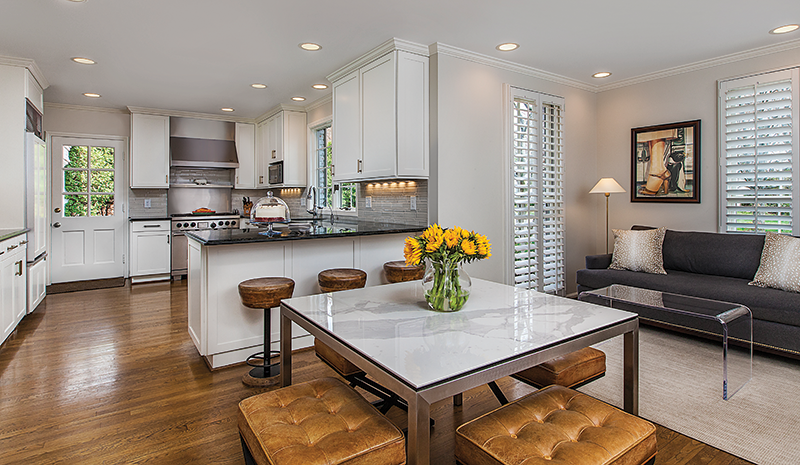 Kordas says she was a French teacher for several years before becoming a designer, and in some of her design schemes you can't help but notice a touch of European flair. "I don't know what makes my brain tick!" she says with a laugh. "The idea of that office is that I was motivated by the walls and drapery kind of melting into the background, so the accent is on the floor and ceiling. It's a vintage-modern feel that's kind of French," she says. There's also a bit more "French" in the way of Hermes pillows, while the antelope-pattern carpet is her nod to using animal prints in design. "I like a little bit of animal, but I like to mix it with something more feminine, like floral, for the juxtaposition of that pattern play."
As for the home's beautiful wall art, Kordas is quick to give credit to her husband. "He's choosy about art and he's got an incredible eye for artwork; his mother and sister are both artists." One wall in the dining room features several paintings by George's mother. There's also a map of the world in the mix. "I love that thrown in there," Kordas says. The wallpaper, made of real wood, highlights the art well, and a burled-wood dining table takes center stage. "I have this weird thing about burled wood; (I love) the tones and the movement." Some of the room's chairs and the chandelier have that aforementioned French feel. As for the rug, she says, "I waited a long time for my dream rug and finally found it when I walked into The Ghiordes Knot." With tones of blush, taupe, and ice blue, it picks up on many of the colors in the home.
The guest room is perhaps the wild card. "We wanted something super sophisticated and dazzling, and I wanted to play with color," Kordas explains. Featuring turquoise, orange, blues, and greens — as well as dollops of yellow — "it was an experiment to work that much color in," she says. The designer admits that her clients would likely say "no way" to something as bold as this space.
But, after all, it's Kordas' own home, so she was able to play out her ideas in more unusual ways. "It's always nice when it's your own home and you don't have to OK it with a client," she says. "You can do what's in your heart and soul."
---
BUYER'S GUIDE
INTERIOR DESIGNER
Annie Kordas, Annie Kordas Interiors, Grosse Pointe Farms, anniekordasinteriors.com
BEDROOM, MASTER
Artwork, Set of 3 – Sunburst Mirrors, Safavieh
Bed Frame – Louis XVI Frame, Antique
Bedding – Sferra
Chest, Bedside – Century Furniture, C.A.I Designs, Michigan Design Center, Troy
Chest, Display – Bernhardt Furniture Co., C.A.I. Designs, Michigan Design Center, Troy
Drapery – ADO Ombre Fabric, Beige, Decoroom, Michigan Design Center, Troy
Flooring – Masland Carpet, Crowther Carpet & Rugs, Grosse Pointe Woods
Lamp – Julie Neill for Visual Comfort, City Lights Detroit, Michigan Design Center, Troy
Runner – Tufenkian Handknotted Wool & Silk Rug, The Ghiordes Knot, Michigan Design Center, Troy
Wall Paint – Benjamin Moore, Ballet White
DINING ROOM
Art Prints – The Great Frame Up, Grosse Pointe Woods
Artwork – "Gallery Wall," Coleen Kordas
Artwork – "Sailor, Sun and the Sea," Quadra Collective
Chairs, Dining – Barbara Barry, Hickory Chair, Michigan Design Center, Troy
Chandelier – Currey & Company
Drapery – Decoroom, Michigan Design Center, Troy; Fabric, Schumacher
Dresser – Bernhardt Furniture Co., C.A.I. Designs, Michigan Design Center, Troy
Lamp – Lucite, Vintage
Rug – Tamarian Tibetan Rug, The Ghiordes Knot, Michigan Design Center, Troy
Table, Dining – Burl Wood Veneer, Caracole, C.A.I Designs, Troy,
Wall Treatment – "Inyo" Wood Veneer, Thibaut, Rozmallin, Michigan Design Center, Troy
GUEST ROOM
Bed – Serena & Lily
Bedding – Sferra
Blanket Ladder – Vintage
Blankets, Throw – Cuddle Dreams
Flooring – Masland Carpet, Crowther Carpet & Rugs, Grosse Pointe Woods
Lamps – Stiffel with Custom Shades and Finials, Pointe Lamp & Lighting, St. Clair Shores
Ottoman, Blue – Kravet, Kravet/Lee Jofa/Brunschwig & Fils, Michigan Design Center, Troy
Pillows, Throw – Kravet and Schumacher, Kravet/Lee Jofa/Brunschwig & Fils, Michigan Design Center, Troy
Rug – Hand-knotted Rug, The Ghiordes Knot, Michigan Design Center, Troy
Tables, Bedside – Baker Furniture, Michigan Design Center, Troy
Tray, Crocodile – Impulse, Perigold
Tray, Shagreen – Aerin
Vase, Pink – Raawii Danish Bowl, MoMA Design Store
Wallpaper – Schumacher, Yashinoki Crane
KITCHEN
Artwork, Framed – Vintage
Benches – Pottery Barn
Blinds – Plantation Shutters, Hunter Douglas
Cabinetry – Wood-Mode
Countertop – Granite
Hood – Broan-NuTone
Lamp, Floor – Visual Comfort, City Lights Detroit, Michigan Design Center, Troy
Pillows, Accent – Chloe and Olive, Antelope, Etsy
Rug – Couristan, The Ghiordes Knot, Michigan Design Center, Troy
Sofa – Hickory Chair Furniture, Michigan Design Center, Troy
Stove – Wolf
Table – Room & Board
Table, Coffee – Lucite Waterfall Table
Wall Paint – Benjamin Moore, Classic Gray
LIBRARY
Armchair – Vintage, Baker Furniture; Fabric, Black Leather Crocodile Hide
Armchairs, Fur – Custom, Upholstered in Kravet
Drapery – Custom, Ethan Allen
Flooring – Masland Carpet, Crowther Carpet & Rugs, Grosse Pointe Woods
Lamp, Floor – Currey & Company
Ottoman – Vintage, Kravet, Kravet/Lee Jofa/Brunschwig & Fils, Michigan Design Center, Troy
Sofa – Vanguard Furniture, Gorman's, Troy
Table, End Wooden – Theodore Alexander, Michigan Design Center, Troy
Wall Paint – Benjamin Moore, Onyx
OFFICE
Artwork – Original Prints, Tomoya Nakano, Saatchi Art
Ceiling Paint – Benjamin Moore, Regent Green
Chair, Desk – Eames Soft Pad Chair
Chest – Per Mare-Per-Terram, Perigold
Desk – Bernhardt Furniture Co., C.A.I. Designs, Michigan Design Center, Troy
Flooring – Antelope Carpet, Karastan
Lamps, Floor – Jonathan Adler
Light, Ceiling – Visual Comfort, City Lights Detroit, Michigan Design Center, Troy
Pillows, Accent – Custom, Designer Furniture Services, Michigan Design Center, Troy
Shelf – Modern History, C.A.I. Designs, Michigan Design Center, Troy
Wall Paint – Benjamin Moore, Swiss Coffee
POWDER ROOM
Cabinet Paint – Benjamin Moore, Acadia White
Ceiling Treatment – Schumacher, Fabulous Faux Embossed Crocodile, Brown
Faucet – Kohler
Mirror – Vintage, Judy Frankel Antiques, Troy
Sconces – Ralph Lauren for Visual Comfort, City Lights Detroit, Michigan Design Center, Troy
Shade, Roman – Cole & Son, Decoroom, Michigan Design Center, Troy
Tray and Dispenser – Pigeon & Poodle Cannes Accessories, The Well Appointed House
Vase – Dried Arrangement, Flowers by Gabrielle, Grosse Pointe Park
Wallpaper – Schumacher, Fabulous Faux Embossed Crocodile, White
LIVING ROOM
Armchairs, Clear – Pace Chairs, Le Shoppe Too, Keego Harbor
Armchairs, Upholstered – Baker Furniture, Michigan Design Center, Troy
Drapery – Nitsa's Draperies & Interiors, Grosse Pointe Woods; Fabric, Robert Allen Fabric
Ottoman – McGuire, Baker Furniture, Michigan Design Center, Troy
Partitions – Baker Furniture, Michigan Design Center, Troy
Rug – Moroccan Handknotted Wool Rug
Sofa – Ralph Lauren, Hickory Chair Furniture, Michigan Design Center, Troy
Table, Coffee – Century Furniture, C.A.I Designs, Michigan Design Center,
Table, End Geometric – Kravet, Kravet/Lee Jofa/Brunschwig & Fils, Michigan Design Center, Troy
Table, End Wooden – Antique, Eero Saarinen for Knoll Tulip Table, 1st Dibs
Vases – Antique, Chinoiserie
Wall Paint – Benjamin Moore, Chantilly Lace
SITTING AREA IN LIVING ROOM
Bust, Glass – Vintage, Le Shoppe Too, Keego Harbor
Chandelier – Aerin for Visual Comfort, City Lights Detroit, Michigan Design Center, Troy
Mirror – Ballard Designs
Pillows, Accent – Lee Jofa, Kravet/Lee Jofa/Brunschwig & Fils, Michigan Design Center, Troy
Sofa, Circular – Custom, Fifi & Coco Interiors, Michigan Design Center, Troy; Fabric, Duralee
Table, Display – Century Furniture, Gorman's, Troy
Wall Paint – Benjamin Moore, Chantilly Lace
STAIRCASE
Artwork – "City of Prague," Lauren Moyer
Chairs – Danish Chairs, Antique, Hans Olsen for Frem Rojle
Stair Treads – Nourison Carpet, McLeod Carpet One Floor & Home, Bloomfield Hills
Table, Display – Vintage Art Deco, Judy Frankel Antiques, Troy
Wall Paint – Benjamin Moore, Winter Orchard
---
---