---
For a client who bought a house in Farmington Hills, where she plans to remain, Dawn Zuber, architect and owner of Studio Z Architecture, and designer Dayna Tooman, who joined the Plymouth-based firm during this project, embarked on a renovation with an eye toward the future. "(Our client) intends to live there for a long time, so we wanted to make it accessible," Zuber says. The team worked with David Klein Construction as well as landscape architect Cindy Fink, of DC Design, LLC.
At around 1,600 square feet, the residence has a relatively modest footprint. "I wanted it to be my aging-in-place home that was polished and stylish and comfortable," the homeowner says. "It's a small house, so I also wanted it to be cohesive." The interior was reconfigured for better flow and zero-threshold entries. — there's a curbless shower in the main bath, and wider doors were installed. Awkward doors were removed or relocated.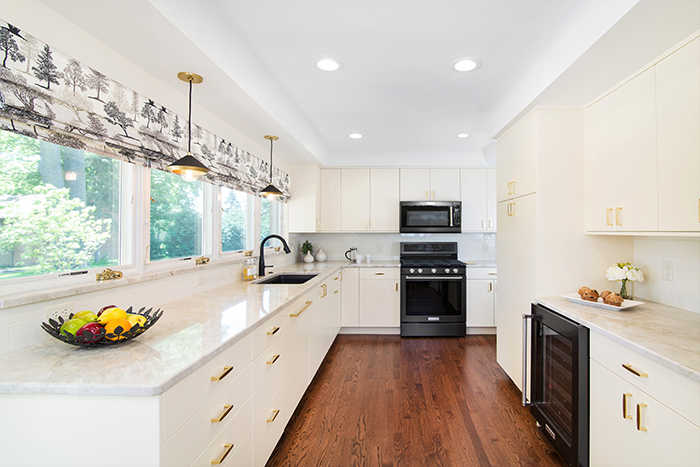 ---
In addition to sophisticated upgrades such as custom cabinets and quartzite countertops, the new hub of the home boasts more storage and workspace. "We tried to create a usable, beautiful kitchen," Zuber says. "In the original space, you had to walk across the room to get from the sink to the stove, which wasn't a good layout."
Practical aspects include a convenient bar area between the pantry and fridge. "It's great on the day of the grocery run, as it makes putting things away a breeze," the homeowner says. It also comes in handy for daily meal prep and entertaining.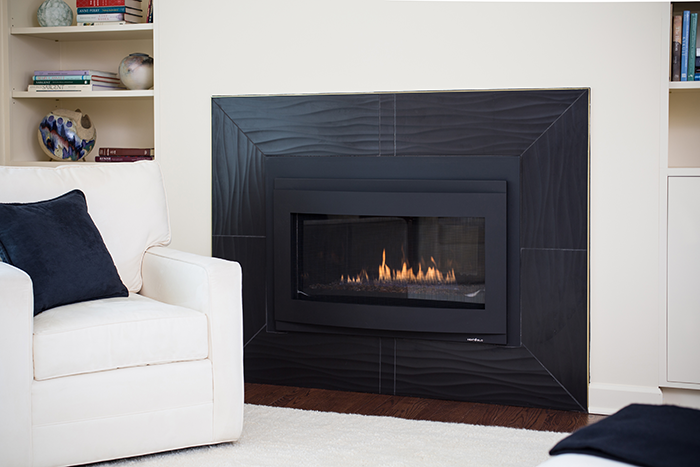 ---
She also likes the semi-open floor plan and the natural light from the new kitchen windows, as well as the existing ones throughout. "The house had a lot of assets, like the cove ceilings, that I wanted to keep," the homeowner says.
Aesthetic updates included replacing the river rock fireplace in the living room with a modern design flanked by built-ins. Many existing furniture pieces remain, like the chairs that were reupholstered in a cream-colored leather. "We added very little except for the ottomans. You want seating that's ample and cushy enough where people can actually sit on it," the homeowner says.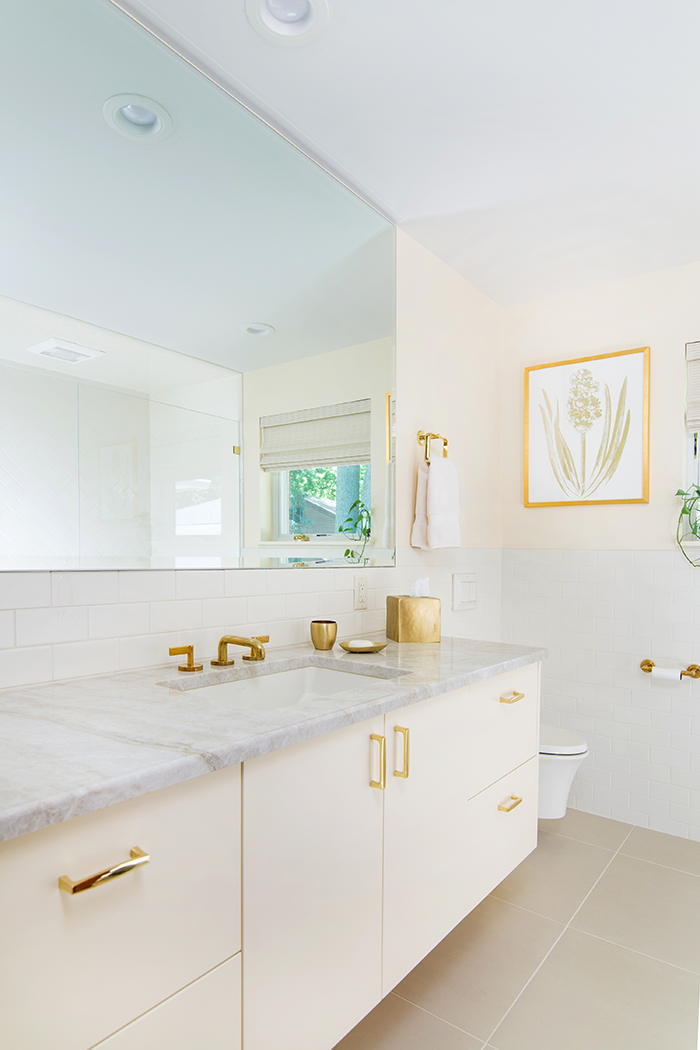 ---
While Tooman considers the interiors contemporary, she credits the client with having her own style, which led to selections that were ahead of recent trends — like the polished brass fixtures and hardware she had in mind that were hard to find at the time. "In 2017, brass wasn't really a thing," Tooman says.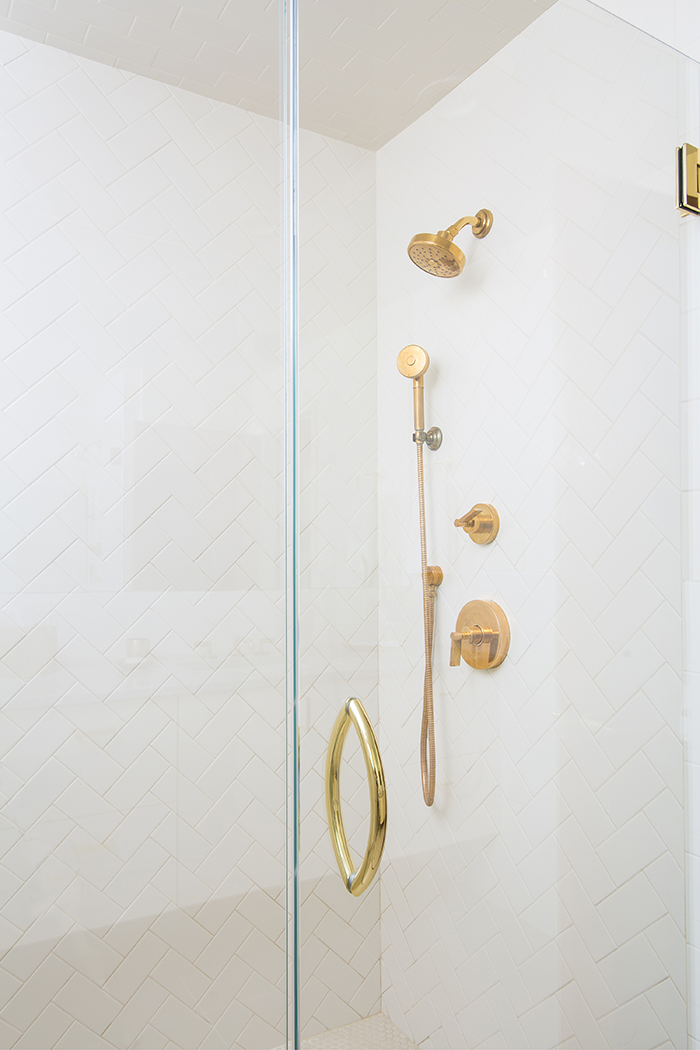 ---
The homeowner also selected the tropical pattern that adorns the walls and draperies in her office. "I was channeling my grandmother when I chose that wallpaper," she says. She chose the fabric that was made into window treatments for the kitchen and a spare room before she knew where it would go, and did the same thing with a few other elements. "I had a sample of the tile in the guest bath," the homeowner says. "I didn't know what I was going to do with it, but it was coming in the house." That bathroom can accommodate guests who stay overnight in the family room, which doubles as a guest suite.
---
A spare bedroom-turned-project-room features custom built-ins. The dedicated laundry room became another efficient space. "There's so much storage for all her cleaning supplies, and we worked around her existing washer and dryer with a countertop that can accommodate just about any size in the future," the designer says. A linoleum floor with a little sparkle gives a nod to the era of the house. "I wanted some fun things and they really helped me pull it all together," the homeowner says.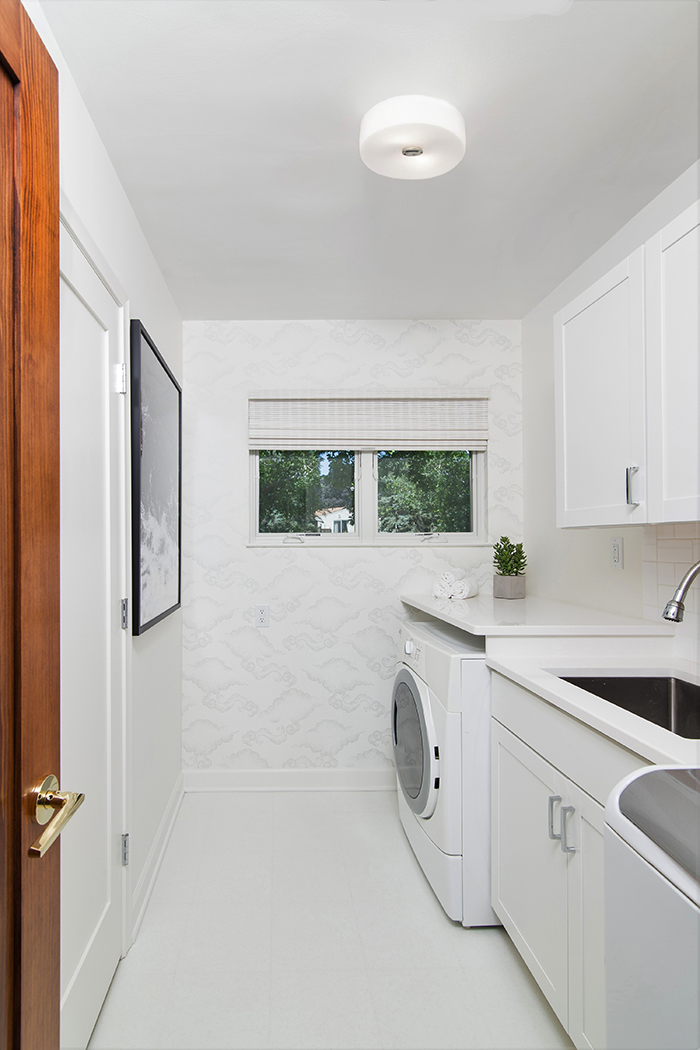 ---
The fun begins at the entry with an orange door that strikes a cheerful note, and a custom storm door that's powder-coated to match. A new front porch features a classic gable echoed by a taller one above the living room. "The roof is still a hipped roof, but we added the porch and gable to add interest to the front elevation," Zuber says.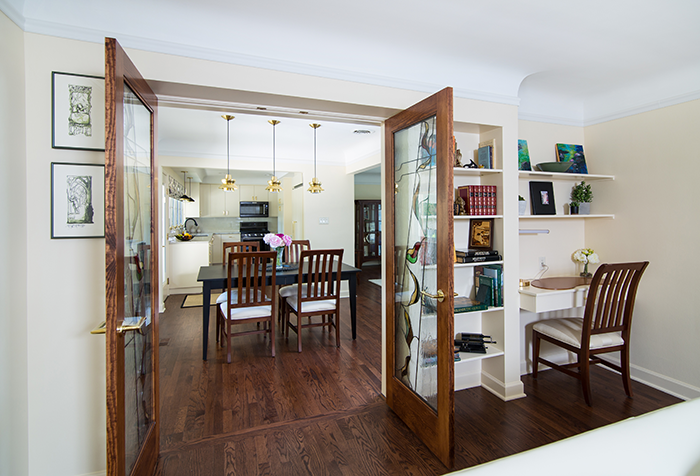 ---
Their client counts the hub of the home among her favorites. "I'm not a morning person, but it's delightful to walk into the kitchen in the morning and turn on the coffee pot," she says, adding that she loves both bathrooms for different reasons. "The family room has an attached guest bath and beautiful doors that turn it into a very nice guest suite, and the suspended toilet (in-wall tank and carrier system) in the main bathroom never would have occurred to me, but I love it."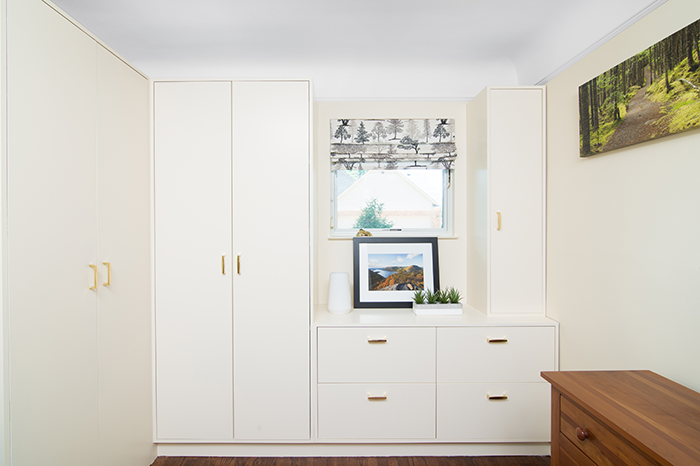 ---
Zuber and Tooman enjoyed working with their client. "We spent so much time with her. We really miss her," Zuber says. After having made so many decisions together, Tooman agrees. "I helped her pick her mailbox and her doorbell," she recalls.
"There's no room that's untouched in this house," the homeowner says. "In terms of any house, once you get in the walls, you're going to find things that cause you to adjust. The project management was great and they were such a pleasure to work with. The house ended up being beyond what I expected."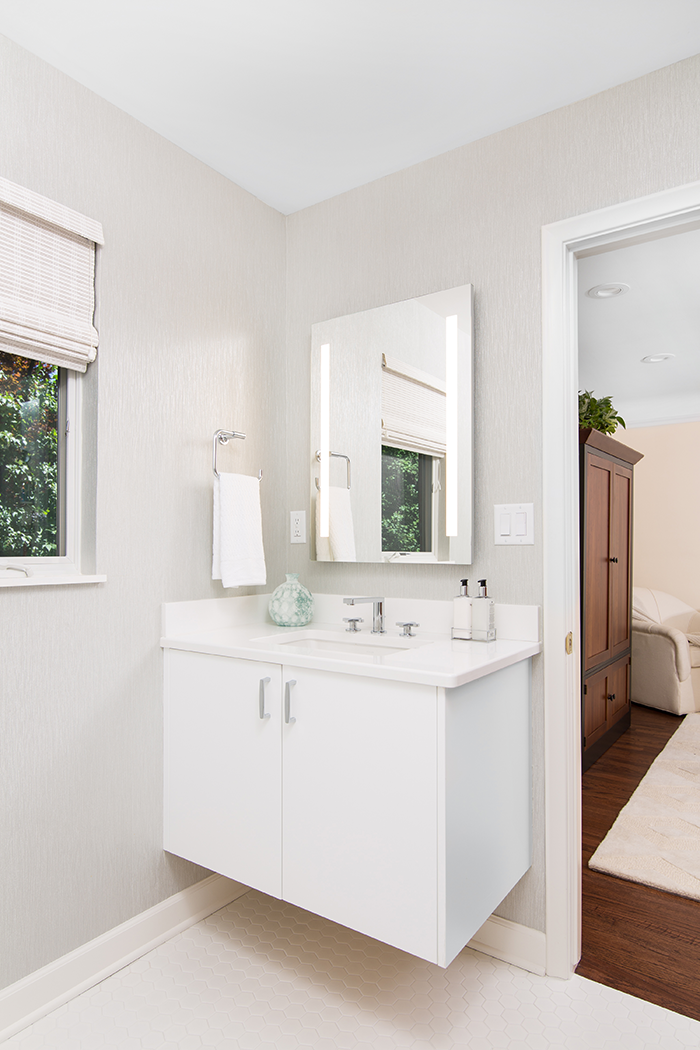 ---
BUYER'S GUIDE
---
---
ARCHITECTURE/INTERIOR DESIGN
Studio Z Architecture, Plymouth, studiozarch.com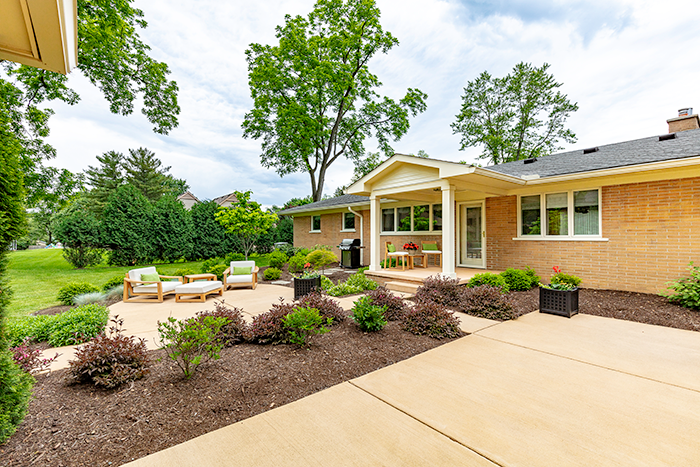 ---
Featured Businesses
Beaver Tile & Stone, Florida Tile Time 2.0 White Natural Flooring; Olympia Tile, Biscuit Bright Shower Tile; Olympia Tile Penny Round, Bone Gloss Floor Tile, – Bathroom.
Florida Tile MosaicART Hex White Matte Flooring, – Guest Bathroom.
Olympia Tile Stilo, Black Fireplace Tile – Fireplace.
Locations in Farmington Hills, Troy, Shelby Township, Grand Rapids, and Saginaw, beavertile.com.
BATHROOM
Cabinetry – Custom, Sharer Cabinetry, Sharer Design Group, Plymouth; Paint, Benjamin Moore, Cameo White
Countertop – Taj Mahal Quartzite, Dwyer Marble and Stone Supply, Farmington Hills
Flooring – Time 2.0 White Natural, Florida Tile, Beaver Tile & Stone, Farmington Hills
Hardware – Baldwin Brass, Gross Electric, Ann Arbor
Hardware, Shower – Pinna Paletta, Unlacquered Brass, Kallista, Ferguson Bath, Kitchen & Lighting Gallery, Ann Arbor
Mirror – Wolverine Glass, Dexter
Shower, Enclosure – Wolverine Glass, Dexter
Shower, Tile – Biscuit Bright, Olympia Tile, Beaver Tile & Stone, Farmington Hills
Tile, Shower (Floor) – Penny Round, Bone Gloss, Olympia Tile, Beaver Tile & Stone, Farmington Hills
Tile, Wall – Colour & Dimension, Biscuit Bright, Olympia Tile, Beaver Tile & Stone, Farmington Hills
Wall Paint – Benjamin Moore, Cameo White
Window Shade – Hunter Douglas, Calico Corners, Bloomfield Hills
BATHROOM, GUEST
Cabinet – Custom, Sharer Cabinetry, Sharer Design Group, Plymouth; Paint, Benjamin Moore, Cloud White
Countertop – Quartz, Temple White, Dwyer Marble and Stone Supply, Farmington Hills
Flooring – MosaicART Hex, White Matte, Florida Tile, Beaver Tile & Stone, Farmington Hills
Hardware – Arch Pull, Baldwin Brass, Gross Electric, Ann Arbor
Mirror, Vanity – Verdera, Kohler, Ferguson Bath, Kitchen & Lighting Gallery, Ann Arbor
Wallpaper – Asbury, Silver, Calico Corners, Bloomfield Hills
Window Shade – Hunter Douglas, Calico Corners, Bloomfield Hills
FAMILY ROOM/DESK AREA
Artwork – "Ophelia" and "As You Like It," Elizabeth Schuch
Chair, Desk – Ethan Allen
Doors, Stained Glass – Custom, Simpson Door, Northville Lumber, Northville
Flooring – Hardwood, Oak
Shelving and Desk – Custom, Sharer Cabinetry, Sharer Design Group, Plymouth; Paint, Benjamin Moore, Cameo White
Wall Paint – Benjamin Moore, Cameo White
FIREPLACE
Armchair – Ethan Allen
Fireplace – Cosmo-135, Heat & Glo, FireSide Hearth & Home, Canton
Fireplace, Tile – Olympia Tile Stilo, Black, Beaver Tile & Stone, Farmington Hills
Flooring – Hardwood, Oak
Rug – Pottery Barn
Shelving – Custom, David Klein Construction, South Lyon; Paint, Benjamin Moore, Cameo White
Wall Paint – Benjamin Moore, Cameo White
KITCHEN
Cabinetry – Custom, Sharer Cabinetry, Sharer Design Group, Plymouth; Paint, Benjamin Moore, Cloud White
Chairs, Dining – Ethan Allen
Countertop – Taj Mahal Quartzite, Dwyer Marble and Stone Supply, Farmington Hills
Faucet – Essa Matte Black, Delta, Ferguson Bath, Kitchen & Lighting Gallery, Ann Arbor
Flooring – Hardwood, Oak
Lighting, Ceiling Pendants (Sink) – Hudson Valley, Gross Electric, Ann Arbor
Lighting, Ceiling Pendants (Table) – Rejuvenation
Microwave – Kitchen Aid, Whitbeck Home Appliance Mart, West Bloomfield
Stove – Kitchen Aid, Whitbeck Home Appliance Mart, West Bloomfield
Table, Dining – Ethan Allen
Wall Paint – Benjamin Moore, Cameo White
Window Shade, Linen – Mitchell Fabrics, Calico Corners, Bloomfield Hills, Arleta Eggshell
Window Shade, Trees – Richloom, Calico Corners, Bloomfield Hills, Treeline in Graphite
Wine Fridge – Kitchen Aid, Whitbeck Home Appliance Mart, West Bloomfield
LAUNDRY ROOM
Cabinetry – Lowe's Home Improvement
Countertop – Quartz, Arctic, Dwyer Marble and Stone Supply, Farmington Hills
Flooring – Amtico, Commercial Vinyl, Glint Orb, Mannington Commercial
Light, Ceiling – Hudson Valley, Gross Electric, Ann Arbor
Wall Paint – Benjamin Moore, Cloud White
Wallpaper – Cloudburst, York Wallcoverings, Calico Corners, Bloomfield Hills
Window Shade – Hunter Douglas, Calico Corners, Bloomfield Hills
PROJECT ROOM
Artwork, Wall – "Quoddy Head Trail," Robert Rodriguez Jr.
Artwork, Window – "Fall from Breakneck," Robert Rodriguez Jr.
Cabinetry – Custom, David Klein Construction, South Lyon; Paint, Benjamin Moore, Cameo White
Flooring – Hardwood, Oak
Hardware – Palm Springs Pull, Polished Brass, Baldwin Brass, Gross Electric, Ann Arbor
Wall Paint – Benjamin Moore, Cameo White
Window Shade – Hunter Douglas, Calico Corners, Bloomfield Hills
SITTING AREA
Armchair – West Elm
Drapery, Floral – Bermuda Bay, MadCap Cottage, Calico Corners, Bloomfield Hills
Drapery, Sheer – Calico Corners, Bloomfield Hills
Flooring – Hardwood, Oak
Wallpaper – MadCap Cottage, Calico Corners, Bloomfield Hills, Bermuda Bay
ADDITIONAL PROJECT CONTRIBUTORS
Building Materials – Northville Lumber, Northville
Landscaping – Cynthia Fink, DC Design, LLC, Ann Arbor
Windows – Andersen Windows
---
---
Text by Jeanine Matlow & Photography By Max Wedge (Interiors) And Laura Mccaffery (Exterior)