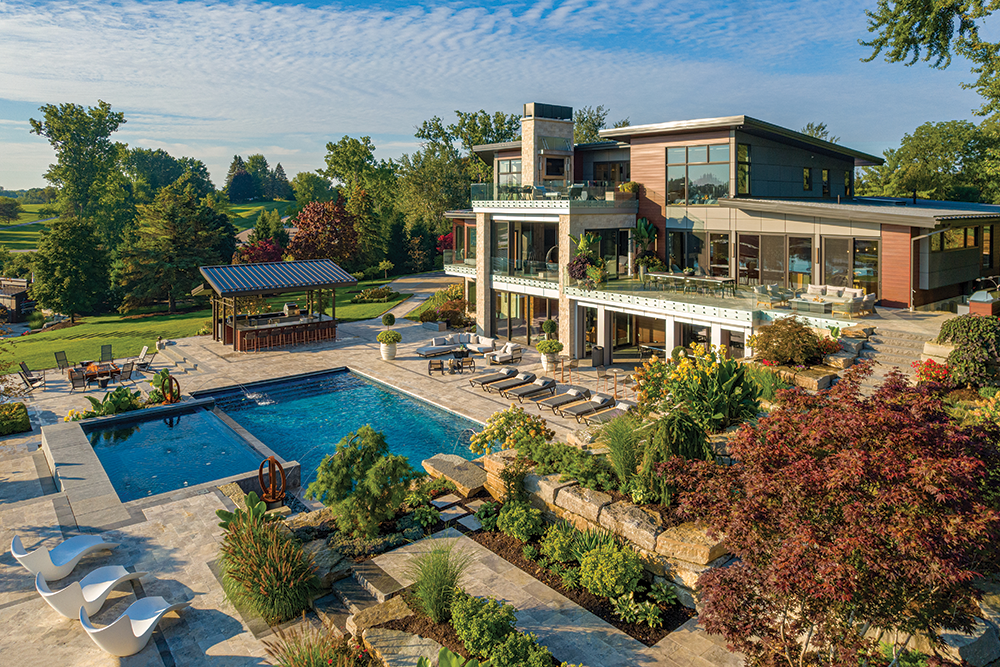 ---
---
Ryan and Wendi LaFontaine knew exactly what they wanted before they built their dream home. All they needed was a dream team. After they found it, the couple was intimately involved in every single room in their 11,815-square-foot-plus manse on Genesee County's Silver Lake, near Fenton. The result is a monument to their family and their love of Detroit's history.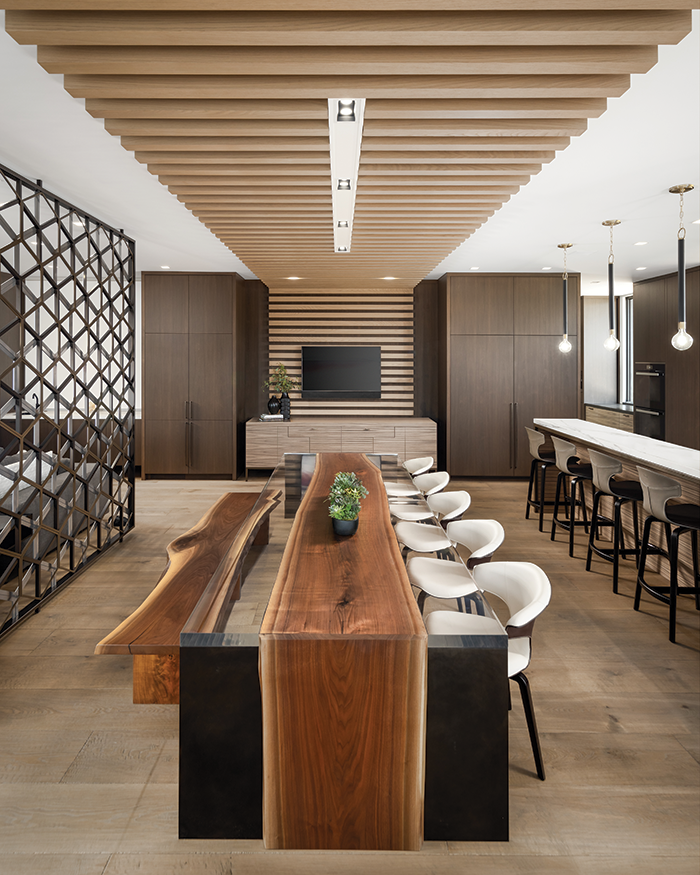 The six-bedroom/eight-bath home was at least a five-year process, says Ryan, CEO of the LaFontaine Automotive Group, which includes 54 retail franchises, eight collision centers, and 34 Michigan retail locations.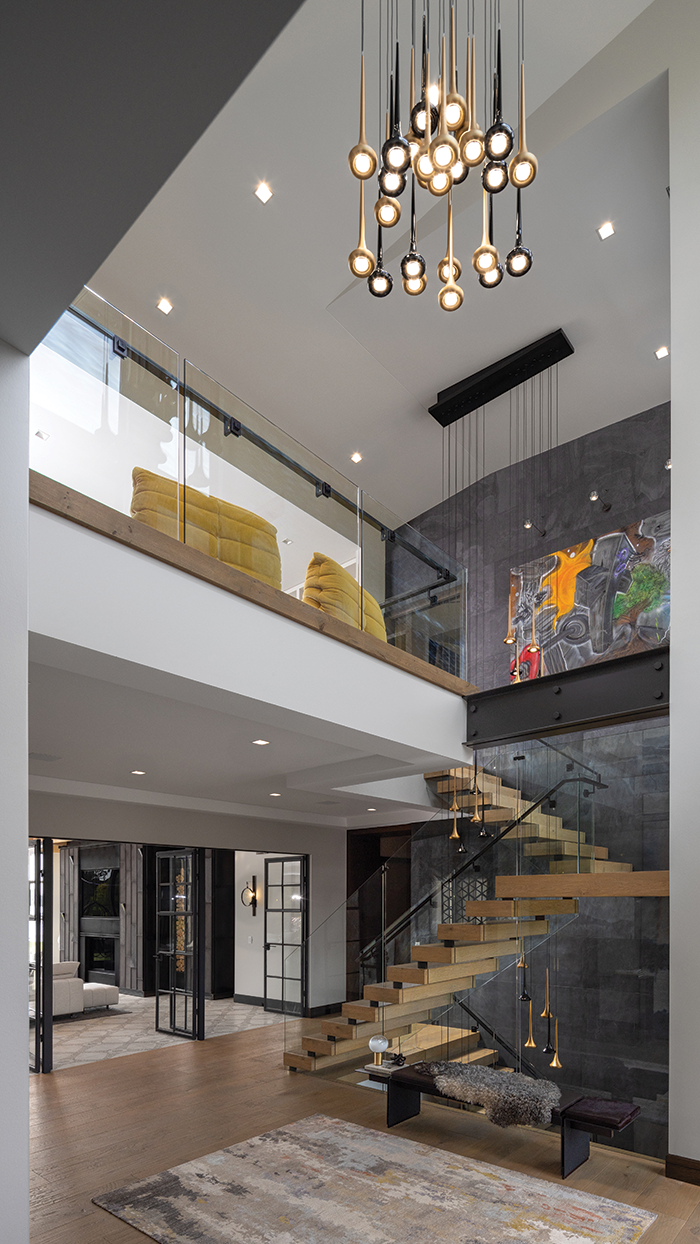 The couple has five children, including two sets of twins, so they wanted to be sure that their new house "felt like home, not a museum piece," Ryan says. And because they're car people who love classic cars, they needed lots of garages. The entrance to one of them is a steel vault door that's more than 100 years old! Many pieces of Detroit adorn the LaFontaines' home, including reclaimed bricks from their parents' houses, a couple of doors made from Packard Automotive Plant windows, live-edge walnut countertops, and an original window from the downtown J.L. Hudson's store.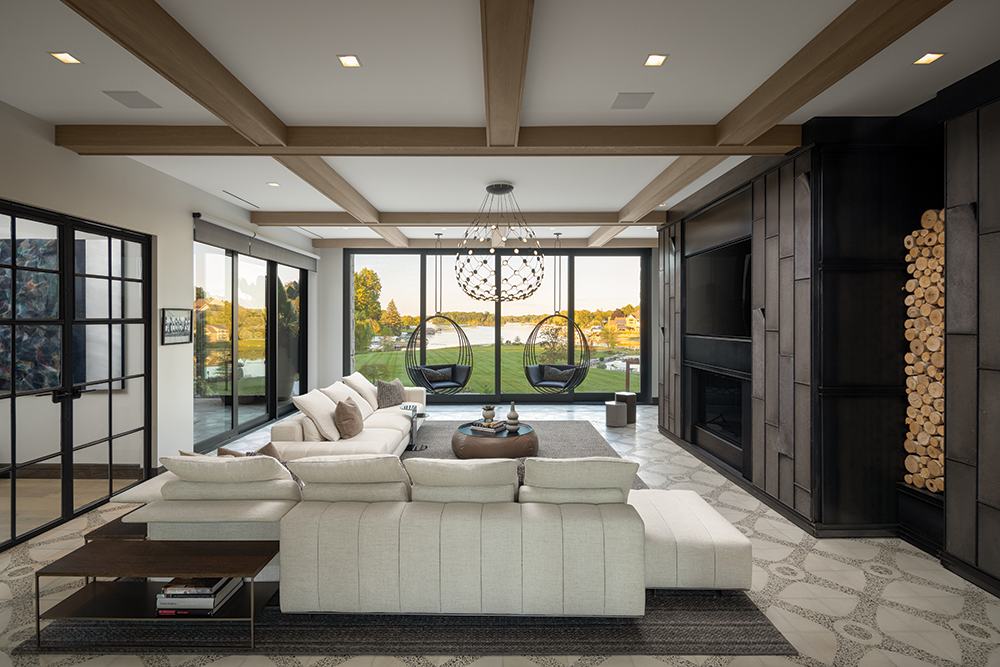 "We love things that have history," says Ryan, who adds that they've incorporated antique automotive blueprints from Ferrari, Corvette, and Cadillac into the walls and ceilings. A vintage Chris-Craft boat is also part of the couple's décor. Many materials were found at Detroit's Architectural Salvage Warehouse, a gem of a place on Detroit's east side.
After razing the previous home on their 7-acre property, the LaFontaines had their team plant more than 500 new trees for privacy. All of the materials used for the residence, such as the zinc exterior, were selected for their low-maintenance qualities.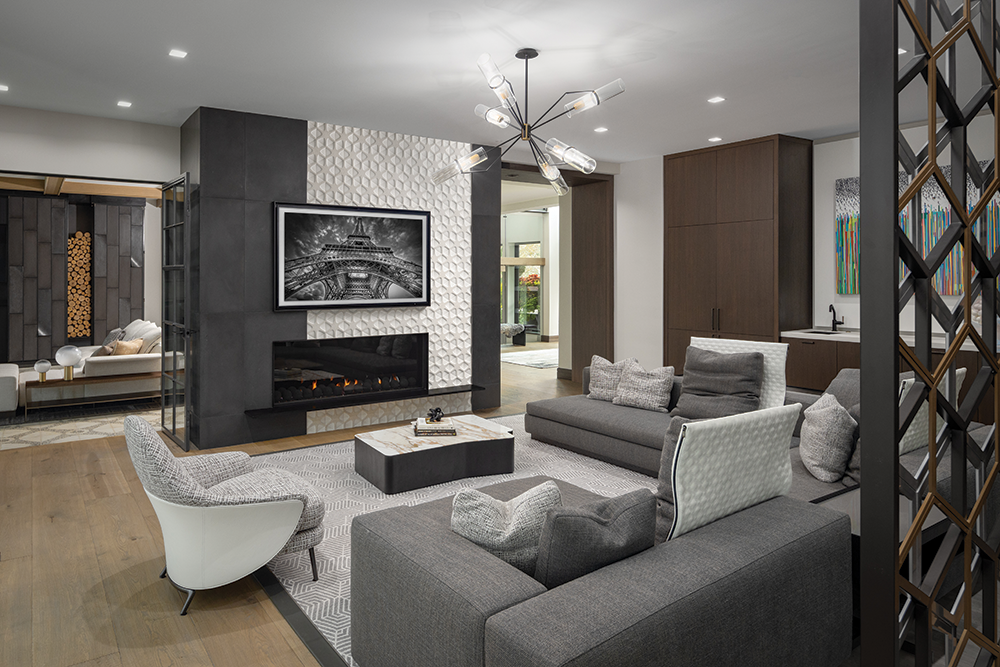 The LaFontaines and their builder, Fenton's Patrick Widing Custom Built Homes, brought on Schaerer Architextural Interiors of Bloomfield Hills at the start of the project. Designer Bob Schaerer worked alongside the builder and architectural designer, Christopher Macklin Design of Fenton, to devise the unique style and layout of the home.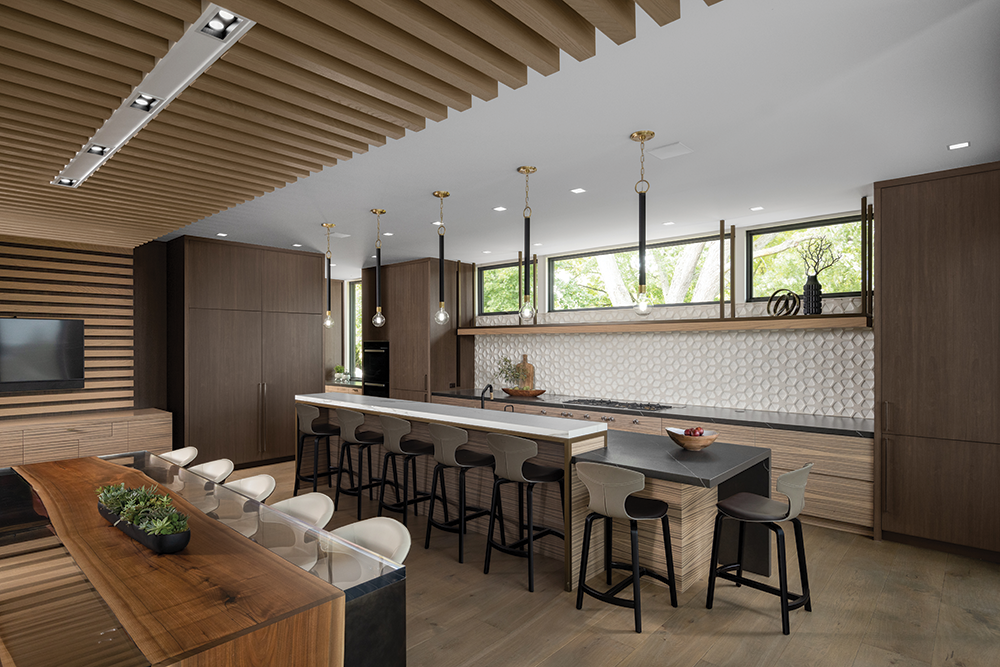 Schaerer calls the home's style "urban industrial," noting there's lots of steel and blackened steel windows, which were created by Tom Meyer of Gallery Steel in Waterford. Despite its size, Schaerer says the house "feels pretty efficient — it doesn't feel ginormous." Lona Battishill, Schaerer's director of design, agrees: "This is a house that's used. (With) five kids and two dogs, it's a very active family. It's really functional for all seven of them."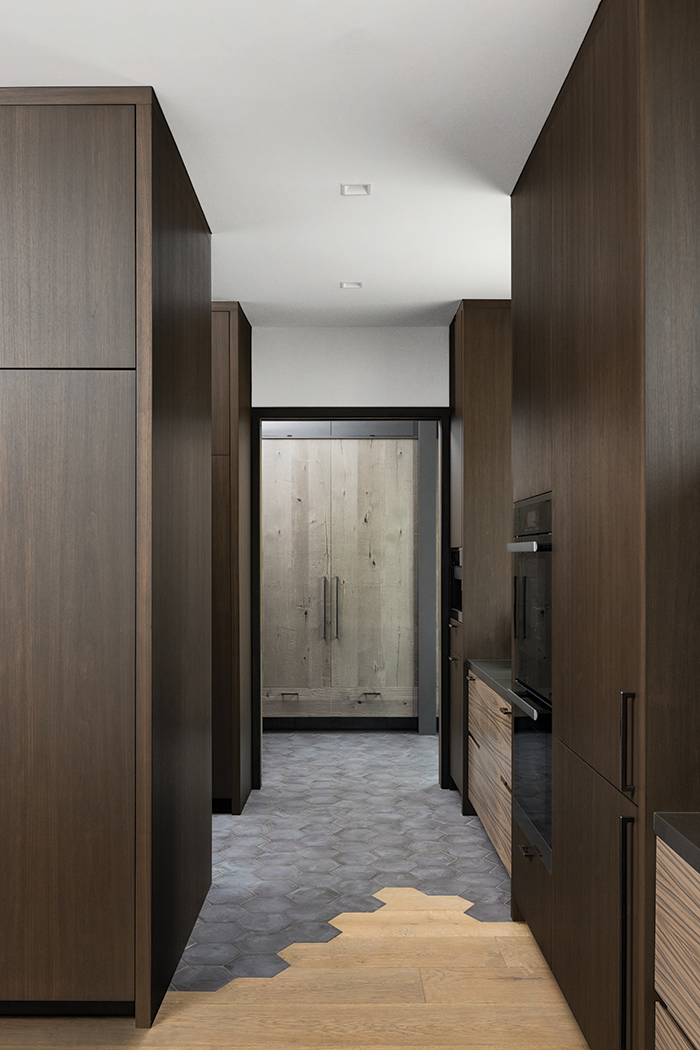 Between the all-sports lake, the pool, and all the equipment that goes with outdoors living, one of the challenges for Schaerer and Battishill was customizing the space to hold it all. Ensuring that there was plenty of display space was big, too; a whole room is devoted to Detroit memorabilia.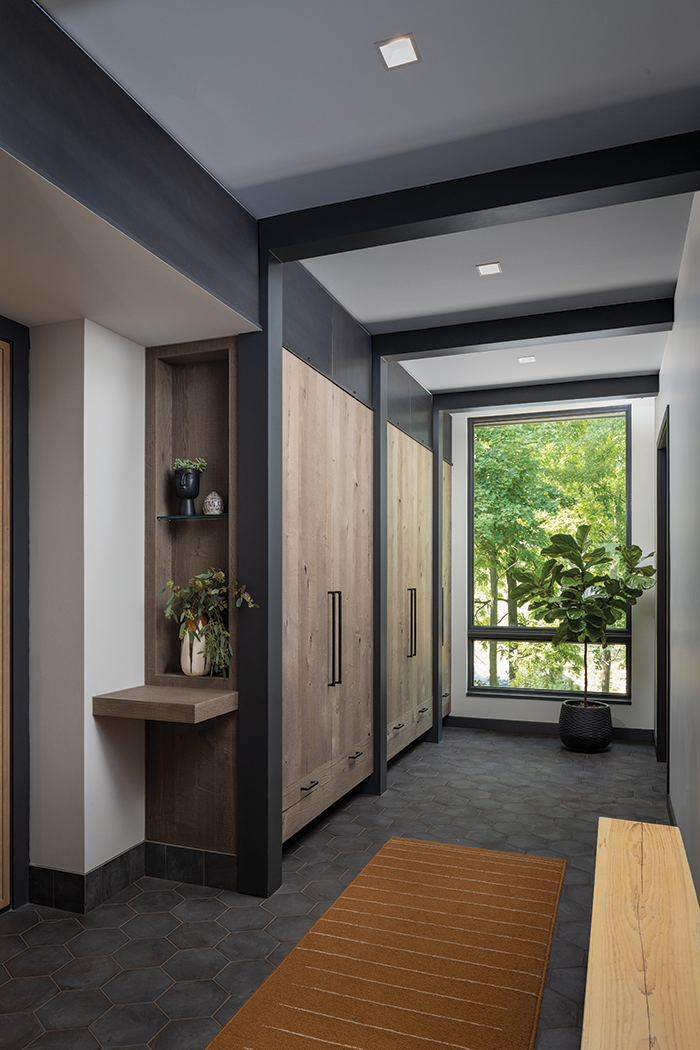 The home is full of warmth, detail, and character, and there are loads of stories attached to the artifacts and artwork found in every room. One thing the LaFontaines didn't want was the typical living room off the foyer, so instead there's an all-seasons room with a series of steel-framed glass doors and its own separate HVAC zone. The top terrace, with an outdoor TV, fireplace, and the best view of the lake, is adjacent to the kids' loft.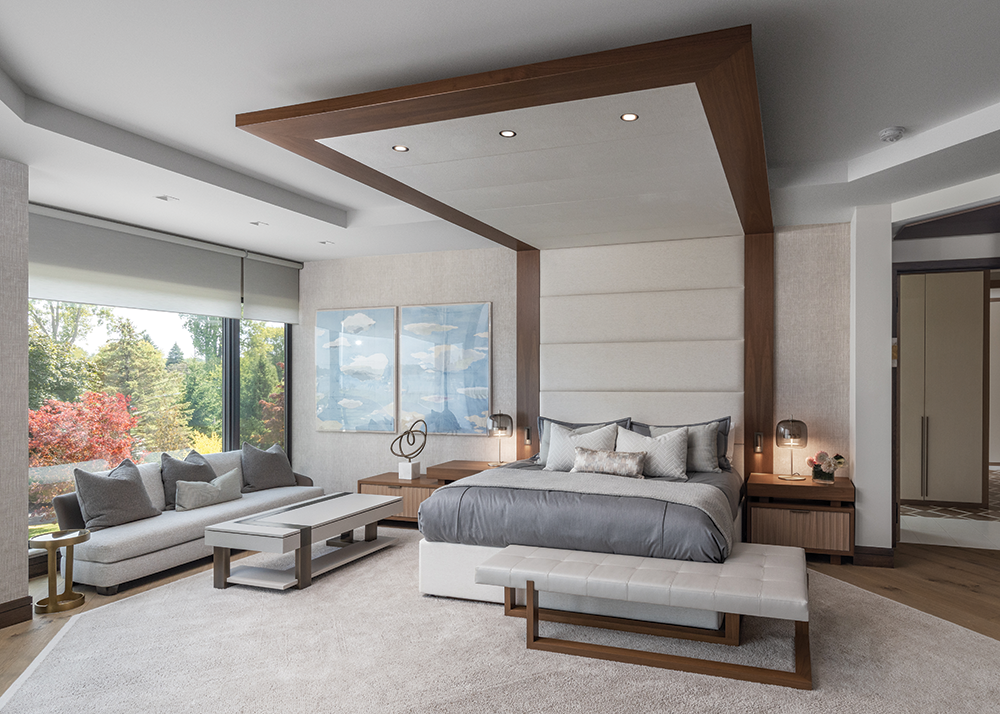 Each room flows into the next with materials that complement each other. There are heated floors on each level and it's also a fully automated smart home, with a state-of-the-art Savant system that Spire Integrated Systems in Troy wove throughout every room.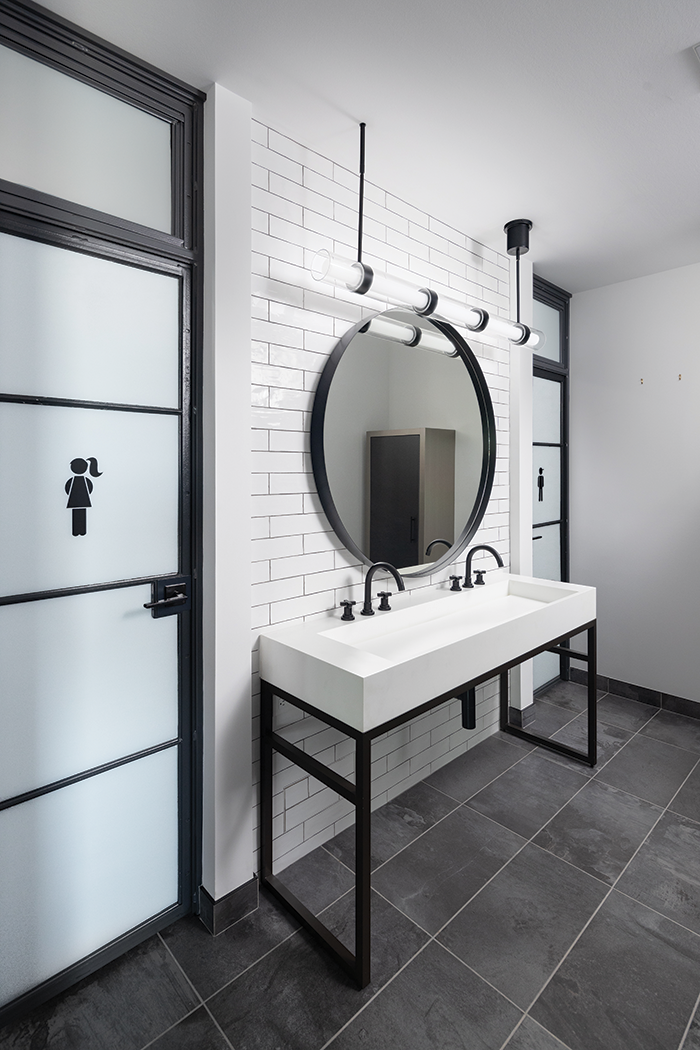 The lower level includes an exercise room with a massage area, a gathering room with a TV and a bar, and a his-and-hers bathroom equipped with a sun shelf and hot tub, as well as lockers for guests using the outdoor pool. A full, poolside outdoor kitchen is sheltered in an outdoor pavilion whose materials and roofline mimic the main house. There's also a surf shack by the lake, and artistic fire and water features highlight the grounds.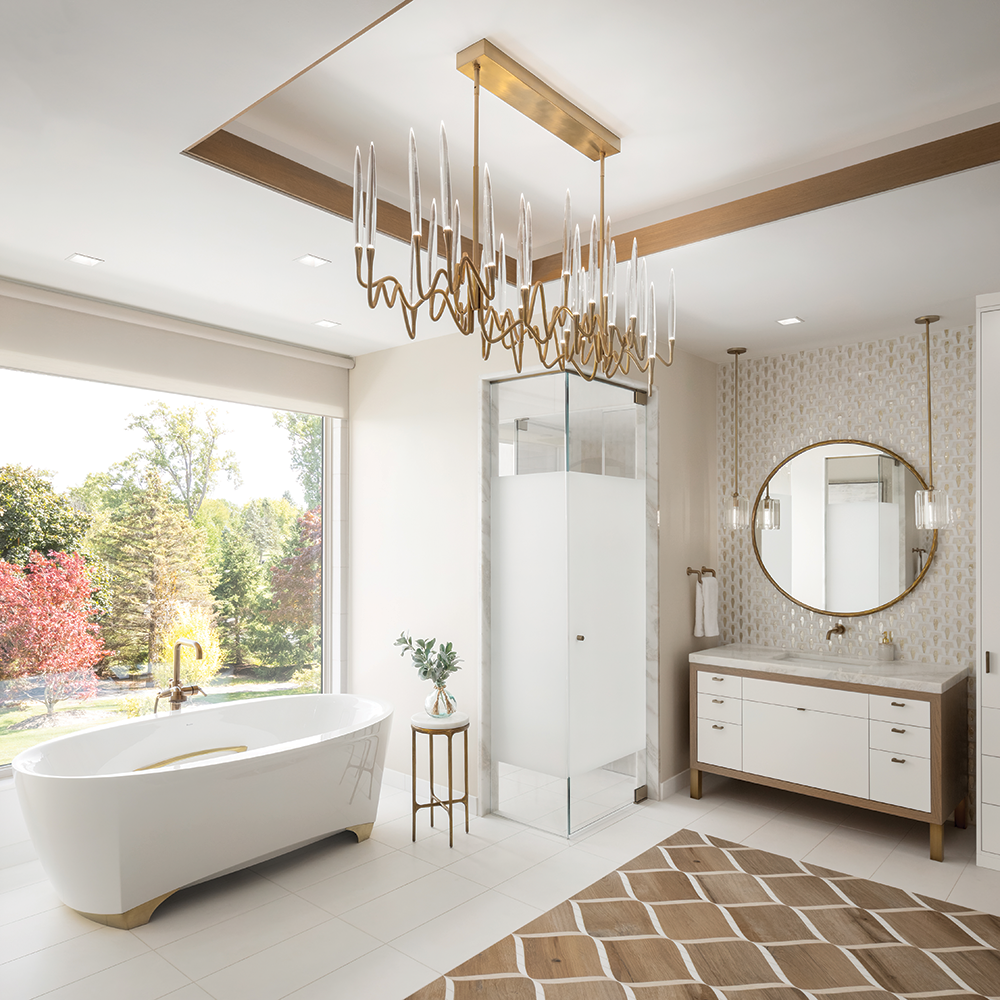 Wendi looks at the house as a "foundational piece for my family and the community." At their first party, she says, "We had 110 people and dogs running around." The home is the perfect spot for the couple to hold events for their church and the volunteer-based charity, U CAN-CER VIVE, that Ryan, a cancer survivor, co-founded with his sister, Kelley LaFontaine.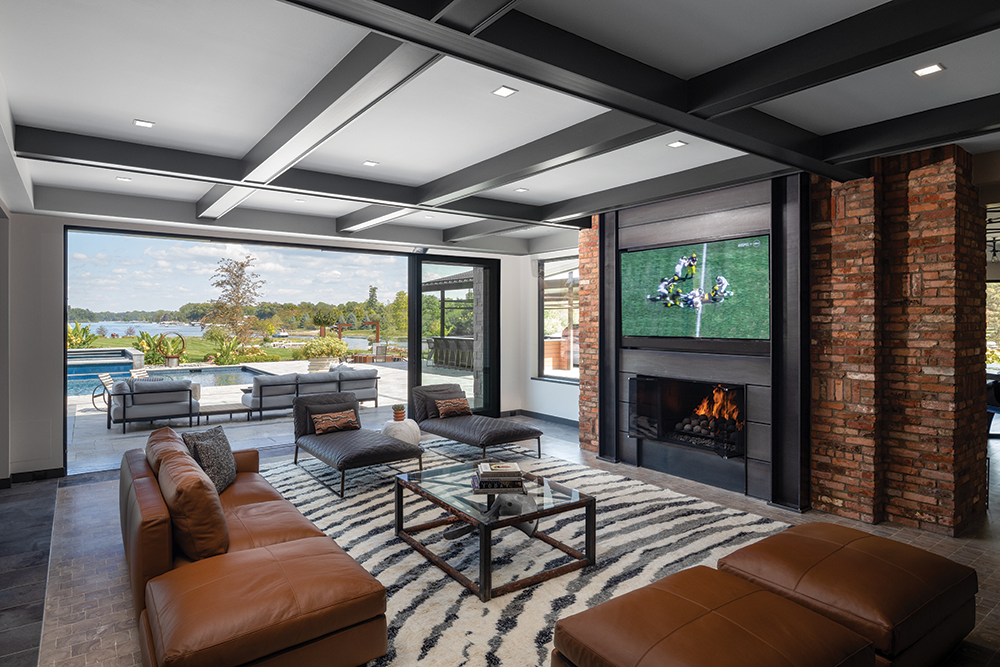 "Wendi wanted the house to have a soul," Battishill says.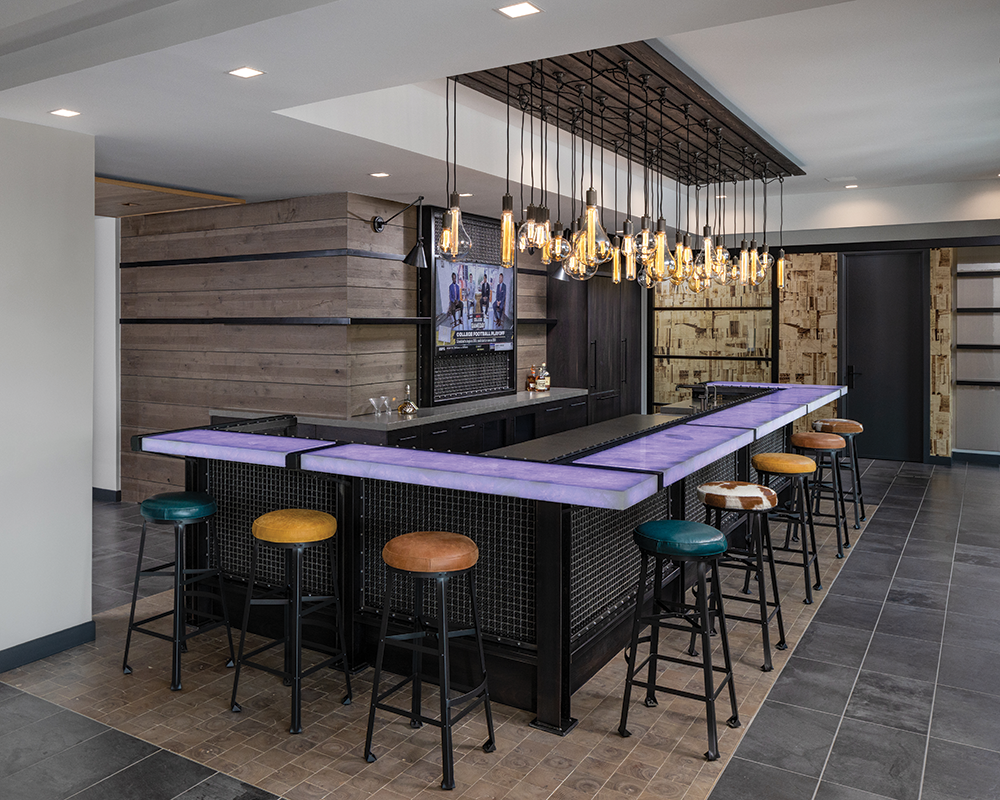 ---
---
BUYER'S GUIDE
INTERIOR DESIGN
Schaerer Architextural Interiors, Bloomfield Hills, schaererarchinteriors.com
ALL-SEASONS ROOM
Chair, Hanging – Custom, Tom Myers, Gallery Steel, Waterford Township
Chandelier – Luceplan, Pinetree Lighting, Lake Orion
Fireplace – Custom, American Fireplace, Ferndale
Flooring – Andy Fleishman, Ann Sacks, Michigan Design Center, Troy
Metal Fabrication – Gallery Steel, Waterford Township
Rug – Luxelooms, The Ghiordes Knot, Michigan Design Center, Troy
Sofa – Minotti, Arkitektura, Birmingham
Table, Coffee – Minotti, Arkitektura, Birmingham
Tile – Ann Sacks, Michigan Design Center, Troy
Wall Paint – Benjamin Moore, Light Pewter
BAR
Cabinetry – Perspectives Cabinetry, Troy
Chandelier – Custom
Countertop – Custom, Capital Granite, Inc., Bridgeport
Flooring, Tile – Del Conca USA
Flooring, Wood – Everlast Floors, Troy
Stools, Bar – Pottery Barn
Wall Covering – The Detroit Wallpaper Co., Ferndale
Wall Paint – Benjamin Moore, Light Pewter
BATHROOM
Doors – Architectural Salvage Warehouse of Detroit, Detroit
Lighting – Tech Lighting, Pinetree Lighting, Lake Orion
Mirror – Perigold
Sink – Ronbow
Tile, Floor – Del Conca USA
Tile, Wall – Virginia Tile, Troy
Wall Paint – Sherwin Williams, High Reflective White
BATHROOM, PRIMARY
Bathtub – Brizo, Advanced Plumbing, Waterford Township
Ceiling Treatment – Custom, Patrick Widing Custom Built Homes, Fenton
Chandelier – Il Pezzo Mancante, Pinetree Lighting, Lake Orion
Lighting, Vanity – Fine Arts, Pinetree Lighting, Lake Orion
Mirror – RH
Shower – Fenton Glass Service, Fenton
Sink – Vogue Furniture, Royal Oak
Table, Small – RH
Tile, Backsplash – Oceanside Glass & Tile, Ann Sacks, Michigan Design Center, Troy
Tile, Floor – White Thassos, Ann Sacks, Michigan Design Center, Troy
Tile, Floor (Mosaic) – Scribe Mosaics, Ann Sacks, Michigan Design Center, Troy
Wall Paint – Benjamin Moore, Maritime White
BEDROOM, PRIMARY
Artwork – Leon & Lulu, Clawson
Bench – Vogue Furniture, Royal Oak
Flooring – Everlast Floors, Troy
Lamps, Bedside – Vistosi, Pinetree Lighting, Lake Orion
Rug – Scott Group Studio, Grand Rapids
Sofa – Minotti, Arkitektura, Birmingham
Table, Coffee – Vogue Furniture, Royal Oak
Tables, Bedside – Vogue Furniture, Royal Oak
Wall Paint – Benjamin Moore, Maritime White
DINING ROOM
Cabinetry – Vogue Furniture, Royal Oak
Ceiling Treatment – Vogue Furniture, Royal Oak
Chairs, Dining – Poltrona Frau, Arkitektura, Birmingham
Flooring – Everlast Floors, Troy
Stool, Bar – Poltrona Frau, Arkitektura, Birmingham
Table, Dining – John Houshmand
Wall Paint – Benjamin Moore, Light Pewter
FAMILY ROOM
Artwork – Craig Alan, Art Leaders Gallery
Chairs, Accent – Minotti, Arkitektura, Birmingham
Chandelier – Troy Lighting, Pinetree Lighting, Lake Orion
Concrete – Line Studio Detroit, St. Clair Shores
Fireplace – Custom, American Fireplace, Ferndale
Flooring – Everlast Floors, Troy
Metal Fabrication – Gallery Steel, Waterford Township
Pillows, Throw – Minotti, Arkitektura, Birmingham
Sofa – Minotti, Arkitektura, Birmingham
Table, Coffee – Minotti, Arkitektura, Birmingham
Tile – Ann Sacks, Michigan Design Center, Troy
Wall Paint – Benjamin Moore, Light Pewter
FOYER
Artwork – Custom, Matthew MacDougall
Chandelier – Kuzco, Pinetree Lighting, Lake Orion
Flooring – Everlast Floors, Troy
Glass – Bolyard Lumber, Birmingham
Handrail – Custom, Tom Meyer, Gallery Steel, Waterford Township
Staircase – Northern Staircase Co., Pontiac
Wall Paint – Benjamin Moore, Light Pewter
GATHERING ROOM
Ceiling Treatment – Custom, Patrick Widing Custom Built Homes, Fenton
Chairs, Accent – Kekke, Piet Boon, Arkitektura, Birmingham
Fireplace – Custom, American Fireplace, Ferndale
Flooring, Tile – Del Conca USA
Flooring, Wood – Everlast Floors, Troy
Rug – Tufenkian, The Ghiordes Knot, Michigan Design Center, Troy
Sofa – Poltrona Frau, Arkitektura, Birmingham
Wall Paint – Benjamin Moore, Light Pewter
Wall Treatment – Architectural Salvage Warehouse of Detroit, Detroit
HALLWAY 1
Cabinetry – Perspectives Cabinetry, Troy
Flooring, Dark – Marca Corona, Virginia Tile, Troy
Flooring, Wood – Everlast Floors, Troy
Wall Paint – Benjamin Moore, Light Pewter
HALLWAY 2
Closets – Perspectives Cabinetry, Troy
Flooring – Everlast Floors, Troy
Wall Paint – Benjamin Moore, Light Pewter
KITCHEN
Backsplash – Andy Fleishman, Ann Sacks, Michigan Design Center, Troy
Cabinetry – Vogue Furniture, Royal Oak
Countertop – Dwyer Marble & Stone Supply, Farmington Hills
Flooring – Everlast Floors, Troy
Lighting – Hudson Valley, Pinetree Lighting, Lake Orion
Stools, Bar – Poltrona Frau, Arkitektura, Birmingham
Wall Paint – Benjamin Moore, Light Pewter
STAIRCASE
Ceiling Treatment – Vogue Furniture, Royal Oak
Flooring – Del Conca USA
Handrail – Custom, Tom Meyer, Gallery Steel, Waterford Township
Pots, Plant – Gerych's Greenhouse, Flowers and Events, Fenton
Stairs – Northern Staircase Co., Pontiac
Wall Paint – Benjamin Moore, Light Pewter
EXTERIOR
Composite Panels – CEI Materials, Manchester
Fascia – RCI Roofing and Sheet Metal Inc., Brighton
Landscaping – Outdoor Living, LLC, Clarkston
Lighting, Pool – Clearwater Construction, Livonia
Patio – Silverek Travertine Pavers, High Format, Charlevoix; Border, Gotham Nero Porcelain Tile Pavers, Unilock US
Pool – Aquascapes, Clarkston; Coping, Rock Bottom Stone Supply, Burton
Roofing – RCI Roofing and Sheet Metal Inc., Brighton
Siding – RCI Roofing and Sheet Metal Inc., Brighton
Soffit – RCI Roofing and Sheet Metal Inc., Brighton
Tiles, Glass – Oceanside Glass & Tile
Windows – Marvin Windows & Doors, Bolyard Lumber
ADDITIONAL CONTRIBUTORS
Architectural Details – Architectural Salvage Warehouse of Detroit, Detroit
Builder – Patrick Widing Custom Built Homes, Fenton
House Automation System – Spire Integrated Systems, Troy
Pool, Landscaping – Outdoor Living, LLC, Clarkston
---
---
Text by Patty Lanoue Stearns  |  Photography by Steve Kroodsma