---
Susan Brownell and Carl Messer were lucky to enjoy 10 happy years at their Lake Huron cottage in Harrisville. Over the years, however, their once-quiet neighborhood became more and more developed, eventually spurring the couple to search for a new getaway on a different lake.
"We looked for well over a year," Brownell says. "We made an offer on a house in Montague, over on the opposite side of the state, and we were outbid — but we knew the owner also had a vacant piece of land next to his house." The couple made an offer on the 15 acres in 2017, and soon thereafter it was theirs.
---
That was the easy part. While spacious, with 250 feet of Lake Michigan frontage, "the land came with big obstacles," Brownell says. It was oddly shaped, and the lake could only be accessed by a quarter-mile drive on a rustic sand path over a protected sand dune. The couple wasn't deterred. "We worked our way through the state requirements and developed a driveway that made getting to the building site possible for everything from an old pickup truck to a fully loaded semi," Brownell says.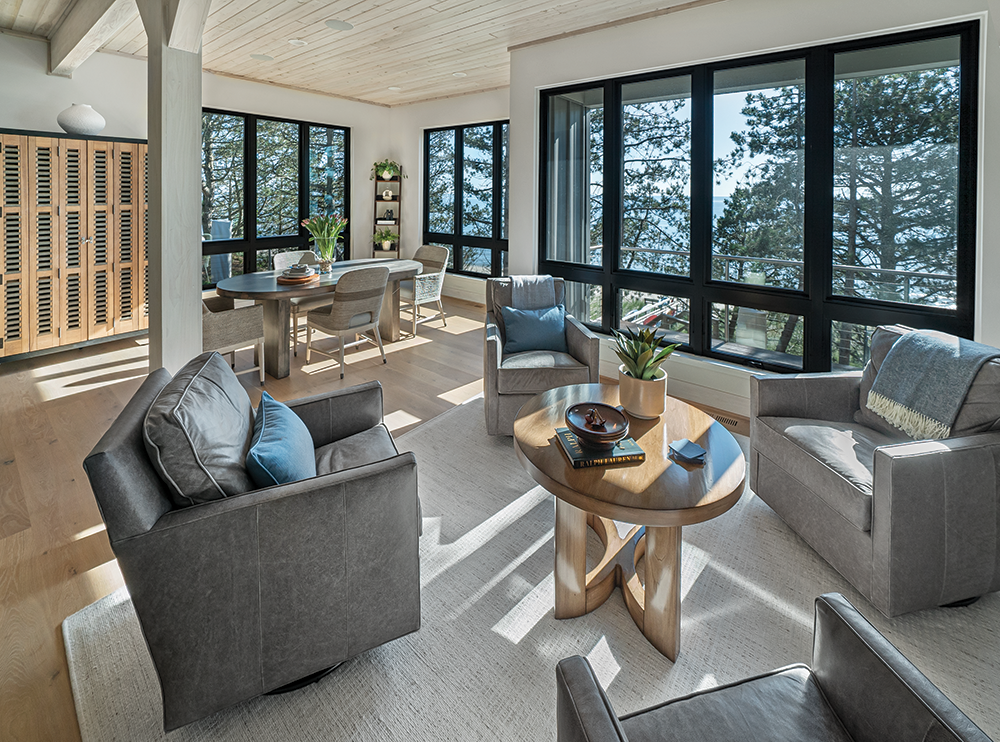 ---
Erosion and water runoff had created a deep, bowl-shaped area in the sand where the house site was located. "Believe it or not," Brownell says, "we had to bring in truckloads of sand to make the site buildable. The preservation of the protected dune area was always a concern, and made the construction of the four-level home even more difficult."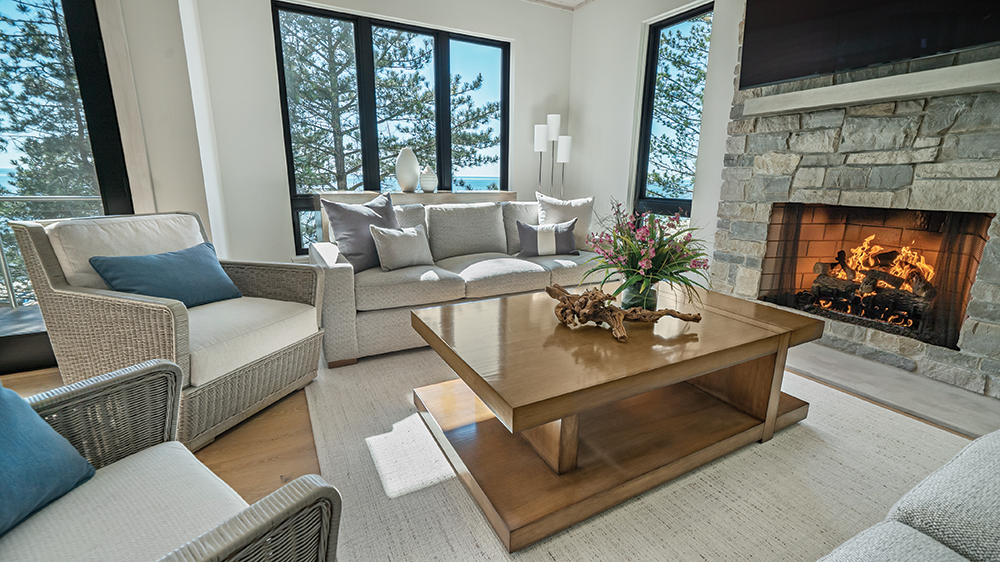 Inspired by the design of a local manufacturing company, the homeowners worked with architect Edward Zwyghuizen, of Gen1 Architectural Group in Zeeland, on the design and site plan. The final plan emphasized the land's natural features and included a distinctive glass tower. "Without his experience and knowledge, this project wouldn't have been possible," Brownell says of the 8,100-square-foot, eight-bedroom vacation home.
Brownell and Messer also brought in designer Denise Seifferlein, of d'avignon interiors in Clarkston, to consult on the two-year project. "The goal of this stunning lake house was to provide a space where family and friends could gather, celebrate holidays, and enjoy all the wonderful year-round activities living in Michigan offers," the designer explains.
In a bit of an ironic twist, in addition to being the couple's designer, Seifferlein also qualifies as both a friend and member of the family, and has been lucky to enjoy the house firsthand. "My son introduced me to Susan and Carl almost 20 years ago, when he was dating Susan's sister," Seifferlein says. "Fast-forward, and Susan and Carl have not only become treasured friends and clients, but we're also family, since the dating twosome are now married."
---
From the window treatments (or lack thereof) to the color palette, the natural surroundings and nearby lake largely drove the interior design. "We wanted to take advantage of the incredible lake views," the designer explains. "Every room — whether it's a bedroom, living room, dining space, lower-level gaming area — includes opportunities to gaze out at the nearby lake, so we didn't block any of those views." Window treatments in the guest rooms provide light control, but family spaces were purposely kept bare.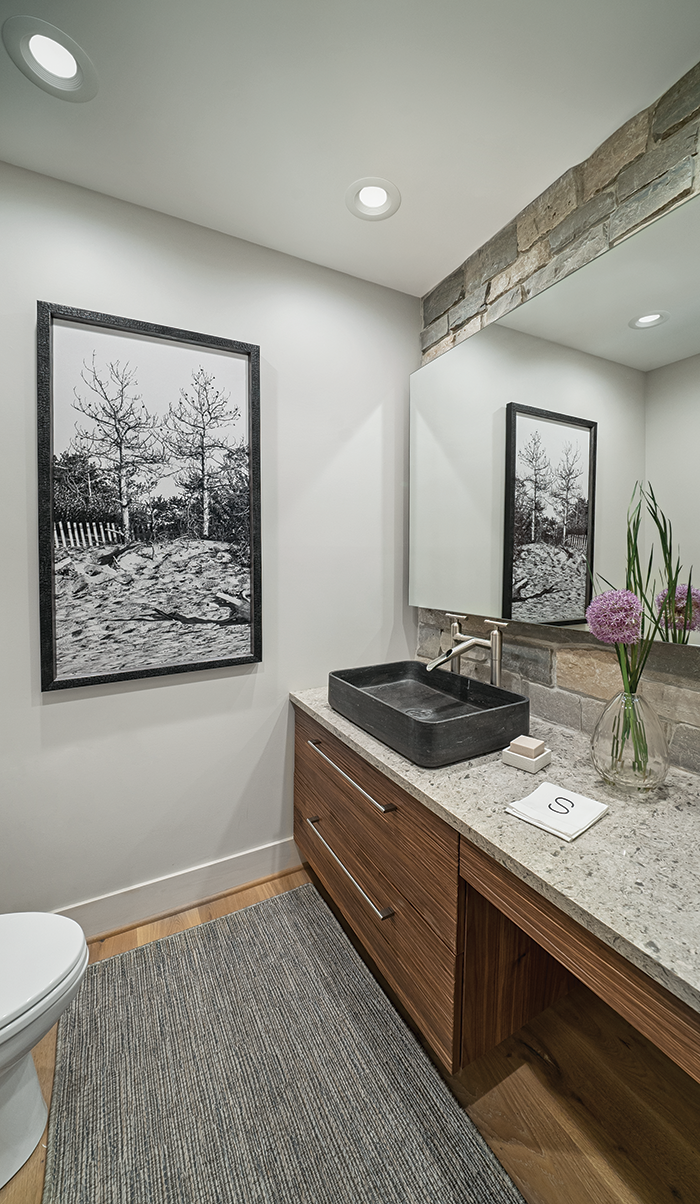 ---
Comfort and durability were also key. The intent was to achieve "a light and airy feel," the designer explains, with lighter colors and performance fabrics throughout. Shades of blue are repeated, and different fabrics and patterns in pillows, accent chairs, and ottomans provide a subtle lake house feel without it becoming a theme, she says.
Both the designer and the homeowners say the primary suite is their favorite space. Furnished with a wool rug that looks like a woven sweater, a canopy bed with a padded linen headboard, lounge chairs, and a coffee bar, it's a relaxing year-round retreat. "It's so spa-like," Seifferlein says, adding that the space manages to feel spacious yet cozy. "I could live in this room," she says, adding, "and who wouldn't want to wake up to that view?"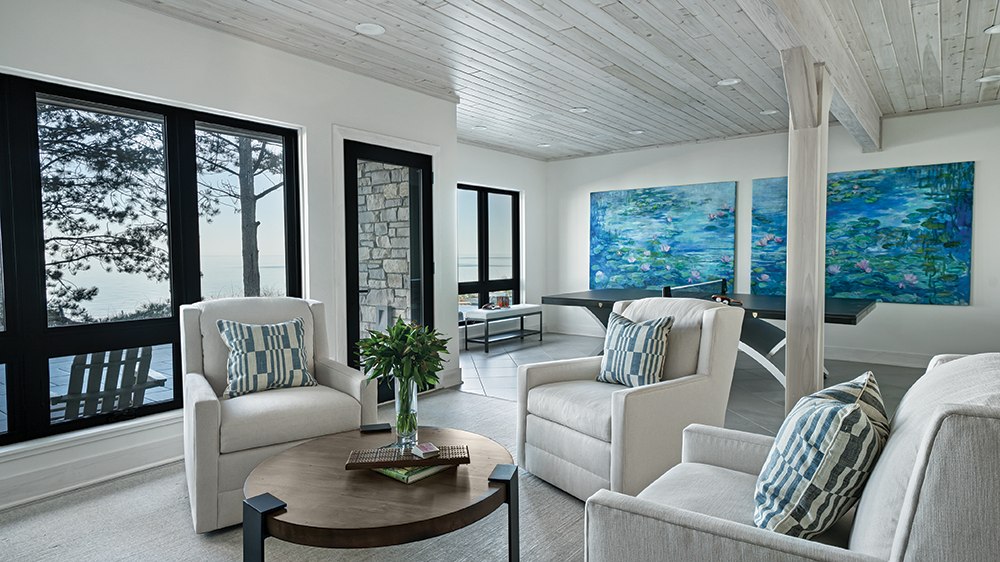 ---
The pandemic added complications. "Almost everything we liked for the project seemed to come with issues. Fabrics were selected, and then after waiting for months for them, we found out they were discontinued, and upholstery manufacturers were unable to secure supplies, which added months to their fabrication. Every manufacturer dealt with employee shortages, which added more manufacturing time, and the receiving and delivery of goods was, beyond a doubt, incredibly trying," Seifferlein recalls.
"This was an interesting project," she continues. "Since it was built for the family, they were often asked to weigh in on many selections. I would select and/or specify furniture, and bring options to our meetings. Susan and Carl would narrow it down to two or sometimes three choices, and then ask their family for their opinions. Susan is one of nine children, and eight of them are women. All of her siblings enjoy this vacation home with their families, so there were a lot of opinions."
In the end, it was all about the views — and about relaxation, Brownell says. "The walls, ceilings, floors, and trim were meant to fade into the background. The furnishings are so comfortable that, by sunset, they're filled with snoozing guests and droopy-eyed TV watchers or fireplace meditators, depending on the location. I would definitely say our goals were met."
---
---
BUYER'S GUIDE
INTERIOR DESIGN
d'avignon interiors, Clarkston
BATHROOM
Flooring – Quality Hardwoods of Michigan, Inc., Rochester Hills
Rug – Stark Carpet, Troy
BEDROOM, MASTER
Armchairs – Wesley Hall, CAI Designs, Michigan Design Center, Troy
Bed – Charleston Forge, CAI Designs, Michigan Design Center, Troy
Cabinet – Palecek, CAI Designs, Michigan Design Center, Troy
Flooring – Quality Hardwoods of Michigan Inc., Rochester Hills
Pillows, Throw – Pindler, Michigan Design Center, Troy
Rug – Stark Carpet, Troy
Table, Accent – Lulu and Georgia
FAMILY ROOM
Chairs, Lounge – Palecek, CAI Designs, Michigan Design Center, Troy
Flooring – Quality Hardwoods of Michigan Inc., Rochester Hills
Lamp, Floor – Visual Comfort, Herald Wholesale, Troy
Pillows, Throw – Pindler, Michigan Design Center, Troy
Sofa – TCS
Table, Coffee – Old Biscayne, CAI Designs, Michigan Design Center, Troy
Wall Paint – Sherwin-Williams, City Loft
FOYER
Flooring – Quality Hardwoods of Michigan Inc., Rochester Hills
Pillows, Throw – Pindler, Michigan Design Center, Troy
Staircase – Inline Design, Brighton Stair Co., New Hudson
GAME ROOM, LOWER LEVEL
Armchair – Palecek, CAI Designs, Michigan Design Center, Troy
Flooring – Urban Concrete Fog
Pillow, Throw – Pindler, Michigan Design Center, Troy
Table, Pool – Custom, Pharaoh Co.
Table, Side – Charleston Forge, CAI Designs, Michigan Design Center, Troy
HALLWAY
Benches – Serena & Lily, Birmingham
Flooring – Quality Hardwoods of Michigan Inc., Rochester Hills
LIVING ROOM
Armchairs – Vanguard, CAI Designs, Michigan Design Center, Troy
Cabinet – Universal, Gorman's Furniture
Flooring – Quality Hardwoods of Michigan Inc., Rochester Hills
Pillow, Throw – Roomdress, Pindler, Michigan Design Center, Troy
Rug – Stark Carpet, Troy
Table, Coffee – Old Biscayne, CAI Designs, Michigan Design Center, Troy
Wall Paint – Sherwin-Williams, City Loft
SITTING AREA, LOWER LEVEL
Armchairs – TCS
Bench – Charleston Forge, CAI Designs, Michigan Design Center, Troy
Flooring – Quality Hardwoods of Michigan Inc., Rochester Hills
Pillow, Throw – Pindler, Michigan Design Center, Troy
Rug – Stark Carpet, Troy
Table, Coffee – Charleston Forge, CAI Designs, Michigan Design Center, Troy
Table, Pool – Revolution Killer
EXTERIOR
Chairs – Bernhardt, CAI Designs, Michigan Design Center, Troy
---
---
Text by Khristi Zimmeth | Photography by Adam Liddicoatt