People tease Bloomfield Hills architect Lou DesRosiers of DesRosiers Architects that his palatial residential designs, with their walls of windows and grand entryways, remind them of hotels or museums.
He laughs, saying: "I just reply, 'Aren't they the finest buildings in the world? That's why I design them that way.' "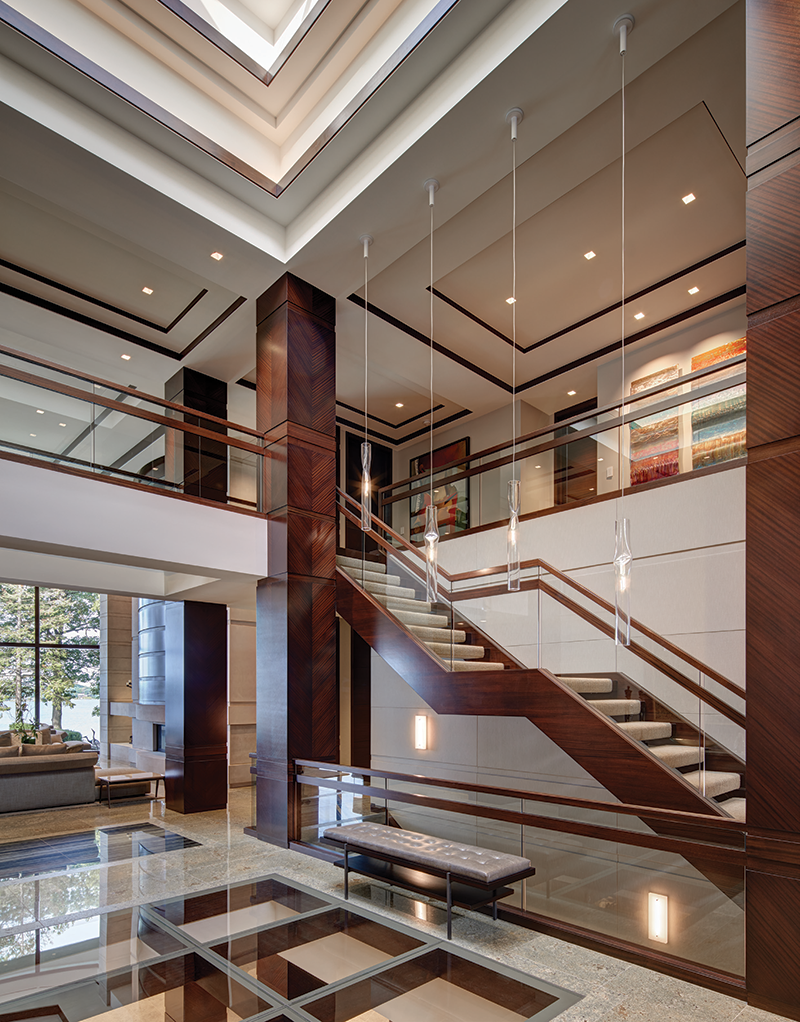 This 17,000-square-foot home on Lake Angelus is one of the architect's latest and perhaps greatest designs. Facing what some say is the perfect direction — southwest — with lots of cantilevered overhangs to filter the light from morning to night, it's tucked into the verdant landscape on a bluff over the lake, and functions not only as a family home but also as a place for entertaining.
"It's intimate enough for a family, but can handle small gatherings as well as large events," says DesRosiers, who collaborated with Bloomfield Hills interior designer Bob Schaerer and Royal Oak custom builder Bill Derocher on the project.
Schaerer says working with DesRosiers, as his firm has since the late 1970s, is a blast.
"He's unique, because most architects aren't involved from start to finish. He's an incredible character. We've worked together so long, we work well together," Schaerer says.
The deadline the client requested was tough: 18 months. And there was one small problem: Another house was already on the site, and it needed to disappear. "It took a long time to get the permits before the house was torn down," Schaerer recalls.
"IN THESE VERY LARGE HOMES, PEOPLE NEED A LOT OF WOOD TO FEEL WARM AND COZY. IT MAKES YOU FEEL MORE ATTACHED TO NATURE."
— LOU DESROSIERS
DesRosiers wanted to capture the most optimal view of the waterfront, so before he ever put pencil to paper, he walked the site to figure out where to put the new house. "I'm all about the view," he says. "My goal in life and in my designs is to enjoy all that nature has to offer."
Now that the project is complete, the homeowners can stroll beneath a sky-lit front canopy, over a glass walkway that filters sunlight into the lower level, and take in the panoramic view of the lake at the other end. These are seriously luxurious digs.
The open layout, with long expanses of windows over three levels, features gleaming columns of mahogany that tower over massive slabs of Sea Foam Brazilian granite. The clients didn't want a lot of color, so Schaerer found the perfect wood species — Sapele mahogany, with its characteristic ribbon grain — and chose a stain that would integrate all the furnishings. The beautiful wood is found throughout the house, and much of it is book-matched, to create a herringbone effect.
"In these very large homes, people need a lot of wood to feel warm and cozy," DesRosiers explains. "It makes you feel more attached to nature."
Take the great room, whose two-story fireplace boasts rows of mahogany and bronze with a limestone hearth. It's a place for sitting back and contemplating the universe through huge windows that offer phenomenal views of the pool and the lake beyond. That room opens to the family room, allowing for big-crowd entertaining.
Beneath the floating staircase that leads to the second-level balcony are an office, a dining room with a marble-clad floating-bottle wine room, a breakfast nook with a pop-up TV, and two kitchens — one indoors and one outdoors, for parties.
The staircase leads to a balcony area, four bedroom suites, a guest apartment over the garage, and two other bedroom suites.
The lower level, which Schaerer designed, is the owners' own private country club, with a daylight-backlit bar; full-size billiard, shuffle board, and pingpong tables; several cinemaquality TVs; a steam room, spa, and exercise room; and the coolest thing of all, a top-of-the-line golf simulator.
Down on the large patio, DesRosiers designed the knife-edge pool and integrated spa with floating pavers and no mortar, so the water falls through cracks and disappears. As another spectacular touch, he added torches and water fountains reminiscent of a mini-Bellagio.
There's a custom boat house with a kitchen, too — these guys thought of everything — and they almost made the deadline; the project was completed in 22 months.
Lou's Rules
Detroit native Louis DesRosiers — a third-generation architect whose grandfather designed the iconic Bloomfield Hills church St. Hugo of the Hills, and whose dad worked for Albert Kahn — calls himself a wild and crazy guy, and a self-made man. His favorite sayings are: "I hate rules," "What do they know?" "Who's checking, anyhow?" and "If I don't do something today, nothing is going to happen."
He likes to work with onion-skin paper and pencil, plays his dad's 1917 Steinway, founded his firm in 1974, works 10 to 12 hours a day, and hopes each client gets the same thrill walking into their home 20 years from now as they got when they first saw it. — PLS
Buyer's Guide
ARCHITECT
DesRosiers Architects, BloomfieldTownship, desarch.com
BAR
Bar And Display Shelving – Schaerer Architextural Interiors, Bloomfield Hills, Fabricated By Vogue Furniture, Royal Oak
Bar Stools – Rolf Benz Furniture, Germany
Countertop – Dexter, Dwyer Marble & Stone Supply, Farmington Hills
Flooring – Tundra Gray, Dwyer Marble & Stone Supply, Farmington Hills
Lighting – Juno, Aculux
Lighting, Overhead Fixture – Arancia Lighting, Canada
Wall Tile – St. Petersburg Striated Chisel, Ann Sacks Showroom, Michigan Design Center, Troy
BATHROOM, GUEST
Countertop – Athens Gray, PMP Marble & Granite, Troy
Lighting, Ceiling – Juno, Aculux
Mirror – Schaerer Architextural Interiors, Bloomfield Hills, Fabricated By Vogue Furniture, Royal Oak
Sconce – Hemera
Soap Dispenser – Cristions Fine Linen & Down, Birmingham
Tile – Marble, Ann Sacks Showroom, Michigan Design Center, Troy
Towels – Hemera
BATHROOM, POWDER ROOM
Artwork – Art Leaders Gallery & Custom Framing, West Bloomfield
Countertop And Mirror – Schaerer Architextural Interiors, Bloomfield Hills; Fabricated By Vogue Furniture, Royal Oak
Flooring – Tundra Gray, Dwyer Marble & Stone Supply, Farmington Hills
Lighting, Ceiling – Juno, Aculux
Lighting, Fixture – Holly Hunt, Tennant & Associates Showroom, Michigan Design Center, Troy
Tile – St. Petersburg Atriated Chisel, Ann Sacks Showroom, Michigan Design Center, Troy
BEDROOM, MASTER
Artwork – Art Leaders Gallery & Custom Framing, West Bloomfield
Bed, Headboard And Chests – Schaerer Architextural Interiors, Bloomfield Hills; Fabricated By Vogue Furniture, Royal Oak
Bedding – Cristions Fine Linen & Down, Birmingham
Bench – Holly Hunt, Tennant & Associates Showroom, Michigan Design Center, Troy Decorative Pillows – Maxalto And Schaerer Architextural Interiors, Bloomfield Hills
Flooring – Seafoam Brazilian Granite
Rug – Scott Group Studio, Grand Rapids Sofas – Maxalto
Table, Accent – Holly Hunt, Tennant & Associates Showroom, Michigan Design Center, Troy
DINING ROOM
Artwork – Art Leaders Gallery & Custom Framing, West Bloomfield
Ceiling Design – DesRosiers Architects, Bloomfield Hills
Chairs, Dining – Poltrona Frau
Flooring – Seafoam Brazilian Granite
Lighting – Juno, Aculux
Rug – Scott Group Studio, Grand Rapids
Table And Buffet – Schaerer Architextural Interiors, Bloomfield Hills; Fabricated By Vogue Furniture, Royal Oak
Wine Rack – Vintage View
ENTERTAINMENT ROOM
Accent Pillows – Schaerer Architextural Interiors, Bloomfield Hills
Artwork – Art Leaders Gallery & Custom Framing, West Bloomfield
Ceiling Design – Schaerer Architextural Interiors, Bloomfield Hills
Lighting – Leucos, WAC
Pool Table – Blatt Billiards, New York Sofas And Theater Seating – Poltrona Frau Tables, Accent – B&B Italia, Italy
Table, Coffee – Poltrona Frau
Television – Spire Integrated Systems, Troy
ENTRYWAY
Benches – The Bright Group
Flooring – Seafoam Brazilian Granite Lighting, Overhead – Lasvit
Stairway – DesRosiers Architects, Bloomfield Hills; Treads By Scott Group Studio, Grand Rapids
Wall Treatment – Schaerer Architextural Interiors, Bloomfield Hills; Applied By Integrated Interiors, Warren
LIVING ROOM
Ceiling – DesRosiers Architects, Bloomfield Hills
Decorative Pillows – Minotti And Schaerer Architextural Interiors, Bloomfield Hills
Fireplace – DesRosiers Architects, Bloomfield Hills
Flooring – Seafoam Brazilian Granite Lighting – Juno, Aculux
Rug – Scott Group Studio, Grand Rapids Sofa – Minotti
Table, Coffee – Minotti
Wall Treatment – Schaerer Architextural Interiors, Bloomfield Hills; Applied By Integrated Interiors, Warren
ADDITIONAL CONTRIBUTORS
Builder/Subcontractor – Custom Homes By Derocher, Royal Oak
Custom Millwork – Vogue Furniture, Royal Oak
Interior Designer – Schaerer Architectural Interiors, Bloomfield Hills
Landscaping – Gethsemane Corp., Rochester
Marble Supplier And Installation – Wolverine Stone Co., Warren
Pool Installation – Gillette Brothers Pool & Spa, Troy