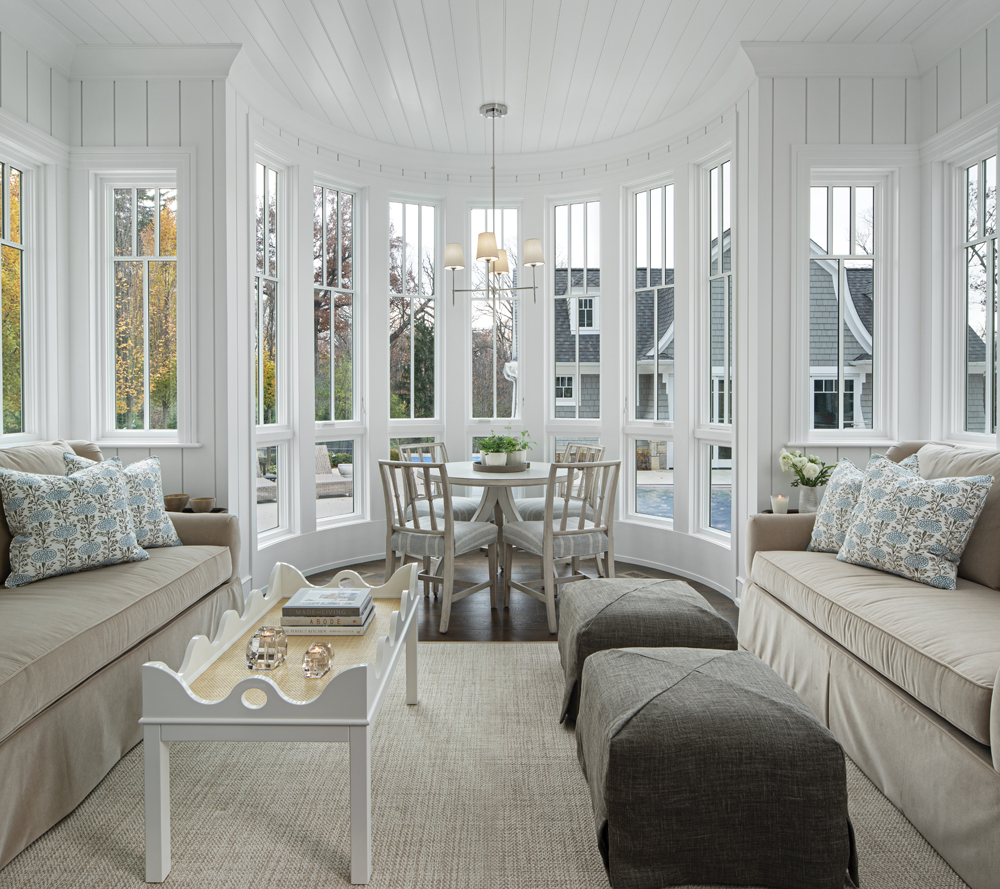 "Made for Living," an oversized book on the coffee table in Rob and Colleen Nagle's newly-built Bloomfield Hills home, sums up both the family's overall design philosophy and their priorities.
Located on a cul de sac, the house sits on a long and narrow 2.75-acre lot that abuts the Rouge River and was originally occupied by a house that dated to the 1930s. Prior owners had tried to renovate the home, but its proximity to the river caused a series of problems — issues that still hadn't been solved when the Nagles first toured the existing structure. "We walked in and got blasted with mold and mildew," Colleen remembers. "It was nasty."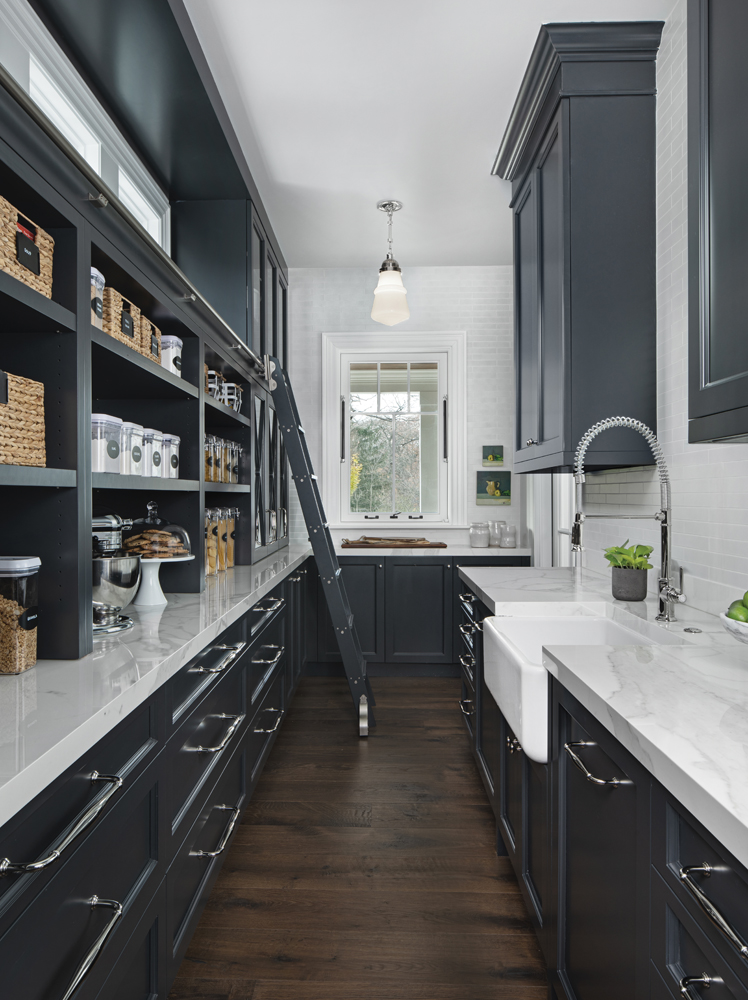 The couple knew they might have to start from scratch to get what they wanted, and the property was the perfect blank slate they were looking for. "We were OK with knocking something down if we had to," Colleen says.
They had to. The couple purchased the lot in 2017 and brought in a team that included architect Alexander Bogaerts of Bloomfield Hills, builder Thomas Sebold & Associates Inc. of Bloomfield Hills, and Birmingham interior designer Mari-anne Jones and her assistant, Elle Tor. Together, they crafted a plan that included an approximately 6,600-square-foot home with five bedrooms, 10 bathrooms, and a 700-square-foot cabana. When building began in 2018, the family hoped to be in before the 2019 holidays. "(The builder) had people there seven days a week," Colleen says.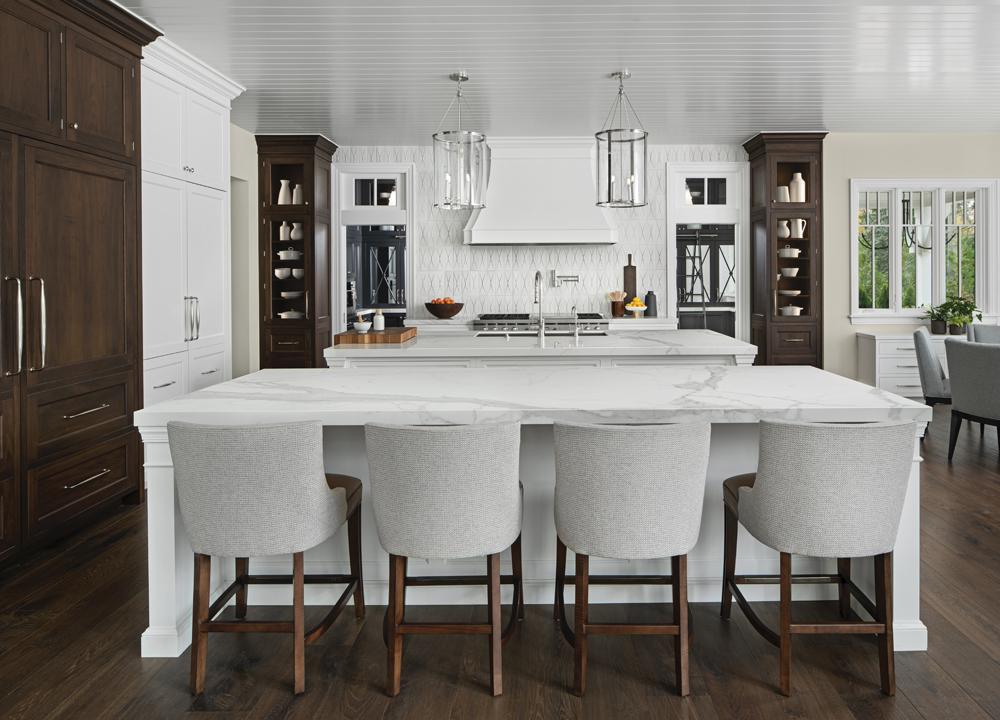 The Nagles' wish list included a Shingle-style house similar to those found on Nantucket, Martha's Vineyard, and Cape Cod — a look that Colleen says was "right up Marianne's alley." One of their sons had worked at a summer job on the East Coast, and they had grown to love the architecture and the relaxing and laid-back feel often found in that region. "That look just screamed vacation to us," Colleen says. "We wanted the house to feel like a retreat."
Jones was on board from the start. "Nantucket is my happy place, so I knew exactly the vibe they wanted," she says, adding that the philosophy extended to the home's easygoing yet elegant interiors. Choices included low-maintenance porce-lain countertops in the kitchen ("they needed it to be bulletproof for the family," Jones explains), fun wallpapers, and multipurpose spaces that welcome their large extended family, yet also work when it's just the two of them.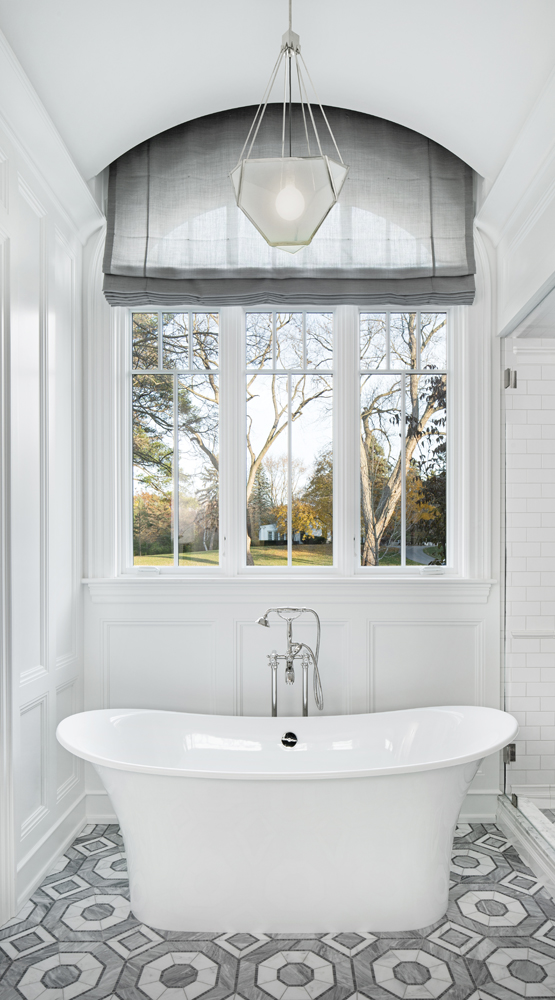 The vacation-like attitude extends to the exterior, which includes a pool and tennis courts (Rob coaches varsity tennis at the University of Detroit, and the couple's grown children have been state champs). "This lot fit the bill perfectly," Colleen says, adding that she and her husband also enjoy being able to bike or walk into Birmingham — another wish list item.
One thing they hadn't planned for was a pandemic, but the house responded admirably. "The house was a lifesaver during COVID," Colleen says, noting that it was completed in February 2020, in time for their three grown children to move back. Colleen says the mandatory shelter-in-place orders put the house to the ultimate test, as everyone needed separate spaces so they could work from home, as well as comfortable places where they could come together at the end of a long workday. "We love that we can live on the first floor and open up the lower level and upstairs bedrooms when the kids come home," Colleen says of the flexible layout. An in-law suite with an elevator, located near the back of the house, also has a small coffee bar and refrigerator. "(It's a) good thing Rob and I are super casual and pretty easygoing," Colleen says of the year's unexpected challenges.
Other highlights include a master bedroom sitting room; a three-season room with screens, a fireplace, and heaters off the great room; the lower-level bar, theater, and game room; and the 700-square-foot cabana, which overlooks the pool and tennis courts. "It's a great party spot," Colleen says of the indoor/outdoor setup, adding that it worked well for hosting COVID-safe events, including a family reunion held last October.
"The house feels like you're in northern Michigan without the drive," the designer explains. "It's very comfortable and welcoming, because that's who they are. It's a testament to them." A house made for living, indeed.
---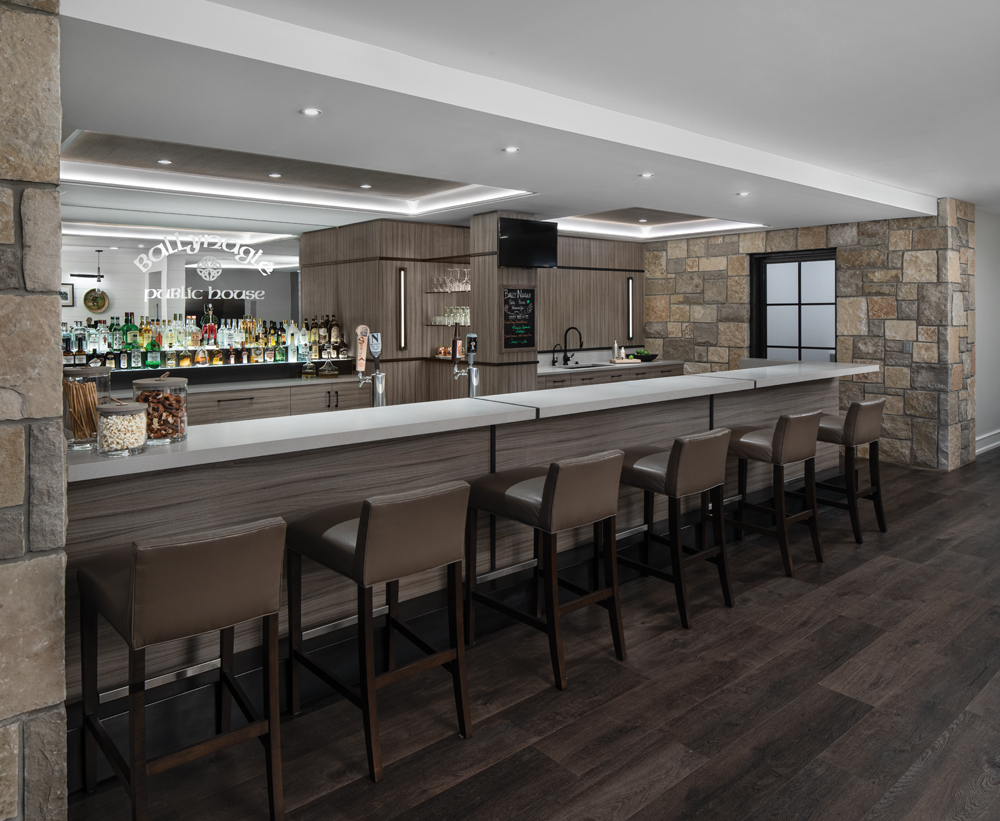 HEIRLOOM TREASURES
Luck O' the Irish: Choosing a favorite space is difficult, homeowner Colleen Nagle says, but her home's lower-level Irish pub (left) — officially known as Ballynagle Public House, according to the sign — would definitely make the list. "We're both Irish," Colleen says of herself and her husband, Rob, "and we have a lot of family still in Ireland." They also have a lot of family here, whom they can accommodate, Jones says, with "one of the longest bars I've ever seen." The Nagles chose to honor their shared heritage in the space, which includes a lot of memorabilia inherited from family and brought back from trips, including a vintage hurling stick and a bodhran, a traditional 19th-century Irish drum-like instrument that resembles and evolved from the tambourine. "We had an Irish pub in our old house and wanted to build on that here," Colleen says. "It's our winter gathering spot."  — KZ
---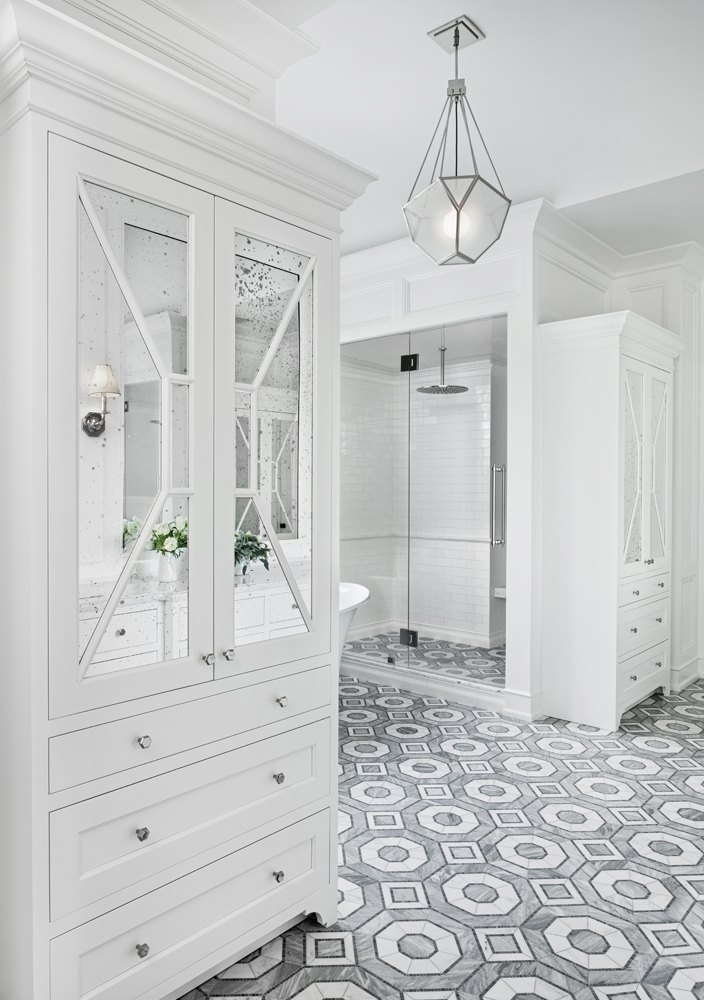 BUYER'S GUIDE
INTERIOR DESIGNER
Marianne Jones, Marianne Jones, LLC, Birmingham, mariannejones.com
BATHROOM, MASTER
Bathtub – Toulouse Freestanding Bateau Tub, Victoria & Albert, Advance Plumbing and Heating Supply Co., Walled Lake
Cabinets – Maison Birmingham, Birmingham
Flooring – Villa D'Oro Grigio Palermo Brushed, Virginia Tile, Michigan Design Center, Troy
Light, Ceiling – Yves Hang, The Urban Electric Co.
Mirrors – Custom, Marianne Jones, LLC, Birmingham
Sconces – Roadster Wall-Mounted Single Arm Sconce, Waterworks, Russell Hardware, Bloomfield Hills
Shower – Simple Solutions Plaza Base B in Pearl Gloss, Virginia Tile, Michigan Design Center, Troy
Sinks – DXV Pop Up UC Oval Grande Lavatory Sink, Advance Plumbing and Heating Supply Co., Walled Lake
Wall Paint – Benjamin Moore, Chantilly Lace
Wall Treatment – Custom, Millwork Paneling, Marianne Jones, LLC, Birmingham
Window Shades – Custom, John Rosselli & Associates; Fabric, Cardiff Sheer Pumice, Kerry Joyce
BATHROOM, POWDER ROOM
Artwork – Framed Nest Study, Barloga Studios
Basket, Towels – Black Basket, Huzza, Harbor Springs
Flooring – Pierre Noire Limestone, Ann Sacks, Michigan Design Center, Troy
Lighting – Cosmopolitan, Visual Comfort
Mirror – Black Nickel Mirror, Mirror Image Home
Sink – Gilford Sink, Kohler, Advance Plumbing and Heating Supply Co., Walled Lake
Wall Paint – Benjamin Moore, Silver Satin
Wall Tile – Tiempo Linea Hex Tile, Ann Sacks, Michigan Design Center, Troy
BEDROOM, DAUGHTER
Armchair – Gripsholm Chair, Chelsea Textiles
Artwork – T. Botero Galleries
Bed Frames – Custom, Designer Furniture Services, Pontiac; Design, Marianne Jones, LLC, Birmingham
Bedding – Custom, Julia Knevels, Birmingham; Design, Marianne Jones, LLC, Birmingham; Pacific Coral Chintz Rose Duvet and Euro Shams, Jim Thompson Fabrics
Drapery – Ralph Lauren, Kravet, Caterina Shearling, Pearl, Michigan Design Center, Troy
Flooring – Monarch Plank Hardwood Flooring, Voltaire Boulevard European Oak, Everlast Floors, Troy
Lamp, Table – Elsie Table Lamp, Blush, Visual Comfort
Light, Ceiling – Betty Hang Pendant, The Urban Electric Co.
Rug – One of a Kind, Indo Trans Wool, Loloi
Table, Bedside – Conrad Nightstand, Made Goods
Wallpaper – Cornflower, Montclair Strie, Peter Fasano,  Rozmallin, Michigan Design Center, Troy
BEDROOM, SON
Armchair – Ethan Lounge Chair, Bungalow 5
Artwork – Acendant/Decendant, Loloi
Bed Frame – Elio Bed, Oly Studio
Bedding – Hampton White Coverlet and Blair Ocean Duvet with Euro Shams, Pom Pom at Home
Bench – Safari Bench, Katy Skelton
Chandelier – Paxton Ring Chandelier, Visual Comfort
Chests, Bedside – Parker Nightstands, Made Goods
Drapery – Custom, Designs Designs; Design, Marianne Jones, LLC, Birmingham
Flooring – Monarch Plank Hardwood Flooring, Voltaire Boulevard European Oak, Everlast Floors, Troy
Lamps, Bedside – Glass Globe Mobile Lever Table Lamp, RH
Pillows, Toss – Custom, Barbara Jones
Rug – Custom, Coventry Cord, Crescent Carpets
Wall Paint – Benjamin Moore, November Rain
CONSERVATORY
Ceiling Treatment – Beadboard; Design, Marianne Jones, LLC, Birmingham
Chairs, Dining – Jardin Side Chair, Hickory Chair
Flooring – Monarch Plank Hardwood Flooring, Voltaire Boulevard European Oak, Everlast Floors, Troy
Lighting, Table – Bryant Small Chandelier, Visual Comfort
Ottoman – Inman Ottoman with Custom Cover, Hickory Chair
Pillows, Accent – Custom, Johnstons of Elgin, Solid + Pattern; Fabrication, Barbara Jones
Rug – Custom, Lenny Wheat, Stark Carpet, Troy
Sofas – Sutton Skirted Sofa, Hickory Chair
Table, Coffee – Hobe Sound Coffee Table, Oomph
Table, Dining – Ingold Dining Table, Hickory Chair
Wall Treatment – Shiplap; Design, Marianne Jones, LLC, Birmingham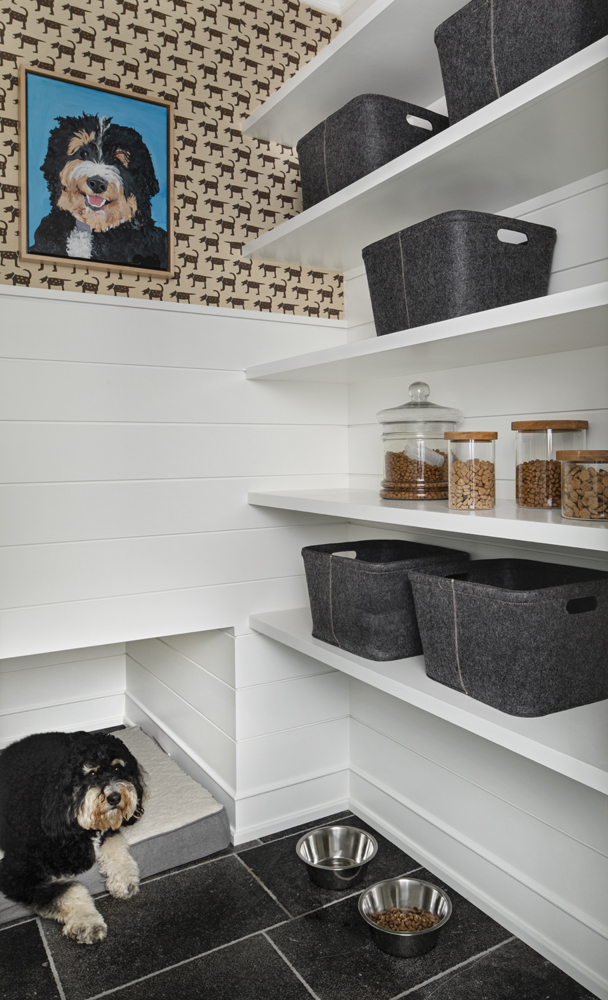 DOG ROOM
Bins, Storage – Target
Flooring – Pierre Noire Limestone, Ann Sacks, Michigan Design Center, Troy
Pet Bed – Petsmart
Shelving – Custom, Marianne Jones, LLC, Birmingham
Wall Treatment – Shiplap; Design, Marianne Jones, LLC, Birmingham
Wallpaper – Calvin & Lewis, Peter Fasano, Rozmallin, Michigan Design Center, Troy
KITCHEN
Backsplash – Tundra, Nottingham Diamond, Ann Sacks, Michigan Design Center, Troy
Bar Stools – Hunt Counter Stool, Hickory Chair
Cabinets – Maison Birmingham, Birmingham
Countertops – SapienStone and White Mirrored Calacatta, Ciot, Troy
Flooring – Monarch Plank Hardwood Flooring, Voltaire Boulevard European Oak, Everlast Floors, Troy
Hood – Maison Birmingham, Birmingham
Lighting, Ceiling – Chisholm Clean, The Urban Electric Co.
Sink – Multiere 45 Kitchen Sink, Kallista, Advance Plumbing and Heating Supply Co., Walled Lake
Wall Paint – Benjamin Moore, Wind's Breath
LAUNDRY ROOM
Cabinets – Perspectives Cabinetry, Troy
Flooring – Pierre Noire Limestone, Ann Sacks, Michigan Design Center, Troy
Lighting, Ceiling – Lundy Hang, The Urban Electric Co.
Rug – One of a Kind, Loloi
Sink – Concrete Sink, Native Trails, Advance Plumbing and Heating Supply Co., Walled Lake
Wall Tile – Soft White Glazed, Lava Calda,  Ann Sacks, Michigan Design Center, Troy Wallpaper – Noir, Blommen, Schumacher, Michigan Design Center, Troy
MUDROOM
Bench – Custom Millwork; Design, Marianne Jones, LLC, Birmingham; Cushion, Custom, Designs Designs, Wixom
Flooring – Pierre Noire Limestone, Ann Sacks, Michigan Design Center, Troy
Hooks – Teddy Hook, Alice Tacheny
Pillows, Accent – One of a Kind, LoLoi
Rug – Miles Stripe, Safavieh
Staircase – Everlast Floors, Troy
Wall Sconce – The Urban Electric Co.
Wall Treatment – Shiplap; Design, Marianne Jones, LLC, Birmingham
PANTRY
Baskets, Storage – The Container Store
Bowl, Fruit – Crate & Barrel
Cabinets and Shelving – Maison Birmingham, Birmingham
Countertop – SapienStone Countertop, White Calacatta Mirrored, Ciot, Troy
Ladder – Custom, TSA
Light, Ceiling – Eddystone, The Urban Electric Co.
Sink – Apron Front Ceramic Sink, Rohl, Advance Plumbing and Heating Supply Co., Walled Lake
ADDITIONAL PROJECT CONTRIBUTORS
Architect – Alexander V. Bogaerts + Associates, PC, Bloomfield Hills
Builder – Thomas Sebold & Associates (TSA), Bloomfield Hills
Cabinet Manufacturers and Designers – Maison Birmingham, Birmingham; Perspectives Cabinetry, Troy
Interior Designer – Elle Tor, Marianne Jones, LLC, Birmingham