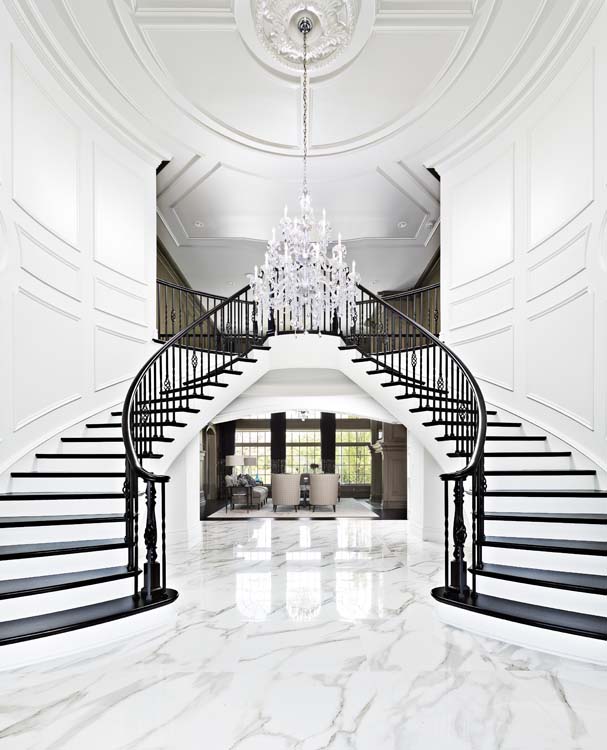 Every inch of Monique and Russ Springborn's Howell home is laid out on a grand scale, from the hilly 48 acres it sits upon to the theater room with the same cushy seats and swanky lighting found in real movie houses.
Russ' company, Ultra Aluminum of Howell, made the ornate gate that leads to the courtyard and gardens. From there, like a scene out of Hollywood, two-story double entry doors open to curvaceous twin staircases that seem to be floating in mid-air. There's a smashing chandelier in between the staircases, and the entire foyer features stunning millwork and graceful archways. Indeed, this 10,000-square-foot manse in Howell is fit for royalty — yet it's not the least bit stuffy. The interior is serene and comfortable, Old World with all the modern conveniences, luxurious to the max but easily lived in.
For this couple with two young children, it's also toddler-friendly, but you'd never know it. Every cabinet and ottoman on all three levels is designed to hide things that aren't so elegant, like toys, tents, diapers, and wet wipes. The finishes and furniture are also meant to stand up to kids — but again, they're luxurious to the eye and hand.
"They didn't want to compromise on style," says the couple's designer, Cheryl Nestro, of Tutto Interiors in Northville. Nestro worked with the Springborns nearly every step of the way.
Nestro remembers their first encounter. They came to her with a big roll of blueprints. The couple had ideas about what they wanted, Russ says. But, as Monique explains, "We went with our blueprints realizing we were in over our heads. Our son was only 3. Suddenly we couldn't give it the attention it needed."
The couple had seen a house from the road that they loved, and did some research to find out more about it. By the time they met with Nestro, the house had already been framed in by Amish builders from Indiana, and the geothermal heating/cooling system was in place.
"Cheryl (Nestro) just dove right in," Monique says. "She has a great process for how it should be done."
That's when the real fun began. "Cheryl was so awesome. We spent a lot of time together, making so many decisions — in fact, thousands of decisions," Monique recalls.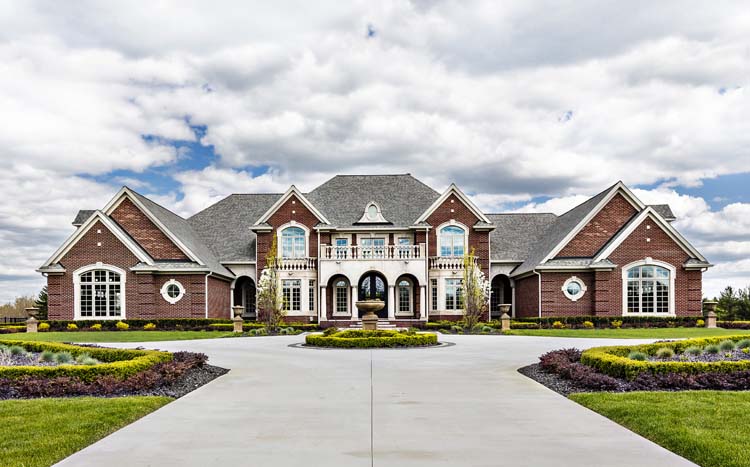 The result is astonishing. A simple palette of delicious creams and taupes is accented with silver, ebony, and touches of blue, and blends smoothly with artful moldings, Italian porcelain, deep espresso hardwood flooring, soft furnishings, dressmaker fabric draperies, and custom cabinets from Millennium Cabinetry of Farmington Hills. "I don't like complicated spaces," Nestro says.
In addition to the gate, Russ' company also created the staircases and other heavy-metal adornments inside and out. Monique saw the curlicue front door styling on Pinterest and from there discovered where to find their door. To one side of the staircases is Monique's favorite room, the library, with faux finishes, warm cabinet lighting, custom shelving with crown molding, thick shag carpet, a desk, cozy seating, and a circular chandelier. To the left of the staircase is the formal dining room, which features a rectangular chandelier and wood-veneer wall coverings reminiscent of stately European parquet. There's a handy butler's pantry next door, along with a powder room.
Then there's the Parisian-inspired great room, with its 22-foot ceiling, two-way fireplace, faux-painted walls, and decorative millwork galore, which Nestro used to give the room proper scale.
Nestro also found large-scale furnishings to bring the room down to size, along with a huge chandelier that serves as a focal point between the windows.
"Scale is everything," Nestro says.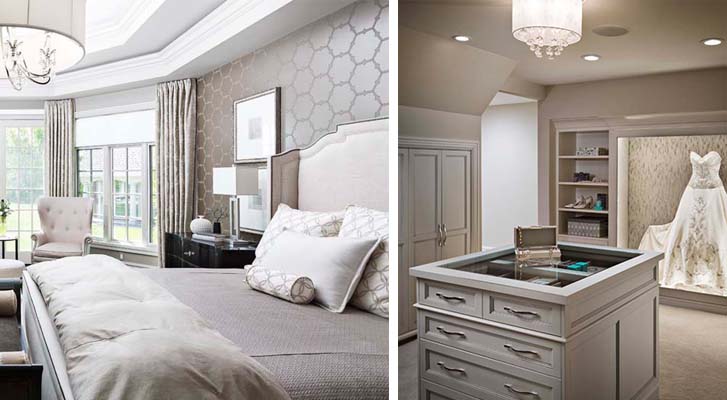 On the other side of the fireplace is a similarly sumptuous yet sublime bedroom; highlights include a massive drum chandelier and a bath with a steam shower. A stairway from the bedroom leads to Monique's heaven — her closet — a cushy space in which you're surrounded by drawers, closets, and more drawers. Nestro selected a fabric wall covering that was reminiscent of a photo taken on the couple's wedding day, with a cement wall as a backdrop. Monique's wedding dress, showcased behind an airtight, LED-lit glass window, is the focal point. As she celebrates her seventh anniversary with Russ, Monique says she hopes her 2-year-old daughter can one day wear her dress. Russ has his own closet nearby.
In the kitchen, two seating areas look out to the family room, where the floor-to-ceiling fireplace is clad in creamy arabesque tiles from Ann Sacks. Russ hung the chandeliers. The seating is cozy, and it's a great place for watching the parade of wildlife on the property: fox, deer, wild turkeys. The kitchen is one of two large gathering spaces in the house.
The second, in the lower level and just as extraordinary, is fitted with another large kitchen, a gym, a shower room with a steam bath, and the decked-out theater room with vintage 1970s wall sconces Nestro bought pre-construction and a banquette with a table for the kids. Just outside the door is a vintage Coke machine, popcorn wagon, and game room.
Outdoors, Russ, whom Monique describes as a man who believes anything can be done, built the structures and laid out the irrigation for their vegetable gardens, which so far this year have yielded green beans, tomatoes, and cucumbers — tons of cucumbers. "About 500," Monique laughs. The kids love to pick the tomatoes and eat them as they go, the wild turkeys love to eat the lettuce, everybody's eating cucumber sandwiches — and they'e all living happily ever after.