As the Let's Make a Deal game show proved, what's behind a door isn't always a prize.
However, for Detroit Symphony Orchestra Music Director Leonard Slatkin and his wife, composer Cindy McTee Slatkin, what they saw after opening the door of what was to become their Bloomfield Hills home was pure enchantment.
The airy 1984 contemporary house is rife with windows looking out to a bucolic setting of trees, flights of birds at a feeder, even a small waterfall. The outdoors are integrated with the indoors.
"For me, it was like going back to the place of my birth, Washington State, where there were many evergreen trees," Cindy recalls.
"You very much have the feeling that you're coming home to a refuge," Leonard says. "You can look out a window and not even see another home or neighbor."
The maestro also was swayed for purely practical reasons.
"We had all the space we needed, and it's a fairly easy shot to get to Orchestra Hall."
There was yet another selling point for Cindy.
"When I walked in, I thought to myself, 'I think we could get married here.' We were already engaged."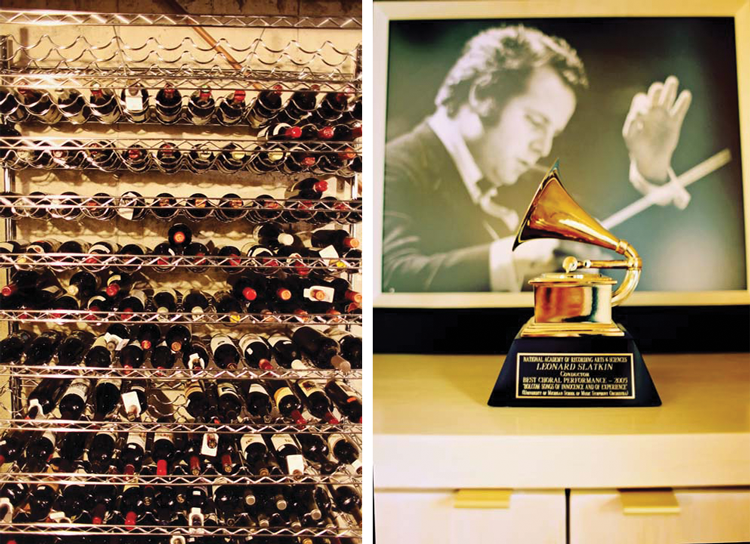 Wine bottles are stored on racks in a lower-level room that's kept cool (left); One of Leonard's seven Grammy awards (right).
The couple moved into the house in October 2011. A month later, on Nov. 20, they were married in the living room. About 20 guests assembled in the room adorned with black slate floors, contemporary Persian rugs, textured white silk wallpaper, black leather Italian sofas, and lacquered Italian wood furniture. The two bought much of the furniture from the previous owners, who were downsizing.
But why the nuptials rush?
"I was diagnosed with breast cancer in May of 2011," Cindy explains. "I was undergoing chemotherapy during the time we were buying the house and moving, and there was no way to plan a wedding because of the chemo schedule. We had to wait until there was a window of opportunity."
On a recent chilly autumn morning, Cindy, a spirited woman with an easy laugh, is finished with chemo and "well on the way to recovery."
Although the pair knew each other professionally for about 20 years — Leonard has long championed her rhythmically animated music — they didn't date until 2009.
Cindy was then teaching at the University of North Texas at Denton, and they had their first dinner date at The Mansion at Turtle Creek Restaurant in Dallas.
Cuisine continues to connect them. Slatkin is as adept in the kitchen as he is on the podium, which leads to cozy dinners for two, or more elaborate meals with guests. The couple replaced the 1980s appliances with new stainless Viking ones. The kitchen includes an island with a cooktop, bleached pine cabinetry, and bamboo floors.
Leonard says the ideal number of dinner guests is four, in addition to him and his wife, although they've entertained for 15 or more.
"Some dinners we do because they're potential donors; other times, it's just friends," Leonard says. Larger gatherings are usually catered.
"I have a lot of fun cooking for guests, but Cindy becomes the guinea pig for some of my outlandish culinary ideas," he says.
"I'm content to be the sous-chef and do the cleanup, which I don't mind," she adds.
One high-profile dinner guest last spring was Kid Rock, with whom the conductor and the DSO performed at a fundraiser at the Fox Theatre.
He says conversation is a key ingredient to a dinner party, "but so is wine." An oenophile, Leonard has a collection of  "about 80 cases" of wine stored in racks in a lower-level room. His current favorites are from Oregon and Washington.
The Slatkins have lived in their home for just over a year, but they're nestled in. Each has a separate workspace upstairs, so if he has to study a score or she's composing on her keyboard, they won't encroach on each other's space. "What's really great about this floor plan is that I can have privacy, but I never feel isolated," Cindy says.
In addition to his DSO role, Slatkin is also music director of the Orchestre National de Lyon and principal guest conductor with the Pittsburgh Symphony Orchestra, so his time with Cindy is precious. They enjoy watching films, either at home (they have a prodigious collection of DVDs) or in theaters.
To complement the home's contemporary style, most of the art is modern, including an abstract watercolor by Rob Erdle and several photographs by Donald Dietz, who's married to DSO President and CEO Anne Parsons. But there are older items, too, including antique Japanese woodblock prints and framed music memorabilia.
Leonard's office includes a framed photograph of Doris Day (left). In his recent book Conducting Business, he revealed he had a boyhood crush on the singer-actress. When she got wind of that, she sent him this photo of her younger self for his last birthday. To the left is a graduation photo of Leonard's son, Daniel, who attended Brooks School near Boston. He is now in college. A collection of batons in Leonard's office (right).
Cindy is fond of a Pop Art piece in the foyer — a playful print of a bassett hound on a red background by Marc Tetro.
"Both Leonard and I had bassett hounds as kids, so when we spotted that in Royal Oak, I said, 'This should be our first purchase.' "
Leonard has a special affinity for the black Steinway grand in the living room. "I learned to play on that piano when I was growing up [in Los Angeles], and it was played by so many people who came to our house — Nat King Cole, Art Tatum, Stravinsky." Leonard's parents were musicians in the pop, classical, and film worlds.
The conductor bowed to his wife's decision to display the first of his seven Grammys and his 2003 National Medal of Arts in the living-room display case, even though he frowns on "ego-boosting things in the living area."
As much as they're drawn to the indoors, the Slatkins on this day are intermittently attracted to the avian flurry of activity outside around the feeder. "There must be a Jenny Craig for birds; a lot of them are getting plump," Leonard jokes.
"I think I've noted 14 types of birds, so far," Cindy marvels, as a hungry woodpecker swoops down for a meal.
The newlyweds continue to gaze out the window, a couple of lovebirds themselves.
Photographs by Cybelle Codish