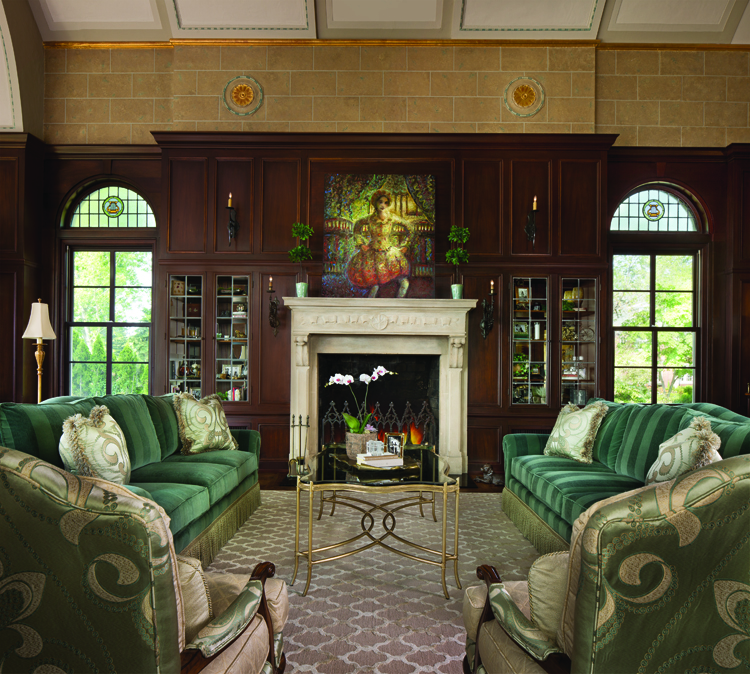 After much searching, newlyweds Marty and Belinda Tibbitts purchased their Grosse Pointe Park dream home five years ago. The couple, who had dated in high school and again in their mid-20s, reconnected years later and blended their collective three children into one family. Moving into first one and then a second rental while renovations went on, the family finally moved back in last October.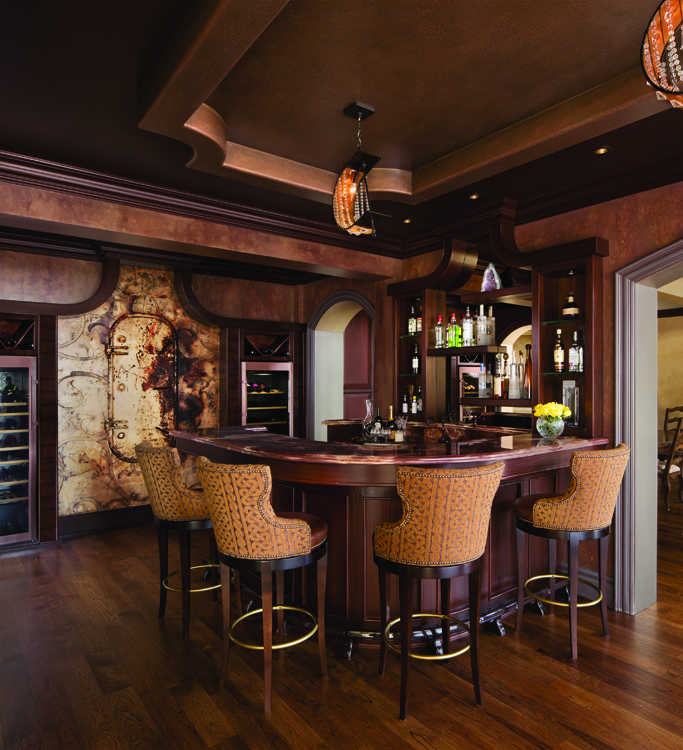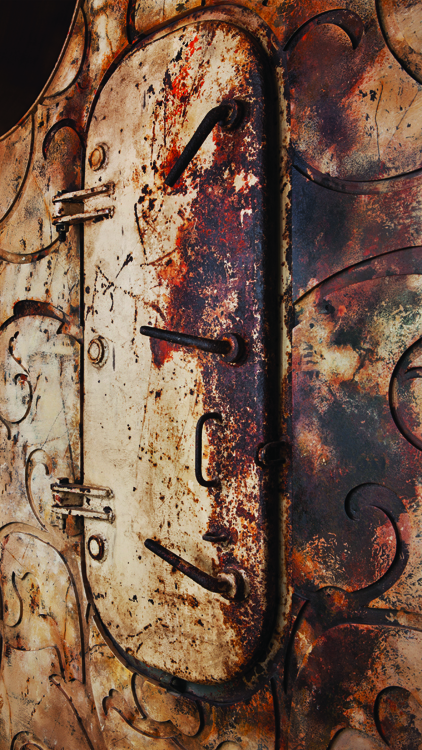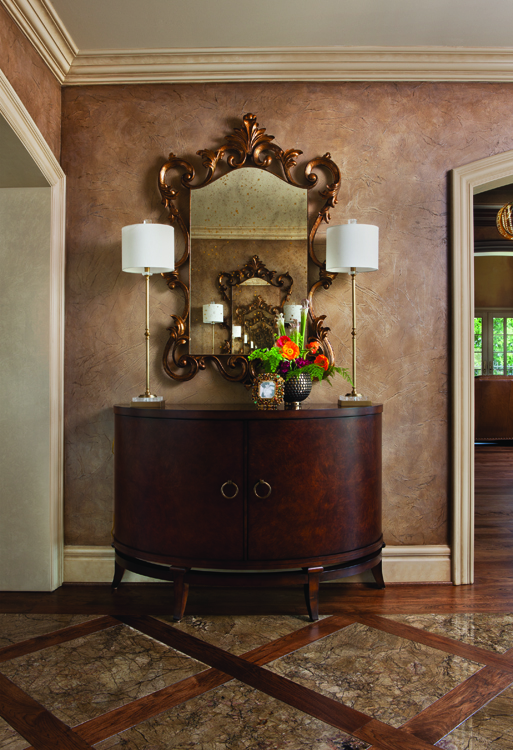 "It still has a long way to go," Belinda says. "I think it will always be a work in progress."
Purchased from Alto Reed, saxophonist for Bob Seger's Silver Bullet Band, the house was home to many parties over the years. "Kid Rock played a concert here," Marty says. "He came in his helicopter with Pamela Anderson. Everyone has a story about this house."
Built in 1926, the home was fashioned by architect Robert O. Derrick, who would go on to design both The Henry Ford's Henry Ford Museum and Lovett Hall, in Greenfield Village,  the Detroit Federal Building, and the Hannan Memorial YMCA, as well as a number of stately homes throughout Detroit and the affluent suburb of Grosse Pointe Farms, where he lived. Derrick was known for specializing in period styles, particularly Colonial Revival, and the Tibbitts' home — just feet from the shores of Lake St. Clair — has an exterior clad in the stucco walls, red-tile roof, and arched doorways typical of Mediterranean Revival, which have been popular in the coastal resorts of Florida and California since the style made an appearance in the Panama-California Exposition in 1915.
Unique to this home, however, was that the interior retained elements of Derrick's affinity for Colonial Revival, whose roots in the Georgian architecture of Great Britain are still seen in the grand formality and symmetry of this home's music room, originally fitted with a floor-to-ceiling pipe organ. "It was the first time during our home search that we really fell in love," Belinda says. "We walked into this room and were just, 'Wow.'"
The music room, almost the width of the home, today encompasses the dining room, a fireplace-centered living room, and a cozy sitting area with views of Lake St. Clair. Although the couple was struck by its grandeur, formal is far from their style — the room, for example, is sometimes used for karaoke ("It's got great acoustics, after all," Belinda says) and the entire bar area, designed and built by Frank Pirrello, of Focal Pointe Design, was fashioned around an antique ship door installed in the wall.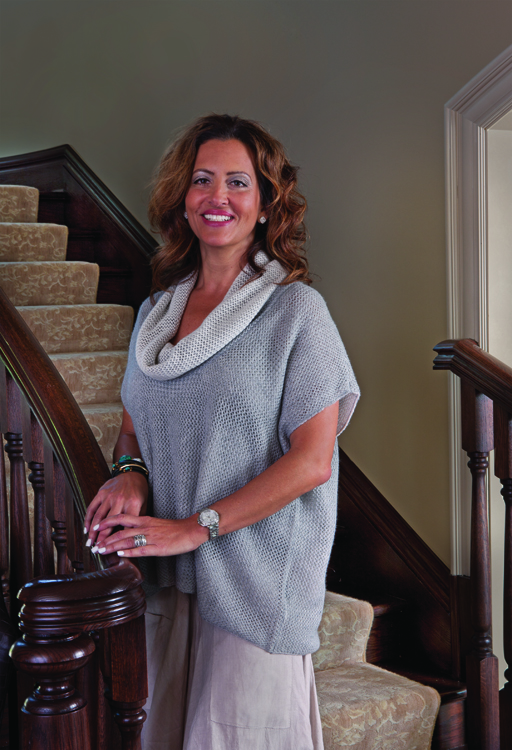 After a long search for a designer, during which Belinda's primary concern was that they find someone who wouldn't create a house that looked "like a Laura Ashley dress when it was done," she found Ann-Marie Anton.
"Belinda called me and said, 'I just bought a really big house,'" remembers Anton, designer and owner of It's Personal Design in Grosse Pointe Woods.
"I found Ann-Marie online," Belinda says. "I had never worked with a designer, and I had tried doing this myself, but it was too much."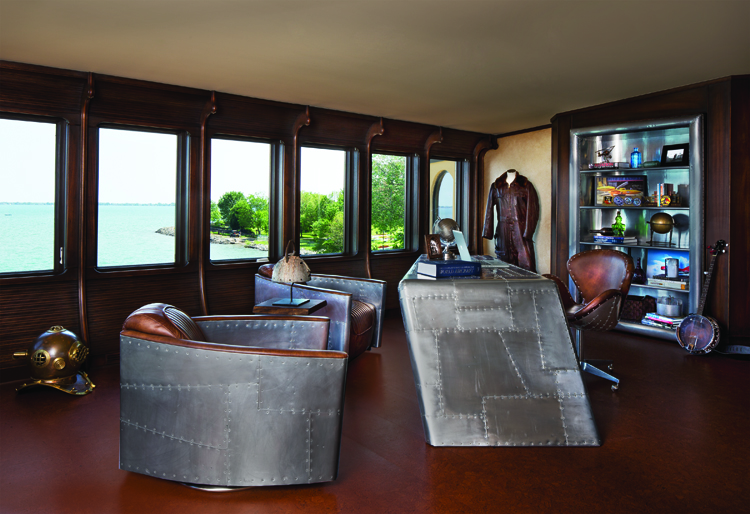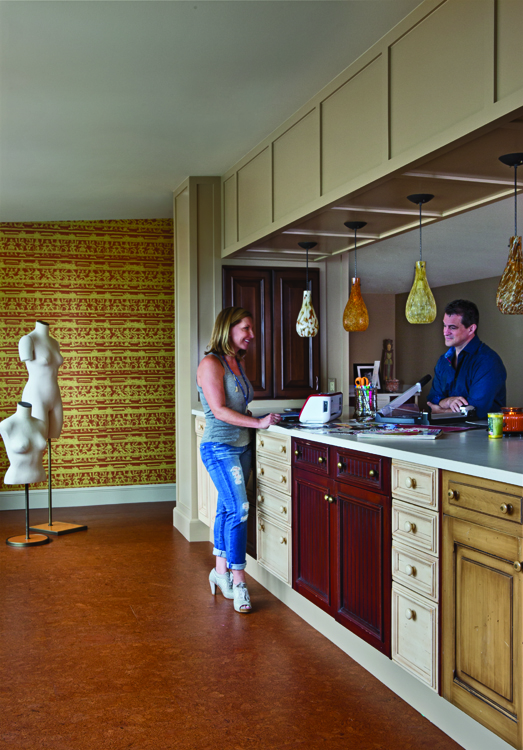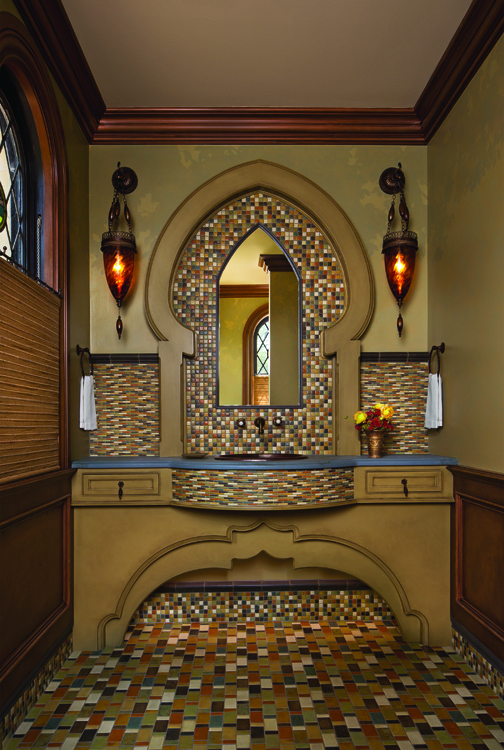 Anton, who last year was honored with a first-place Detroit Home Design Award for Traditional Master Bedroom and this year was recognized in the Specialty Room category, was the perfect match for Belinda. "She's a very cool, laid-back person," Anton says. "She's got a really funky style, and she's drawn to the out-of-the-ordinary." Anton was right at home with the funky, yet at the same time she felt comfortable paying tribute to the grand elements of the home, like the soaring 22-foot ceilings of the wood-paneled and stained-glass-windowed music room. She created cohesion by carving out intimate niches, in palettes from muted neutrals to Moroccan-influenced metallic mosaics, tied together with textures and patterns in similar families. "I try not to zero in on an aesthetic," says Anton, who is equally skilled with traditional elements, animal prints, and with mixing it all up in a way that works. "I listen to what my clients want and work with them to achieve that result. I think Belinda felt comfortable with me because of that."
During the renovation, which began with the music room and snowballed into transforming the original 5,000-square-foot house into almost 14,000 square feet, including the addition of an entire third floor, Belinda and Anton were practically attached at the hip — and they became close friends. "We once spent 10 hours at Herald Wholesale" Belinda says. "I learned a lot from Ann-Marie." Together, the pair created spaces with standout elements. They recruited a team that worked with their specific vernacular of almost-anything-goes — including architect Lou DesRosiers, who created a flow with the additions; artist Greg White, who did decorative painting and faux finishes, as well as an oil painting over the music room's fireplace; and Legendary Millwork's Dale Batten, who did all the finished carpentry work and owns Restoration Tradesman Corp. (he was also general contractor for the project). "The project evolved," Anton says, "but Belinda's playful spirit encouraged me to think outside the box, to create a unique but cohesive result."