Swept Away
A late-blooming passion for gardening evolves into a grand, yet intimate, landscape
By Lynne Konstantin // Photography by Joe Vaughn
When her children were young, and she and her husband were living in a home with just enough yard space to play in, one local mother enjoyed touring gardens — but all her time was spent raising her children, and she had no opportunity to create her own garden.
As her children grew older, the mother discovered she had a bit more time to herself — and more yard space, as well; the family had moved from their smaller home into a circa-1929 Wallace Frost-designed Bloomfield Hills chateau-style home, replete with lush and sweeping lakeside grounds.
Left: Last summer, this Bloomfield Hills garden was featured by the prestigious Association of Professional Landscape Designers (APLD) on their tour of spots-not-to-miss in Michigan. The terrace wall of the Wallace Frost-designed home is blanketed in climbing hydrangeas. Right: British interior designer/landscape architect David Hicks designed the homeowner's prized rose garden.
It was then, with a blank canvas to inspire her, that the woman discovered she had not only a genuine passion for gardening, but an eye for design. Although she was determined to do as much of the work as she could herself, she was at a loss as to where to begin. That's when she tapped Deborah Silver — owner of landscape design company Deborah Silver and Co., as well as the specialty furnishings and ornament shop Detroit Garden Works, both in Sylvan Lake — for advice.
"I didn't have a clue what to do with it," the wife and mother says. "Deborah (who's worked with the homeowner for several years) organized it, and it could not exist as wonderfully without her. It's very peaceful, and always beautiful — even in the winter, with snow layered on the boxwood hedges."
Left: A winding staircase offers a sweeping view of the grounds, including the boxwood parterre to the left and mass plantings beyond, which lead to the rose garden. Right: What was once a continuous and steep slope has been terraced into levels.
Taking their cue from the classical mix of French design elements woven into Frost's architecture, blended with pops of modern added by the homeowner, Silver led the creation of a European-style foundation that feels like a series of rooms divided by hedges and pathways, but with unexpected modern elements — like a parterre filled with solid sections of boxwood pruned into spheres, rather than the traditional boxwood edging. "I began by simplifying certain areas to make a stronger impact, then designated certain spaces as gardens in and of themselves that flow together," Silver says. One example of this approach is the central cacophonous, yet neatly delineated, rose garden and a revamped area used as an amphitheater for family gatherings, charitable events, and concerts.
"There's something about this garden that's just so lively and visually rich," Silver says. "(My client) wanted it to be used; (wanted to make) a place for people to be, not to observe from a distance. It's the genuine expression of someone who truly loves to garden."
Left: A stone path winds through the organically designed shade garden, delineated by old trees and lush with hostas and ferns. Right: The staircase leads to a classical terrace with limestone diamond-shaped tiles and a stone baluster covered by climbing hydrangea, and featuring outstanding lake views (not shown).
Good Form
The many moods of this Euro-style property lure both day and night
By Megan Swoyer // Photography by Joe Vaughn
One of the first things designer Ryan Youngblood does when embarking on a new landscape design project is listen.
"I like to get to know the client, their lifestyle, and what their needs are before anything else," says Youngblood, who's been in the business some 20  years and runs Rochester-based R. Youngblood & Co., a landscape design/build firm.
About two years ago, he and designer Kurt Schaus completed a three-acre undertaking in Rochester Hills that stands out as one of the company's most memorable projects.
"This one was maybe a once-in-a-lifetime project because the clients shared with us their great appreciation and passion for details and authenticity," Youngblood says. "They were super engaged in the project, and understood quality."
Left: Bluestone creates a lovely walking path to and from the patio area. "This is a low-traffic area," says designer Ryan Youngblood, "so bluestone is great here. The stones provide both a journey and a destination point." Right: A flurry of old-fashioned white Annabelle hydrangea wends its way along the Belgium-block driveway and throughout the expansive property.
Youngblood and Schaus started the project in 2011, after their clients had lived in the home for a good 10 years. Today, the homeowners' verdant retreat is elegant, yet it doesn't take much imagination to visualize a casual, barefoot dalliance down an inviting bluestone path, or a twilight gathering in a more rustic area that's surrounded by trees.
"There are different feelings depending upon the clients' everyday moods," the designer explains. "What kind of day you had, for example, might help you decide where you may want to spend the late afternoon or evening." Will it be relaxing on a lower south patio and looking out to birch tees, pachysandra, and natural stone? Or might you be in the mood for contemplation or mystery? If that's the case, there's the secret garden and its intimate brick walls. "(The different garden areas) are like styles of music; which do you want to listen to? It can depend on your emotions," Youngblood says.
Night and day also play off each other. Explains the lady of the house: "During the daytime, the outdoor areas offer a private and serene environment, while the evenings provide great entertaining options with the use of wrought iron, gas-lit lanterns found throughout the property."
Left:  A sculpture reigns supreme in the "secret garden" amid white and purple Angelonia (brickwork by Brickside Paving, Oxford). Right: The gardens are kept in tip-top condition with the landscaping company's "white glove garden service."
One of the more outstanding features in the entire layout is the driveway, which is made of Belgium block.
"Every block, every piece, is custom-set," Youngblood says. "It's solid granite, shipped from India." The clients, he recalls, wanted to create a special mood upon returning home, "like an Old-World, cobblestone feel."
Surrounding the front of the home are formal parterre gardens that feature boxwood hedging laid out in sculpted, symmetrical patterns.
"They  didn't want height in front of the house," Youngblood says. "We designed the parterre gardens so that they can see them from throughout the home, including from upper windows."
It's that type of thoughtful design that the homeowners expected and the designers attained.
"Ryan and his team helped exceed our original ideas and expectations," the homeowner says. "He understands the look of Old-World gardens and courtyard designs."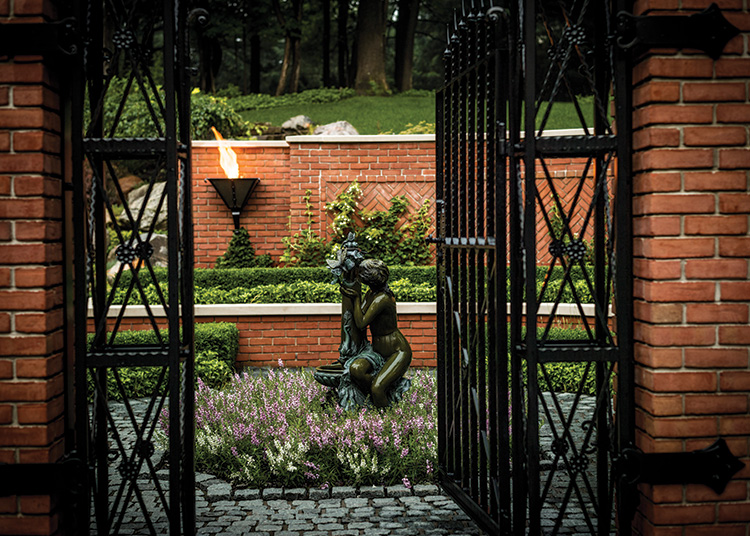 Left: As visitors make their way to the front of the home, they are greeted by formal parterre gardens and, at the door, pots of Mandevilla, a tropical vine. All of the lighting is from Bevolo Gas & Electric Lights. Right: In one bed, spiky blue salvia, an annual, shares space with immature Angelonia.