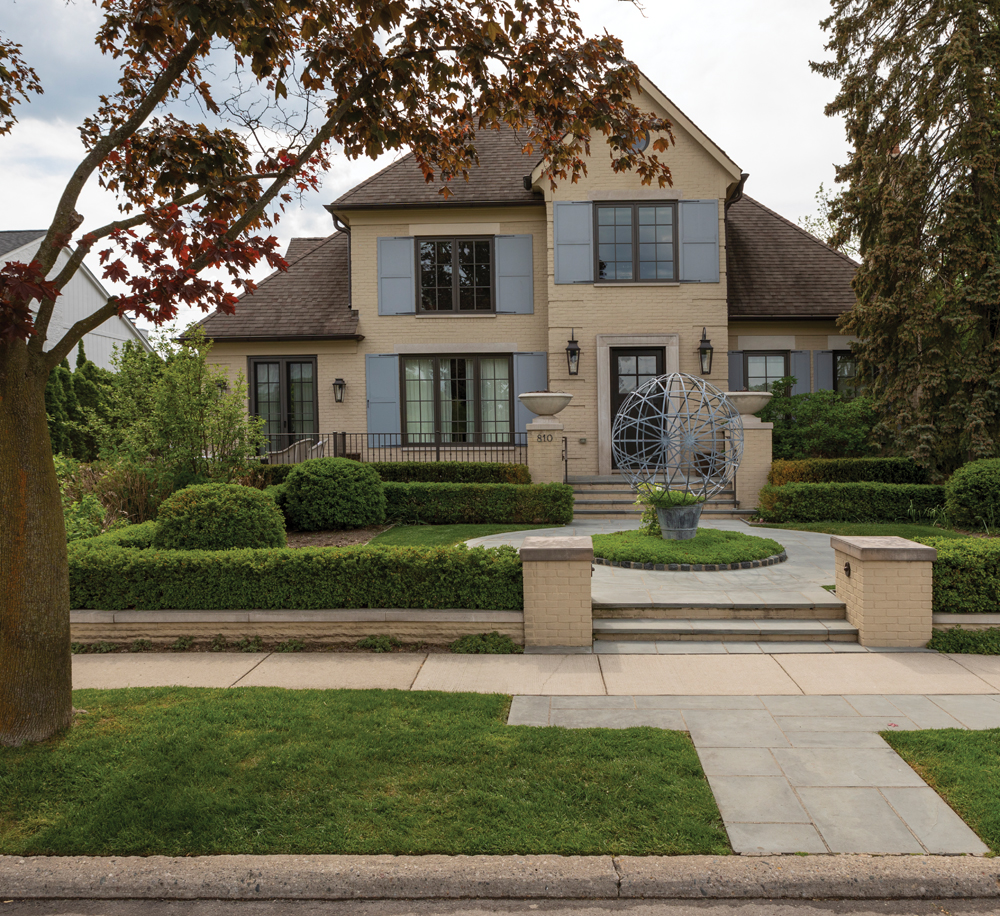 "A Chanel suit with sneakers" is how Boca Raton, Fla.-based designer Jamie Herzlinger describes the house she recently designed for Dr. Nicole Teifer of Today's Orthodontics; her husband, Steve Milot; and their two West Highland terriers, Lily and Spike. The couple had been living in a larger house in Plymouth Township and thinking about renovating when they fell in love with the four-bedroom Birmingham house built in 1989.
"We actually weren't even looking," Teifer explains, adding that she and her husband had been researching renovation ideas online when they came across their current house on Zillow. That chance encounter led them to start thinking about moving rather than renovating, she says. They toured the home with realtor Lora Kazanjian. "We liked that the work had already been done and all we had to do was decorate," Teifer explains.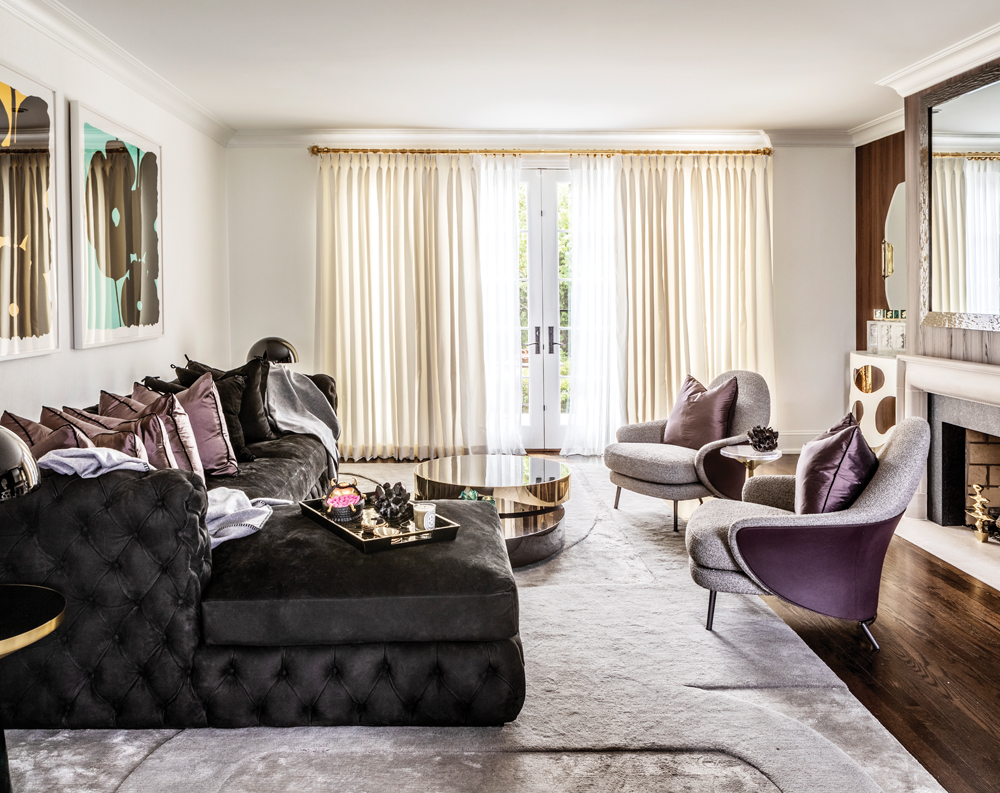 That's where Herzlinger came in. The designer had worked with the couple on a former vacation home in Arizona and understood their taste, which she describes as fashion-forward. "Nicole likes gorgeous, upscale, modern, and classic," Herzlinger explains. "She's glamorous and wanted a glamorous interior."
Teifer was equally complimentary about the designer's work and her vision for the project. "Jamie does a lot of unique things, things that make a statement," she says. "We've always liked that. We also like that she chooses interesting pieces that don't always fit into one style."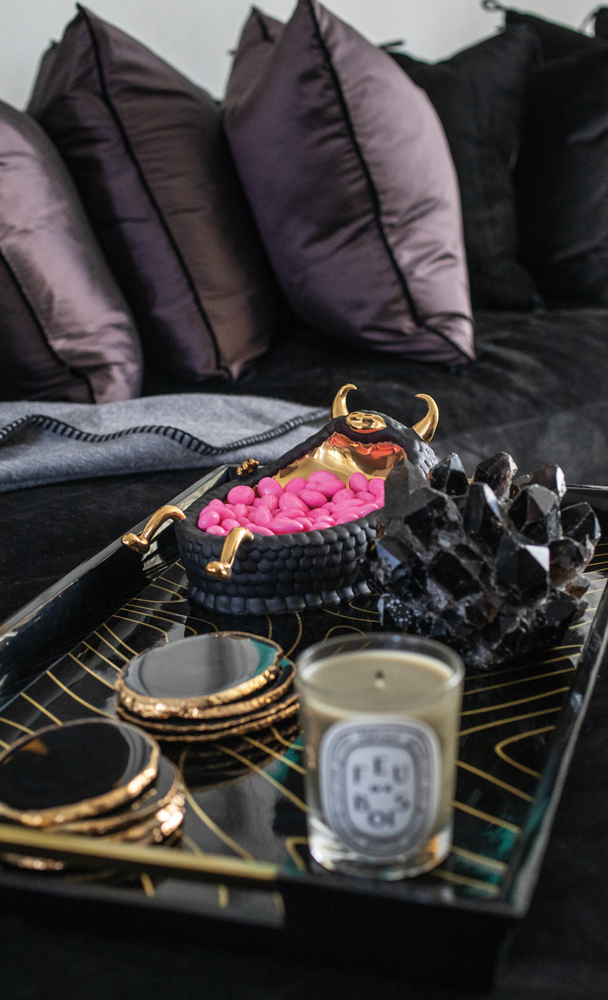 After the couple bought the house in 2020, Herzlinger "jumped right in," she says. While she works all over the world, the designer had never been to Birmingham before the home's installation. She was impressed by the house and the neighborhood's many attributes, including its central location. "It's on a beautiful tree-lined street near a park," she says. "It's stunning, within walking distance of everything."
Even though the house represented the best of Birmingham, the designer wanted the interiors to incorporate influences from around the country. "I wanted to highlight the best artisans of today who are working in places like Los Angeles, New York, Chicago, and Florida," she says.
She also wanted to tweak tradition throughout the home, she says, interpreting and updating classic style in a modern way. Examples include the living room's Chesterfield sofa, done in black suede; the dining room table, which has a classic marble slab on a contemporary gold square base; and velvet chairs that feature an unexpectedly modern shape. "How to make old new was a major part of the philosophy and drove the project," the designer says. "We kept asking ourselves, 'How do we make classic fun?' That question, and the results, drove the entire project."
Herzlinger helped the couple with the breakfast room, entry, living room, and master bedroom, working with them when it came to choosing paint, wallpaper, chandeliers, and "all the good stuff," she says. After living in a "kind of dark" former home, the couple was looking to lighten up. "We really wanted something light and bright," Teifer explains. She likes that many of the pieces look like jewelry, including lighting, fixtures, and draperies.
Favorite furnishings include the dining room table, with its chunky contemporary base — something Teifer says is "so unique, very blingy, and different with great texture. I just love it." She also loves the master bedroom, especially "the wallpaper and the feel of the leather on the bed," she raves, adding, "it's so soft, it feels like butter."
The project took about eight months to complete, Teifer says. Herzlinger worked remotely during the pandemic, which added its own set of challenges, but none proved unsurmountable, according to the designer, who says she's used to working long-distance. Teifer says aesthetics were important, but so was comfort. "We wanted the house to be glamorous and beautiful, but also livable. We love to spend time here with the dogs and just chill out."
She admits to only one regret: "I'm sad that it's over," she says. "I'd like to start again, but I would still want the same stuff. There's not one thing in this house I don't love 100 percent."
---
HEIRLOOM TREASURE
Poppies Add Pop: While there are few official antiques — defined as more than a century old — in her clients' Birmingham house, designer Jamie Herzlinger insists that more recently made items can also qualify as heirlooms. She points to the Donald Sultan prints in the living room, above right, that she purchased from the David Klein Gallery. "Poppy prints are very famous and indicative of the 1970s pop art movement," she explains. "They're cheerful and happy and collectible. That's why I chose them." — KZ
---
BUYER'S GUIDE
INTERIOR DESIGNER
Jamie Herzlinger, Jamie Herzlinger Design, Boca Raton, Fla., jamieherzlinger.com
BEDROOM, MASTER
Bed Frame – Designer Furniture Services, Pontiac
Bedding – Graffiti, E. Braun & Co.
Chandelier – Halo
Chest, Bedside – Capiz Shell, John Lyle Design
Drapery – Lee Parker Inc.
Lamp, Table – Diamond Lamp, Bella Figura, MADE Resource Group
Mirror – Custom, Jamie Herzlinger Design
Plaques, Selenite – Ron Dier Design, MADE Resource Group
Rug – Snake, Art + Loom
Sculptures, Crystal – Stromberg, The End of History
Wallpaper – Custom, StudioElnc
Wallpaper, Ceiling – Indigo, StudioElnc
DINING ROOM/FOYER
Bench – Madeline Stuart, Jerry Pair
Chairs, Dining – Artistic Frame
Chandelier – Bijout, Serip, Jerry Pair
Sconce – Giotto, Matthew Fairbank Design
Table, Dining – John Lyle Design
Wall Paint – Benjamin Moore, Chantilly Lace
Wallpaper – Mallow, Phillip Jeffries
KITCHEN
Bar Stools – Artistic Frame
Centerpiece – L'Objet
Chair, Dining – Custom, Artistic Frame
Chandelier – Sapphire, Joseph Pagano Studios
Chest – Nicchi, Natasha Baradaran, J. Nelson
Drapery – Lee Parker Inc.
Geodes – Kathryn McCoy
Glasses – Baccarat
Lamp – Sway Lamp, Porta Romana, Jerry Pair Atlanta
Lighting, Island – Axis Linear, Hammerton Studio
Painting, "LOVE" – Jane Waterous
Sculptures – Salvador Dalí
Table, Dining – John Lyle Design
Vase – Lalique
Wall Paint – Benjamin Moore, Chantilly Lace
Wallpaper – Marshmallow Hemp, Phillip Jeffries
LIVING ROOM
Armchairs – Angie, Minotti
Artwork – Donald Sultan, David Klein Gallery, Birmingham
Dish, Decorative – Haas Brothers, L'Objet
Geode – Kathryn McCoy
Geode Sculpture – Ron Dier Design
Lamp, Table – Atollo, Minotti
Mirror – Caste, Holly Hunt
Pillows, Purple Accent – Custom, Jamie Herzlinger Design
Rug – Mod, Art + Loom
Sofa – Custom, Lee Parker Inc.; Fabric, Suede, Garrett Leather
Table, Coffee – Benson, Minotti
Table, Occasional – Droplet, John Pomp Studios
Tray – L'Objet
Wall Paint – Benjamin Moore, Chantilly Lace
Wallpaper – Mallow, Phillip Jeffries
Wallpaper (fireplace) – Wood, Essence de bois, Elitis, MADE Resource Group