---
By Khristi S. Zimmeth | Photos by Martin Vecchio
You can't please all of the people all of the time, but sometimes you can come pretty close. 
Lauren Tolles took everyone's needs and interests into account when designing and building a downtown Birmingham home for her family, which includes her husband, Bryan; children Matheson, 5, and Piper, 1; a 14-year-old dog named Koa; and an au pair named Emily.    
"Each member (and future member) of our family was taken into consideration," the designer and owner of  Maison Birmingham explains of  the property, which she and her husband purchased in 2015 and moved into in 2017. Initially Tolles tried to work with the existing ranch, but ultimately decided to start from scratch. While she and her husband couldn't save the house, they preserved a beautiful maple tree in the yard. "That tree was a large reason we fell in love with the lot," she explains.  
Maison Birmingham, Tolles' company, creates innovative kitchens and bathrooms that are unique to each client. "While the majority of our projects are kitchens and bathrooms, we welcome any project that requires quality, well-designed cabinetry (such as closets and mudrooms)," she says. Naturally, her six-bedroom, 5,500-square-foot home features all of that and more. Although the designer says the home's style is "contemporary Colonial," the overall feel of the home was inspired by travels in Scandinavia. 
"I like a clean palette and space, but also yearn for that 'hygge.' Even the exterior of our home has plaster over brick — something I saw in Denmark and fell in love with. The subtle texture of brick underneath the plaster creates both interest and warmth," explains Tolles, who recently opened her doors to attendees of the Birmingham Home Tour, hosted by The Community House.
Inside, the family's priorities were twofold. "We wanted the home to be elegant and great for entertaining, but also extremely family-friendly and good for small children. Most of our friends have young children, and we like them to be comfortable here," Tolles says.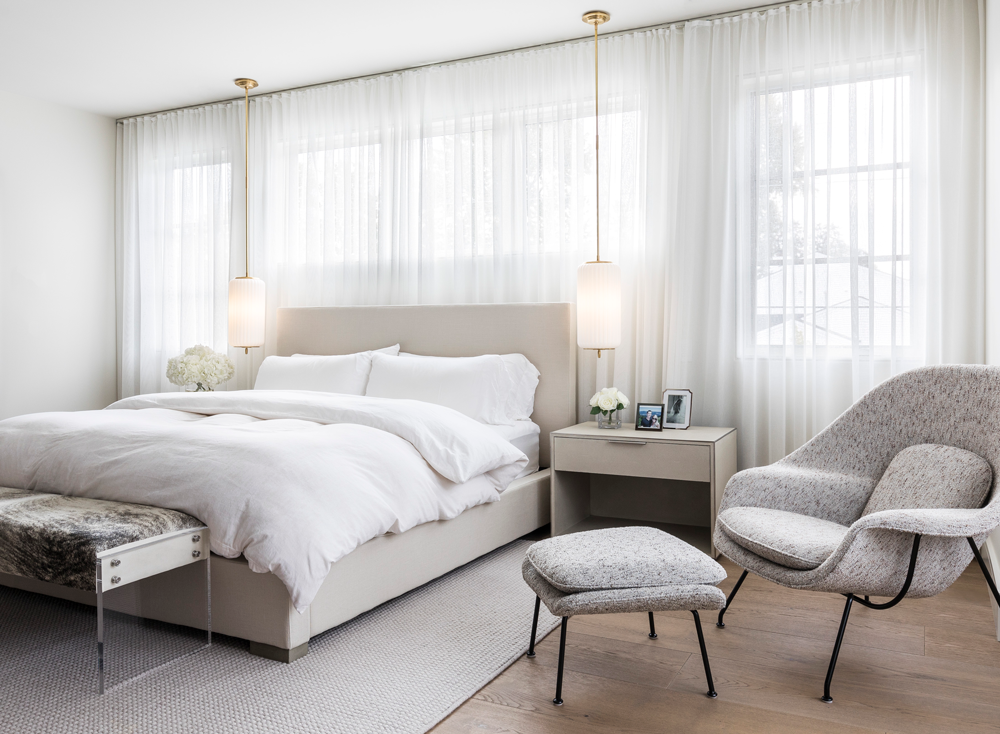 Those priorities are seen not only in the home's contemporary casual décor, but also in its floor plan. Designers Wendy Silverman and Jennifer Loftis consulted with Tolles on the house and "acted as a great sounding board," Tolles says. Meanwhile, Patrick Thompson Design of  Detroit consulted with the Tolleses on the living room, office, and basement "when I needed a fresh perspective," she says. "Patrick helped us tweak furniture layouts in those spaces, and worked with me to develop palettes incorporating pieces we already owned, and suggestions for new ones as well. He's the best!" Brian Howard, of HF: Architecture, also signed off on the plans. "I laid out the house so the front, as you enter the front door, is more formal and really meant for entertaining," Tolles says. A dining area, office, and a conversation/living area are located on the home's streetside. Past the front stairs is the intimate and informal family area — a 700-square-foot open space that contains a casual eating area, kitchen, and family room. 
"My husband and I love to cook, and we cook most nights of the week, so we have a large kitchen that's open through the breakfast area, all the way to the family room. This is where we spend most of our time. As a family with young children, being able to live primarily in this open area with space to eat and play is perfect. The kitchen is wonderful because it really is a true chef's kitchen, but you would never know it since everything is well-hidden behind beautiful cabinetry and panels." The same concept is true in  the nearby family room, where black arched cabinets offer both a glass display area and hidden toy storage. ("Yes, they're full of toys," Tolles admits, adding  that it would be "totally impractical to ban toys from the space purely because of aesthetics.") Sliding walnut panels hide the family's television. "Most people don't even realize we have a TV in that room," Tolles says. "We like not staring at a black box and also, because the TV isn't staring us in the face all the time, we watch far less of it."
The second floor includes four bedrooms and three baths, as well as a functional child-focused landing area the family refers to as a nook. Initially planned as a play area, it now includes separate work spaces for homework and school projects; ample storage for toys, arts, and crafts; and a hidden TV that looks like a painting. "It's surrounded by colorful, spunky artwork, murals, and whimsical sheep that will hopefully spark creativity," Tolles says of the space.
The third floor houses a one-bedroom au pair apartment. "When Emily needs a break, she has a space to retreat to," the designer explains. "The apartment has a Scandinavian feel with a light, neutral palette and warm, layered materials. It's actually very stylish, but cozy. I wanted to create a smaller, more intimate version of our home in the apartment, so that whomever stayed there still felt that they had the same elegance that continues throughout the rest of the home."
While she has designed many houses for clients, this was the first Tolles has done for her own family. Her master's degree in architecture and interior design study definitely came in handy, Tolles says. "Designing and building your own home, and designing everything from the architecture, cabinetry — every detail, down to a custom dresser in the nursery — is certainly a labor of  love. We designed it to fit our needs. I also designed it so there's flexibility in bedrooms, and we have the ability to finish unfinished areas of the home at a future time. The point is, we should never outgrow it."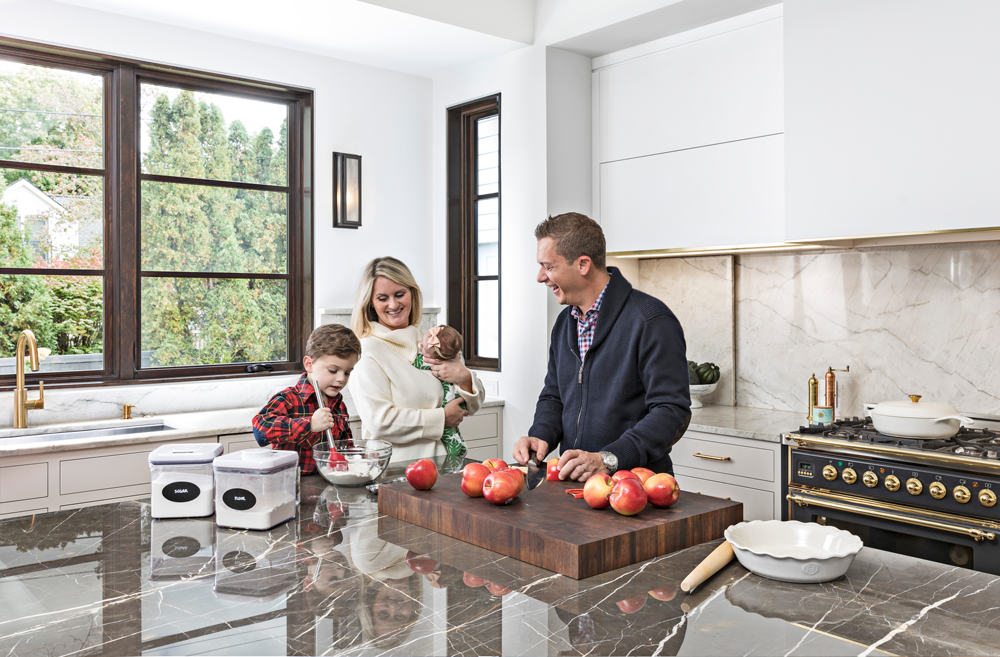 Tolles says she hopes the family is there to stay: "I like to think this is our forever home," she says.  
---
In The Details: Resource Guide
Interior design, Lauren Jennifer Tolles, ASID, Maison Birmingham, Birmingham, maisonbirmingham.com.
Landscape design, Michael J. Dul & Associates, Birmingham, mjdul.com.
Countertops, some tile, basement bar Sicis backsplash, Ciot, Troy, ciot.com.
Plumbing fixtures, Wittock, Birmingham, wittock.com.
Most appliances, Witbeck, West Bloomfield, witbeckappliances.com.
Wide plank Boen wood floors, Everlast Floors, Waterford, everlastfloors.com.
Most light fixtures, City Lights/Visual Comfort Showroom at Michigan Design Center, Troy, citylightsdetroit.com.
Wine racks, Vintage View, vintageview.com.
Master bath, guest bath, and lower-level bath floor tile, Ann Sacks, Michigan Design Center, Troy, annsacks.com.
Tile, mudroom, and basement bath/shower, Beaver Tile, Michigan Design Center, Troy.
All carpet and rugs in office and master bedroom, Ghiordes Knot, Michigan Design Center, Troy, ghiordesknot.com.
Exterior stonework and fireplace, Albaugh Masonry, Troy, albaughmasonry.com.
Some large artwork, Library Street Collective, Detroit, lscgallery.com.
Roofing material, Enviroshake, enviroshake.com.
Dining table/green sofa, Arkitektura, Birmingham, arksf.com.
Informal dining table and womb chairs, Knoll, knoll.com.
Eames chairs in living room, Herman Miller, hermanmiller.com.
Most wallpaper, Holly Hunt fabric in family room sofas, Tennant & Associates, Troy.
Tub chair fabric, drapery fabric, Robert Allen/Duralee, robertallendesign.com.
Family room tub chairs, Donghia, donghia.com.
Entry bench, Jean de Merry, jeandemerry.com.
Pantry organization, Lauren Combs, NEAT Method Detroit, Bingham Farms, neatmethod.com.