Sue Conway says she adores Christmas, because "it's all about friends, family, and fun." This year, it's also about MacKenzie-Childs.
"When it comes to decorating my home for the holidays, I like to do different themes every year and I start doing it right after Thanksgiving," the Birmingham resident says. "This Christmas, the whole house is about MacKenzie-Childs. I got the idea from a display at Neiman Marcus."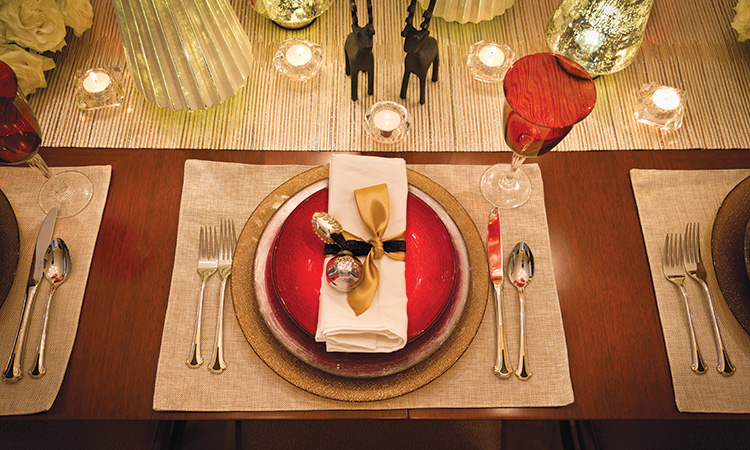 Established in the 1980s and based in New York, MacKenzie-Childs is a designer, manufacturer, and multichannel merchant of handcrafted ceramics, enamel tableware, furniture, and accessories. The brand is best known for designs that combine vibrant colors and pattern-on-pattern surface decoration to create an original aesthetic. The black-and-white check is one of its most iconic patterns. Conway went MacKenzie with everything from ribbon, ornaments, and tree toppers to skirts for both the great room and the dining room trees.
Those trees also include favorite ornaments that Conway's three now-grown children have made, as well as ornaments the family has received as gifts.  And here's a nice touch:  Every year, décor items that will no longer be used are donated to local charities.
Even though the children now range in age from 18 to 25, "on Christmas Eve we still put out milk, cookies, and a peanut butter and jelly sandwich for Santa, plus carrots for the reindeer, because I tell them, 'You must believe to receive,' " Conway says with a smile.
The 25th of December is an all-day celebration chez Conway.
"We wake up early and open some presents, then the kids empty the stockings (which are emblazoned with their names) that they've had since they were very young. (After that), my parents come over and we open presents again and watch family Christmas videotapes that go way back," Conway says. Later, dinner is served in the dining room at a festive table set with gleaming gold placemats and chargers, plus red ceramic plates and red crystal wine goblets. A nearby credenza is topped with a MacKenzie-Childs pre-decorated faux evergreen swag to which Conway adds lots of candles.
"Sue (Conway) loves to deck out her home for all the holidays, so my design mission was to create a pretty neutral background so that any color scheme she brings in works," says Conway's interior designer, Shirley Maddalena of Maddalena Design in Birmingham. "I'm inspired by her holiday enthusiasm and by her ability to create such a wonderful atmosphere." Conway says that because she is so completely happy with the MacKenzie-Childs theme, she may very well break her non-repeat rule and do it again.