When Doug DelGrosso started looking for a house a few years back, he was thinking of settling in Birmingham; its urban vibe reminded him of Europe, where he had lived for three years. His son convinced him otherwise. Why not find a place on a lake, he suggested. DelGrosso said, "OK, find me a house." His son complied, and zeroed in on five great prospects. As it turned out, one of those potential homes turned out to be The One. DelGrosso liked its great bones, beautiful craftsmanship, natural light, view of Sylvan Lake, and the fact that there was lots of space for his son, Giorgio; daughter, Elle; and Bella, his beloved Wheaton terrier.
Plus, as a friend mentioned to him, when his children grow older — Elle is 21 and Giorgio is 18 — "if you have a place on a lake, the kids will visit because they'll have something to do."
DelGrosso, president and CEO of Southfield-based automotive supplier Chassix, was wowed during a walk-through with the owners, a retired doctor and his wife who built the classic Hampton-style, four-bed, five-bath house in 1995 and had decided to move to Florida. The 6,100-square-foot home was designed by Richard Bos, architect for Mackinac Island's Grand Hotel renovation, and was built by Bloomfield Hills' Joel Lerman. It features wide-plank pine floors, a library with a private deck, two fireplaces, a sunroom with French doors leading to the deck, and a light-filled lower-level walkout.
"Being an engineer," DelGrosso says, "their pride in the house got me really engaged." On top of that, he says, "it was move-in ready."
There was just one thing DelGrosso wanted to change, and he needed to do it right away: He wanted to add lots of bright, happy colors, and give the home a modern motif. He met with Grosse Pointe designer Tami Kessler, daughter of the late, great modernist architect William Kessler. Tami, of Tamara Kessler and Associates, was given free rein to work her magic.
"He really didn't have much furniture, which was great from a design standpoint," Kessler says. That also meant she had to work double speed to get her client some furnishings in a hurry, and to be able to make enough headway that DelGrosso could throw a Christmas party at his new lakeside residence. In less than three months, Kessler, her assistant, Sarah Gilpin; upholsterer, Vanderlip Upholstery; and contractor, Albert D. Thomas — both of  St. Clair Shores — completed phase one, and the party was a success.
Kessler pulled together many famous modern furniture names — Knoll, Saarinen, Le Corbusier, Eames — for some of the tables and seating options. For the dining area, she paired a 10-foot-long table with a concrete top with comfy, high-back chairs in shades of lime. She updated all of the hardware on the cabinets in the well-appointed cook's kitchen, and custom-designed many other pieces along the way: low, cushy sectional sofas — one a brilliant orange — that play off the large-scale, multihued contemporary art on the walls; and a towering headboard and platform bed frame for the master bedroom in shades of lime, echoing the lime in the room's textured gray carpet, which is made to resemble a patio with grass. Kessler says her custom pieces could be made fast and with more flexibility because they're local and, as she puts it, "incredible."
"I love to do traditional with flair, lots of color, great lighting," says Kessler, who made a splash on all counts in this home. Upstairs, looking down from the balcony, three large white-netted globes float above the dining table, filling the two-story space. Everywhere, pops of color reminiscent of luscious fruit — lime, orange, yellow — meld with textured custom-designed pieces such as cubed ottomans, fluffy shag pillows, vivid rugs, and stunning high-tech lighting.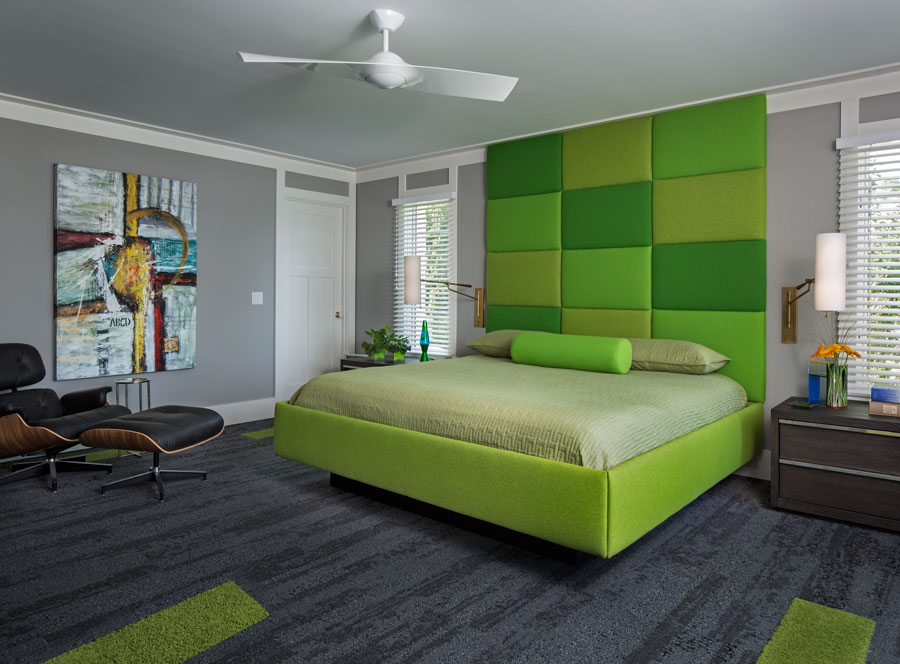 The main floor powder room, painted in shades of turquoise and lipstick red, is a showstopper. The architectural arch by the toilet was the inspiration for the round mirror, disc-shaped glass faucet, and tapered pedestal sink. The wall behind the toilet is done in Bisazza tiles, which are gel-grouted to produce a luminous effect.
The second level, accessed by a cutom-built, paneled staircase, features an office; a swanky glass-doored, temperature-controlled wine room; and an adjacent lounge with river rock floors and black leather-and-chrome Le Corbusier chairs and a sofa. Kessler punctuated the space with colorful rows of shiny glass mosaic tiles. Two bedrooms on either side mirror each other, with arched windows, huge walk-in closets, and vintage Detroit posters on the walls.
The lower level, with renovations still underway, features a kitchen with a lime-green quartz countertop, a theater-size flat-screen TV, a fieldstone fireplace, a mirrored exercise room filled to the max with professional equipment, a large bedroom, a cedar closet, the second of two laundry rooms (another one is on the main floor), and, just outside, a bluestone patio that surrounds a large fire pit with blue glass. The lush landscaping was already in place, and so was the boat launch — perfect for pushing off in the family's pontoon.
For DelGrosso, the move to the lake couldn't have been luckier. It's not only a place where his kids can feel comfortable when they visit during college breaks, but it gives him plenty of comfort, too.