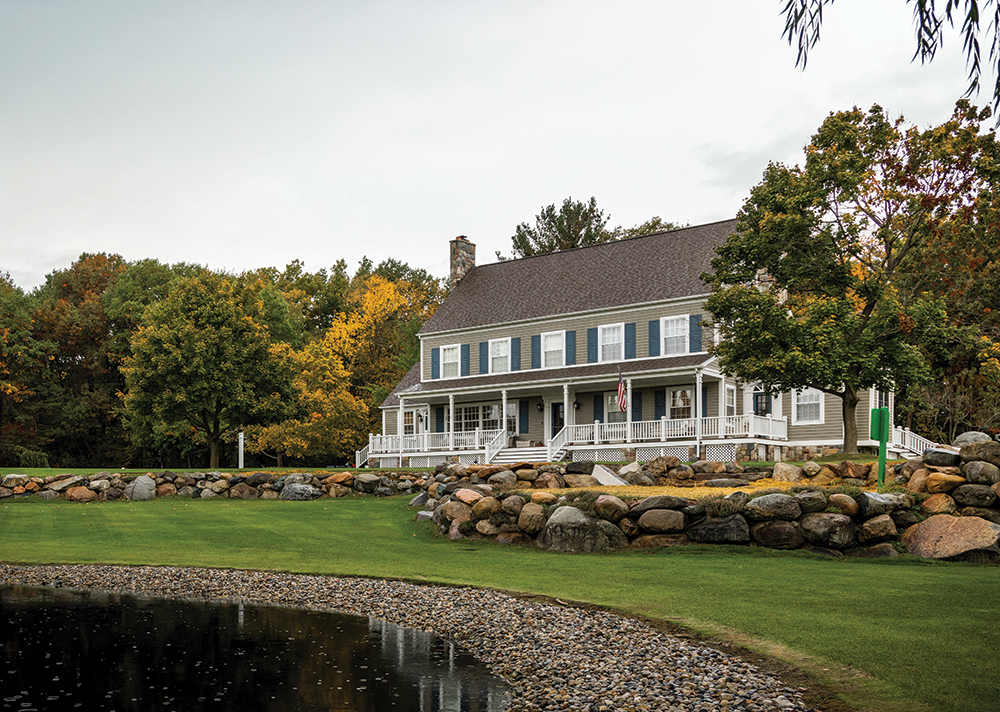 ---
---
It was time. After this couple had been living on their 150-acre Rochester property for some three decades, they decided to overhaul the home and one of two guest houses on their gorgeous parcel of land.
"We began reconfiguring and redesigning the home in 2019," says Lisa Petrella, owner of Troy- and Detroit-based Petrella Designs. "There were little hallways going nowhere; I don't think they'd touched it in 20 years." She launched the guest house redesign in 2022.
Today, the two homes ooze with a welcoming, family-friendly vibe that's dipped in classic appeal and features dashes of comfort, all while maintaining top-of-the-line quality. The end result is no surprise, given Petrella's reputation as one of the area's most sought-after designers. She has a knack for creating layered, masterpiece spaces (adorned with luxe details at every turn) that are friendly and inviting. While she ensures that nothing is too fussy, she guarantees that it's all extremely classy.
"The clients wanted just about every corner touched — every room and every bathroom," Petrella says. They moved out of the main home for an entire year, and lived in the second guest house during the overhaul.
Petrella worked with some of her favorite design partners for the main home, including Eric Vogler Construction of West Bloomfield and designer Dave Peterhans, who recommended Petrella for the interior design.
One of the most significant overhauls was the kitchen, which was made more accessible to the dining room. "We opened the kitchen and made the entire space inviting," Petrella says, noting that the kitchen now showcases a gorgeous wood island and a statement light fixture above the island. "It was an L-shaped space with a peninsula and was very awkward," she says. "And they both cook, so they needed beauty and practicality."
The cabinetry was designed by Peterhans and built by Vogler. "Dave designed for restaurants in the past and the owners knew him from their professional lives," Petrella says, adding that the kitchen plan encompassed a lot of teamwork. "We worked on this together. I came up with the plan and layout, Eric built the cabinetry, and Dave incorporated the texture on the island."
The homeowners love antiques, so a wall of vintage cookie molds has special appeal. "I picked those up in Williamston at an antiques shop," Petrella recalls.
Other notable changes include a reconfigured primary suite with designs Petrella oversaw. A wall behind the bed leads to the hallway, new closets, and the bath area.
Big changes included expansions on two sides of the house. On one side, a new library was built, while on the other, a canning room was added. "He (the homeowner) has many gardens, and he cans all his tomatoes as well as other items," Petrella says. Peterhans' magic touch, including the millwork, is showcased in this space. Brick tile floors, pendant light fixtures, inviting barstools for guests, and a hanging rack over the island to store harvesting baskets add to the room's appeal.
As for the library, Petrella says she adores its funky, tall, carved wood chair from Theodore Alexander. "We saw it when we were out making some selections, and I told the homeowner it would look fantastic in the corner of the library and would be a great statement piece. When she sat in it, she said it was very comfortable, and not what she expected."
In the lower level, Petrella orchestrated a moody look. Peterhans developed architectural designs to incorporate a variety of materials, including a wood bar milled from trees on the property. "Eric built that, as well as all the paneling, which was also made from trees on the property," Petrella says.
All of the home's new cabinets and millwork were made by Vogler at his shop, and were a critical component of the project. "Much of what they had in the way of cabinetry was outdated," Petrella notes.
"Overall, the homeowners let me do what I wanted. I just needed to be sure to use (the color) green, because she loves green," Petrella says with a smile, pointing out a beautiful green mohair sofa in the living room. The designer says the wife also wanted a wallpaper mural in the master bath.
Golfers are sure to be a tad envious of the homeowners' three-hole golf course. Par-3, par-4, and par-5 holes make for lots of fun come party time. A charming red barn, in which the homeowners lived before they built their current home, adds to the property's entertainment value.
The two guest houses are historic Sears, Roebuck and Co. kit homes. (Sears, Roebuck and Co. sold more than 70,000 kit houses through their catalogs from 1908 through the 1940s. By the middle of the bungalow era, a host of companies offered pre-cut kits, which were shipped by rail for on-site construction.)
The guest house Petrella refurbished includes two bedrooms, two baths, an inviting sitting room with a big stone fireplace, and a full kitchen.
Nearly all the rooms in the main house feature high-end window treatments. "I love drapery in a home," Petrella says. "It's the finishing touch that makes a room complete and cozy." She says when you mix that concept with great millwork, you have a winning combination. "Millwork is a foundation for all interior design; you build from there by layering furniture and fabrics," she asserts.
As for challenges, Petrella says there really weren't any. "It was just a large undertaking with many decisions to be made, but the team and homeowners worked very well together to make all of the selections in a timely manner, which kept the project moving forward smoothly."
---
---
BUYER'S GUIDE
INTERIOR DESIGN
Petrella Designs, Troy, petrelladesigns.com
BATHROOM, POWDER
Cabinet – Petrella Designs, Troy; Eric Vogler Construction, West Bloomfield
Sink – Advance Plumbing and Heating Supply Co., Walled Lake
Wallpaper – York Wallcoverings
BATHROOM, PRIMARY
Bathtub – Victoria + Albert, Advance Plumbing and Heating Supply Co., Walled Lake
Wallpaper – Brunschwig & Fils, Kravet | Lee Jofa | Brunschwig & Fils, Michigan Design Center, Troy
BEDROOM, GUEST HOUSE
Bed – Four Hands, Petrella Designs, Troy
Blinds – Schumacher
BEDROOM, PRIMARY
Bed Frame – Kravet, CAI Designs, Michigan Design Center, Troy
Bedding – Tennant & Associates, Michigan Design Center, Troy
Cabinetry – Custom, Petrella Designs, Troy
Chair – Hickory Chair, Petrella Designs, Troy
Chest – Hickory Chair, Petrella Designs, Troy
Drapes – Schumacher, Michigan Design Center, Troy; Accent Custom Drapery, Sterling Heights
Flooring – Stark Carpet, Troy
Lamp – Visual Comfort, Ray Lighting, Sterling Heights
Ottoman – Hickory Chair, Petrella Designs, Troy
Wall Paint – Benjamin Moore, White Down
CANNING ROOM
Cabinetry – Custom, Eric Vogler Construction, West Bloomfield
Flooring – Virginia Tile, Troy
Lighting – Visual Comfort, Ray Lighting, Sterling Heights
Stool – Four Hands
CARD ROOM
Chairs, Dining – Hickory Chair
Chandelier – Currey & Company
Curtains – Holland & Sherry
Table, Game – Woodbridge, Petrella Designs, Troy
CLOSET, PRIMARY
Flooring – Stark Carpet, Troy
Light, Ceiling – Visual Comfort, Ray Lighting, Sterling Heights
Millwork & Walls – Custom, Eric Vogler Construction, West Bloomfield
DESK SPACE, GUEST HOUSE
Baskets – Four Hands
Blinds – Schumacher, Michigan Design Center, Troy
Chair – CAI Designs, Michigan Design Center, Troy
Desk – Four Hands, Petrella Designs, Troy
DINING ROOM
Chairs, Dining – Hickory Chair, Petrella Designs
Chandelier – Visual Comfort, Ray Lighting, Sterling Heights
Curtains – Chinois Palais, Schumacher, Michigan Design Center, Troy
Flooring – Stark Carpet, Troy
Table, Dining – Woodbridge, Petrella Designs, Troy
ENTRYWAY
Break Front – Hickory Chair
Chair, Host – Lee Industries
Lamp – Bunny Williams Home
Wallpaper – Phillip Jeffries, Tennant & Associates, Michigan Design Center, Troy
KITCHEN NOOK
Blinds – Hunter Douglas
Drapes – Schumacher, Michigan Design Center, Troy
Wood Molds – Antique, Antique Markets of Williamston, Williamston
KITCHEN NOOK, GUEST HOUSE
Lighting – Visual Comfort
LIBRARY
Chair, Accent – Theodore Alexander, Michigan Design Center, Troy
Drapes – Thibaut
Flooring – Stark Carpet, Troy
Pillow, Accent – Pollack Jab, Rozmallin, Tennant & Associates, Michigan Design Center, Troy
Sofa – Hickory Chair
Table, Coffee – Woodbridge
Wall Sconces – Visual Comfort
LIVING ROOM
Break Front – Theodore Alexander, Michigan Design Center, Troy
Chair, Swivel – Hickory Chair
Chair, Wood – Hickory Chair
Drapes – Holland & Sherry
Lamps – Bunny Williams Home
Pillows – Schumacher, Michigan Design Center, Troy
Sofa – Hickory Chair, Petrella Designs, Troy
Table, Console – Woodbridge
Table, Side – Woodbridge
LIVING ROOM, GUEST HOUSE
Lighting – Visual Comfort
Stool – Wayfair
Wall Paint – Benjamin Moore, Simply White
Window Treatment – Schumacher, Michigan Design Center, Troy
ADDITIONAL CONTRIBUTORS
Architect – Dave Peterhans, Architectural Interiors, Bloomfield Hills
Builder – Eric Vogler, Eric Vogler Construction, West Bloomfield
---
---
Text by Megan Swoyer | Photography by Martin Vecchio