The Kracht family had lived in their West Bloomfield home on Pine Lake for about two months when they discovered some damaging leaks.
"We had ice damming, and unbeknownst to us it had been going on years prior to us moving in. It caused rot, mold, and more," says homeowner Erin Waligora Kracht.
So for three and a half years, she and her husband and children moved from a hotel, to an apartment, to a rental home, and then to another apartment, while their lakeside dream home was undergoing a complete restoration.
"They found years of ice damage and black mold," recalls Kristen Eleni Shellenbarger, the couple's interior designer and owner of Bloomfield Hills-based Iron Key Designs.
Shellenbarger was initially brought on just to help with kitchen repairs from the water damage. At that time, she worked for Artichoke Interiors. "I ended up working with the Krachts for nearly three years," she says. "The home had to be gutted, and we completely remodeled it. The entire house (except for the foundation) was rebuilt."
Erin and her husband, Eric, who have three children (two of whom were born during the remodeling process), wanted a home with organic elements that would exude a natural appeal. "We love the beach and water," says Erin, who grew up on a lake in Fenton and also loved the years she lived close to the water in California. Her husband, who once lived in Hawaii, also has a penchant for waterside living. "We call the home a 'modern beach house,' " Shellenbarger says. Indeed, with its Malibu feel, it appears as if the house was plucked right off of California's Pacific Coast Highway.
On the outside, the team did away with what Shellenbarger calls "1980s funky curves," glass blocks, and most of the stucco. "We used a new Hardie board cladding in a navy paint," she says.
The Krachts called on Birmingham-based DesignTeam Plus to help with the architectural end of things. "Harold (Remlinger, principal architect) was brilliant and knowledgeable," Erin  says. "It was his idea to use different materials, like metal on one side, that breaks it up." Two decks (one off the master suite and one off the family room) look out to the lake.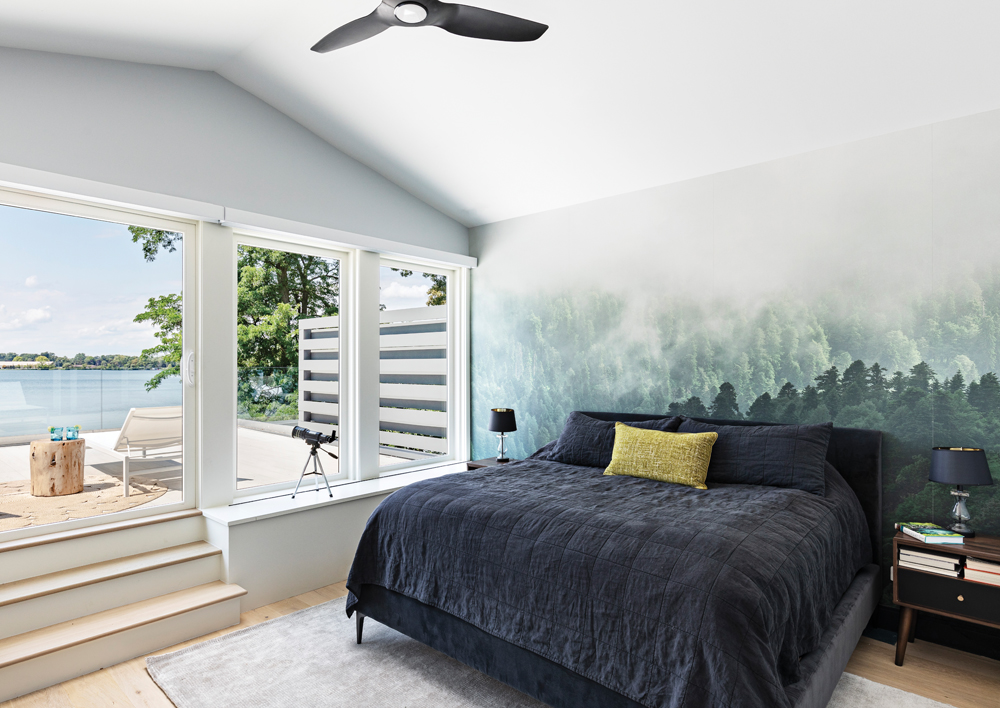 Mother Nature's touch is evident throughout the interior. As for the palette, the couple and their designer went with predominantly blacks, blues, and neutrals, including lots of wood. "There are natural wood textures throughout, which look great with the black. To bring the water in, we used turquoise, teal, and blue tones," Shellenbarger says.
In the kitchen, a shiplap island in matte black complements counters made of wood from Tree Purposed, based in Livonia. The wood gives the space a warm feeling, says Shellenbarger, who also points out that visitors immediately notice a support column in the island. "It helps support the second floor, so we embraced it and used it as an architectural element, adding shiplap," the designer says. The counters around the range are stainless steel.
The family loves to gather on what they call "the top floor," which is above the second floor and is a bonus room of sorts. It features a wall of pine boards that were stained several different colors, to give it interest. "We picked three different finishes and, rather than stack the wood, we staggered it," Shellenbarger says. A favorite spot for the children is a fairy-tale-like space just beyond a hidden door, which is built into the wood (previously, the space was a closet). There's also a banquette reading area.
On the second floor, the designers were able to create a new hallway so you don't have to go through rooms to get to another space. There's a Jack-and-Jill bath with two vessel sinks, a bath with a trough-like sink, and bedrooms for the kids. There's also a master suite.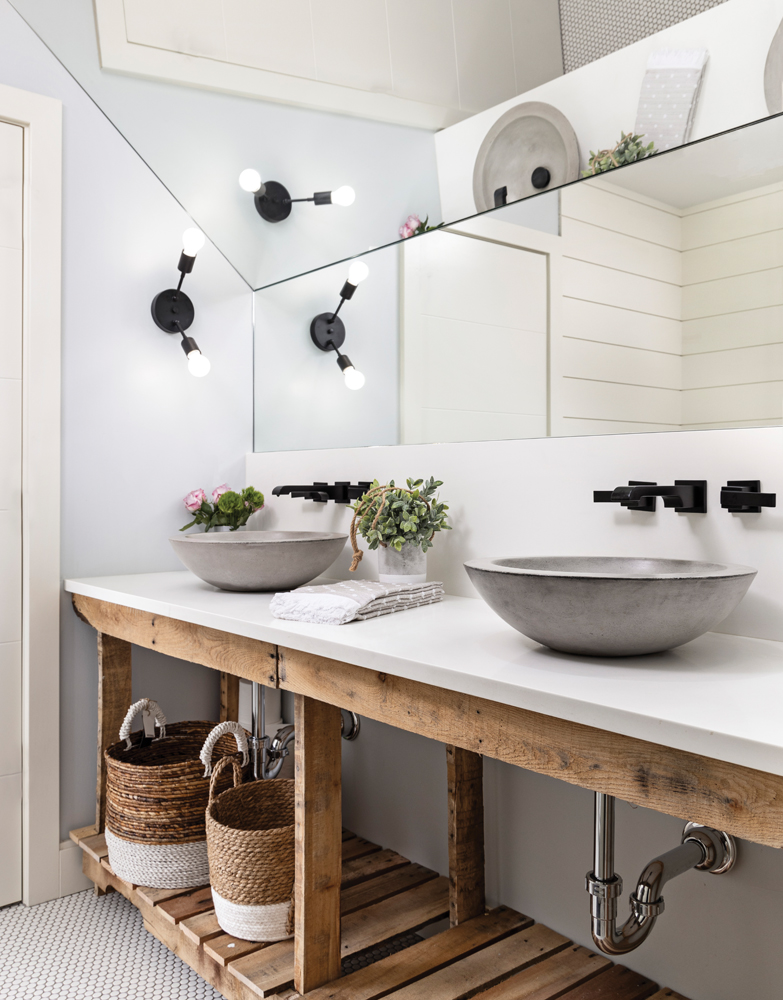 Laundry spaces include one in the basement and an added one on the second floor. "At first we were thinking it could be a nursery or playroom, but then we thought, let's do a second-floor laundry," Shellenbarger says. With custom-built matte black barn-style doors, simple white subway tile, touches of turquoise, and a quartz countertop, it's a peaceful place in which to do laundry.
One of Erin's main goals was to have nearly zero maintenance, especially after the extensive length of time spent "under construction," she says. To that end, even the master suite deck materials offer easy care. "I wanted low or no maintenance anywhere I could have it," she says, "so we have aluminum deck flooring inspired by our aluminum dock."
What's more relaxing than the view? Perhaps the forest-themed wallpaper that hangs behind the couple's bed. "Erin read an article on forest bathing, and the concept is if you can be among trees or see trees, even if it's photography, you'll enjoy a calming effect," Shellenbarger explains. Adds Erin: "Plus, it lowers your blood pressure."
Continuing with the homeowners' desire to use wood throughout, the master bath and the hallway leading to the bath are wrapped in cedar beauty. "I was obsessed with the cedar," Shellenbarger says. "It added so much warmth." The shower tile is made of a lava stone, and the designer says: "It's supposed to be like a crystal in your home, and gives you positive energy."
When asked about her favorite spot in the home, Erin takes her time to answer. "That's hard," she says. "There are so many areas we love. I guess it has to be the lower-level family room. We sit there a lot and play with the kids, with the lake as our backdrop. We love to watch the sunsets from there."
Shellenbarger agrees that the family room is, indeed, an inviting gathering spot. "Erin was so much fun to work with," she says. "She had ideas, and we worked closely together to make them happen. We didn't want it to feel like a cold, modern house — and I think we accomplished that."
---
BUYER'S GUIDE
Kristen Eleni Shellenbarger, Iron Key Designs, Bloomfield Hills, ironkeydesigns.com
ARCHITECTURE
DesignTeam Plus, Birmingham
BATHROOM, BLUE SINK
Mirror – Ikea, Canton
Sink – Kohler Signature Store By First Supply, Birmingham
Toilet – Kohler Signature Store By First Supply, Birmingham
BATHROOM, MASTER
Bathtub – Kohler, Kohler Signature Store By First Supply, Birmingham
Countertops – Quartz, Stone For You, Oak Park
Shower Flooring – Ann Sacks, Michigan Design Center, Troy
Wall – Cedar
Walls, Tile – Virginia Tile Company, Michigan Design Center, Troy
BATHROOM, POWDER ROOM
Cabinetry – Shelby Cabinet Shop, Shelby Township
Countertop – Quartz, Stone For You, Oak Park
Mirror – Wayfair
Sconce – Sazerac Stitches, New Orleans
Sink – Bamboo, Signature Hardware, Kentucky
Wall Treatment – 3M Film On Window, Michigan Glass Coating Inc., Auburn Hills
Wall Treatment – Cole & Son, Kravet, Michigan Design Center, Troy
BATHROOM, TWO SINKS
Countertop – Quartz, Stone For You, Oak Park
Flooring – Porcelain, Virginia Tile Company, Michigan Design Center, Troy
Mirror – Reid Glass Co., Southfield
Plumbing – Delta Faucet, Wittock Kitchen and Bath, Birmingham
Sinks – Native Trails, Herald Wholesale, Troy
BEDROOM, MASTER
Bed Frame and Headboard – West Elm, Birmingham
Fan – Big Ass Fans, Kentucky
Wall Treatment – Murals Wallpaper, Etsy
ENTERTAINMENT/GAME ROOM
Backsplash – Pine, Iron Key Designs, Custom
Cabinetry – Shelby Cabinet Shop, Shelby Township
Carpet – Georgia Quality Carpet Outlet, Holly
Fan – Minka Aire, Herald Wholesale, Troy
Railing – Iron Key Designs, Custom, Sherwin-Williams Paint, Tricorn Black, Matte
Shelving, Display – Tree Purposed, Livonia
Sofa – Pottery Barn
FAMILY ROOM
Fan – Minka Aire, Herald Wholesale, Troy
Fireplace Surround –Virginia Tile Company, Michigan Design Center, Troy
Flooring – Ciot, Troy
Shelving and Mantle – Tree Purposed, Livonia
Sofa and Loveseat – West Elm, Birmingham
Table, Surfboard – Etsy
KITCHEN
Backsplash – Glass, TileBar, New York
Cabinetry – Shelby Cabinet Shop, Shelby Township
Countertop (island) – Beech, Tree Purposed, Livonia
Countertop – Stainless Steel, MCM Fixture Co., Hazel Park
Flooring – Oak, Smith's Hardwood & Construction Inc., St. Clair Shores
Hood – Vent-A-Hood, Witbeck Home Appliance Mart, West Bloomfield
Shelving, Display – Custom, Tree Purposed, Livonia
LAUNDRY ROOM
Backsplash – Ciot, Troy
Cabinetry and Storage – Shelby Cabinet Shop, Shelby Township; Paint, Sherwin-Williams, Oceanside 6496
Doors, Barn Style – Paint, Sherwin-Williams, Tricorn Black 6258
Flooring – Ciot, Troy
Sink – Ikea, Canton
Washer and Dryer – LG, Witbeck Home Appliance Mart, West Bloomfield
EXTERIOR
Building Materials – Stucco, Hardie Board With Sherwin-Williams Rainstorm 6230, And  "Wood" Trespa
Paint Company – Armor Tough Coatings, Holly
Facebook Comments