With a growing family and a baby on the way at the time, a Birmingham family's main renovation goals were to create a comfortable and livable space. Enter interior designer Renee Cetnar of Birmingham-based House of M Design. "It was a blended family and there's a lot of traffic!" she says.
Built in 2013, the home was transformed approximately three years later to accommodate the comings-and-goings of the busy inhabitants.
The home's primary renovation areas included the master suite (reconfiguring the entrance to the bathroom and a complete renovation of the closets) and the basement, which was "completely unfinished," says Cetnar, who worked with Luxe Homes Design + Build and the company's Olde World Homes' Bryan Leith. "We added a living space, theater, gym, and a guest suite with a kitchenette in the basement of the main house," Cetnar explains. There was also a complete overhaul of the backyard, including the addition of a pool, new landscaping, a guest house with an outdoor terrace and fireplace, a sports court, and an outdoor kitchen. "The backyard was dirt, and that's it, so we could make it exactly what we wanted," she adds.
For families who love to entertain, this is the perfect set-up. "We wanted to create spaces that could accommodate large gatherings — both inside and out — with family and friends," Cetnar says. Her goals were to fashion spaces that were stylish, but also practical. New built-ins in the kitchen nook create an L-shaped eating space, while another built-in in the second-floor hall is now a cozy reading area.
The challenge for this astute designer? The size of the guest house, she says. "Code only allowed 650 square feet above ground level, so that's why we put the bedroom in the lower level. It was a challenge to fit so much into such a small space, but having taller ceilings and extra windows helped make everything feel larger." Another trial was matching the guest house stone to the main house stone. "The existing brick on the main house was tough to match; it didn't exist," she says. "We had to dye portions of the guest house brick so it matched the main house."
The home merges both traditional and transitional looks, Cetnar says, and comfort was key. "Families need comfortable, durable elements that can stand the test of time and are unique," she continues. "Each room has its own personality and feel, but doesn't stray too far from the overall look."
Cetnar is big on lighting and made extensive changes when it came to various fixtures throughout the home. "Lighting plays a big part in design," she asserts. "It can be a wow factor in any room, and that's sometimes underappreciated."
Another signature Cetnar stamp is the layering and texture she uses in her interiors. "Layering adds texture and depth. One of the simplest ways to transform a space and make it cozy and comfortable is with layering. It's like draping a blanket on a desk chair; I do that by default," says the designer, whose projects include commercial offices, hotels, apartment complexes, airplanes, and yachts.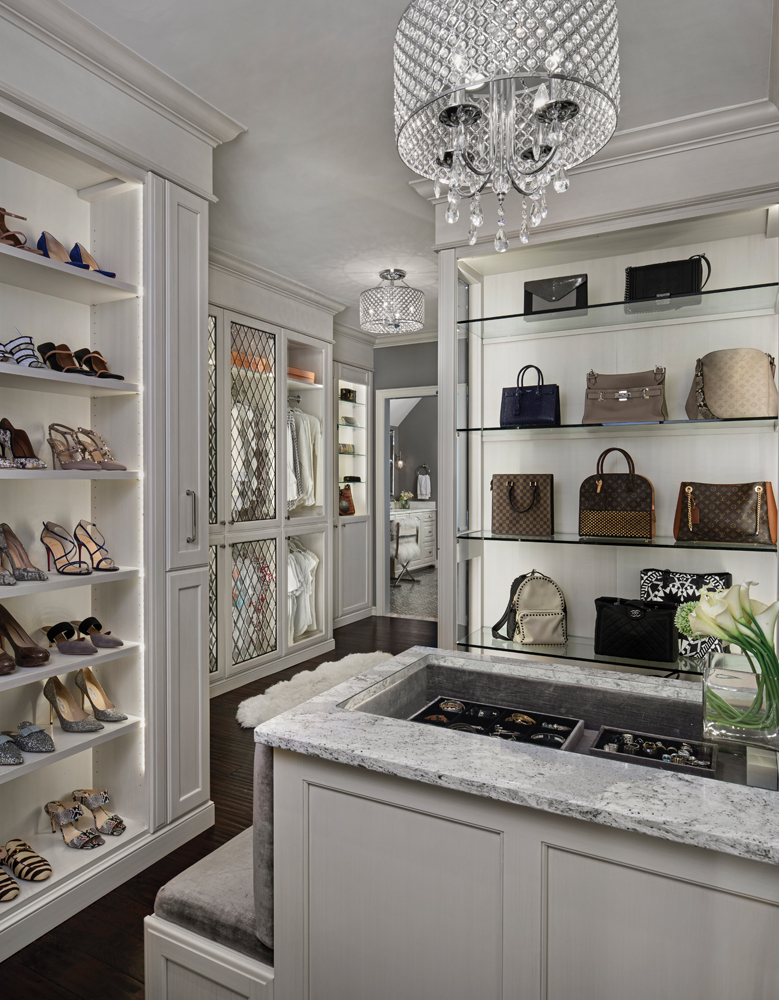 The kitchen already featured quality cabinetry and countertops, so to add flare, Cetnar brought in stainless steel drawer fronts and a hood wrap, and she put new handles and knobs on the cabinets. The changes bring "a contemporary feel into a traditional space," she says. Pops of warm reds can be found throughout the home.
Another drop-dead space is the master closet, which was formerly the laundry space. "The goal was to fit all of  (the wife's) items in it, but I wanted everything to be visually accessible and she wanted a purse display," Cetnar explains. "If things are hiding, you forget they're there." The room is relatively narrow, so they had to go as high as possible with the millwork. A hand-painted finish on the cabinets adds special appeal. "When all the lights are on, the space shines. It feels like a boutique space but also is very functional, which was important." Master bath changes included changing out fixtures and lights.
The new laundry room was once a closet that was enlarged. Located off the landing, it's now more accessible to all bedrooms.
Heading out to the pool and terrace, family and friends are swept away by subtle hints of tropical beauty as they gather amid seating with coral-colored cushions and other orangey-red accents. "Red was kind of our pop throughout the main house, so the coral was a muted spinoff and complements the green and the lighter porcelain tile," says Cetnar, who has a bachelor's degree in interior design from the International Academy of Design and Technology.
Cetnar's favorite part of the project is the guest house. "I was able to design it from the ground up, and we had our challenges with such a small footprint," she says. "I was involved with architects and landscapers and pool designers — with everything," she adds.
"The size of the pool determined where the guest house would be built, and our goal was to fit as much as possible into a small footprint. It's a true guest house with a living space, eating area, sleeping areas, and more." Challenged to design a look that complemented the main house, Cetnar kept it traditional but injected a contemporary feel with tall, shiplap ceilings and an indoor-outdoor feel (a kitchen window opens to an outdoor bar and seating arrangement).
The home certainly lives up to a customized sculpture the designer had made (by artist Mr. Brainwash). Sitting on the mantel above the fireplace, it reads: "Life is Beautiful."
---
BUYER'S GUIDE
INTERIOR DESIGNER
Renee Cetnar, House of M Design, Birmingham, houseofmdesignllc.com
BEDROOM, GUEST
Armchair – Sallinas Barrel Armchair, Duralee Furniture
Artwork – Watercolour Wings I and II, Leftbank Art
Bedding – Italian Hotel Triple Satin Stitch Sateen, Restoration Hardware
Bedframe and Headboard – Marisala Mirrored Bed, Bernhardt, RJ Thomas Ltd., Michigan Design Center, Troy
Bedside Chests – Marquesa Nightstand, Bernhardt, RJ Thomas Ltd., Michigan Design Center, Troy
Chandelier – Caviar Adjustable Multi-Light Cluster, Arteriors, Lighting Resource Studio, Michigan Design Center, Troy
Drapery – Custom, Saadia Design, Oxford, La Belle Maison, Decoroom, Michigan Design Center, Troy; Unique Fine Fabrics, La Belle Maison, Proveaux, Adventure Flooring – Pre-Finished Solid Walnut Hand-Scraped
Lighting, Bedside and Floor Lamps – Mondavi Table Lamp and Floor Lamp, Bronze, Utermost
Wall Paint – Sherwin-Williams, Functional Gray and Alpaca
CLOSET
Cabinets and Shelving, Display – Wood-Mode, Hand-Painted Ivory Finish
Countertop – Cambria Quartz
Flooring – Pre-Finished Solid Walnut Hand-Scraped
Jewelry Case – Custom Cut Glass, Counter, Custom Jewelry Organizers
Rug – Australian Sheepskin, Overland
DINING ROOM
Chairs, Host – Theodore Alexander Soma Wingback
Chairs, Leather Armless – Quinn Dining Chair, Lillian August, RJ Thomas Ltd., Michigan Design Center, Troy
Chandelier – Adirondack White Antler, Restoration Hardware
Flooring – Stone Tile
Lighting, Skylights – Luxe Homes Design + Build, Birmingham
Pillows, Accent – Custom, Saadia Design, Oxford
Table, Dining – Black Walnut Trestle Table, Phillips Collection
Tables, Display – Myra Rustic Mobile Bar Serving Cart, Tribecca Home
Wall Paint – Benjamin Moore, Steel Wool
Window Trim Paint – Restoration Hardware, Obsidian
KITCHEN
Backsplash – Cararra Marble Tile
Bar Stools – Restoration Hardware, Vintage French Round Caneback Counter Stool
Booth – Custom, House of M Design, Birmingham; Wildwood Work Inc.,
Robert Allen @ Home Fabric, Plaid, Cinder Ivory
Cabinets – Wood-Mode
Ceiling Treatment – Coffered Ceiling Design, Wildwood Work Inc.
Chairs, Kitchen Dining – Tempe Dining Chair, Custom Leather Back, Century Furniture, RJ Thomas Ltd., Michigan Design Center, Troy
Countertops – Granite
Flooring – Pre-Finished Solid Walnut Hand-Scraped
Lighting, Table – Myth 41-inch Cage Chandelier, Gunmetal Bronze, Lamps Plus
Range – Lacanche, Custom Painted Knobs
Table, Kitchen Dining – Burroughs Table, Vanguard Furniture, RJ Thomas Ltd., Michigan Design Center, Troy
Wall Paint – Sherwin-Williams, Alpaca
Window Treatment – Custom, Saadia Design, Oxford; Contract Fabric, Hierarchy Gray; Fabricut, Decoroom, Michigan Design Center, Troy
SITTING AREA, GUEST HOUSE
Armchairs – Portsmouth Chair, Arhaus
Ceiling Treatment – Shiplap
Doors, Sliding – Anderson Windows
Drapery – Custom, Saadia Design, Oxford; Maxwell Fabric and Brimar Rods, Decoroom, Michigan Design Center, Troy
Fan – Subtle Fan, Fanimation
Fireplace and Mantle – Custom Sandstone and Stained Solid Timber, Luxe Homes Design + Build, Birmingham
Flooring – Beaver Tile and Stone, Michigan Design Center, Troy
Lighting, Bistro – LED Bistro Lights, Costco; Luxe Homes Design + Build, Birmingham
Lighting, Lanterns – Target
Pillows – Custom, Saadia Design, Oxford; Maxwell  Fabric and Fabricut, Decoroom, Michigan Design Center, Troy
Shelving, Display – Custom, Painted White, Wildwood Work Inc.
Sofa – Mustique Sofa, Restoration Hardware
Table, Outdoor Coffee – Urban Coffee Table, Trent Austin Design
EXTERIOR
Chairs, Pergola – Mustique Collection, Perennials Fog, Restoration Hardware
Landscaping – Boyd Landscaping, West Bloomfield
Lighting, Outdoor Sconces – Simone Iron Sconce, Solara Outdoor Lighting
Loungers, Chaise – Tiburon Chaise, Perennials Coral, Restoration Hardware
Manufacturer – Luxe Homes Design + Build, Birmingham
Masonry – Custom, Sandstone and Brick
Pavers – Traverstone, Beige, Unilock Commercial
Pergola – Solid Timber, Espresso Stain, Luxe Homes Design + Build, Birmingham
Pillows, Chaise – Custom, Saadia Design, Oxford; Maxwell Fabric, One Way, Sidewalk, Decoroom, Michigan Design Center, Troy
Pool – Gillette Brothers Pool & Spa, Troy
Turf Between Pavers – Custom Cut, Sport Court Michigan, Superior Sports Unlimited, Auburn Hills
Windows – Anderson Windows
ADDITIONAL CONTRIBUTOR
Design, Building, and Construction — Luxe Homes Design + Build, Birmingham