'Come As You Are" reads a wooden sign near the entrance to downtown Clarkston's The Fed. Decorated in warm woods and whites, with pithy and inspirational sayings and black-and-white photographs (from Elvis to downtown Detroit) throughout, the restaurant and its interior design are the brainchild of design enthusiast Sarah Schneider and her husband, James, who opened the popular eatery in the summer of 2017.
That warm welcome can also be felt in their home, located a few miles away in a leafy suburban neighborhood. Sarah has loved design since her childhood in Waterford. The daughter of two artists, she parlayed her passion into the restaurant and into her career as a blogger, brand rep, and social media influencer for a variety of national retailers including Anthropologie, Nordstrom, and Target. Most days, however, her life and home revolve around the couple's three children — Willamina (known as Willa), 10; Peyton James, 8; and Tallulah, 6 — and one rambunctious mini labradoodle, Finnegan Tigertail. And she wouldn't have it any other way.
The couple purchased the four-bedroom, approximately 6,000-square-foot Cotswold-style residence in 2011, after Sarah showed up at the front door unannounced and eventually talked the former owner into selling. Built by Mike Lorimer of Lorimer Homes for his own use, it also housed the company's business offices in the basement. "It was his showplace," Sarah explains. "It was designed to show potential clients what he could do."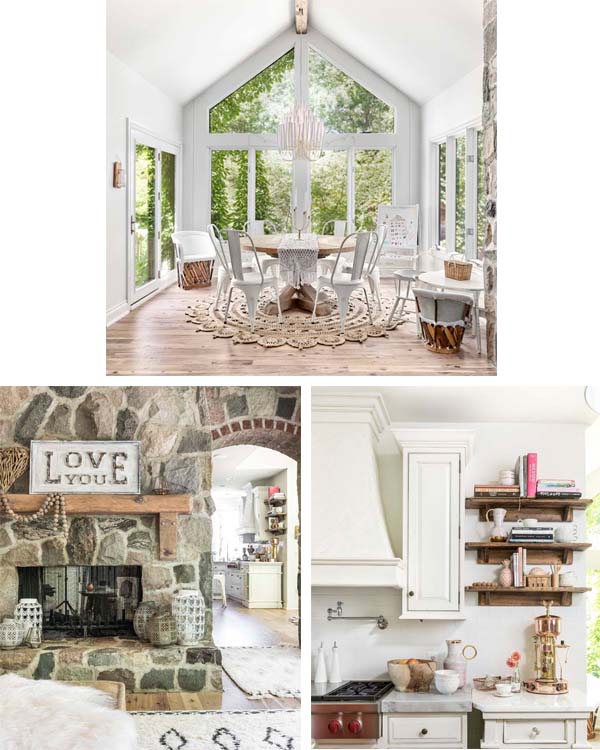 Sarah had decided she wanted to live in Clarkston and had been trolling the neighborhoods, looking for the right fit. She fell in love with the home's quality craftsmanship and distinctive details. "I loved the exterior right from the start," she says. The owners and the Schneiders negotiated for nine months before Lorimer agreed to sell, and then there was a waiting period so Lorimer could find another home in which to live.
While Sarah fell hard for the home's English-inspired details, she was less fond of its dark interiors. "It needed to feel like the home for a young family," she explains. "Our goal was basically to young it up."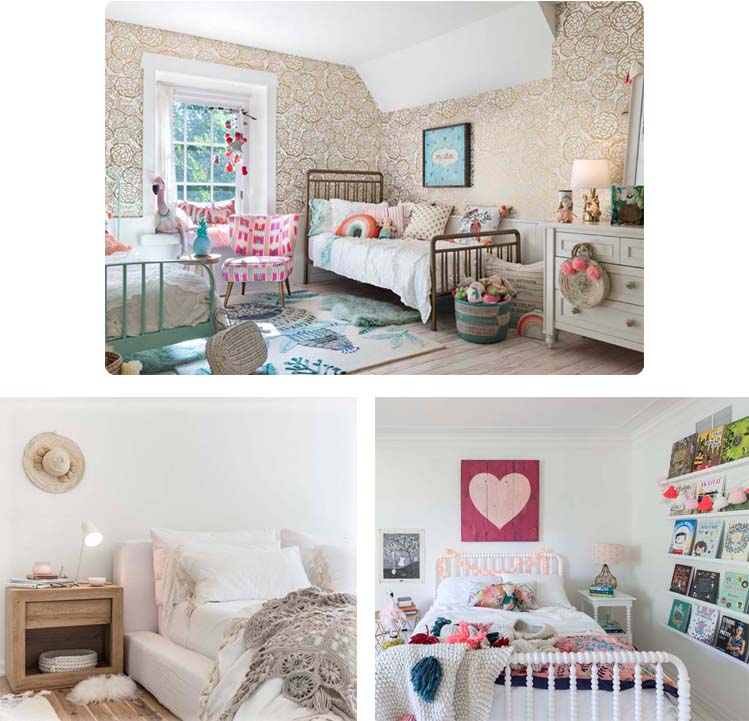 "The kids' rooms were a priority … we'll get around to (the master bedroom) eventually."
— Sarah Schneider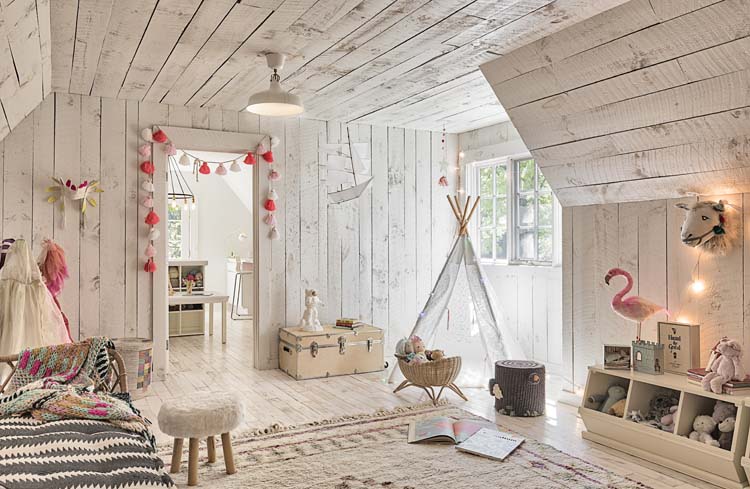 She accomplished that by painting almost everything white — Sherwin Williams' Alabaster, to be exact. They also put in hardwood floors in all the rooms that had carpet, matching the existing Australian cypress hardwood, and refinished all the floors. "We put in white hardwood floors in the entire second level," she says. They renovated the second level of the carriage house into a guest retreat that "we love to use ourselves," she adds, "and (there's) a man cave on the lower level." They also installed an outdoor fireplace and renovated the entire lower level (kitchen, bar, living area, movie theater, game room). Other changes included recladding the beams in the two-story great room with a more rustic reclaimed wood, changing the backsplash and countertops in the kitchen, and painting the cabinets a creamy shade of — what else? — white. The kitchen is where the family gathers to eat at the island, and relax and read in a small sitting area, a cozy nook with a stone fireplace stocked with books and magazines for all ages. It's also the favorite spot of guests when the family holds one of their many gatherings, Sarah says. "People always want to plop down in one of the comfy chairs and talk while I cook," she says.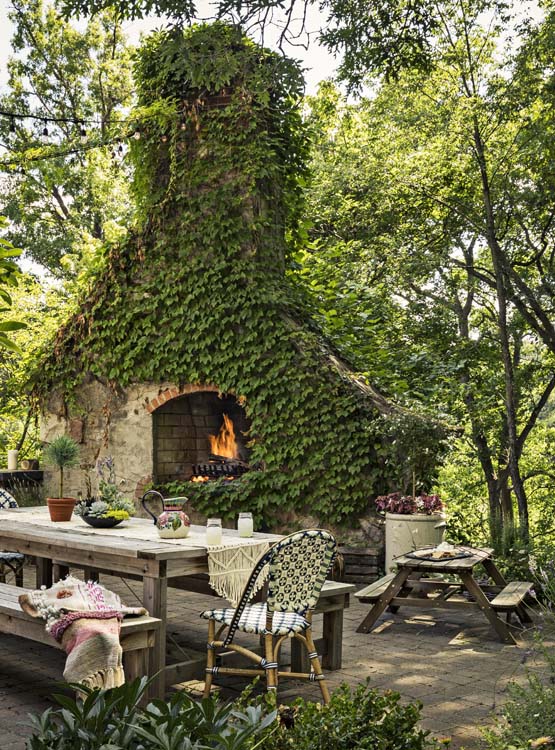 Other first-floor rooms include a spacious formal dining room, a "living" room behind the kitchen (used mainly as a hangout for the kids), and a quiet master bedroom off the great room — a serene and uncluttered space that Sarah insists is a work in progress. "The kids' rooms were a priority," she explains. "We'll get around to (the master bedroom) eventually."
A paneled stairway leading to the second floor is lined with arresting black-and-white photographs of the children taken by Sarah. It's a good introduction to their whimsical bedrooms, where white is used as a backdrop and unifier, with pops of color coming from furnishings, accessories, and even the children themselves, Sarah says, explaining: "I want them to be the focus and the color." Each room reflects the personality of the child who inhabits it — Willa's room has a huge red heart over the bed and a wall filled with favorite books. Tallulah's room has two twin beds (Willa often migrates, Sarah says) and a cheerful large print by Hygge and West. Sarah originally painted Peyton James' room white, but stripped it back to the rustic, raw wood walls it has now when she decided she didn't like it. Words of wisdom — "Be Humble," "Be True," and "Do Hard Things" — hang over the bed.
More signs can be found in the playroom over the garage, where one of them announces "This Is Our Happy Place." It's easy to see why. A craft room off the playroom is where Sarah and the kids unleash their inner artists. "We do everything in here," she says. "It's supposed to be mine, but the kids love coming in." She jokes with James that the playroom has plenty of space for beds and more kids, should the need arise.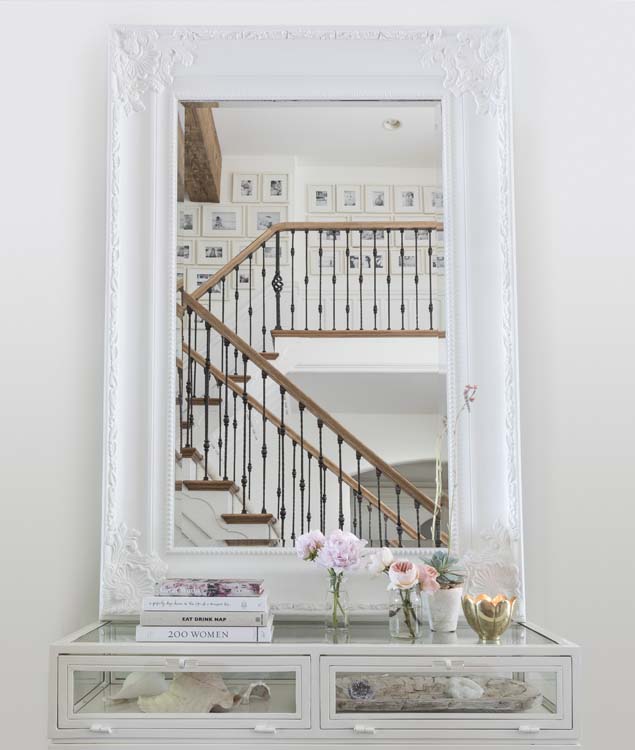 Onetime lower-level offices are now a rustic rec room with a bar, dark wood-paneled walls, and an eight-seat theater. Kids are allowed, but the room was designed to be "big people space," Sarah says. "We mainly use it for entertaining," she adds. They recently had a Girl Scout event in the theater, where the current favorite is The Greatest Showman. "I want to be the house where the kids all hang out," Sarah says. "I'd rather have them here." Sarah says she lives by a few simple decorating maxims: Don't be in a rush to renovate or fill rooms, and don't do things right away. "I truly believe you should live in a house for a year until you get to know it," she says. "Think about what you love and why, and fill your home with those things."
Finally, she says, be open to change. "I'm always changing things," she says. "Our house grows and evolves along with our family." The house looks completely different during the holidays, she says, and she admits that she's been known to swap furniture and accessories on a whim.
Sarah says she'd even consider selling. "If someone knocked on my door and said would you sell it, like I did, I'd say sure — for the right price."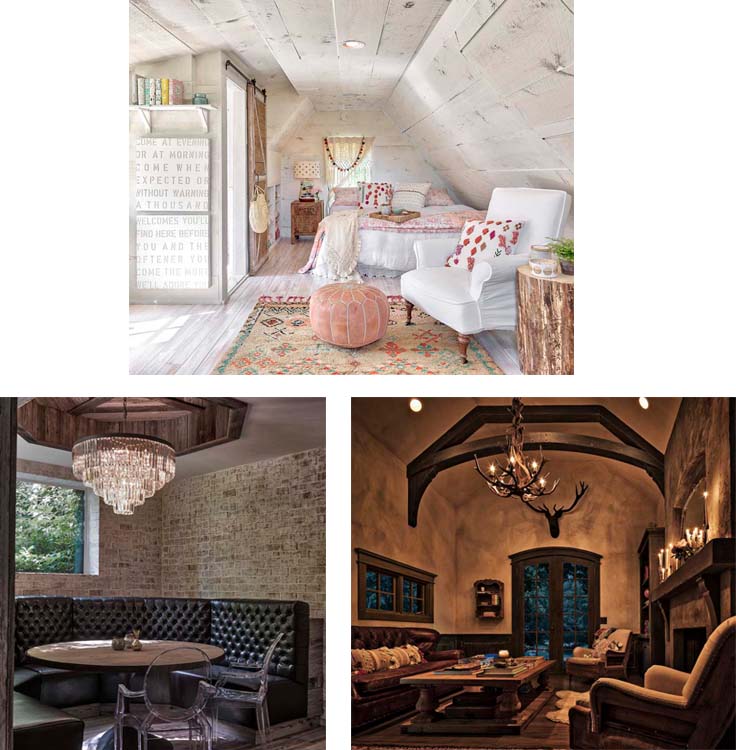 ---
Designs on Dining
One of the decorative signs at The Fed in Clarkston reads: "When You Have More Than You Need, Build A Longer Table, Not A Higher Fence." That spirit of community and the years she spent living in California and traveling is what inspired the restaurant and its décor, says co-owner Sarah Schneider. Housed in a former bank on the town's historic Main Street, the eatery includes restored stone walls, rustic wood furniture, and a chandelier-lit former bank vault.
Celebrating its one-year anniversary this past July, the restaurant has a charming, boho-chic vibe. Sarah describes it as "very Bohemian, but with a modern touch. It's light, bright, and airy, featuring whites and punches of color."
Part of the fun, she says, was mixing in global influences, including woven chairs handmade by women in Africa. Her goal, she says, was to make it "feel very homey," and to emphasize the building's history while adding raw and organic elements throughout. "The restaurant is what my house will hopefully look like when I finally get it done," she adds with a laugh. —KSZ
More information: www.thefedcommunity.com