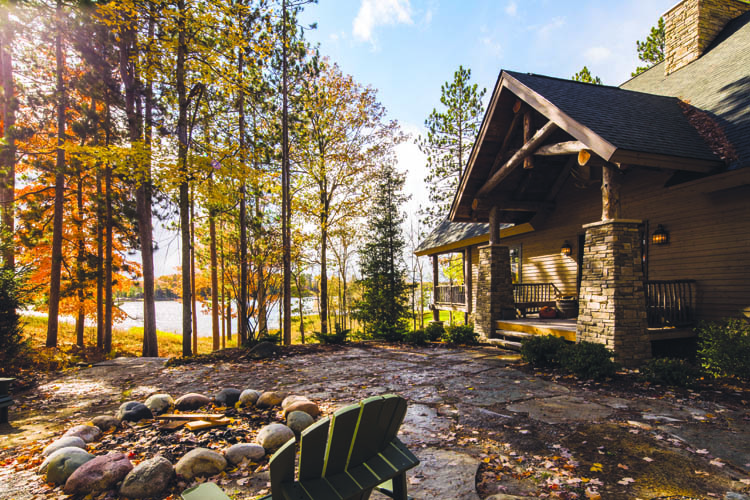 Jennifer Taylor remembers combing antiques shops throughout the Tennessee countryside as a little girl. Her parents, both from the Volunteer State, would often take Taylor to visit their southern relatives. "I have fond memories of junking with my uncle," Taylor says. "I did my first antiquing with him and, since then, I've always had an interest in textured items, things with a history."
Seven years ago, Taylor, a Royal Oak-based interior designer, called on her deeply rooted affinity for storied pieces and rustic materials to build a northern Michigan cabin replete with 100-year-old barn wood, decades-old Canadian logs, and decorative touches that evoke the quintessential "cabin getaway" — but with artistry, high taste, and quality details.
Today, welcoming, warm, and authentic appeal rings true at Taylor's recently completed cabin, situated on a 10-acre parcel of treed, sloping land that overlooks one of northeast Michigan's glistening inland lakes. Shaped like a U, McCollum Lake, near Curran, is ringed with a bounty of cattails, verdant ferns, and towering trees. Here and there, inconspicuous docks harbor small boats, kayaks, and other watercraft, while the occasional bald eagle catches its reflection in still waters. Bobcats, foxes, loons, deer, swans, and bear also call the area home, and seem to favor Taylor's property because of its au naturel landscaping.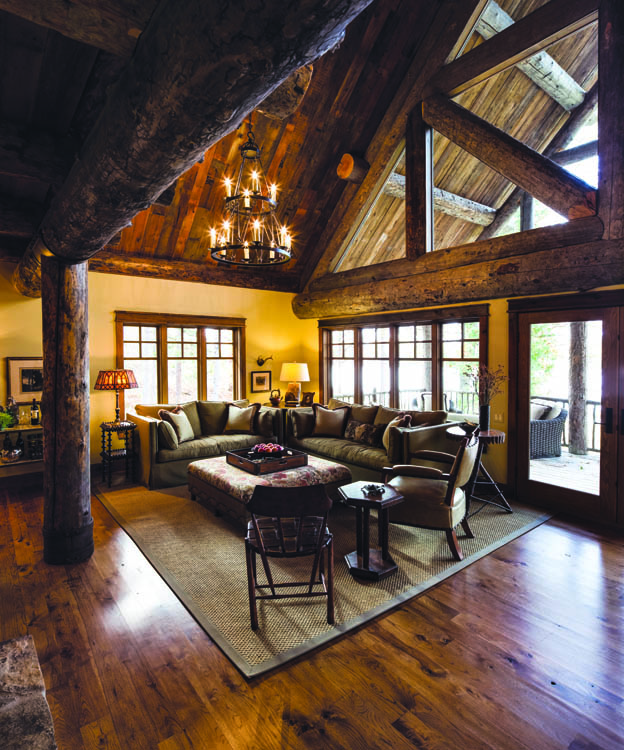 "We didn't want a lot of outdoor upkeep, so we opted to keep it natural and (didn't) put in grass that would have to be mowed," says Taylor's husband, Dr. Bill Vornberger. They both remember the day they found their slice of wooded paradise, which eventually would envelop a 3,200-square-foot cabin (including a walk-up basement).
"We stood hand-in-hand, looking out to the water and imagining what it could be," Taylor says. She recalls it was like a heartthrob sort of feeling. The couple chose this spot on the northern rim of the Huron National Forest, about a 40-minute drive inland from Lake Huron, because it was an easy drive from Taylor's sister's vacation home in Comins.
At Taylor and Vornberger's retreat, the families often gather for cards, campfires, and casting for bass while taking in the scent of white pine and the sound of the pileated woodpecker's drumming, which cuts through the stillness.
The awe-inspiring peacefulness of the haven carries indoors, too, where friends and family almost feel as though they're outside, thanks to large windows that extend to an inviting loft area, murals in various rooms depicting woods-and-water scenes, and rustic decorative touches. In the family room, for example, there's a grouping of Mother Nature's treasures, including a bat's skeleton; in the powder room, an abandoned bird's nest and robin's egg sit atop a shelf.
Then there's the timeworn barn wood that was used for trim, interior doors, ceilings, flooring, cabinetry, and more. Impressive, massive logs from British Columbia add to the classic "cabin" ambience.
The barn wood was salvaged from a barn east of Curran, near Harrisville. "I started asking around, 'Do you know anyone who has a barn?' " Vornberger says with a laugh. "Then we would covertly drive by barns in the area and wonder, 'Are they falling down?'"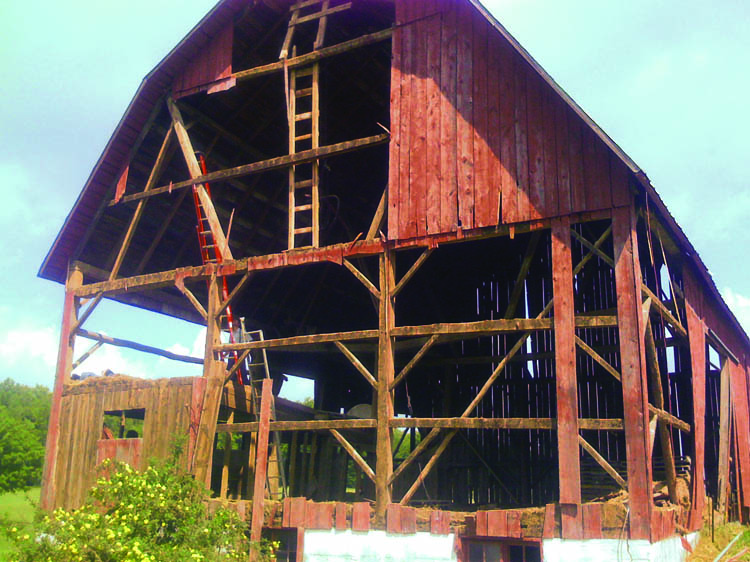 They finally found the perfect structure — a century-old beauty sitting "out in the middle of nowhere," Vornberger says, that was in good shape. "Our electrician knew of the owner, so we contacted him and asked if we could buy it. He said sure, so we gathered up some local Amish folks and dismantled it." (Vornberger explains that others either drove the Amish workers to the work site or he picked them up, as the Amish do not drive motorized vehicles.)
The team first cut all the supporting timbers, then Vornberger hooked a couple of wire cables around the bumper of his truck and the pull-down began. "It's recycling at its best," Taylor adds.
An Amish father-son team from Mio power-washed the wood, then used a wire brush to remove dirt. Finally, they applied a sealer that would make it ready to meet Taylor's design requirements.
"My staff and I did all the drawings for everything, including where the barn wood would go and how it would be used in things like cabinetry," Taylor explains.
Because there wasn't enough wood from the one barn to complete the home, Vornberger found additional wood (a little grayer in tone) in the Traverse City area. That wood was used in the home's lower level. "I got to know a lot of barn wood guys," he says, chuckling.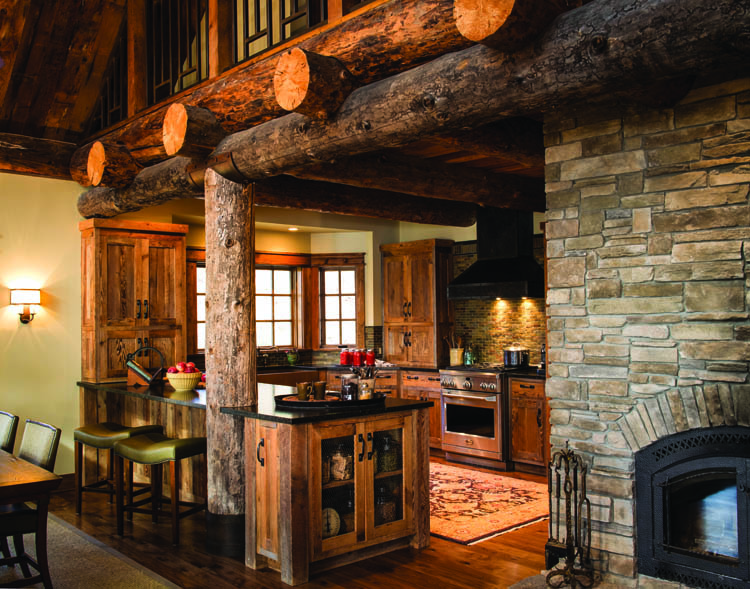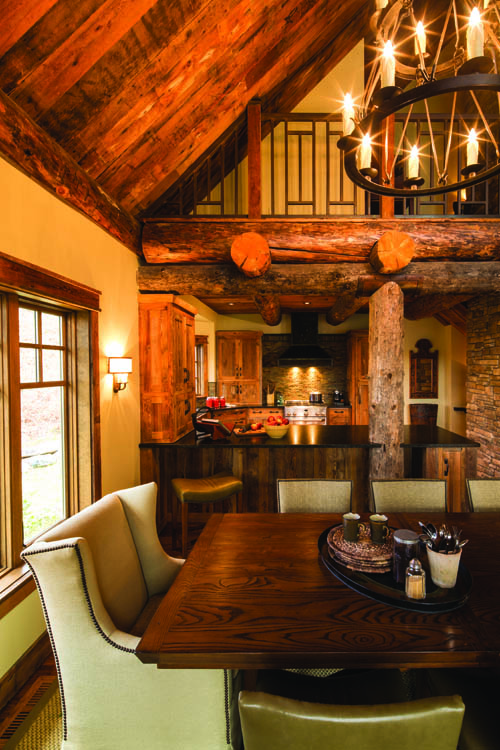 Hearth-Side – In the kitchen, the man of the house often likes to whip up family-style meals like lime-garlic marinated chicken tacos. Custom range hood designed by Jennifer Taylor Studio (JTS) and fabricated by Patra Studios. The slate backsplash is from Virginia Tile. The dining table was designed by Thomas O'Brien from hickory chair. The host chair is by Mariette Himes Gomez from Hickory Chair, upholstered in Clarence house fabric. Side chairs are Thomas O'Brien. The loft's custom spindle/rail is by Stefani and Co. Metalworks.
Dining Among the Pines – Organic tomatoes are a family favorite, canned in Taylor's mother's jars // Stools are by Thomas O'Brien from Hickory Chair. Barn wood cabinetry features chicken wire from Richelieu hardware. The fireplace facade is made of hand-picked faux stone; the base is made of fond du lac stone the couple discovered at a neighbor's home (she sold the unused pieces to Taylor). "The stone had been sitting outside for years, aging beautifully, so it was a perfect fit," Taylor says.
Vornberger — who once was a carpenter and now is a primary care doctor based in Sarnia, Ont., Canada — enjoys creating with his hands. A typical day during the building process might find him framing the structure, installing heat, climbing ladders, researching fireplaces, working on scaffolding, overseeing tradesmen — you name it.
As for the logs, Taylor had perused several magazines before finding the type she wanted. "I didn't want a shiny new log. I found a log expert who understood that." He discovered the logs in Wisconsin (originally from Canada, they were killed in a fire but didn't decay due to a lack of humidity). "With the barn wood and these logs, you get character — and you can't duplicate that with something new," she says.
Other special touches include the artwork by muralist Greg White of Detroit (his work embellishes the home's four bathrooms). "I think the master bathroom is our favorite room," the couple says, taking in the space's large wall, covered with White's hand-painted depiction of the area's outdoor surroundings. "Greg is the best of the best," Taylor says.
Tramp-art mirrors, pretty sconces from Dana Creath Designs, Ashley Norton hardware from Herald Wholesale in Troy, antique bottles, unique tile designs, a large tub, barn wood vanities, and more round out the relaxing room. Taylor found several of the home's antiques at the Judy Frankel Antiques Centre of Troy, as well as in northern Michigan haunts like the Potato Barn Antique Mall in West Branch. "I installed the hardware in the whole house," Taylor says. "It took forever; I was here for days. Of course, I knew that if I screwed up when putting a nail in barn wood, it wouldn't be a big deal because the nail hole would look like it's just another barn wood hole."
Beyond a comfortable kitchen, dining area, and great room are a lower-level area with guest quarters, a television hang-out spot, and a barn wood pool table made by Vornberger.
More guest and family quarters await upstairs, off the loft area. A spacious room with three twin beds and a sitting area with room for playing board games and more soon will be filled with grandchildren, Taylor hopes. The stairs leading to this space feature the inside of spruce logs, which are beautiful in their untreated   state. "They don't accept stain evenly because they're too porous," Taylor explains, "so we left them as is."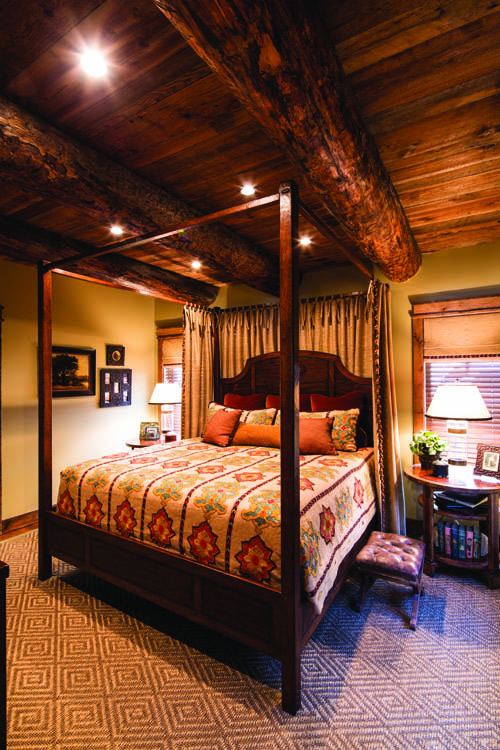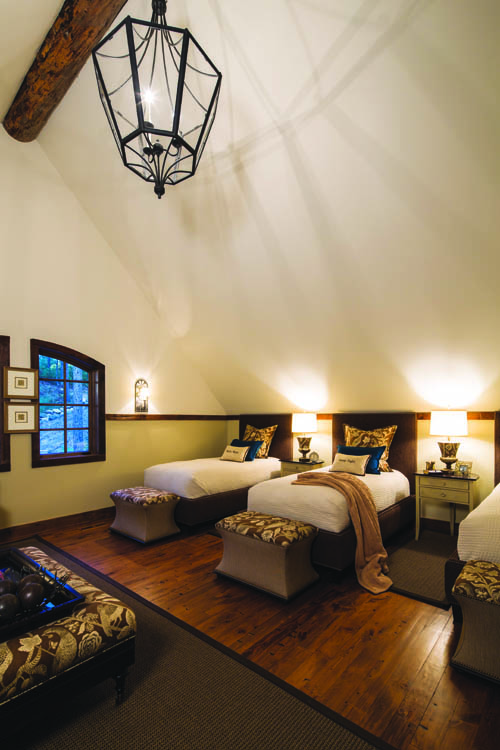 The master suite's coverlet is from F. Schumacher & Co. The bed and nightstands are from Henredon, while the leather stool is from Judy Frankel Antiques Centre of Troy. The custom sisal area rug is from Stark Carpet. // In the loft bedrom, the rug is indoor/outdoor for durability, from Stanton.The fabric for the ottoman, bench (from Hickory Chair), and Euro shams is F. Schumacher & Co.; the coverlets are from Pottery Barn. The lamps are from Baker, Knapp & Tubbs, then handpainted by artist Greg White. The chandelier is from Dennis & Leen. The mudroom's  apothecary chest from Judy Frankel Antiques Centre of Troy is a "project," Taylor says."I've not cleaned out all the drawers yet."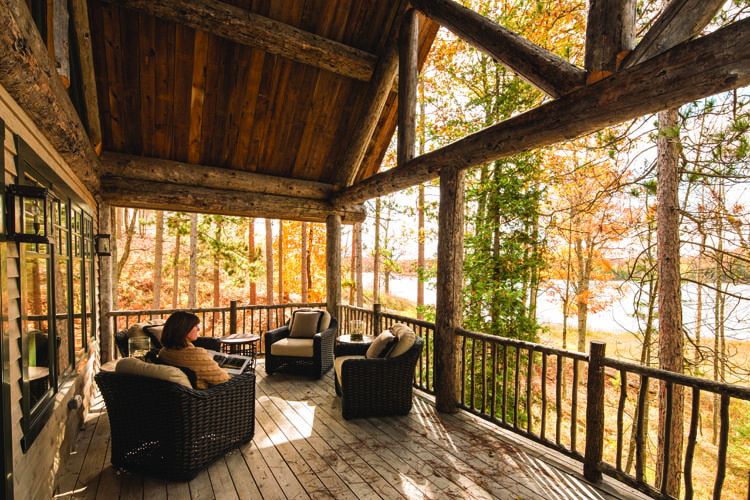 The loft's "catwalk" area showcases the iron railing work of father-son duo Cary and Jesse Stefani, of Stefani and Co. Metalworks in Keego Harbor. "I sent them drawings and they figured out how to build it," Taylor says. Dealing with stabilizers and various angles, the Stefanis did a "beautiful job," she adds. "They nailed it."
When looking back on their design journey, the couple agrees the process wasn't always smooth-going. "When it's deer or turkey season, or if the walleye are biting, you get some no-shows from the local workers," Vornberger says with a laugh.
"We had a lot of workers from downstate do the finishing work," Taylor recalls. She says the distance was a huge challenge at times. It's a three and one-half hour drive from the couple's home in Clinton Township to the cabin property, so supervising the tradesmen wasn't always convenient — nor was scheduling things like an electrical walk-through. "Sometimes we'd go up and back in one day, so a lot of energy was spent in building this — not to mention the challenge of having trucks at the top of the road (a steep driveway prohibited some trucks from having access); having to carry the furniture down wasn't easy," Taylor says.
All in all, though, they wouldn't change a thing. "I got to work with materials I love — old and textured — and make something beautiful out of them," Taylor says. "I love antiques, and they all naturally meld into this look. Every bit of it was fun. I can design anything, but I had a truly good time creating this style."
Classic, aged barn wood, well-worn timber, treasured antiques … they might be old, but in a roundabout way, they're making new memories for this family and generations to come.
Building Sources for the Taylor/Vornberger Cabin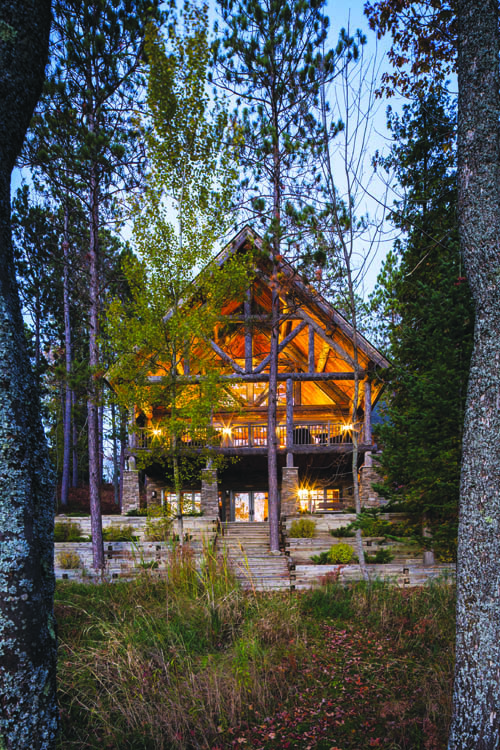 Carpentry: Lavern Bontrager of Pine Grove Woodworking, Mio; created interior doors, cabinets in kitchen and master bath, and installed great room ceiling and porch's hickory rails.
Tile: Brad Riedel of BTM Marble and Tile, Sterling Heights. Installed stone countertop and tile.
Stone Mason: Gary Hanson, Mio. Installed interior fireplace and exterior stone application.
Log Framing: Jim Larimer, Evergreen Log Homes,  Fairview.
Murals and Decorative Painting: Greg White, Detroit.
Wood Floor Finisher: Blaise Hirth, Hirth Hardwood Floors, Macomb.
Metal: Cary and Jesse Stefani, Stefani and Co. Metalworks, Keego Harbor. Fabrication of staircase spindles and posts and metal collars for log columns.
Kitchen Range Hood and Second-Floor Custom Vanity: Steve and Steven Patra, Patra Studios, Royal Oak.
Interior Design: Jennifer Taylor and design assistant Anahi Hollis, Jennifer Taylor Studio, Royal Oak