Being open to the signs was how Patty Ferszt and her husband, John, found and purchased their cherished Bloomfield Hills home.
"We had been looking in this area, and one day we were early for our Realtor appointment to see a home so we drove around the neighborhood and saw this one, which didn't have a For Sale sign up yet," Ferszt says, recalling the first time the couple saw their expansive Georgian Colonial home. Because they liked the exterior, Ferszt's agent did some research and discovered it would soon be on the market, and arranged to set up a visit. "During the walk-through, we saw bathroom towels with a monogrammed 'F' on them and I looked at my husband and said, 'It's meant to be!' " Ferszt says.
Designed in the 1990s by renowned architect Robert A.M. Stern, the home, located on two and a half acres, had undergone a huge renovation before the Ferszts bought it. Once the couple,  whose two children were in high school and college when it was purchased some five years ago, moved in, Ferszt called on interior designer Julia Knevels, of Birmingham-based Julia V. Knevels Interiors, to give the home what many of  Knevels' clients call "the Julia stamp." She had also worked on the Ferszts' previous home.
The homeowner explains the "Julia stamp" using words and phrases like understated elegance, sophisticated, and simple, but also playful and happy. "Julia loves color and the unexpected, but knows when to stop. She creates spaces that people actually use and live in and enjoy; she doesn't do sterile."
"Patty and John are great to work with because they know what they want and they're open to a lot of suggestions, plus they're really nice people!" Julia says. Adds Ferszt: "Julia has helped me so much, and even educates me. She'll tell me 'No!' or 'That's a good job!' when I want to add something new or suggest a change."
One of  Ferszt's desires was to have her love of horses worked into the design mix of the five-bedroom, six-bath (and two-powder room) home. "I started riding horses when I was 5 years old and still have a passion for the sport," says Ferszt, who keeps a horse in Fenton (Giselle) as well as one in Atlanta (Hitman), and competes nationally; she recently placed third in her division at the U.S. National Arabian and Half-Arabian Championship Horse Show in Tulsa, Okla. The equestrian feel comes into play in various areas of the home. Horse-themed art adorns a wall in the breakfast area, while a chandelier above that room's dining table features leather and brass horse tack. Jaunty Ralph Lauren plaid covers chairs in the sitting area off the kitchen, while in the library, a large sculpture of a horse fills one area.  A horse lamp turns heads in the bar area. And on the kitchen counter? An antique horse from Birmingham's Classic Country Antiques reigns supreme.
Beyond an equestrian look, "Julia … blended animal prints (cheetah prints on the rugs, for example) and plaids with florals and bright reds; it's just really warm and cozy," Ferszt says of her interior designer's talent.
"No matter where we've gone or how our days have been, when we come home, the house seems to wrap its arms around us."
— Patty Ferszt
Another of  Knevels' touches is to pepper rooms with lamps. "Bright overhead lighting isn't peaceful," the designer declares. "Lamps play an important role in design; they're like little pieces of art, and the lamplight casts a really pretty glow." Window treatments (drapery and shades) also play a starring role in a Knevels home. Seamstress Joan Richards crafted Roman shades for the kitchen and foyer, lampshades for all chandeliers, and pillows for various rooms, and she made new draperies for the dining room.
In a household with three dogs and lots of indoor/outdoor activity, there are two laundry rooms to handle washing and cleaning. The first-floor laundry room is for quick cleaning, while the one in the lower level takes on larger loads.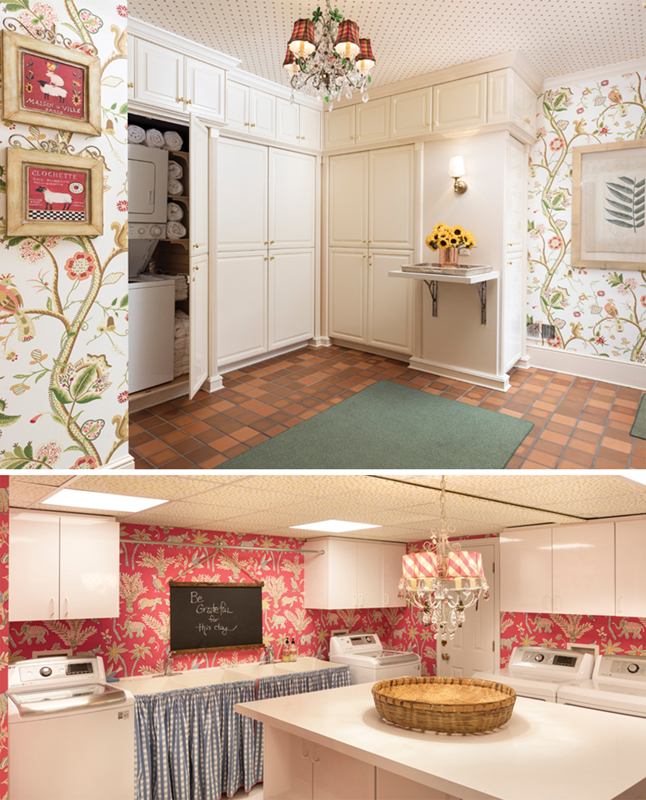 "I often come in from the barn in Fenton with dirty clothes, so this first-floor laundry is (really useful)," Ferszt says. Each laundry room is functional but also uniquely gorgeous, and they pop with hints of whimsy, creative lighting like antique chandeliers, and wallpapered ceilings. "I love that (Julia) wallpapered the ceilings in the laundry rooms and also in a half bath; every single person who sees those rooms marvels at the wallpapered ceilings," Ferszt says. Adds Knevels: "I've always believed that if you're going to be spending a good amount of time in a space, like a laundry room, it should be pretty and fun!"
From the moment a visitor takes the first step down to the recreation area, they're amazed. A lower-level highlight is the theater room.
"I really love how the lighting along the railing of the stairway turned out," Knevels says, explaining that she had it installed beneath the railing so you only see a glow. John and the couple's son are huge collegiate football fans, so they wanted a great lower level for football game-viewing and gaming. Knevels called on Spire Integrated Systems Inc., in Troy, to handle the television's installation, sound, wiring, and more.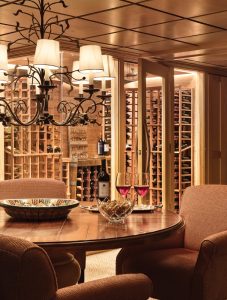 Beyond the cozy viewing area (luxe theater seats by Baker are comfy enough to sleep in), Knevels designed a full kitchen, wine room, and gathering space. "The basement was pretty much untouched before they moved in," she recalls. "It had those awful dropped multi-panel ceilings with that strange texture. I immediately wanted to put in a normal ceiling and take out all the panels, so it wouldn't feel like a basement, but the team said that would be impossible due to a complicated system of ductwork, electrical circuits, and other things." Knevels shared her goals with the team and they came up with an idea to remove each of the panels and replace them with beautiful stained wood. Likewise, in the adjoining laundry room, she had each ceiling panel taken out and covered with cheerful wallpaper. "Don Pappas and the team did an amazing job," Knevels says of the man who was the entire project's general contractor. "Don did all the millwork and oversaw each individual ceiling tile to ensure the continuity of the grain." Outdoors, the couple hired Gillette Brothers to install an inviting swimming pool that John designed. Fountains also adorn the landscape, designed by Zaremba & Co.    
Whether outdoors or inside, the couple cherishes their home. "This is our happy place," Ferszt says, eyeing the charming sitting area off the kitchen. "We cook, we have fires in the fireplace, and we host family dinners nearly every Sunday. And no matter where we've gone or how our days have been, when we come home, the house seems to wrap its arms around us." 
---
IN THE DETAILS: RESOURCE GUIDE
Interior design, Julia V. Knevels Interiors, Birmingham. Carpentry, lower-level recreation space, including wine cellar, ceiling tiles, and more, Don Pappas of Northville. Landscaping, Zaremba & Co., Pontiac. Pool, Gillette Brothers. Wallpaper hanger, including ceiling tiles in laundry room, Kevin Skiver, Livonia. Window treatments, chandelier shades, and pillows, Joan Richards, Oakland. Wallpaper, foyer, Carlton V. Wallpaper; laundry room, Thibaut on walls, Albert Hadley on ceiling. Sconces, foyer, Visual Comfort. Sconces, dining room, Vaughan. Andirons, library, Merwins Antiques Gallery, Birmingham, Chandelier, mud/laundry room, Merwins Antiques Gallery, Birmingham. Fabric, chairs, garden room, Ralph Lauren. Fabric, Roman shades, kitchen, Carlton V. Fabric, Roman shades, foyer, Brunschwig and Fils. Fabric, pillows, foyer, Scalamandre. All fabrics and wallpaper, Michigan Design Center, Troy