HOMEFRONT | in residence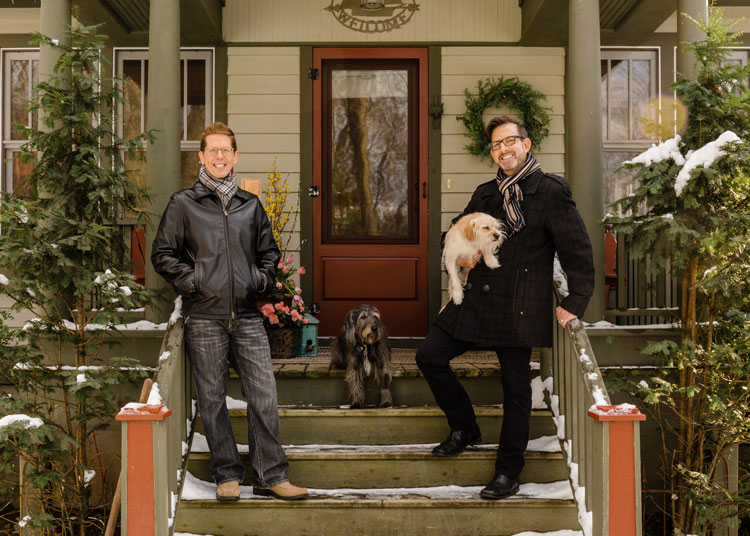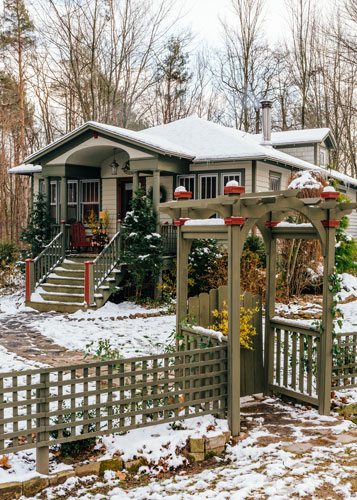 If you listen to your heart when it comes to shopping for a home, you'll get the place of your dreams. For author Wade Rouse and his husband, Gary Edwards, that's pretty much the way it went when the two uprooted from fast-paced, 9-to-5 lifestyles in St. Louis to the charming southwest Michigan town of Ganges, near Saugatuck-Douglas.
The couple, who has been together some 20 years, never thought they'd be living in a knotty pine, cottage-style bungalow in the woodlands of Michigan, but one thing led to another and eventually all the stars lined up, pointing to the Great Lakes State's western shore area.
The two beach-loving men would often visit an aunt in Leland during the summers, and quickly came to appreciate the restorative appeal of the area. But that wasn't the only spot they loved. "We also vacationed in Provincetown, Massachusetts, and one time one of the innkeepers there, who was from Michigan, said, why are you coming way out here when pretty Michigan is so much closer to you?" Edwards recalls. The innkeeper was right, and the couple eventually discovered Saugatuck, where they fell in love with the art and that "beautiful, Cape Cod feel," Edwards says.
Thus began the search for a Saugatuck-area vacation cottage. "A realtor suggested that if we like privacy, we should head outside of town," Rouse says, "so she took us to this 1918 knotty pine-style home (with three bedrooms and two baths) that was moved here (Ganges Township) from the Lake Michigan shore and redone. It's a real traditional Michigan cottage."
Situated on 4 wooded acres of sugar maples and pine trees, with their neighbors' 14 acres of blueberry fields stretching beyond, the home became their getaway for three years before the couple moved in permanently. It is, they have found, the perfect spot for a writer, his nature-loving husband, and their two dogs, Mabel and Doris. And it's only a half-mile from Lake Michigan.
"I've written seven books, and a good six-and-a-half have been written here," Rouse says.
Edwards, an avid gardener whose green-thumb talents bloom around the property, created trails in the nearby woods — "our own nature preserve," he says with a laugh.
The two refer to their beloved homestead as "Turkey Run," due to the many calling turkeys that walk about the premises every day. Of course, Edwards crosses his fingers that they won't dally too close to his pride and joy — the many plants and flowers from the men's cherished heirloom gardens.
"We fell in love with it (the house) — the quirkiness, the history, the character."
— Wade Rouse
"We brought white and pink peonies here from Wade's mom's and grandma's gardens," Edwards says, "and I have many starts from my mother's phlox, rudbeckia, and coneflowers."
The home's colorful gardens are as cheerful as its interior design, which exudes a sort of charm-bracelet appeal. The style is absolutely appropriate, as Rouse's new novel, The Charm Bracelet (under the pen name of his grandmother, Viola Shipman, St. Martin's Press/Thomas Dunne Books), puts the charm bracelet in an intriguing light. In today's frenzied world of instant marketing and on-the-spot social media, Edwards and Rouse believe individuality and storytelling have been pushed aside. "We all tend to wear the same things and shop at the same places," Rouse says. Hearkening back to the classic charm bracelet, he notes, "Charms were personal to each person." One can learn a lot about someone by studying her charm bracelet, he explains, and learning the stories behind each charm. And like charms on a bracelet, each element that makes up the men's home has a story.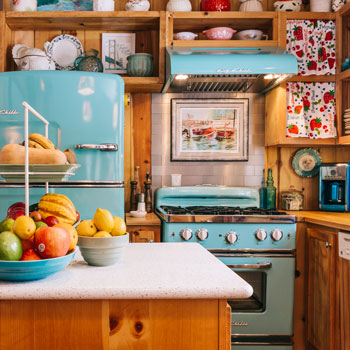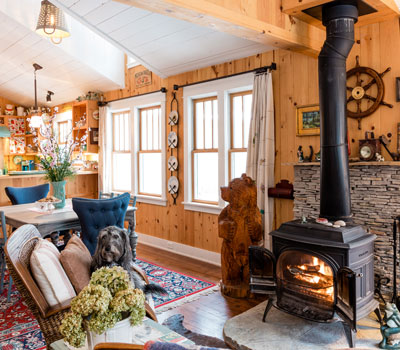 Crazy about vintage furniture and accessories, the couple finds a lot of their pieces in antiques shops and markets. They also love new items that look old. Their zippy, aqua-colored appliances, for example, are from Big Chill, a Colorado company that creates a retro shell for brand-new appliances.
"The color is custom-made," Edwards says. "We wanted it to be similar to the colors in our McCoy pottery collection." (See accompanying essay by Rouse on collecting pottery.) They also peppered the kitchen with Rachael Ray vintage accessories.
Their artwork, too, hails mostly from flea markets and antiques shops scattered along Michigan's Blue Star Highway ("on the back of one painting, it says it was created in a ninth-grade art class in the 1940s," Edwards says). Original work by local professional artists, like LeAnn Sowa's painterly watercolor that hangs above the stove, also graces the home.
Rouse writes every morning in an attached carriage house that includes a quiet upstairs office overlooking the woods.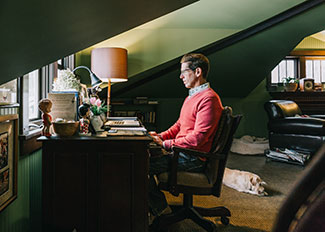 "It's separate from the home, which is great; I can leave work there," he says of his writing domain, where an old log-style lamp, given to him by Edwards' mother, shares space with a Pez collection, Peanuts characters, a set of Erma Bombeck books, and more items ("each with meaning," Rouse says).
"You could say that when we moved here, we jumped off a bridge without parachutes," the writer says. "I felt inspired by this place." In fact, Rouse was so inspired that he gave up his corporate job as a public relations director, and Edwards left a position as an interior landscape designer in St. Louis, to move into the knotty pine charmer full time. "I grew up in the Missouri Ozarks, going to my grandfather's log cabin on a creek. I really never felt that I'd find a place that had that kind of nostalgic feel, but our house has made that personal impact. We fell in love with it — the quirkiness, the history, the character," Rouse says.
"We threw fear aside and made a huge life change," Edwards adds. "It's the best thing we've ever done."