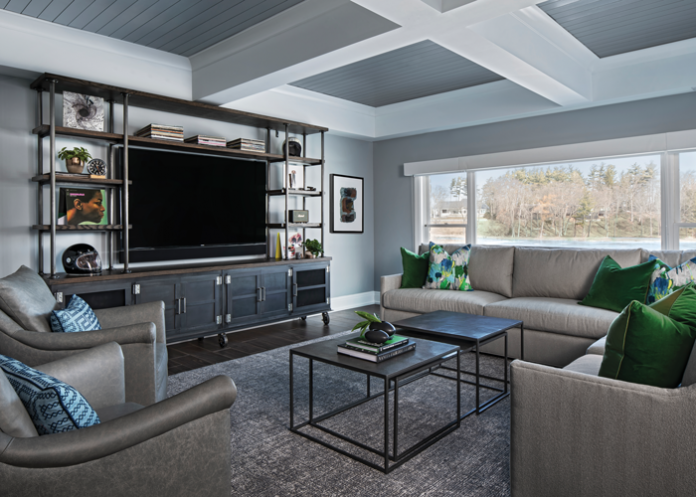 Rising Star
The Brian Killian Rising Star winner for 2020 is, in her colleagues' eyes, a true "star." 
"She's the brightest young star I've ever worked with on any team," says Amanda Sinistaj, principal/owner of Birmingham-based Ellwood Interiors. "She's been handling multimillion-dollar jobs on her own, without any hand-holding, and has one of the most generous spirits," Sinistaj adds.
That stellar designer is Victoria Vanderport, who's been a full-time interior designer at Ellwood Interiors for about three years. The Central Michigan University graduate earned her bachelor's degree in interior design, and minored in art. 
Vanderport says she finds design inspiration in everything from jewelry and clothing to cars and nature. "(There's that) moment of turning your head and thinking, 'That would make a great silhouette for an ottoman,' " she says. During the design process she says she allows function to drive the bus, "and aesthetics take it to the next level." As an example, she explains: "Cabinets are just cabinets until you clean up the lines to the point where they look like a well-tailored suit. (Then), add a piece of hardware inspired by (a pair of) earrings you've seen." Vanderport adores the work of Mies van der Rohe, and says he's one of her personal favorite designers.
"His Lafayette Park townhomes are what I dream about. The units transport you to a Mid-century wonderland. The simplicity of  his work is absolute perfection." She's also an Albert Kahn buff. "I was madly in love with the Edsel and Eleanor Ford House growing up. I dragged everyone I knew there," she recalls.
The celebrated architect is, in fact, contributing in a big way to Vanderport's new life as a married woman. "I'm getting married at the Belle Isle Conservatory (designed by Kahn) this spring," she says. "The level of detail and history, and the timeless lines he packs into his work, are so inspiring."
She also gives a nod to the folks at McIntosh Poris Associates.
"My two main hobbies are eating new food and wandering around Detroit on the weekends. McIntosh Poris' scope is so vast, from having their hands in hot new restaurants to redesigning pedestrian trafficways. It seems like everything they touch is done with all of their energy."
Indeed, Vanderport knows of what she speaks, as her energy appears to be endless. Right now, says Sinistaj, Vanderport's assisting her on a few large custom projects while managing two 10,000-square-foot multimillion-dollar jobs, four 5,000-square-foot new-construction projects, and about four commercial construction projects. "She just picked up her first out-of-state job, as well," Sinistaj says. Congratulations, Victoria! 
---
Rising Star
---