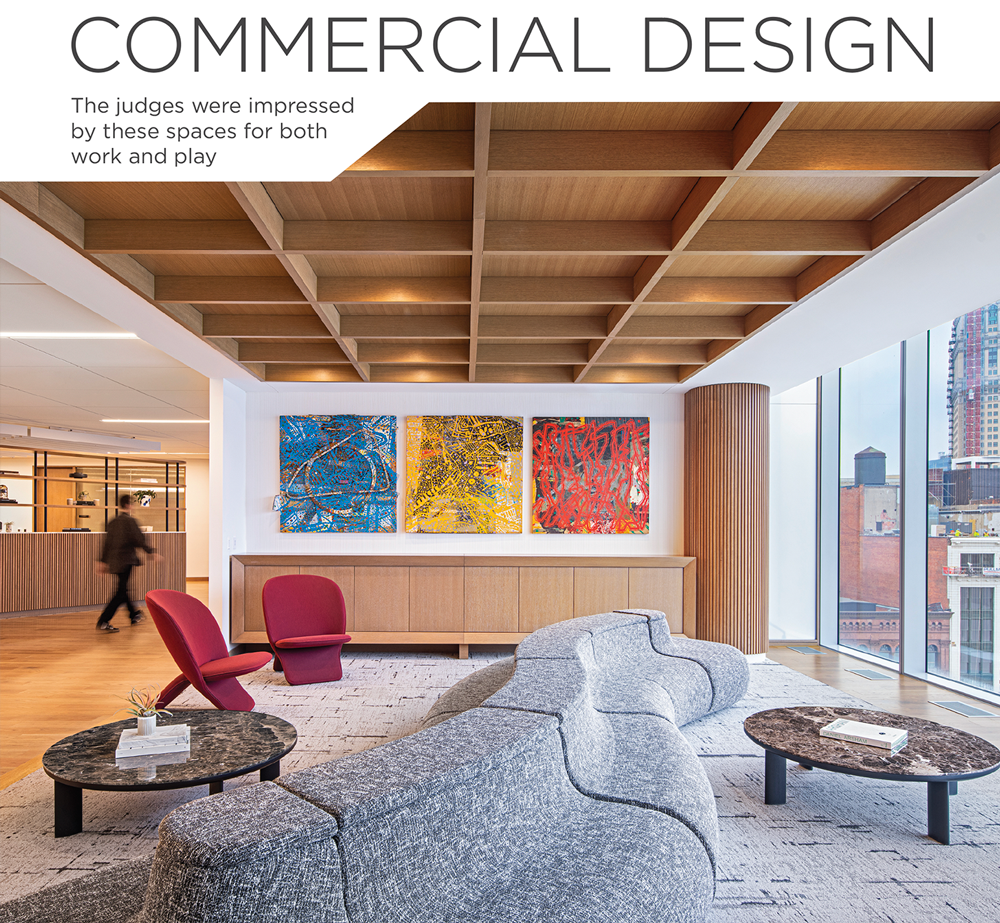 This office space for Rock Ventures and the Rock Family of Companies' headquarters in Detroit takes the top honors in the Office category. Bravo, Ghafari Associates with Pophouse! Photo by: John D'Angelo
---
LANDSCAPE
1st Place
Aguafina Gardens
Photo by: James Wilcox
The residents at Hoover + Greene Apartments in Ann Arbor sure are lucky! Curved Corten steel planted with flowering perennials, grasses, and native species create garden pathways, while the gentle sound of water comes from a stone fountain. A cozy space features native sumac surrounding a table made from a polished split boulder. Butterflies and honeybees soon found their way into the garden. Sculptures include natural basalt stones resting on each other, a basalt bench, and a live-edge granite bar table.
2nd Place
Hannah-Neumann/Smith
Photo by: John D'Angelo
3rd Place
Aguafina Gardens
Photo by: James Wilcox
---
LOBBY
1st Place
Davis & Davis Interior Design with Seidell Architects
Photo by: Jeff Garland
The owners of Cranberry Park in West Bloomfield wanted an elegant and upscale look for their senior living facility. The design provides residents with functional services, while simultaneously creating a living space that feels warm, comfortable, and uplifting. Stacked stone, brass fixtures, hospitality-style carpet, interesting wallcoverings, and furniture with special protective barriers were used. All the materials are durable and easily washable, yet still create an aesthetic that's pleasant versus institutional.
2nd Place
Pophouse
Photo by: John D'Angelo
3rd Place
Kraemer Design Group with Olympia Development of Michigan
Photo by: Kyle Berryman
---
OFFICE
1st Place
Ghafari Associates with Pophouse
Photo by: John D'Angelo
Split between two floors of new office space for Rock Ventures and the Rock Family of Companies' headquarters in Detroit, the design accommodates open and closed workspaces, breakout areas, a chef's kitchen and team kitchen, a boardroom, and an auditorium. The showpiece is a spiral staircase that connects the lower and upper levels, fostering a sense of being part of a larger enterprise. The sophisticated space features a variety of artwork, specialty lighting and accents, and hidden details.
2nd Place
Pophouse
Photo by: John D'Angelo
3rd Place
Davis & Davis Interior Design
Photo by: Vansen Media
---
RESTAURANTS/BARS
1st Place
Sabrina Buchanan of Base Designs with Ian Hartwell of Oliver Max Inc.
Photo by: Hayden Stinebaugh
The juxtaposition of the moody patio area, deep emerald velvet booth seating, antiqued glass, bold artwork, and black metalwork with the softness of the glass-lit, gold-leafed bar; lighter-toned wallcoverings; high-gloss white tables; mint green bar stools; light fixtures; florals; votives; and olive trees heighten the senses at Zana in Birmingham. When dealing with a space of this magnitude, creating the illusion of a more intimate dining experience was essential.
2nd Place
VERSA
Photo by: Sally Matak
3rd Place
VERSA
Photo by: Sally Matak
---
RETAIL INTERIOR DESIGN
(Boutiques, Stores, Salons, Etc.)

1st Place
Allegretti Architects Inc.
Photo by: Holt Bosse
Built in 1900, this building first served as stables and now is The Market in downtown St. Joseph. While demolishing the front wall, bowstring trusses revealed themselves. After being hidden for 120 years, they're now visible when you look at the barrel ceiling. The owners also wanted to optimize the natural light and open space within the structure. This project was a crowd-funded, three-year effort to pay homage to history and create an opportunity for the future.
2nd Place
McIntosh Poris Associates
Photo by: Justin Maconochie
3rd Place
KSI Kitchen & Bath
Photo by: Martin Vecchio
---
USE OF COLOR

1st Place
Davis & Davis Interior Design
Photo by: Vansen Media
This office design and colors at Mission Veterinary Partners in Southfield create an emotional connection between a person and the built environment. It's unconventional and sets a positive, uplifting mood; you smile as soon as you walk into the lobby. The branding of the space is evident in the lively and whimsical graphic murals depicting animals, a showstopping dog-bone-shaped island fabricated out of Corian, and the dog-house booths with employees' pet names on them.
2nd Place
Concetti
Photo by: Rebecca Simonov
3rd Place
Reem Akkad Design with Dokan Construction
Photo by: Carlson Productions
---
HISTORIC RENOVATION/RESTORATION
(50 Years or Older)
1st Place
Kraemer Design Group with Buildtech Ltd.
Photo by: John D'Angelo
Built in 1915, The Farwell, in Detroit's Capitol Park, deteriorated over time and became one of Detroit's most dilapidated vacant structures. The Tiffany glass mosaic ceiling in the first-floor lobby was completely restored, the original atrium guardrails and terracotta floors were rehabilitated, and the ironwork elevator surrounds were reworked and house two new elevators. The skylight on the roof was replaced and a roof deck featuring fantastic city views was added.
2nd Place
McIntosh Poris Associates
Photo by: Justin Maconochie
3rd Place
McIntosh Poris Associates
Photo by: Justin Maconochie
---
---