---
Millwork
 1st Place – VanBrouck & Associates, with Oliver Max Inc.
The spacious, airy entry hall of this residence is graciously welcoming, with impeccably tailored, paneled millwork and a deeply-coffered ceiling. The continuity of the millwork detailing creates a cohesive flow through the spaces and provides a strong architectural framework for the rooms. Delicate glass windowpanes, inset into the panel millwork that symmetrically frames the entry from the foyer to the dining room, creates a visual openness. Hand-scraped hickory floors and solid-core interior doors, cased with white-glazed millwork, are featured throughout.
 2nd Place – Heller & Associates with Serba Interiors
 3rd Place – Meg Corley Premier Interiors, with PRM Custom Builders
Judges Insights:
The millwork details by (VanBrouck & Associates, with Oliver Max Inc.) were well executed, with tasteful design. Great job!
— Judge Anthony Michael
---
Stair and Railing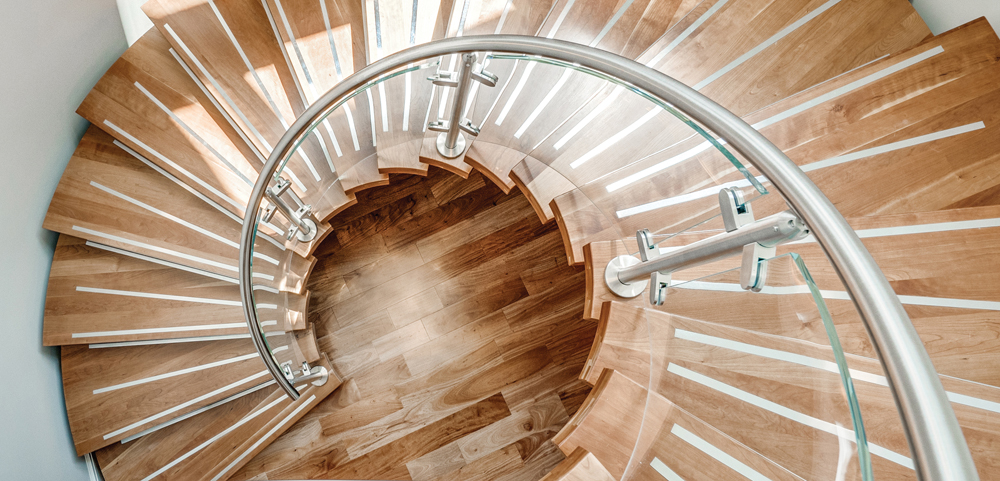 1st Place – Moceri Homes
The homeowners knew they wanted floating stairs in their new home before they knew anything else. These floating stairs were constructed with wood treads, and glass and stainless steel railings. The stairs gently serpentine, making them easy to maneuver and giving them an air of elegance. They're a perfect example of form and function complementing one another.
 2nd Place – Young & Young Interiors, with Superb Custom Homes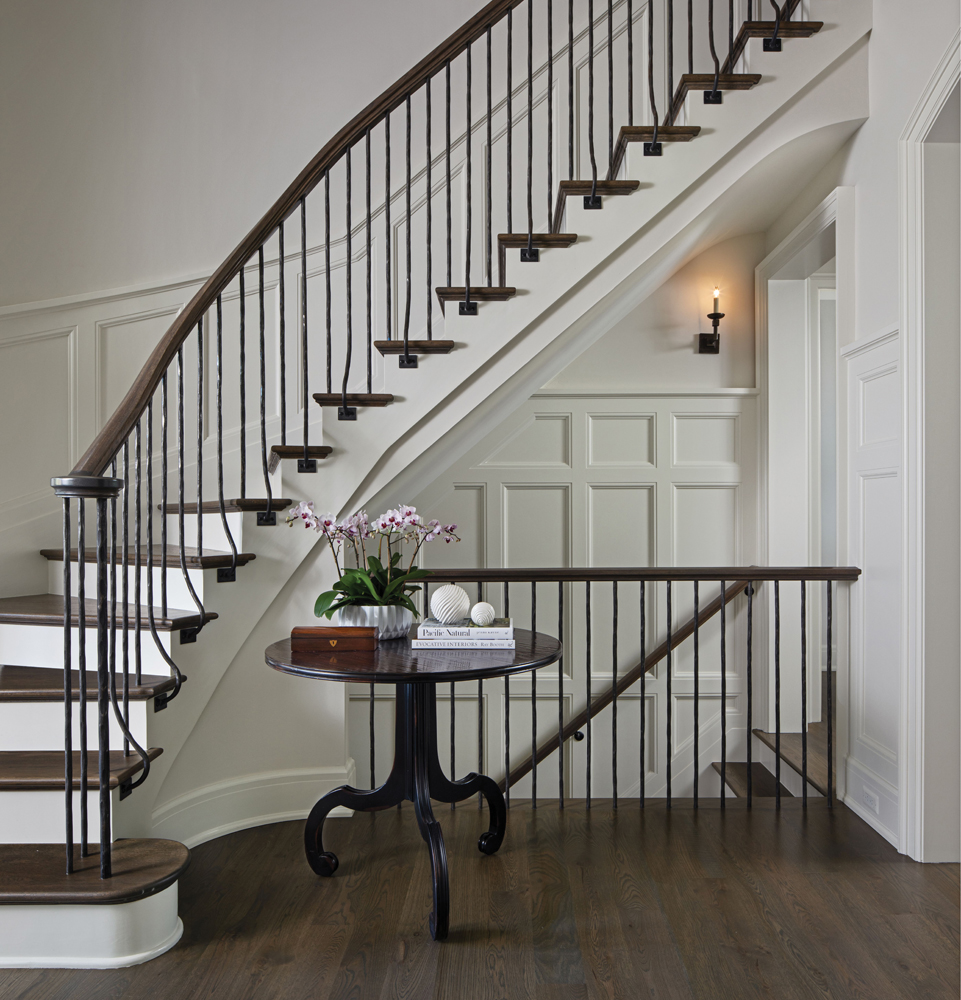 3rd Place – Marianne Jones, LLC, with Beaver Stair Company
---
Decorative Glass and Mirror
 1st Place – DesRosiers Architects with Custom Homes by Derocher
The exquisite foyer has quarter-inch-thick clear, magnificent glass, which allows the natural light from the skylight above to penetrate to the lowest level of this stunning home.
2nd Place – Design Milieu, with Smith Shop
3rd Place – Cottage Company Interiors, with Cottage Company of Harbor Springs
---
Flooring/Rugs
1st Place – Yarema
This entryway and an additional 3,000 square feet of patterned walnut flooring were sourced from a family farm. With a beautiful, historic appeal, the entryway sets the mood for the entire home.
2nd Place – Design Milieu, with First Choice Building and Maintenance, LLC
3rd Place – Ellwood Interiors
---
Interior Use of Stone
1st Place – MB Wilson Interior Design
In this kitchen remodel, the homeowners knew they wanted a full-height marble backsplash. Nine slabs were found from the same lot, then the designer photographed each slab and arranged them to be sure the grain of each slab flowed smoothly to the next. The counters, backsplash, and marble shelves were all formed out of the same slabs. The construction and the attachment of the floating marble shelves was an engineering marvel the fabricator isn't looking forward to ever repeating!
2nd Place – VanBrouck | Luxe Homes, with Oliver Max Inc.
3rd Place – Carrie Long Interiors
Judges Insights:
The use of marble in this kitchen (by MB Wilson Interior Design)
is spectacular — just breathtaking!
— Judge Barrie Spang
---
Interior Use of Tile
1st Place – Kathleen McGovern Studio of Interior Design
Tile brings harmony to the spaces on the main floor of this new home. In the "parlor," a Pewabic fireplace surround and hearth features a blend of blues in different formats. The next space is the kitchen, and the herringbone pattern of the bold blue tile creates a rich visual effect. With only a pair of glass doors separating the back entry from the dining area and kitchen, the same palette with equally strong geometry gives cohesiveness to the overall design.
2nd Place – Patrick Thompson Design
3rd Place – Pewabic
---
Interior/Exterior Lighting
1st Place – VanBrouck | Luxe Homes, with Oliver Max Inc.
The lighting plan for this chic lakehouse integrates an extensive Control4 Smart Home automation system with lighting selections and fabrications that are works of art. An exquisite "collection" of chandeliers is thoughtfully curated throughout the spaces, while unique fabrications with lighting create drama and interest.
2nd Place – VanBrouck | Luxe Homes, with Oliver Max Inc.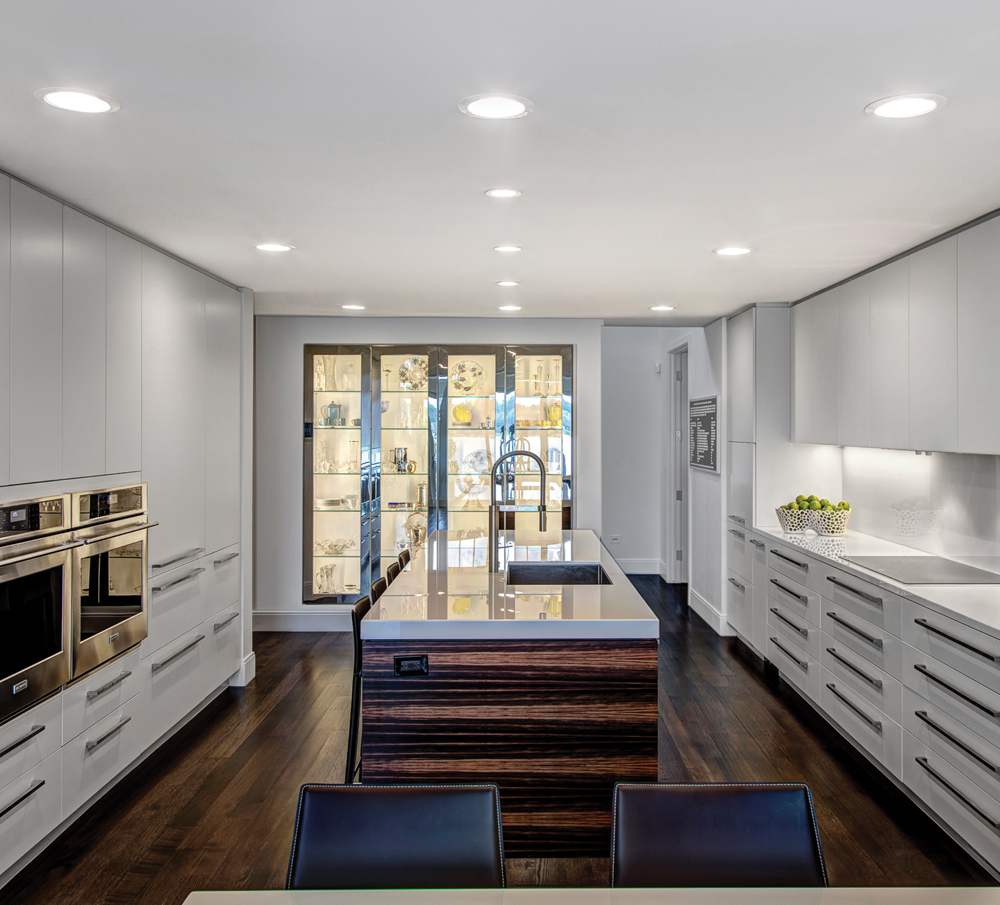 3rd Place – Heller & Associates, with Marilynn Silberman/Studio Loft, LLC
Judge's Insights:
I love all of the lighting in this home (at left), but especially favor the beautiful Michael Aram pendants over the kitchen island.
— Judge Barrie Spang
---
Fireplace
1st Place – AZD Associates, with New Era Construction Inc.
The fireplace is the focal point in this living room and foyer. It consists of a 6-foot-long burning flame behind black glass; the glass was extended to give it a linear appearance. Around the firebox is a floating drywall surround that extends up the wall and across the ceiling, and becomes the ceiling feature. A white onyx hearth ties in at the bottom of the fire feature. This floating fireplace and surround are integral parts of the room and its décor.
2nd Place – Young & Young Interiors, with Young & Young Architects
3rd Place – Moceri Homes
---
Custom Cabinet Installation
1st Place – Maison Birmingham, with Sterling Development Corp.
Tasked with creating a contemporary, open kitchen that honors the original character of this 1921 Georgian Colonial was both an inspiration and a challenge. The strong contrast created by the rich, black cabinetry was inspired by the original checkerboard marble tile throughout the home, while the island's white inset cabinetry hints at the home's historic, classic design.
2nd Place – VanBrouck & Associates, with Oliver Max Inc.
3rd Place – Heller & Associates
---
Custom Furniture
1st Place – Vogue Furniture
This dining table features exotic wood and a bronze accent. Two Macassar Ebony slab ends wrapped in a solid bronze perimeter band, with a center glass ribbon, allow the natural light to reflect off the high-gloss finish and flow through the center glass piece. The table is supported by two vertical fins of glass with a Macassar Ebony block sandwiched between bronze plates. Every element is required to provide accurate support and stability for this mechanically designed table.
2nd Place – Ganas Mfg.
3rd Place – Tutto Interiors with Millennium Cabinetry
Designer's Goal:
The kitchen was opened up to a new dining room that was very tight on space, so we designed a full built-in cabinet with ample storage space, a serving area, glass cabinets with a deep blue-gray custom finish, and more. ­
— Tutto Interiors, with Millennium Cabinetry
---
Repurposed Furniture
1st Place – RL Concetti
This client loved her grandmother's sofa throughout her childhood. When it was passed down to her, she wanted to respect the piece, but also make it fit her personality and bring it into the 21st century. Ebonizing the frame and finding gorgeous fabric did the trick, and the fine workmanship and details, such as the brass inlay, make this piece special. The sofa now sits in the client's home office, and her niece hopes that someday it will be hers.
2nd Place – Margeaux Interiors
3rd Place – Fifi and Coco Interiors
---
Details
---